Flights canceled and highways closed as winter storm wallops the U.S.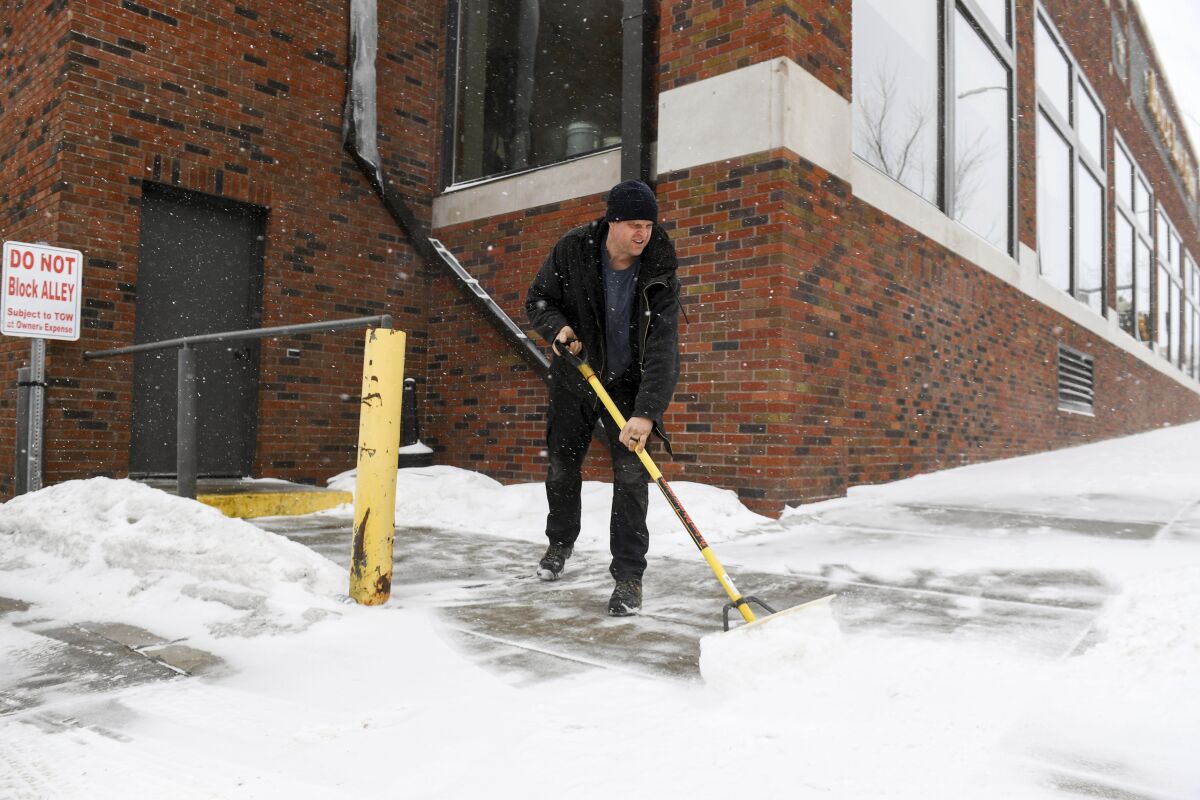 PIERRE, S.D. —
A brutal winter storm knocked out power in California and the Midwest, closed interstate highways from Arizona to Wyoming and prompted more than 1,500 flight cancellations Wednesday — and the worst won't be over for several days.
Few places were untouched by the wild weather, some at the opposite extreme: long-standing record highs were broken in cities in the Midwest, mid-Atlantic and Southeast.
The wintry mix was hitting hard in the northern tier of the nation, closing schools, offices, even shutting down the Minnesota Legislature. Travel was difficult. Weather contributed to more than 1,500 U.S. flight cancellations, according to tracking service FlightAware. More than 400 of those were due to arrive or depart from the Minneapolis-St. Paul International Airport. An additional 5,000-plus were delayed across the country.
At Denver International Airport, Taylor Dotson, her husband, Reggie, and their 4-year-old daughter, Raegan, faced a two-hour flight delay to Nashville on their way home to Belvidere, Tenn.
Scenes from across Southern California, where a powerful winter storm dumped heaps of snow and record-setting rain.
They'd braved slick roads and arrived early in case of long lines at airport security, but the weather delay proved unavoidable. Reggie Dotson was in Denver to interview for a job as an airline pilot.
"I think that's kind of funny that we've experienced these types of delays when that's what he's looking into getting into now as a career," Taylor Dotson said.
The roads were just as bad. In Wyoming, the Transportation Department posted on social media that roads across much of the southern part of the state were "impassable," with "blowing snow and reduced to poor visibility into Friday!"
"It's got the cold air, it's got the moisture, it's got strong winds," one forecaster said. "It's an ideal situation for a big weather maker with huge impacts."
It wasn't much better in neighboring states.
"Sometimes it's physically impossible to keep up with Mother Nature," said North Dakota Highway Patrol Sgt. Wade Kadrmas.
He warned those who venture out to dress appropriately. Often, when motorists get stranded, "they don't have a winter jacket. They might be wearing shorts and flip-flops, just thinking they're going to get from point A to point B and nothing is going to go wrong," he said.
Kelly Cross, 60, has lived his entire life in South Dakota, but said even he tires of the wintry weather. Besides the regular snow shoveling at his Pierre store, K&C Western Wear, he's gone through pounds of salt to keep the walkway clear. The company of his terrier, Penny, makes the slog to work tolerable.
"She comes with me every day," Cross said.
In the Pacific Northwest, high winds and heavy snow in the Cascade Mountains prevented search teams from reaching the bodies of three climbers killed in an avalanche on Washington's Colchuck Peak over the weekend. Two experts from the Northwest Avalanche Center were hiking to the scene Wednesday to determine whether conditions might permit a recovery attempt later this week.
Powerful winds were the biggest problem in California, toppling trees and power lines. By Wednesday afternoon, more than 64,000 customers were without electricity, according to PowerOutage.us.
A 1-year-old child was critically injured when a redwood crashed onto home in Boulder Creek, a community in the Santa Cruz Mountains south of San Francisco, KTVU-TV reported.
A blizzard warning was issued for the mountains of Los Angeles, Ventura and Santa Barbara counties, effective from 4 a.m. Thursday to 4 p.m. Saturday, the National Weather Service said.
As California grapples with worsening climate extremes, officials warn that recent storms don't add up to an end to the drought.
A more than 200-mile stretch of Interstate 40 from central Arizona to the New Mexico line was closed due to snow, rain and wind gusts of up to 80 mph. Thousands were without power in Arizona.
In the northern U.S., the snowfall could be significant. More than 18 inches may pile up in parts of Minnesota and Wisconsin, the National Weather Service said Wednesday evening.
According to the weather service, the biggest snow event on record in the Twin Cities was 28.4 inches from Oct. 31 through Nov. 3, 1991 — known as the Halloween Blizzard.
Temperatures could plunge as low as minus-20 degrees Thursday and to minus-25 Friday in Grand Forks, N.D. Wind chills may fall to minus-50 degrees, said Nathan Rick, a meteorologist in Grand Forks.
Wind gusts may reach 50 mph in western and central Minnesota, resulting in "significant blowing and drifting snow with whiteout conditions in open areas," the weather service said.
The storm will make its way toward the East Coast later this week. Places that don't get snow may get dangerous amounts of ice. Forecasters expect up to a half-inch of ice in parts of southern Michigan, northern Illinois and some eastern states.
The weather even prompted about 90 churches in western Michigan to cancel Ash Wednesday services, WZZM-TV reported.
The potential ice storm has power company officials on edge. Nearly 1,500 line workers are ready to be deployed if the ice causes outages, said Matt Paul, executive vice president of distribution operations for Detroit-based DTE Energy. He said a half-inch of ice could cause hundreds of thousands of outages.
A half-inch of ice covering a wire "is the equivalent of having a baby grand piano on that single span of wire, so the weight is significant," Paul said.
About 136,000 customers in Michigan and nearly 73,000 in Illinois were without electricity Wednesday evening, according to PowerOutage.us.
As the northern U.S. deals with a winter blast, National Weather Service meteorologist Richard Bann said some mid-Atlantic and Southeast cities set new high temperature marks by several degrees.
The high in Lexington, Ky., reached 76, shattering the Feb. 22 mark of 70 set 101 years ago. Nashville reached 78, topping by 4 degrees the record set in 1897. Indianapolis, Cincinnati, Atlanta and Mobile, Ala., were among many other places seeing record highs.
In Fargo, N.D., the Wednesday morning temperature was minus-11 degrees, so server Michelle Wilson wasn't surprised by the small crowd at the Denny's where she works.
"When the wind picks up and you're in a flat land like North Dakota, it's whiteout conditions immediately," Wilson said.
Must-read stories from the L.A. Times
Get the day's top news with our Today's Headlines newsletter, sent every weekday morning.
You may occasionally receive promotional content from the Los Angeles Times.