Putin orders tightening of border with Ukraine after drones hit deep inside Russia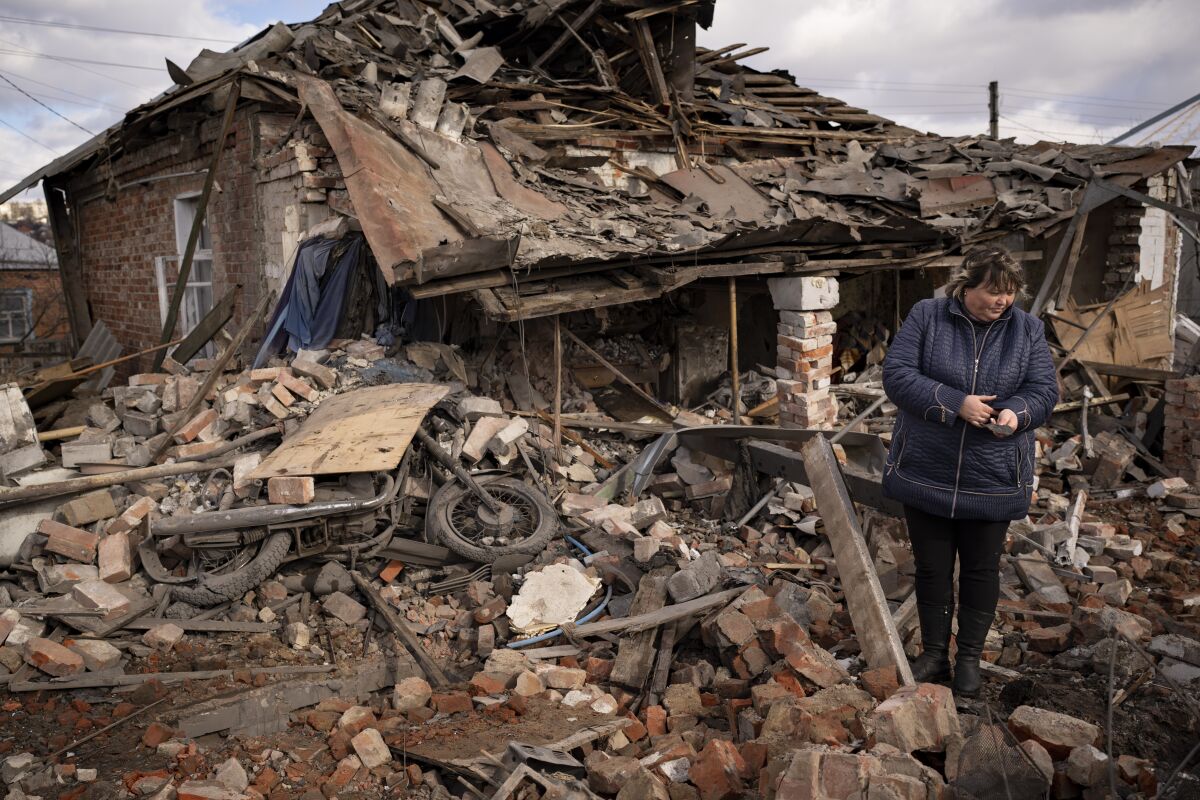 KYIV, Ukraine —
Drones that the Kremlin said were launched by Ukraine flew deep inside Russian territory, including one that got within 60 miles of Moscow, signaling breaches in Russian defenses as President Vladimir Putin ordered stepped-up protection at the border.
Officials said the drones caused no injuries or significant damage, but the attacks on Monday night and Tuesday morning raised questions about Russian defense capabilities more than a year after the country's full-scale invasion of its neighbor.
Ukrainian officials did not immediately claim responsibility, but they have similarly avoided directly acknowledging responsibility for past strikes and sabotage while emphasizing Ukraine's right to hit any target in Russia.
While Putin didn't refer to any specific attacks during a speech in the Russian capital, his comments came hours after drone attacks targeted several areas in southern and western Russia and after authorities closed the airspace over St. Petersburg in response to what some reports said was a drone in the area.
Also Tuesday, several Russian television stations aired a missile attack warning that officials blamed on a hacking attack.
The drone attacks targeted regions inside Russia along the border with Ukraine and deeper into the country, according to Russian authorities.
Across the country, Ukrainians looked back on a year of war with both sorrow and pride as their president vowed to push for victory over Russia.
A drone fell near the village of Gubastovo, 60 miles southeast of Moscow, said Andrei Vorobyov, the governor of the region surrounding the capital.
The drone didn't cause any damage, Vorobyov said in an online statement. He didn't specifically describe the drone as Ukrainian, but said that it likely targeted "a civilian infrastructure object."
Ukraine's military says an anticipated Russian offensive has already begun on the northeastern front, which could determine the war's next phase.
Pictures of the drone showed that it was a Ukrainian-made type. It reportedly has a range of nearly 500 miles but isn't capable of carrying a large load of explosives.
Russian forces early Tuesday shot down a Ukrainian drone over the Bryansk region, local Gov. Aleksandr Bogomaz said in a Telegram post.
Three drones also targeted Russia's Belgorod region, near the Ukrainian border, on Monday night, with one flying through an apartment window in the capital, the city of Belgorod, local authorities reported. Regional Gov. Vyacheslav Gladkov said the drones caused minor damage to buildings and cars.
The Russian Defense Ministry said that Ukraine used drones to attack facilities in the Krasnodar region and neighboring Adygea. It said the drones were brought down by electronic warfare assets, adding that one of them crashed into a field and another diverted from its designated flight path and missed an infrastructure facility it was supposed to attack.
Ukraine's government minister in charge of technology says his country is developing combat drones to attack the ones Russia has used in its invasion.
Russia's state RIA Novosti news agency reported a fire at the oil facility, and some other Russian reports said two drones exploded nearby.
While Ukrainian drone strikes on the Russian border regions of Bryansk and Belgorod, which lie north of Ukraine's Sumy region, aren't unusual, other strikes reflected a more ambitious effort.
While some Russian commentators described Tuesday's drone attacks as an attempt by Ukraine to showcase its capability to strike areas deep behind the front lines, to foment tensions in Russia and to rally the Ukrainian public, some Russian war bloggers described the raids as a possible rehearsal for a bigger, more ambitious attack.
The United Nations chief says Russia's full-scale invasion of Ukraine has triggered 'the most massive violations of human rights' in the world today.
Russian hawks called for strong retaliation. Igor Korotchenko, a retired Russian army colonel turned military commentator, called for a punishing strike on the Ukrainian presidential office in Kyiv.
Another retired military officer, Viktor Alksnis, noted that the drone attacks marked the expansion of the conflict and criticized Putin for failing to deliver a strong response.
Also on Tuesday, authorities reported that airspace around St. Petersburg, Russia's second-largest city, was temporarily closed. It did not give a reason for the move, but some Russian reports claimed that it was triggered by an unidentified drone.
The Russian Defense Ministry said it was conducting air defense drills in western Russia.
Last year, Russian authorities repeatedly reported shooting down Ukrainian drones over annexed Crimea. In December, the Russian military said Ukraine used drones to hit two bases for long-range bombers deep inside Russian territory.
Must-read stories from the L.A. Times
Get the day's top news with our Today's Headlines newsletter, sent every weekday morning.
You may occasionally receive promotional content from the Los Angeles Times.
Speaking at Russia's main security agency, the FSB, Putin urged the service to tighten security on the border with Ukraine.
Also fueling tensions across Russia on Tuesday, an air raid alarm interrupted the programming of several TV channels and radio stations in several regions. Russia's Emergency Ministry said in an online statement that the announcement was a hoax "resulting from a hacking of the servers of radio stations and TV channels in some regions of the country."
World landmarks light up in the colors of Ukraine's flag as people around the globe commemorate a grim year since Moscow's full-scale invasion of its neighbor.
Meanwhile, satellite photos analyzed by the Associated Press appeared to show that a Russian warplane in Belarus that Belarusian guerrillas claimed to have targeted was largely intact.
High-resolution images from Planet Labs PBC showed no immediate signs of damage to the Russian A-50 early warning and control aircraft after what Belarusian opposition activists described as an attack on the Machulishchy air base Sunday outside the Belarusian capital of Minsk.
The United Nations General Assembly has passed a nonbinding resolution calling on Russia to end hostilities and withdraw its forces from Ukraine.
Belarusian activists supporting Ukraine alleged that the aircraft was seriously damaged, but Russian and Belarusian officials did not comment on the claims.
In Ukraine, four people were killed and five others wounded Tuesday by renewed Russian shelling of the southern Ukrainian city of Kherson, regional Gov. Oleksandr Prokudin said on Telegram.
A 68-year-old man was also killed as Russian forces shelled Kupiansk, a town in Ukraine's northeastern Kharkiv region, Gov. Oleh Syniehubov said.
The fiercest fighting continued to be in eastern areas of Ukraine, where Russia is attempting to exert control over all four of the provinces it illegally annexed in September.
Ukrainian officials said Russian forces have deployed additional troops and equipment, including the latest T-90 battle tanks, in those areas.
In a video address, Ukraine's President Volodymyr Zelensky thanked U.S. industrialists for supporting Ukraine and voiced hope for their support in rebuilding the country after the war. Zelensky noted that the country faces a "colossal task" to restore hundreds of thousands of damaged sites, including "whole cities, industries, productions."
Must-read stories from the L.A. Times
Get the day's top news with our Today's Headlines newsletter, sent every weekday morning.
You may occasionally receive promotional content from the Los Angeles Times.