Fighting on Ukraine's northeastern front could determine the war's next phase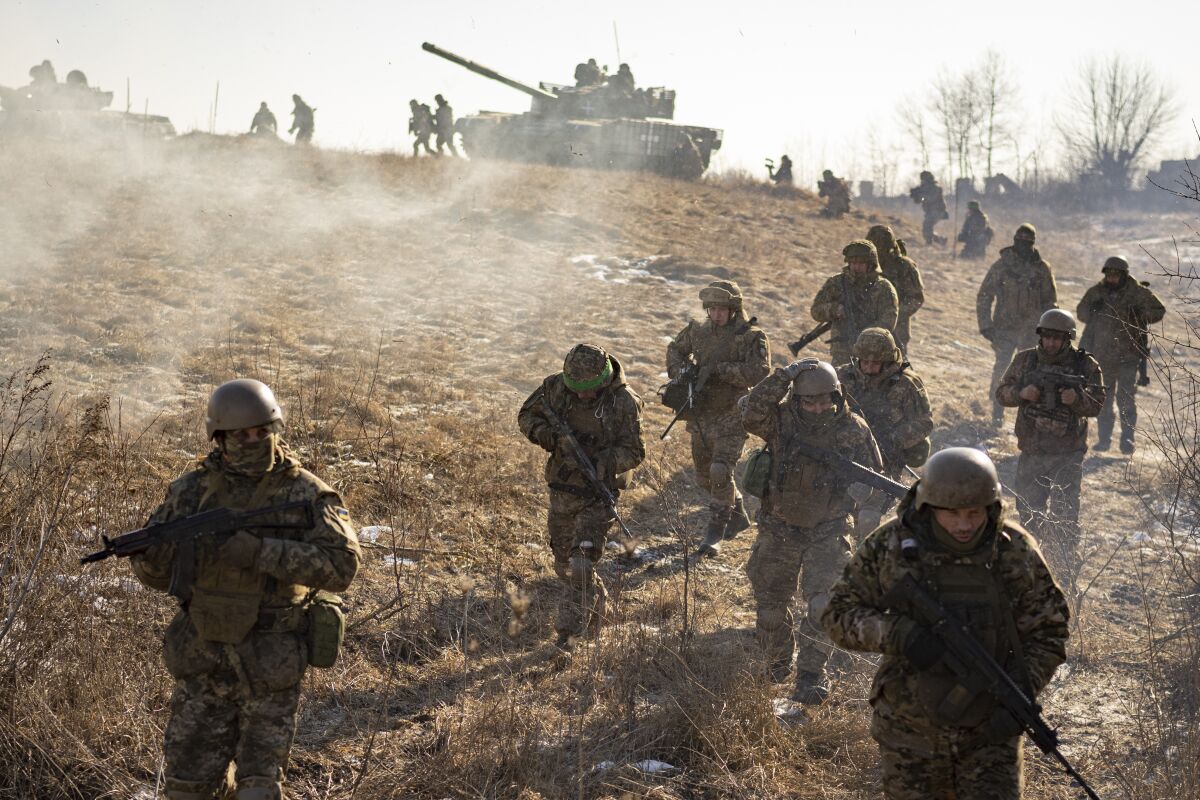 KUPIANSK, Ukraine —
A tank carrying Ukrainian infantry speeds toward a target position marked with a metal sheet. The soldiers climb down, hurl grenades and unleash a crackle of machine-gun fire. Then they repeat the moves, getting faster with every iteration.
It's only a drill. But with the sounds of the real war with Russia rumbling four miles away, this daily training underscores the high stakes on Ukraine's northeastern front, where military officials say a much-anticipated Russian offensive has already started, with fighting that could determine the next phase of the conflict.
Time is of the essence here, so speed and cohesion are the goals of the exercises that combine infantry assault and reserve tank units.
"Synchronization will be important to halt Russian offensives toward Ukrainian defensive lines," said Ukrainian Col. Petro Skyba, a battalion commander of the 3rd Separate Tank Iron Brigade.
Grueling artillery battles have stepped up in recent weeks in the vicinity of Kupiansk, a strategic town on the eastern edge of Kharkiv province, by the banks of the Oskil River. The Russian attacks are part of an intensifying push to capture the entire industrial heartland known as the Donbas, which includes Donetsk and Luhansk provinces. It would be a badly needed victory for the Kremlin as the war enters a second year.
Triumph in Kupiansk could decide future lines of attack for both sides: If Russia succeeds in pushing Ukrainian forces west of the river, it would clear the path for a significant offensive farther south where the borders of Luhansk and Donestk meet. If the Ukrainian defense holds up, it could reveal Russian vulnerabilities and enable a counteroffensive.
The United Nations chief says Russia's full-scale invasion of Ukraine has triggered 'the most massive violations of human rights' in the world today.
"The enemy is constantly increasing its efforts, but our troops are also increasing their efforts there, making timely replacements and holding the defense," said Brig. Gen. Dmytro Krasylnykov, commander of the joint group of troops in the Kharkiv region.
Across the towns and villages in the path of the fighting, homes have been razed by constant Russian bombardment, with some residences hit repeatedly. Civilians wait in the cold for food and line up to receive rations of milk and materials to cover shattered windows.
"We don't have anything to do with this war, so why do we pay the price?" said Oleksandr Luzhan, whose mother's house was struck twice.
On the battlefield, Ukrainian soldiers put a rocket launcher in fighting position, aiming the weapons in line with coordinates sent by their commanders. They wait for the final order.
Fighting is grinding on in Ukraine after the country marked the anniversary of Russia's invasion of Ukraine.
Seconds turn to minutes. Snow falls silently in thick wet clumps by a shriveled sunflower field.
"Fire!" A salvo of rockets blasts into the sky toward Russian targets, often armored personnel carriers or tanks. To escape any counterattack, the servicemen of the Ukrainian army's 14th Brigade pack up and leave, trundling away in a Soviet-era BM-21 Grad.
Along the northeast front, there are no quick wins, said Vitaly, the operation's gunner, who gave only his first name, in line with Ukrainian military protocols. "It's war — someone retreats, someone advances. Every day there is a change of position."
Russia ramped up attacks earlier this month after deploying three major divisions to the area. Fighting is focused northeast of Kupiansk, where the Kremlin's troops have gone on the offensive with marginal territorial gains. Ukrainian fortifications have so far deterred major advances, Ukrainian senior military officials said.
The United Nations General Assembly has passed a nonbinding resolution calling on Russia to end hostilities and withdraw its forces from Ukraine.
For Russia, the Kupiansk operation serves two aims. Dislodging Ukrainian forces from settlements along the provincial borders would enable the capture of Luhansk province. Pushing back Ukrainian troops west of the Oskil River and locking them there would create a new defensive line and prevent deployments to the critical Svatove-Kreminna line farther south, where a separate Russian offensive is underway to capture the Donestk region by reclaiming abandoned posts in Lyman. Svatove, which was occupied by Moscow last spring, is 37 miles southeast of Kupianske.
Ukrainian forces are counting on improving coordination between infantry and tank units to deprive Russia of the opportunity to breach Ukrainian lines. Ukrainian forces still control settlements inside Luhansk near the border with Kharkiv.
Artillery and ammunition shortages are a real concern on this front, where the landscape is heavily forested, small villages are separated by vast farmland and Ukrainian soldiers come under nine hours of shelling some days. Long-range weapons would contribute to quicker wins in such an environment, Krasylnykov said.
Serhii, an infantry soldier with the 92nd Brigade who also gave only his first name, said ammunition shortages were derailing his unit's ability to advance and occupy enemy positions.
Drone video of Bakhmut shows how the longest battle of Russia's yearlong invasion has reduced the holdout mining city in eastern Ukraine to a ghost town.
"They can make 40 shots in our direction, and we can fire back twice on target," he said. "They have quantity, but we are more efficient."
The months to come will be critical, he predicted. The Russians clearly "want to cut us off from the Oskil River. They want to make it so that we push back our troops … and they can occupy the entire territory along the river from Kupiansk to Kreminna. But we won't allow this."
Russian bombardment of Kupiansk, a town with a prewar population of 27,000, has become so frequent that "every time we go to sleep we pray to God we will wake up in the morning," resident Olena Klymko said. At times, the strikes appear to have clear targets where soldiers pass through. At other times, they seem indiscriminate.
The shelling is even more intense in the suburbs of Kupiansk, closer to Russian lines, where access to supplies is also limited.
In the village of Zelena, dozens of older residents waited under a bus shelter amid heavy snow for a food truck to arrive.
"Today is a quiet day, thank God," said Victoria Bromska, wheeling her food parcel back home.
Must-read stories from the L.A. Times
Get the day's top news with our Today's Headlines newsletter, sent every weekday morning.
You may occasionally receive promotional content from the Los Angeles Times.