After months of pounding, Ukrainian military may pull back from Bakhmut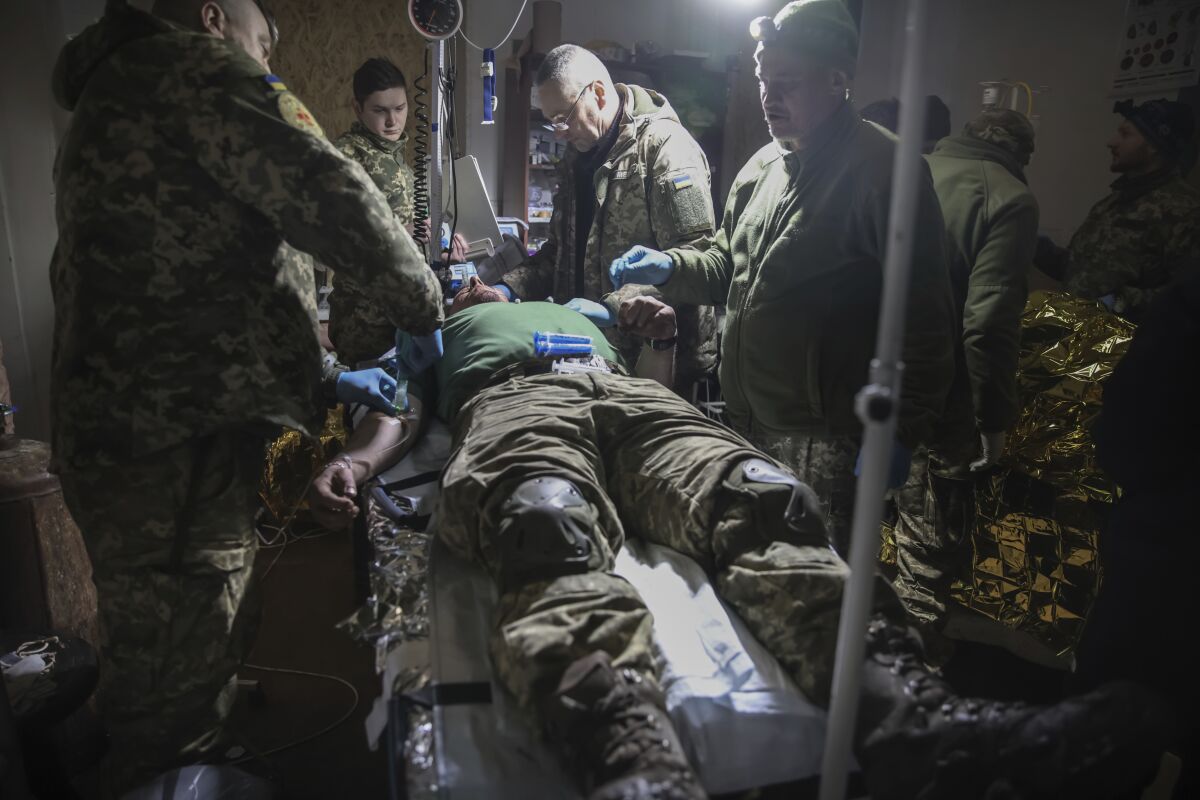 KYIV, Ukraine —
The Ukrainian military might pull troops back from the key stronghold of Bakhmut, an advisor to Ukraine's president said Wednesday in remarks that suggested Russia could capture the city that has become a symbol of Ukrainian resistance.
Kremlin forces have waged a bloody, months-long offensive to take Bakhmut, a city of salt and gypsum mines in eastern Ukraine that has become essentially a ghost town.
"Our military is obviously going to weigh all of the options. So far, they've held the city, but if need be, they will strategically pull back," Alexander Rodnyansky, an economic advisor to President Volodymyr Zelensky, told CNN. "We're not going to sacrifice all of our people just for nothing."
The battle for Bakhmut has become a symbol of Ukrainian resistance as defenders hold out against relentless shelling and wave after wave of Russian troops suffer heavy casualties.
Bakhmut lies in Donetsk province, one of four that Russia illegally annexed in the fall. However, Moscow controls only half of the regions. To take the remaining half, Russian forces must go through Bakhmut, the only approach to bigger Ukrainian-held cities since Ukrainian troops took back Izyum in Kharkiv province in September.
Analysts say the fall of Bakhmut would be a blow for Ukraine and offer tactical advantages to Russia but would not prove decisive to the war's outcome.
Rodnyansky noted that Russia was using the best troops of the Wagner Group to try to encircle the city. The private military company, known for brutal tactics, is led by Yevgeny Prigozhin, a rogue millionaire with longtime links to Russian President Vladimir Putin.
Prigozhin said Wednesday that he so far had seen no signs of a Ukrainian withdrawal from Bakhmut. He maintained that Kyiv had in fact been reinforcing its positions there.
"The Ukrainian army is deploying additional troops and is doing what it can to retain control of the city," Prigozhin said. "Tens of thousands of Ukrainian soldiers are offering fierce resistance, and the fighting is getting increasingly bloody by day."
The United Nations chief says Russia's full-scale invasion of Ukraine has triggered 'the most massive violations of human rights' in the world today.
Ukraine's deputy defense minister, Hanna Maliar, said this week that reinforcements had been dispatched to Bakhmut.
Ukrainian military analyst Oleh Zhdanov said that the reinforcements may have been sent "to gain time" for strengthening Ukrainian firing lines on a hill in Chasiv Yar, nearly seven miles west of Bakhmut.
Zhdanov said Ukraine's possible withdrawal from Bakhmut "will not affect the course of the war in any way" because of the firing positions in Chasiv Yar.
Bakhmut is now partly encircled, and Russia wields firepower control over all roads, including the main supply route, he said. The city lies in ruins and "no longer has strategic or operational significance," he said.
"In Bakhmut, the Russians lost so many forces — soldiers and equipment — that this city has already fulfilled its function," Zhdanov said.
World landmarks light up in the colors of Ukraine's flag as people around the globe commemorate a grim year since Moscow's full-scale invasion of its neighbor.
Recent drone footage shows the scale of devastation in the city, which Zelensky has described as "destroyed."
Since invading Ukraine a year ago, Russia has bombarded various cities and towns that it wanted to occupy. It also targeted Ukraine's power supply with missile strikes ahead of winter in an apparent attempt to weaken local morale.
While Western analysts have warned that warmer weather might give Moscow an opportunity to launch a renewed offensive, Ukrainian officials nonetheless celebrated Wednesday what is regarded nationally as the first day of spring.
Foreign Minister Dmytro Kuleba announced that his country had survived Putin's "winter terror."
"We survived the most difficult winter in our history," Kuleba wrote on Facebook.
Ukraine's military says an anticipated Russian offensive has already begun on the northeastern front, which could determine the war's next phase.
The war could become a drawn-out conflict, analysts say, and Latvian Prime Minister Krisjanis Karins said that such a scenario would demand a response from Kyiv's Western allies.
"This is potentially for many years to come where we will have to re-adapt our militaries, our military industry, to be able to step up to a much, much bigger challenge," Karins said after talks in Berlin with German Chancellor Olaf Scholz.
Meanwhile, another of Zelensky's top advisors, Mykhailo Podolyak, denied Wednesday that Ukraine had used drones to attack Russian territory after Russian officials' statements that Ukraine had targeted infrastructure deep inside the country.
"Ukraine does not strike on the territory of the Russian Federation. Ukraine is waging a defensive war with the aim of de-occupying all its territories," Podolyak wrote on Twitter, suggesting that the targeting of Russian infrastructure was the result of "internal attacks."
Across the country, Ukrainians looked back on a year of war with both sorrow and pride as their president vowed to push for victory over Russia.
Ukraine's Western allies have discouraged Ukraine from attacking targets in Russia proper to avoid escalation of the conflict, and Podolyak's statement could reflect an attempt by Kyiv to maintain a degree of deniability in view of those concerns.
In the past, Ukrainian officials have stopped short of claiming responsibility for attacks in Russia, but also insisted that Ukraine has the right to strike any target on Russian territory in response to its aggression.
Asked about Podolyak's denial, Kremlin spokesman Dmitry Peskov said: "We don't believe it."
Pictures of a drone that fell near the village of Gubastovo, less than 60 miles from Moscow, showed that it was a small Ukrainian-made model with a reported range of nearly 500 miles but no capacity to carry a large load of explosives.
Russia's Defense Ministry said Wednesday that it had prevented a massive drone attack on Crimea. According to Russian state media, six drones were shot down by air defense forces, while four more were disabled by electronic warfare systems.
At least nine civilians were killed and 12 others were wounded Tuesday across Ukraine, Zelensky's office reported Wednesday.
Three people, including a boy, 1, were wounded in Russian shelling of southern Ukraine's Kherson province on Wednesday, regional officials reported.
Fierce fighting continued in Donetsk province, with Bakhmut, Avdiivka and other cities coming under intense Russian shelling.
Must-read stories from the L.A. Times
Get the day's top news with our Today's Headlines newsletter, sent every weekday morning.
You may occasionally receive promotional content from the Los Angeles Times.