Russia accuses Ukrainian saboteurs of launching a cross-border attack, killing 2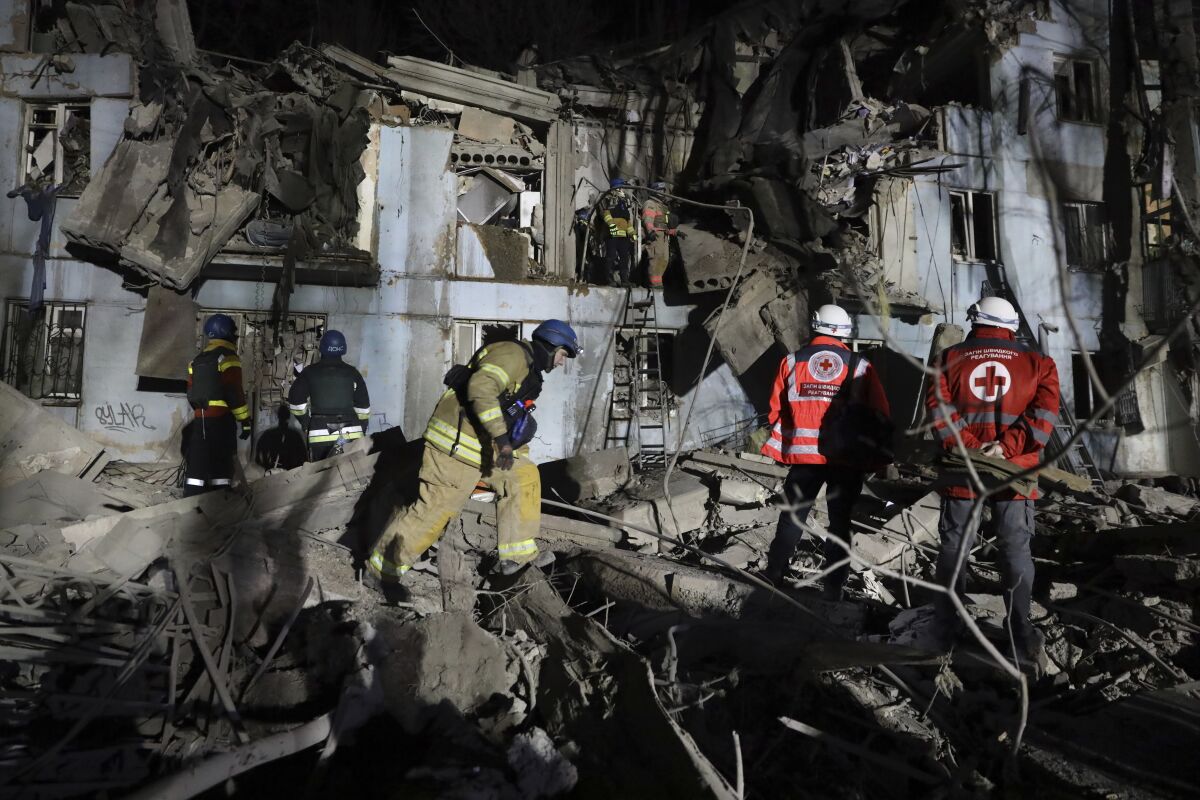 KYIV, Ukraine —
Russian officials accused Ukrainian saboteurs Thursday of crossing into western Russia and attacking local villages, an accusation that Ukraine denied, warning that Moscow could use the claims to justify stepping up its own assaults in the ongoing war.
The exact circumstances of the incident reported in the Bryansk region were unclear, including what the strategic purpose of such an attack would be.
If confirmed, it would be another indication, following drone attacks inside Russia earlier this week, that Kyiv could be raising the pressure on Moscow by exposing Russian defensive weaknesses, embarrassing the Kremlin and sowing unease among civilians.
Russian President Vladimir Putin blamed Ukrainian "terrorists" for an incursion, claiming that they had deliberately targeted civilians, including children in "yet another terror attack, another crime."
"They infiltrated the area near the border and opened fire on civilians," Putin said during a video call. "They saw a civilian vehicle with civilians, with children in it, and they fired on them."
Thursday's alleged incursion came just days after Putin ordered Russia's Federal Security Service, the main KGB successor agency, to tighten controls on the border with Ukraine.
The war in Ukraine has jacked the global arms trade, fueling a new appetite for materiel not just in Moscow and Kyiv but also around the world.
While Russian war hawks have expressed dismay about what they see as Putin's reluctance to declare martial law and a sweeping mobilization of soldiers, the Russian leader's comments Thursday didn't appear to signal any such moves.
Putin said the attack in the Bryansk region, which he blamed on "neo-Nazis," confirmed that Russia did the right thing by invading Ukraine. "I repeat again: They will not succeed and we will finish pushing them out," he said.
When he ordered the invasion, the Russian leader vowed to "de-Nazify" Ukraine, alleging falsely that radical neo-Nazi groups dominate the country — even though its president, Volodymyr Zelensky, is Jewish. Kyiv and its Western allies dismissed Putin's assertion as a bogus cover for an unprovoked act of aggression.
Ukraine's military intelligence representative, Andriy Cherniak, saw Moscow's claims as evidence that Russia is facing what Kyiv claims is an uprising among its own disgruntled people.
Russian President Vladimir Putin signs bill suspending his country's participation in the last remaining nuclear arms treaty with the United States.
"This was done by the Russians — Ukraine has nothing to do with it," he told the Associated Press.
A group calling itself the Russian Volunteer Corps had claimed it crossed the border into Russia in a video that also urged Russians to rebel. The Corps statement did not explain what action it took and what specific objectives it wanted to achieve.
The Russian Volunteer Corps describes itself as "a volunteer formation in the Armed Forces of Ukraine." Little is known about the group, and it wasn't immediately clear if the group indeed has any ties with the Ukrainian military.
Ukrainian presidential advisor Mykhailo Podolyak described the Russian claims as "a classic deliberate provocation."
Russia "wants to scare its people to justify the attack on another country [and] the growing poverty after the year of war," he tweeted, suggesting that the attack was the work of Russian partisans.
The United Nations chief says Russia's full-scale invasion of Ukraine has triggered 'the most massive violations of human rights' in the world today.
Bryansk Gov. Alexander Bogomaz said the attackers killed two civilians and wounded a child in the village of Lyubechane.
Russia's Federal Security Service said it acted together with the military to "eliminate armed Ukrainian nationalists who violated the state border." The agency claimed later that the attackers had been pushed back into Ukraine, "where a massive artillery strike was inflicted on them." It was not possible to verify the claim.
Putin canceled a planned trip to southern Russia because of the attack. He is set to chair a weekly meeting of his Security Council on Friday.
Asked by reporters whether the activity could warrant a change in the status of the conflict, Kremlin spokesman Dmitry Peskov responded with a coy "I can't say for now."
The town of Vuhledar has become one of the deadliest hot spots on the long front line between Ukrainian and Russian forces in eastern Ukraine.
The raid in the Bryansk region followed a spate of drone attacks. On Tuesday, drones that the Kremlin said were launched by Ukraine flew deep inside Russian territory, including one that got within 60 miles of Moscow. The Russian Defense Ministry also said Wednesday that the military repelled a drone attack on Crimea.
In Ukraine's southern city of Zaporizhzhia, three people were killed and six others were wounded early Thursday when a Russian missile hit a five-story apartment building, destroying several floors.
A Russian drone attack hit people standing in line for humanitarian aid in a village in southern Ukraine's Kherson region, wounding nine people, including a 16-year-old, the regional administration said.
Zelensky said Russia "wants to turn every day for our people into a day of terror." He added: "But evil will not reign in our land."
Must-read stories from the L.A. Times
Get the day's top news with our Today's Headlines newsletter, sent every weekday morning.
You may occasionally receive promotional content from the Los Angeles Times.
Russian artillery, drones and missiles have pounded Ukrainian-held areas in the country's south and east for months. Moscow denies aiming at civilian targets, but its indiscriminate shelling has wrought wide destruction in urban centers.
The war largely slowed to a grinding stalemate during the winter months.
Meanwhile, a fierce battle continued for control of Bakhmut, a key eastern stronghold where Ukrainian officials say they might strategically withdraw.
The Ukrainian military's General Staff reported that Russian forces "continue to advance and storm the city," but Kyiv's troops repelled some of the attacks. Taking the city could not only give the Russian forces a rare battlefield gain after months of setbacks but might rupture Ukraine's supply lines and allow the Kremlin's forces to press toward other Ukrainian strongholds in Donetsk.
Fighting is grinding on in Ukraine after the country marked the anniversary of Russia's invasion of Ukraine.
In other developments, U.S. Secretary of State Antony J. Blinken and Russian Foreign Minister Sergei Lavrov talked briefly Thursday at a meeting of top diplomats from the Group of 20 nations. It was the first high-level meeting in months between Russia and the U.S.
A senior U.S. official, who spoke to reporters on condition of anonymity to discuss the private conversation, said Blinken had "disabused" Lavrov of any idea the Kremlin might have that U.S. support for Ukraine is wavering.
Must-read stories from the L.A. Times
Get the day's top news with our Today's Headlines newsletter, sent every weekday morning.
You may occasionally receive promotional content from the Los Angeles Times.