Nevada's Republican governor approves abortion protections in a cross-party move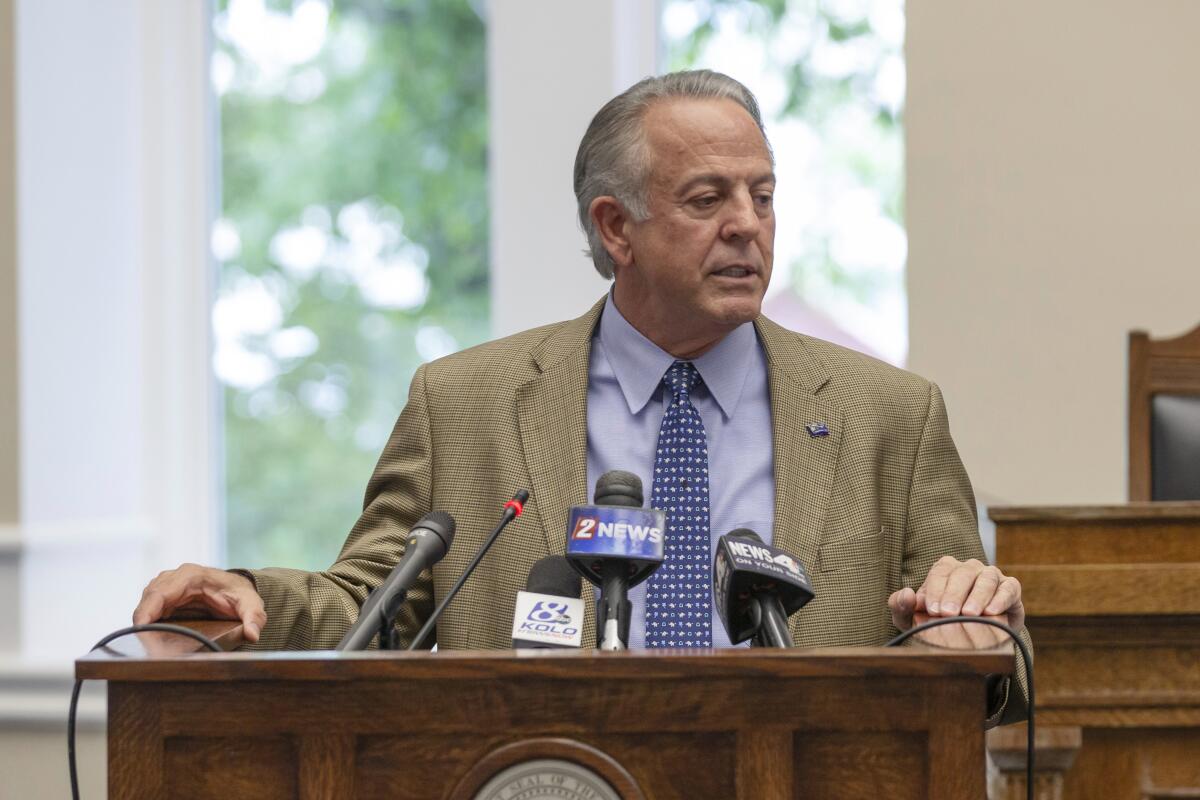 CARSON CITY, Nev. —
Nevada's Joe Lombardo has become one of the first Republican governors to enshrine protections for out-of-state abortion patients and in-state providers, adding the Western swing state to the list of those passing new laws to solidify their status as havens for abortion patients.
The legislation signed Tuesday codifies an existing executive order from former Gov. Steve Sisolak last year — who lost reelection to Lombardo — that bars state agencies from assisting in out-of-state investigations that could lead to the prosecution of abortion patients who travel to Nevada.
It also ensures that medical boards and commissions overseeing medical licenses do not discipline or disqualify doctors who provide abortions.
Lombardo, who describes himself as "pro-life" and was endorsed by the National Right to Life Committee, said on the campaign trail that he would respect the will of voters who codified abortion rights up to 24 weeks in a 1990 referendum vote. He was the only Republican gubernatorial candidate to defeat a state Democratic incumbent in the last election.
"I want to thank [Lombardo] for following through on his commitment to ensuring that Nevada won't participate in prosecutions of women who come here to exercise their reproductive rights," Democratic Senate Majority Leader Nicole Cannizzaro, who sponsored the legislation, said in a statement Tuesday.
Lombardo is one of the few Republican governors — the others are Vermont Gov. Phil Scott and former Massachusetts Gov. Charlie Baker — to sign a law enshrining protections for abortion.
The provisions were a major focal point in one of the closest governor's races of the 2022 midterms and became the latest reflection point for how GOP lawmakers and candidates navigate abortion policy debates in blue or purple states.
Lombardo originally said he would repeal the executive order, but said months later he would uphold it, a reversal that Sisolak's campaign repeatedly emphasized.
In February, he signaled that he would sign the bill, which does not add any additional protections to Sisolak's executive order.
Republicans struggle to navigate the politics of abortion as they concede that antiabortion policies are unpopular with the voters they need to win the presidency.
"Governor Lombardo made a campaign commitment to ensure that Nevada would not participate in prosecuting those seeking legal medical care in the state," spokesperson Elizabeth Ray said in a statement. "Today, Governor Lombardo kept that commitment."
Cannizzaro told the Associated Press in April that she was not aware of specific cases of outside states prosecuting women who have come to Nevada for abortions but said that could happen with more restrictive laws coming from other states. She cited restrictions approved in neighboring Idaho and Utah.
Democratic-controlled states, including California, Colorado and Rhode Island, have approved similar legislation to the one in Nevada.
Nevada's state Senate advanced the legislation last month, with two Republican women joining Democrats in support of the bill. Following the vote, the Nevada Republican Party said it was "horrified" that the two voted for the measure, exposing an intraparty rift about how to handle abortion legislation after the Supreme Court's overturning of Roe vs. Wade.
The Nevada GOP did not immediately respond to a request for comment about Tuesday's signing.
Legislation aiming to regulate crisis pregnancy centers in California have failed despite otherwise robust abortion access policy.
Earlier this month, Nevada's Democratic-controlled Legislature advanced a resolution that would enshrine existing abortion rights in the state constitution, which would make them much harder to repeal. After passing the 2023 session, it must also pass in 2025 before appearing before voters on the 2026 ballot.
That process does not include the governor's approval.
Get our Essential Politics newsletter
The latest news, analysis and insights from our politics team.
You may occasionally receive promotional content from the Los Angeles Times.