A new kind of Hong Kong activism emerges as protesters mobilize without any leaders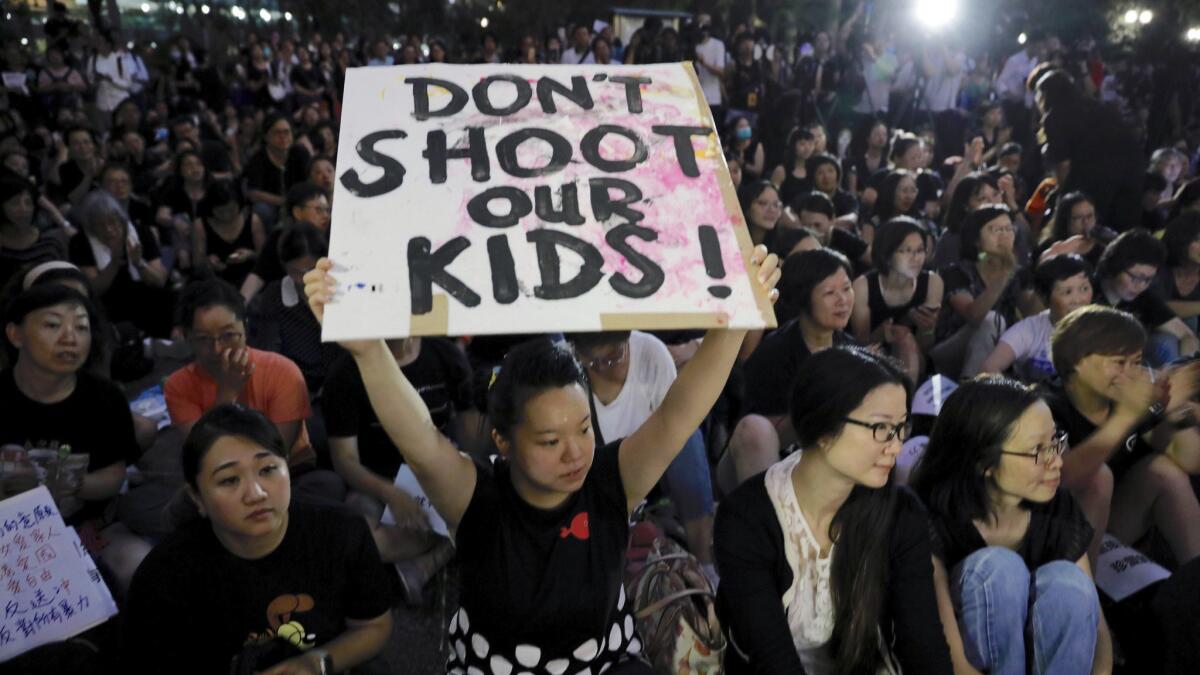 Reporting from Hong Kong —
A crowd of protesters in T-shirts and masks sprinted through the streets, tear gas mushrooming behind them.
Suddenly, a cry came from behind: "Inhaler!"
Everyone froze, spinning on their heels.
"Inhaler! Inhaler!" they chanted in unison.
Within 20 seconds, two young women sprinted forward, pulling asthma inhalers from their bags and passing them along.
"OK!" yelled the youth in the distance. The paused protesters spun and ran again, smoke fumes licking at their backs.
Hong Kong's protesters had mobilized on Wednesday as if they'd been trained for years. Anyone who needed a helmet, mask, or umbrella would yell to the sky. Those around them would stop, passing the message instantly through the crowds with unified chants and matching hand motions: patting their heads for a helmet, cupping their eyes for goggles, rolling their arms for cling wrap, which they were using to protect exposed skin from tear gas and pepper spray.
An outsider might assume there must be some administrative genius at the core, directing the tens of thousands of protesters who surrounded the legislative building to prevent discussion of an extradition bill that — if approved — would send people to China at its request.
But Hong Kong activism has evolved.
Five years after the pro-democracy Umbrella Movement of 2014, in which high-profile individuals led mass occupation of the city center, only to be arrested or exiled in the aftermath, Hong Kong's youth have decentralized their protests. They are impeccably organized, yet no one is in charge.
"This is a new model of Hong Kong protests," said Baggio Leung, 32, convener of Youngspiration, a local political group formed after the 2014 Umbrella Movement. Leung was elected to the legislative council in 2016, but disqualified for deliberately mispronouncing "China" in his swearing-in oath.
Several other pro-democratic legislators have also been disqualified from serving in the council, some imprisoned along with civil society and student leaders after having participated in the Umbrella Movement.
This time around, protesters are deliberately leaderless, Leung said.
"It looks quite organized and well-disciplined. But I'm quite sure you cannot find anyone managing the whole thing," Leung said, adding that the protesters' logistical practices — bringing supplies, setting up medical stations, rapid mass communication — were "in-built" from the last few years of practice.
"It's just like a machine or a self-learning AI that can run by themselves," he said.
Many groups are participating in a growing wave of grassroots dissent. Unions, student associations, churches and activist organizations like Demosisto, a nonviolent resistance group led by Joshua Wong, the now-imprisoned face of the Umbrella Movement, have all called on members to participate in marches, rallies, and other forms of direct action.
On Friday morning, Demosisto activists flooded into a metro station at rush hour. Seven protesters knelt on the floor, calling the white-collar workers walking past to join a planned anti-extradition bill rally on Sunday.
"Some passersby shouted words of encouragement to the activists as police checked their IDs.
But Demosisto is only one of many groups protesting. And none have stepped up to claim leadership.
"We are just one of the participants. It's leaderless, autonomous," said Nathan Law, 25, founding chairman of Demosisto and a former legislator who was also disqualified for the way he took his oath.
Most participants in the protests are not coming as part of any organization, Law said, but finding out about different activities through social platforms online.
"People are receiving information through social platforms, Telegram channels, online forums, and they decide by themselves [what to do]," Law said. "People are voting on the internet."
One popular online forum is LIHKG, a Hong Kong version of Reddit where anonymous users are posting ideas for creative protest: disrupting the subway station, gathering for vigils or "picnics," making anti-extradition bill memes that appeal to conservative values so that older Hong Kongers will get involved.
"You can choose thumbs up or thumbs down, and people discuss whether they support or are against it," Law said. If momentum gathers behind one idea, people act.
"Person A says something online, Person B says something else. Today more people support A's idea, so we do it. Tomorrow we may agree with B instead of A," said Philip Leung, 21, a student protester who's active on LIHKG and other social platforms.
It doesn't matter that activists don't know the identity of A, B, or any other person posting ideas, he said.
"We express the ideals of freedom instead of idolizing a particular person," Leung said, adding that the only uniting focus for all protesters is their opposition to the anti-extradition bill.
"We don't have anyone or any particular party to tell us what to do."
Even planned actions by organized groups like churches and unions have taken on a life of their own.
Local churches called for mass prayer meetings in the days leading up to Wednesday's planned legislative discussion of the extradition bill. When the Tuesday night meeting ended at 9 p.m., participants didn't want to leave, said local pastor Wong Siu Yung.
The pastors suggested singing a hymn, "Sing Hallelujah to the Lord," a simple song that could be finished within a few minutes.
"They sang for eight hours," Wong said. Some people were still singing when their next prayer meeting began at 7:30 a.m.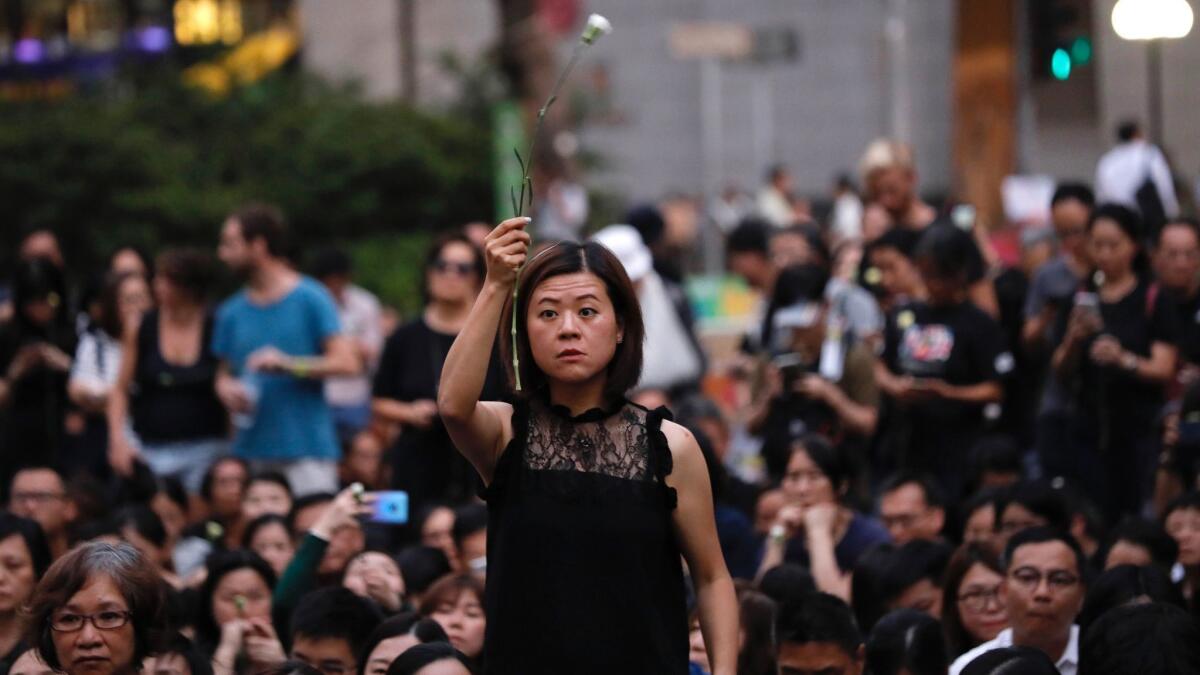 People took up the song again during Wednesday's protests as pastors stood between rows of police and youth protesters, hoping to defuse tension.
"We stood in the middle, made a long row, held up our hands and sang," Wong said. "Then later, the youth behind us put down their umbrellas. Then, same as us, they raised their hands and sang."
After the protests escalated into clashes and then were dispersed, a new group of protesters returned to a bridge near the legislative building on Thursday, holding signs denouncing police violence and singing the hymn as they faced a group of police.
Wong didn't know who they were. The churches had stopped organizing on Wednesday, he said.
OPINION: Stand with the people of Hong Kong »
"Maybe there are some smaller fellowships, Christians or non-Christians, groups of eight or 10 people who contact each other and decide to go out," Wong said, adding that protesters may be singing the song as a way to keep a calm atmosphere. "This isn't our central decision."
The police crackdown has pushed youth activists toward further decentralization, breaking up mass Telegram channels into smaller groups. The youth now mobilize through dozens of Instagram pages, chat groups and old-fashioned groups of friends pulling friends together.
There are signs the older generation is tuning in. More than 44,000 Hong Kong mothers signed a scathing open letter to Hong Kong Chief Executive Carrie Lam on Thursday, after Lam said on television that listening to protesters would be like a mother "indulging" wayward children.
"We are a group of mothers in Hong Kong, and we would definitely not use tear gas, potentially lethal rubber bullets and beanbag rounds on our own children, and we would not be able to stay unmoved if we see young people covered with blood after being bashed by police batons," the letter said.
Hundreds of angry mothers gathered in a park Friday night for a "mothers rally" against the extradition bill and police violence, holding signs with messages like, "Don't shoot our kids."
"The real violence comes from the Hong Kong government's deliberate and persistent attempt to be the enemies of the people," said Susanne Choi, one of the organizers. "We gather here to send a signal to the young people that they will not be alone. We will be with them."
"Women, come out!" one of the speakers said. "Let's see how the police will beat women. Come out Sunday! Come out Monday! Come out Tuesday! Come out every day!"
A decentralized movement is harder to control. Police may arrest individuals, but there is no core to catch.
Since Sunday, police have arrested 34 people, including four protesters taken from hospitals on charges of rioting and a 22-year-old administrator of a Telegram group from his home.
But that lack of control could also be dangerous, said Baggio Leung of Youngspiration. Late Wednesday night, with tensions high and more than a thousand young protesters still roaming the streets, building makeshift barricades to block riot police, Leung had worried that there was no way to deescalate the situation.
"If police had shot, everyone would die. They're unarmed," Leung said. If there were leaders, they could step forward and urge retreat in case the police brought real guns, he said — an image that Hong Kongers remember from Tiananmen Square.
"If I have a position, I can urge them to leave," Leung said. "But I'm not the one who called them out, so they can choose not to listen to me. Who am I to decide?"
Sign up for Essential California for news, features and recommendations from the L.A. Times and beyond in your inbox six days a week.
You may occasionally receive promotional content from the Los Angeles Times.