'The clock is ticking.' In Kashmir, parents try to find their militant sons before Indian forces get to them
As Indian forces crack down on the insurgency in the disputed Kashmir territory, parents of young militants are combing battlegrounds for their children before they end up dead. (August 28, 2017) (Sign up for our free video newsletter here http://bi
On the eighth day after his son disappeared, Mohammad Munawar Dar's phone rang. It was an Indian army officer with news that Dar couldn't bring himself to believe.
The officer said he had information that Dar's son Shakoor, 21, had joined the anti-Indian insurgency in Kashmir, the long-disputed Himalayan territory enduring its worst outbreak of violence in years.
Dar never thought that Shakoor, who was studying to be an Islamic preacher, would take up arms. After Shakoor went missing, Dar had searched for him in seminaries and mosques, police stations and bus stops, markets and friends' houses. Still doubting the army officer's news, he later sent a friend to file a missing person's report with police.
A few days later, a boy from the neighborhood walked into Dar's kitchen in Sopat Tangpora, a village of apple orchards, brandishing his cellphone. He pulled up a photo showing Shakoor, with his thick black hair and neatly trimmed beard, leaning against a tree and holding a battered rifle.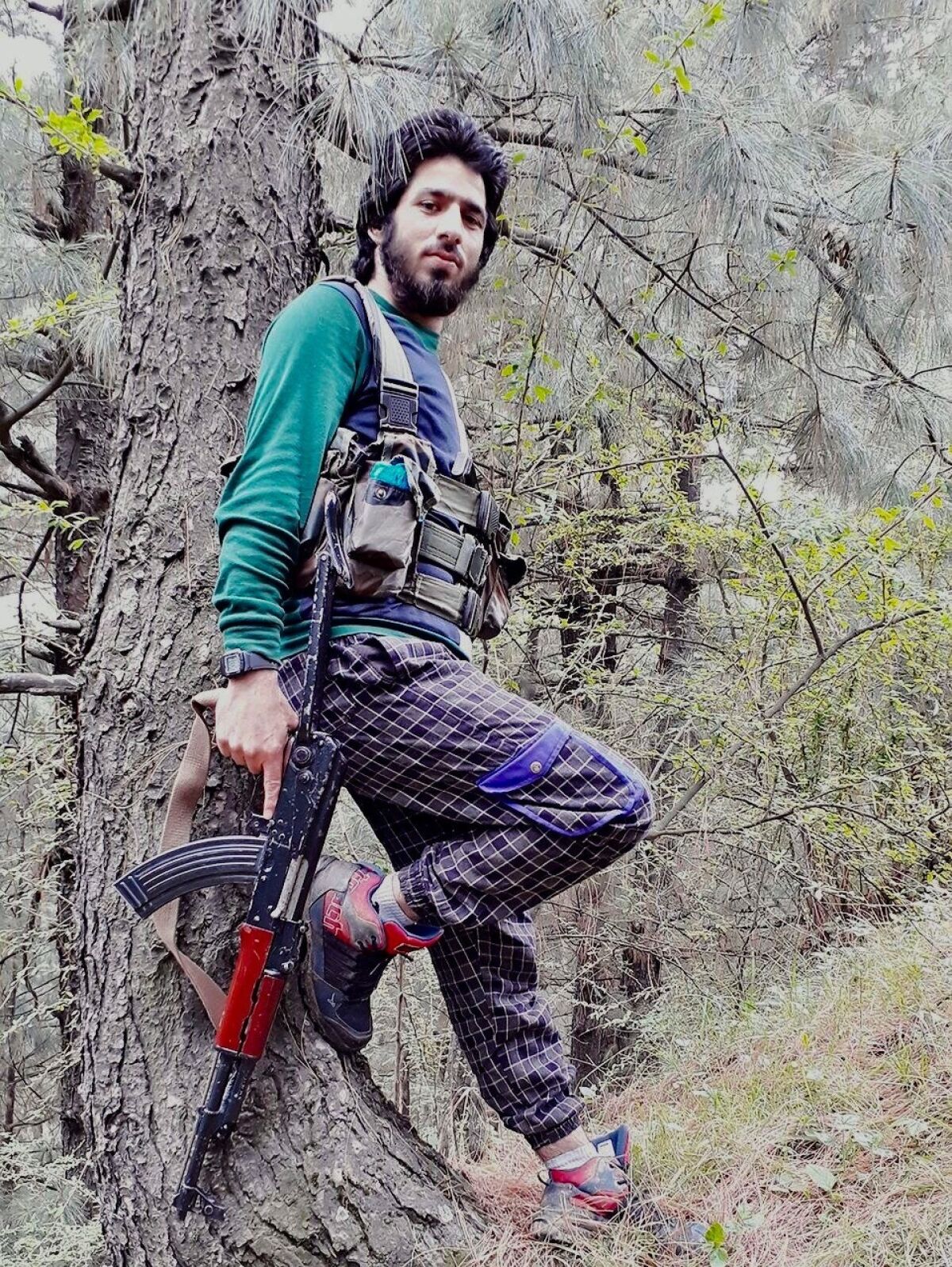 The photo had been posted on Facebook — the way young Kashmiri men typically announce they have become fighters.
"I was crushed," Dar said. "I had thought of him being anything but a militant."
Shakoor, like dozens of young men over the last year, joined the armed separatists in the Indian-controlled part of Kashmir, the rugged territory that India and Pakistan have fought over for 70 years.
Faced with one of the most prolonged popular uprisings here in recent memory, Indian soldiers and police have responded with overwhelming force, killing at least 135 suspected militants across the state of Jammu and Kashmir this year, on pace to be the highest one-year total since 2010, according to the South Asia Terrorism Portal, which tracks the fatalities.
As the body count rises, parents across the Kashmir valley are searching desperately for sons who have joined the militancy, hoping to bring them home before they end up dead at the hands of security forces. The grim task has added to the suffering in a territory that seems to be drifting further from its goal of self-determination.
Dar and his wife have rushed to the sites of gunfire and combed mosques and towns hunting for any sign of Shakoor, the youngest of their three sons. Every day that passes, Dar acknowledged, the chances that Shakoor will survive grow more remote.
"The clock is ticking," he said.
---
Inside their four-room house of mud and brick, set amid walnut and apple trees, Shakoor's family watched with worry last year as violence spread across the valley.
In July 2016, after Indian forces killed a well-known Kashmiri militant, 21-year-old Burhan Wani, protesters poured into the streets, beginning months of clashes with soldiers and police that would leave more than 100 civilians dead, hundreds blinded by lead pellets and thousands arrested.
Shakoor frequently joined the demonstrators, angering his father, who said it was not appropriate for a seminary student — who had designs on becoming an imam — to engage in violence.
"I knew he would not listen to me, but I am a father," said Dar, 68, sitting inside his small tailoring shop in the village.
Dar would often send Shakoor to work in the apple orchards to distract him. But one day last September, he didn't return.
Indian security operations have ground down an insurgency that included some 1,700 fighters a decade ago to fewer than 200 last year, most of them Pakistani, according to official estimates. But Wani's death attracted a new generation of local recruits.
Most joined Wani's group, Hizbul Mujahideen, a Kashmiri organization that arms itself primarily with weapons stolen from security forces. In August, the U.S. State Department formally designated the group a foreign terrorist organization.
Shakoor's parents learned that he had joined Lashkar-e-Taiba, a Pakistan-based militant group that has waged attacks inside India for three decades. It is widely seen as a more radical organization with links to international terrorists.
Until recently, few disaffected young Kashmiris would have considered joining Lashkar, analysts say. But India's failure to find a political solution to Kashmiris' desire for self-government has raised the appeal of hard-line groups.
In recent months, Indian forces have quelled the protests in southern Kashmir and intensified the hunt for militants in villages, triggering bloody firefights. Last Saturday, three militants stormed a police compound in Pulwama district, killing eight security personnel before they were shot dead after an hours-long gun battle.
"These are not terrorist organizations but gangs," said Swayam Prakash Pani, deputy police inspector in southern Kashmir. "By the end of this year we should have neutralized all of them."
---
Shakoor's decision to fight India made his parents celebrities in Sopat Tangpora. Children would cross the street to shake hands with his father. Villagers greeted his mother, Raja Begam, with a respectful salaam.
But his parents just wanted their son back.
One morning in February, Begam dashed out of the house barefoot. A short 63-year-old with sunken brown eyes, she ran for several hundred yards before climbing into the back of a truck.
As she caught her breath, her lips trembled. She had heard of a gun battle unfolding about seven miles away in the village of Yaripora and wondered whether Shakoor was involved.
When she got down outside Yaripora, gunfire crackled in the cool air. Indian soldiers and police had surrounded a house where four separatists were holed up. Scores of anti-Indian demonstrators were hurling stones at the security forces.
Begam kept her distance from the mob, watching nervously. A man from the village asked what she was doing there.
"I'm looking for my son," she said.
For the first time, women and girls had begun to join the stone-throwing demonstrators in some areas, their photos going viral as a sign of the growing anti-Indian sentiment. Begam said she had never participated. But she knew this generation of Kashmiris was more politically conscious than hers.
As she watched the crowd, she felt a glimmer of pride.
"When you see this kind of support," she said, "it means the path my son has chosen is not wrong."
It was almost dusk when the gunfire quieted. The house was destroyed, the four militants inside dead. Two soldiers and a civilian also were killed.
A teenage boy ran up to Begam. She had introduced herself earlier, and now he had some news. Shakoor was not inside the house. It was not too late to find him.
"No mother in this world, including that of a soldier or a policeman, would want to see her son wrapped in a white shroud," she said.
---
A few miles away in Habilishi, a village surrounded by green paddy fields, Mehmooda Wani was also locked in anguish. Her stepson, Yawar Bashir Wani, who is no relation to Burhan Wani, left home in January, stole a weapon from a police officer and joined Lashkar-e-Taiba, according to Kashmir police.
In a letter delivered to their house days later, Yawar, 21, asked his father for forgiveness: "I am sorry that I could not do what a son is supposed to do for his father."
Now the parents of Yawar and Shakoor are united in a quest to find their sons.
Yawar's father, Bashir Ahmad Wani, a civil servant in the forestry department, sat on the veranda of his house one morning in August, holding his head in his hand. Spread before him was a newspaper article in which police blamed Lashkar-e-Taiba militants for an attack on Hindu pilgrims outside Anantnag that killed eight civilians.
Among the four attackers, officials said, was Yawar Bashir Wani.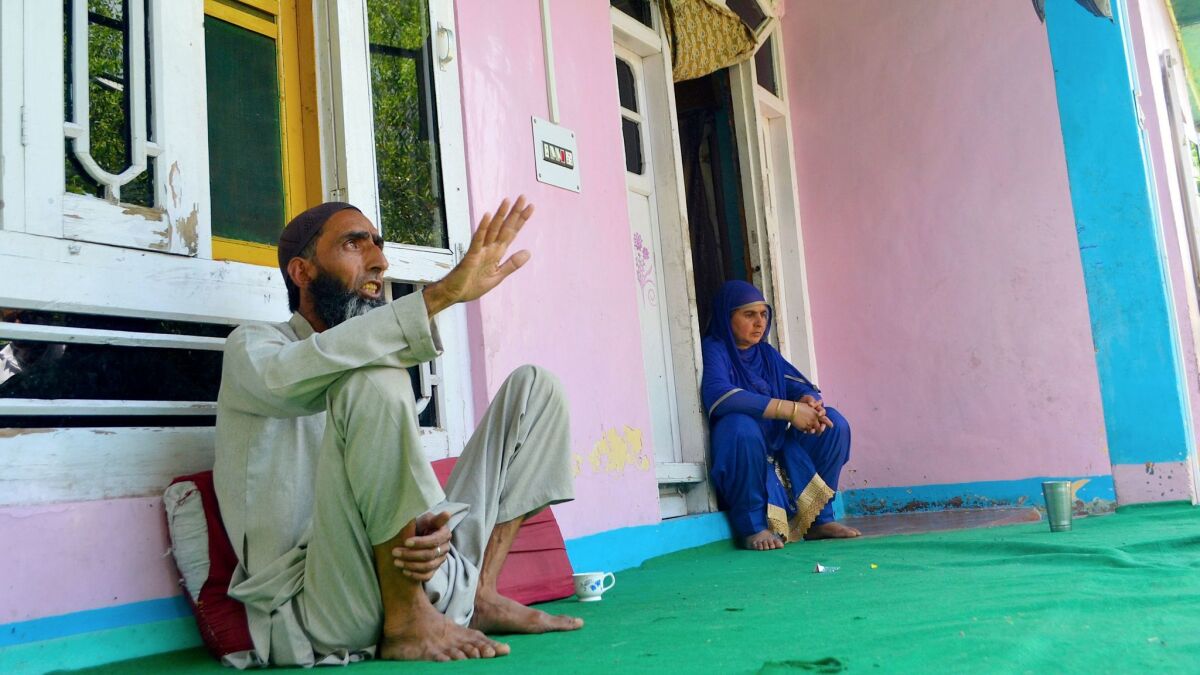 "If the police are telling the truth, then he deserves the fate of those innocent pilgrims because Islam doesn't teach the killing of innocent people," his father said.
A week later, Indian forces cordoned off a small village 35 miles away where a group of militants were reportedly meeting. Mehmooda Wani's phone rang with the news that a young man had been killed.
"I hope Yawar is fine," the caller said. "You must check."
The next morning both she and Shakoor's father, Dar, rode to the village of Awneera, where a gunfight was raging. Stopped a mile outside town, they asked a local man the names of the militants inside, and he said neither Shakoor nor Yawar were believed to be there.
The militant who was killed was Yasin Yatoo, one of the leaders of Hizbul Mujahideen. His body was brought to his house, wrapped in a green flag bearing the Islamic crescent and star.
His mother sat before him, weeping in front of dozens of mourners.
"All these years I waited for you to come home," she murmured. "Now that you are here for such a short time, they already want to take you away from me."
Wani and Dar shared a taxi back to their village. Their search would continue.
"Thank God," Dar said, "my son has some more days to live."
Special correspondent Yasir reported from Kashmir and Times staff writer Bengali from Mumbai, India.
Follow @SBengali on Twitter for more news from South Asia
ALSO
Indian guru gets 10-year prison sentence in rape case; police brace for violence from followers
In India, you can no longer divorce a woman simply by saying (or texting) it three times
With the battle for Mosul finished, Islamic State families present a conundrum
Islamic State's latest video features what it says is a child of a U.S. soldier
Must-read stories from the L.A. Times
Get the day's top news with our Today's Headlines newsletter, sent every weekday morning.
You may occasionally receive promotional content from the Los Angeles Times.