Violence has gripped China's Xinjiang region since 2008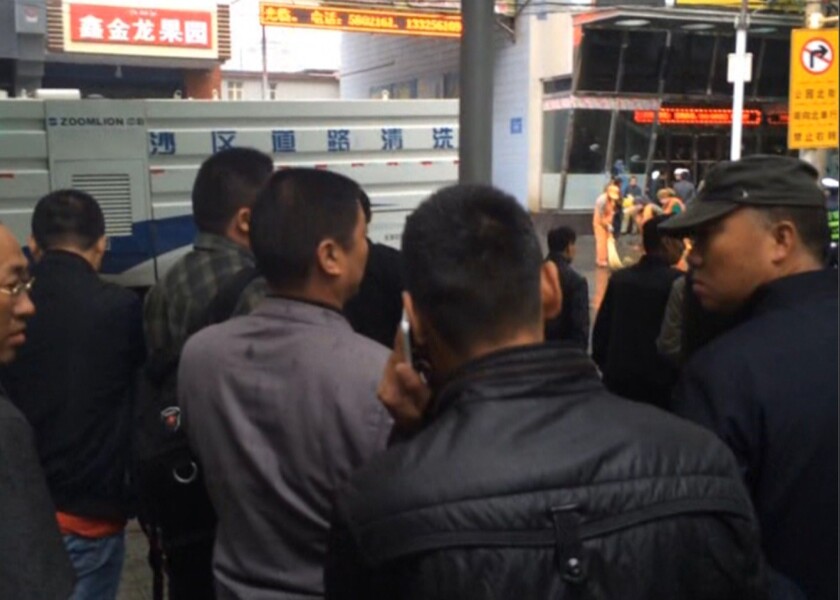 Beijing —
A timeline of recent violent incidents linked to tensions in China's far northwestern region of Xinjiang between its native Turkic Muslim Uighur ethnic group and China's majority Han. China tightly controls information about such incidents, and it's not always clear what transpired or the exact number of victims and attackers killed.
Aug. 4, 2008: Two Uighur men steal a dump truck and drive it into a group of policemen in the far western city of Kashgar, killing 16 people. The attack comes just days ahead of the opening of the Beijing Olympics, fulfilling expectations that extremists would attempt to disrupt the games.
July 5-7, 2009: Violence breaks out between police and protesting Uighurs in central Urumqi, then spreads through much of the city. A total of 197 people are killed, most of them Han Chinese, in the worst bloodshed in Xinjiang in decades.
July 18, 2011: A group of young Uighur men attack government offices and a police station outside the city of Hotan in southern Xinjiang, killing two officers and two hostages. Of the 18 attackers, 14 are shot dead.
April 24, 2013: Gang members stab and burn neighborhood security patrol officers and then police in a village outside Kashgar, killing 21 officers and local government officials.
June 26, 2013: Assailants raid police and government offices in the eastern Xinjiang town of Lukqun, killing 24 officers and civilians. Police say the attackers belonged to a 17-member extremist Islamic cell.
Oct. 28, 2013: A jeep carrying a Uighur man, his wife and her mother jumps a curb in downtown Beijing and plows through tourists before coming to a stop in front of Tiananmen Gate and exploding into flames. Five people are killed, including those in the vehicle and two tourists, in the first such incident known to have taken place in the capital.
March 1, 2014: Five knife-wielding men and women slash at people at the railway station in the southwestern city of Kunming in Yunnan province, killing 29. The attack is the biggest ever outside Xinjiang, and results in stepped-up security nationwide.
April 30, 2014: Two suspected suicide bombers detonate their explosives at the exit to the Urumqi train station, killing themselves and one other person. Another eight people attack passengers with knives, leaving a total of 79 injured.
May 22, 2014: Two trucks plow through crowds at an open air market in Urumqi as explosives are tossed from their windows. Thirty-one people are killed and 94 injured, the largest number of victims in a single incident of violence involving Xinjiang tensions in recent history.
---
Must-read stories from the L.A. Times
Get the day's top news with our Today's Headlines newsletter, sent every weekday morning.
You may occasionally receive promotional content from the Los Angeles Times.