In Didi Chuxing, Uber finally met its match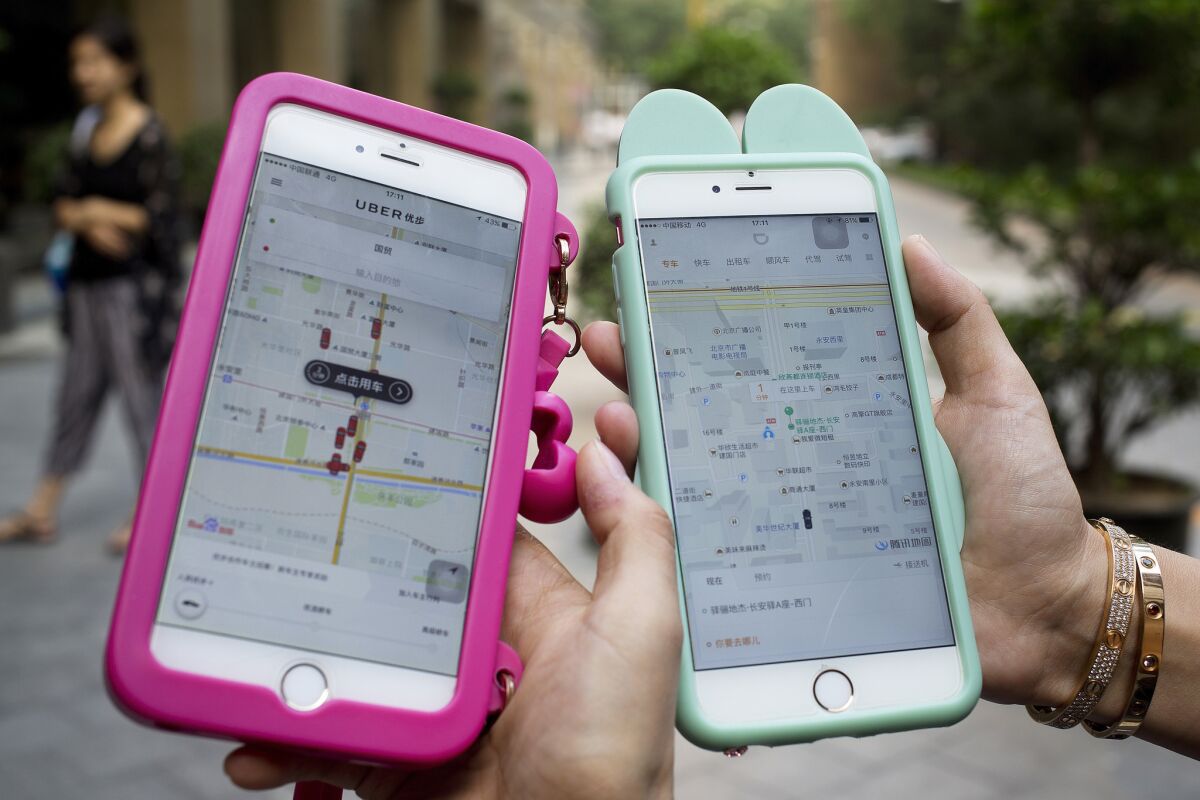 Reporting from Beijing —
Uber's rapid rise from small start-up to $62.5-billion tech giant is often chalked up to its unmatched bullishness, its penchant to win at all costs. But in China, the company finally met its match: a rival willing to outspend, outmaneuver and, as of Monday, outright buy the Chinese arm of its business.
With Uber's sale of its Chinese brand and operations to local rival Didi Chuxing, the San Francisco ride-hailing company admitted it would never dethrone the incumbent. But considering the failures of other foreign tech firms in China — where weak understanding of the market, fierce local competition and a hostile regulatory environment have already sent EBay, Google, Facebook and Twitter scurrying — Uber's surrender is a best-case scenario and a savvy business move, industry experts say.
Uber and the backers of its China operations will hold a 20% interest in the combined company. Didi will also invest $1 billion in Uber's global business, according to a source familiar with the arrangement but not authorized to speak on the record.
Some likened the deal to Yahoo co-founder Jerry Yang's move in 2005 to buy a 40% stake in then-fledgling Chinese e-commerce company Alibaba for $1 billion — an investment that was worth $20 billion a decade later.
By either strategy or luck, Uber played this beautifully.
— Jeffrey Towson, a professor of investment at Peking University
And they noted that the "if you can't beat 'em, join 'em" approach means Uber can stop spending piles of cash fighting an uphill battle for riders and drivers in China, and focus its energies elsewhere.
"By either strategy or luck, Uber played this beautifully," said Jeffrey Towson, a professor of investment at Peking University and author of a book on Chinese consumers. "Eighteen months ago they were written off in China — too small, too late and a foreign Internet company in a political market. But they surprised everyone by continually doubling down and using their money and technology in a powerful way."
That doubling-down didn't come cheaply — Uber's chief executive, Travis Kalanick, famously said the company was losing $1 billion annually trying to grab market share. It wasn't all for naught: The company says six of its top 10 cities by ride volume are in China, and its China business gave investors hope for future growth.
But in the first quarter of 2016, Didi Chuxing — which was formed in 2015 by the merger of two Chinese rivals — ranked No. 1 in China with a market share of about 85%, while Uber was No. 2 at about 8%.
Still, Uber attained what Towson called a "solid No. 2 position," leaving Uber and Didi Chuxing with two possible outcomes — a continued war of attrition or a merger that would give Uber a minority stake in the China winner.
"I see it as spending 1½ years building up a strong negotiating position, and then doing the deal they probably always wanted," Towson said. "Winning in China was probably plan A. Doing a deal with Didi from a position of strength was probably Plan B.… This is probably their best possible outcome."
After news of the deal broke, Kalanick posted a message on his Facebook page saying that when Uber entered China in February 2014, "we were a young American business entering a country where most U.S. Internet companies had failed to crack the code." The company grew to 800 employees in 60 cities, completing 40 million rides a week.
"However, as an entrepreneur, I've learned that being successful is about listening to your head as much as following your heart," he said. "Sustainably serving China's cities, and the riders and drivers who live in them, is only possible with profitability."
Duncan Clark, author of "Alibaba: The House that Jack Ma Built," said this head-heart dilemma is a "prime example of an old lesson for foreigners in China" and that Kalanick was on the right side of things.
"Better be a merchant than a missionary. Merchants left the legacy of Hong Kong [and] trading companies. Missionaries got their heads chopped off."
Kalanick said in his note that the deal will allow Uber to redirect resources to markets where it is already dominant and double-down in its pursuit of profit. Analyst believes it will pave a path toward an initial public offering.
"By removing a $1-billion annual loss, all of a sudden Uber looks more attractive to public investors," said Ajay Chopra, a partner with venture capital firm Trinity Ventures, which is not an investor in Uber. "Private investors tend to value growth, but public investors look at more fundamental metrics like profitability, so the valuation impact here may actually be positive."
With China no longer a focus, Uber could bolster its logistics business by expanding its delivery services UberEats and UberRush, which are available only in a handful of U.S. cities.
It could use the cash to solidify its position in the U.S., said Evan Rawley, a professor at Columbia Business School. Even though Uber is the U.S. leader in ride-hailing, more than 80% of Americans still haven't used it.
It could invest more in autonomous vehicles — another fast-moving industry where tech companies and automakers are racing to be first to market. Or it could further invest in international markets such as Israel, India and Europe, where it has faced regulatory and incumbent head winds.
And it could do all of this without worrying about a hostile rival in Didi.
Didi Chuxing was formed by the merger of Didi Dache, backed by Tencent, and Kuaidi Dache, backed by Alibaba. When they joined forces after a fierce price war, some observers put their combined value at $6 billion.
But the market has been growing explosively — with rides nearly quadrupling in China from 2015 to 2016. Some observers have valued the merged Uber-Didi company at $35 billion.
China accounted for about 70% of the 6.3 billion "on demand" transportation trips worldwide in the first quarter of 2016, according to Hillhouse Capital; North America accounted for about 10%.
Those kinds of numbers have prompted multiple rounds of heavy investments in Didi Chuxing, including $1 billion from Apple this year. Still, Didi Chuxing has yet to turn a profit, and it needs to find a way to start making money. Setting aside its fare war with Uber may now help it focus on that.
What the deal means for drivers and riders in China was not immediately clear, though Didi Chuxing's statement said that Uber "will maintain independent branding and business operations to ensure stability and continuity of service for passengers and drivers."
Yi Beichen, Internet analyst and author of "The Era of Mobile Internet," said that while the détente probably spells the end of highly subsidized rides, it could be good for customers in other ways, he said.
"Didi can spend more time to improve the user experience and other details to improve their services. So it's also good news for users," he said.
But some drivers were not sold on the idea. A 34-year-old photographer named Bo Bo who has been working part time as a driver for both Uber and Didi said he feared it would mean smaller paychecks.
"Before the merger, I could always compare the fares between Didi and Uber and chose the more profitable rides to work on. But after the merger, Didi will become the monopoly and will decide the price on its own. I think the merger will only make us earn less and less," he said.
The merger comes only days after China said it would formally permit the ride hailing but impose licensing and registration requirements. The ride-hailing services like Didi and Uber had for years operated in a legal gray area.
With this deal, Didi Chuxing now has agreements with most major ride-hailing companies in the U.S. and Southeast Asia. To complicate matters, the company also has a partnership with Uber competitor Lyft, which lets Didi customers hail Lyft rides in the U.S. and lets Lyft customers hail Didi rides in China.
Lyft, which is based in San Francisco and operates only in the U.S., said Monday in a statement that the recent ride-hailing policy changes in China are "exactly why we did not invest in the region." A spokeswoman said Lyft will evaluate its partnership with Didi in the coming weeks.
In its own statement, Didi said it plans to continue to work with its global partners.
It's possible that Uber was bluffing the whole time, that it knew it would never win China. Or perhaps its aspirations were genuine. In the end, said Clark, Uber's "big talk helped drive up valuations in China and their own valuation for an IPO," which is a win either way.
Yingzhi Yang and Nicole Liu in The Times' Beijing bureau contributed to this report.
Follow me on Twitter @JulieMakLAT.
ALSO
Tesla and SolarCity agree to combine in a $2.6-billion deal
The Agenda: After Yahoo, what tech firms might be sold?
German company plugs into L.A. area for its electricity storage operation
---
UPDATES:
4:55 p.m.: This article was updated with additional reporting.
11:25 a.m.: This article was updated with comments from Lyft and Didi Chuxing.
This article was originally published at 7:40 a.m.
Must-read stories from the L.A. Times
Get the day's top news with our Today's Headlines newsletter, sent every weekday morning.
You may occasionally receive promotional content from the Los Angeles Times.