Eagles of Death Metal band members said to be safe after deadly Paris attacks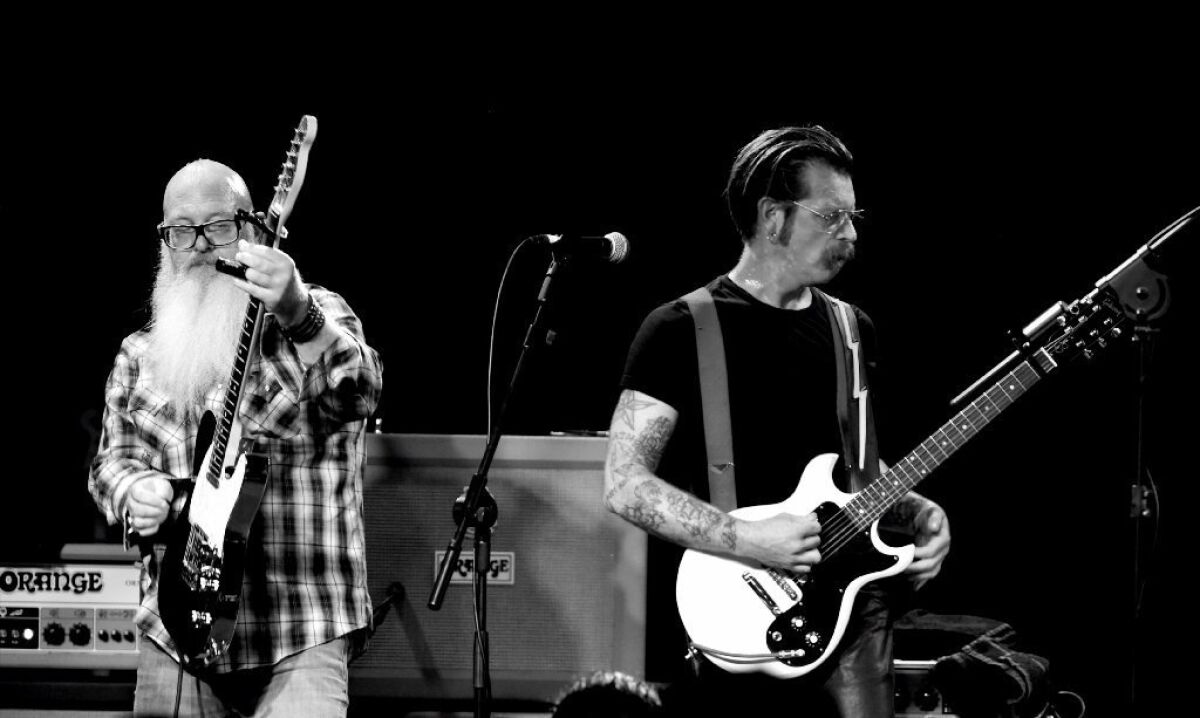 Eagles of Death Metal had been on stage at the Bataclan concert hall in Paris for about an hour when the sold-out show turned into a scene of terror. Gunfire, panic, a stampede of concertgoers. By the time authorities stormed the venue, the toll inside was steep. As many as 100 were dead inside the hall. More than 50 were killed at five other sites in the City of Light.
Anxious fans of the Palm Desert band awaited word of the band's fate.
FULL COVERAGE: Paris terror attacks
Band members who had made the trip to Europe included front man Jesse Hughes, guitarist Dave Catching (of Mark Lanegan Band and Tex & the Horseheads), bassist Matt McJunkins, guitarist Eden Galindo and drummer Julio Dorio, according to the band's Facebook page.
All were safe and accounted for by early Saturday morning in Paris, according to someone close to the band. In addition, opening act Red Lemons posted a statement on social media indicating the band members were safe.
The sold-out show was part of the Eagles of Death Metal European tour. Although band members made it out safely, some members of the band's crew did not.
One person working with the band was killed, according to people with knowledge of the situation, and another was shot.
"We are still currently trying to determine the safety and whereabouts of all our band and crew," read a message posted on the Eagles of Death Metal's Facebook page earlier in the evening. "Our thoughts are with all of the people involved in this tragic situation."
David Ian Hughes, brother of frontman Jesse Hughes, posted on Facebook that he spoke to Jesse, who was OK. "The band is ok too," he wrote. "I hold out hope that as many people as possible make it out ok, as well. As the situation is still developing, I can not say much else."
Michael Dorio, the brother of the band's drummer, told CNN the group was performing when they heard gunshots inside the venue. The band "stopped playing, hit the deck, and went backstage and exited as fast as they could," Michael Dorio said.
With a capacity of more than 1,200, the Bataclan hosts many high-profile touring acts. Acts scheduled to appear at the venue in the coming weeks include American rap duo Rae Sremmurd, the Southern California metal act Deftones (who were in Paris to play the venue Saturday night) and Texas blues guitarist Gary Clark Jr.
Eagles of Death Metal, cofounded in 1998 by guitarist Hughes and Josh Homme of the platinum-selling band Queens of the Stone Age, released a fourth album, "Zipper Down," in October.
In an interview with The Times last month, Homme, who was not on tour with the group in Paris, described the band as an ongoing special project and labor of love with his lifelong friend Hughes.
Eagles of Death Metal is perhaps most recognizable for its catchy guitar songs, which have been featured in national TV commercials for brands including Nike, Microsoft and Acura.
The band's album "Zipper Down" landed on the Billboard Top 200, as did the previous two releases. Still, the band is often seen as an underground entity.
Hughes said then that he wanted the band to have longevity; that he wanted "Eagles to be like Ringling Bros. and Barnum & Bailey Circus – they're dead, but you can still go see their circus."
Additional reporting from Alexandra Le Tellier, Randall Roberts and Kim Willsher.
For breaking news in California, follow VeronicaRochaLA
ALSO:
Paris attacks live updates: Dozens dead, hostages taken
California's Paris delegation: Who's going and who's paying?
---
Must-read stories from the L.A. Times
Get the day's top news with our Today's Headlines newsletter, sent every weekday morning.
You may occasionally receive promotional content from the Los Angeles Times.