Shooting in Munich fits a pattern that's all too familiar — but not for Germany
Reporting from Munich, Germany —
The scenario had a nightmarish familiarity: the pop of gunfire, people casting fearful glances back as they fled, a massive police dragnet, heartbreaking appeals on social media for word on the fate of missing loved ones.
But on a continent where the narrative of the last 18 months has veered sharply toward jihadist-linked assaults, this attack in Munich -- a city whose reputation rests largely on beer-loving revelry -- played out in more classically American fashion: a gun rampage by a troubled young man that left nine people dead and 27 hurt.
Within hours of the attack early Friday evening in Germany's third-largest city, law enforcement officials were painting a portrait of an 18-year-old gunman who had drawn inspiration from other mass shooters, depressed and with no apparent ideological motive, a socially isolated student who'd been bullied in the past by peers.
Most of the dead were teenagers or young adults like him, hospital officials said.
Mass shootings of this kind are rare in Germany, which has strict gun laws. A key line of investigation was how the shooter – who did not have a gun license -- had obtained a Glock 9-millimeter pistol and 300 rounds of ammunition, which were recovered along with his body after he apparently shot himself in the head about half a mile from the scene of the attack.
Germans have a difficult time comprehending the ease of gun ownership in the United States, said Daniela Schwarzer, analyst and director of the Berlin office of the German Marshall Fund.
"This attack looks more like the kind of attack you see in the U.S.," she said.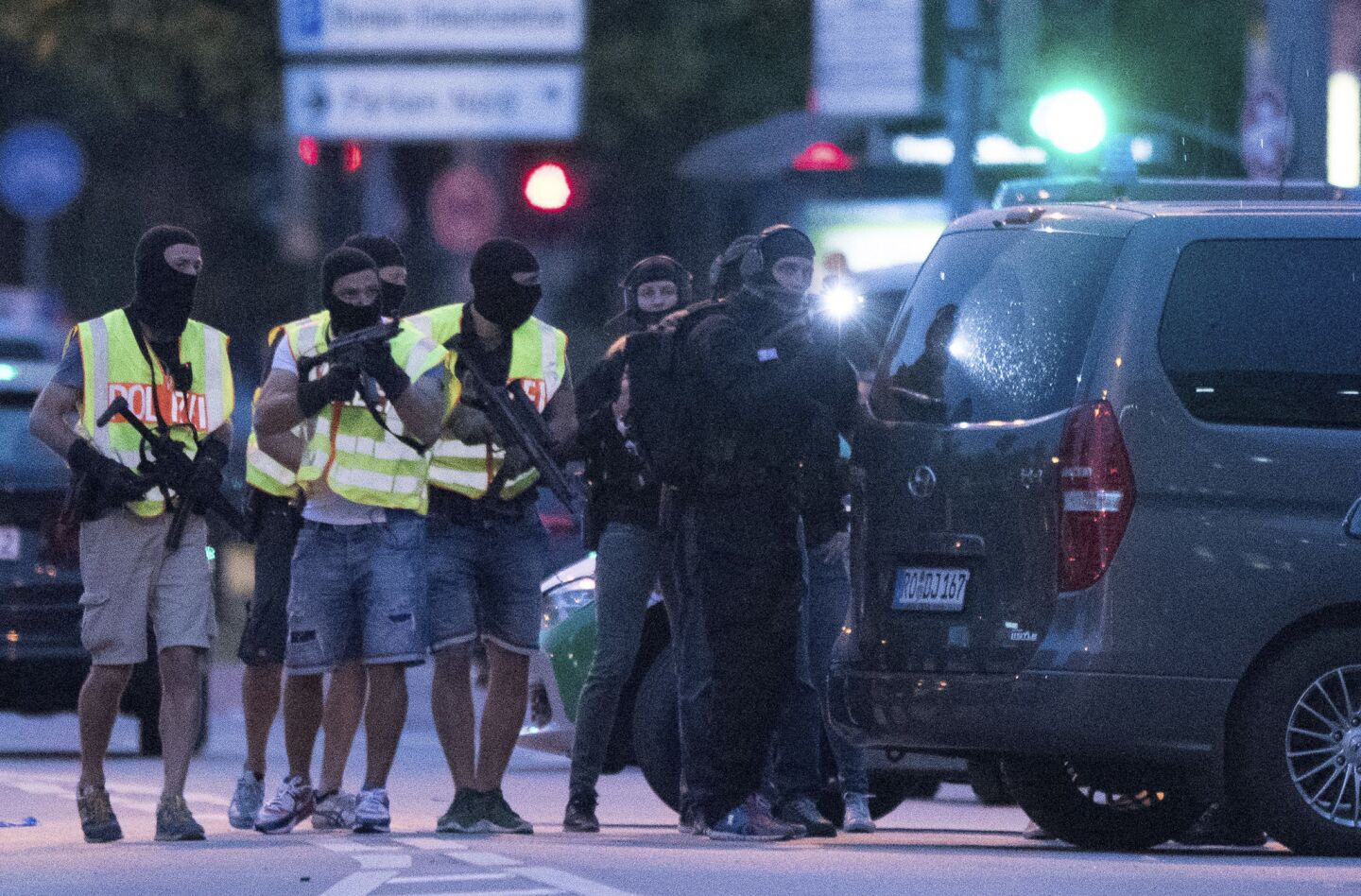 People leave the Olympia mall in Munich after several people were killed in a shooting.
(Sebastian Widmann / Associated Press)
Police arrest three men, whose identities and roles were not yet confirmed, near Marienplatz square following a rampage shooting in Munich, Germany.
(Johannes Simon / Getty Images)
Police officers escort people with their hands raised from inside the shopping center as they respond to a shooting at the Olympia Einkaufzentrum in Munich, Germany.
(Joerg Koch / Getty Images)
Police officers secure the area around the Olympia Einkaufzentrum in Munich, Germany.
(Joerg Koch / Getty Images)
People evacuate from the shopping mall with their hands up in Munich, Germany, after the shooting.
(AFP/Getty Images)
Police officers stand guard as other officers escort people out after a shooting at the Olympia Einkaufzentrum in Munich, Germany.
(Joerg Koch / Getty Images)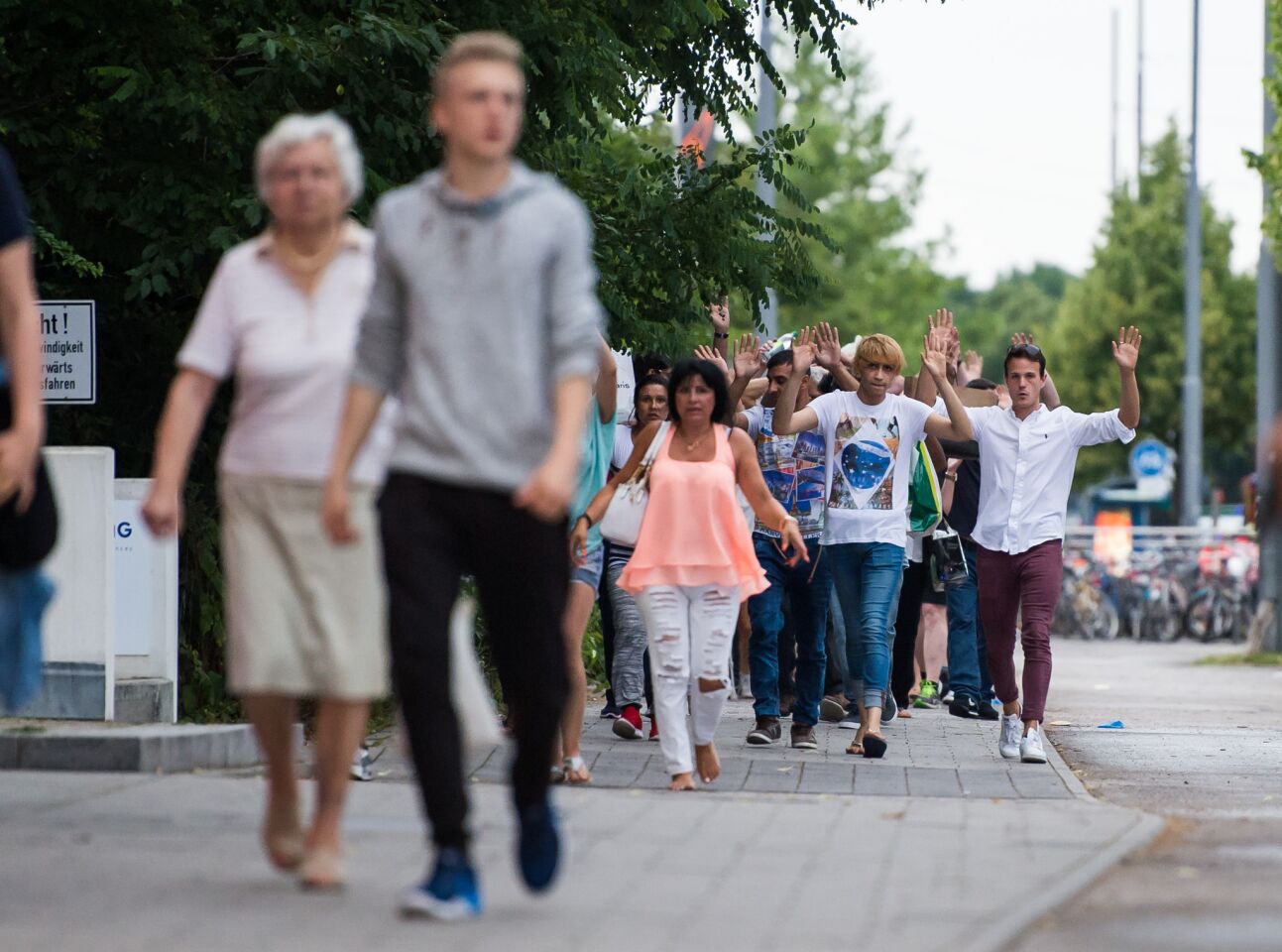 People evacuate with hands up after a shooting in a shopping mall in Munich.
(AFP/Getty Images)
An ambulance at the scene of a shooting at a Munich, Germany, shopping mall.
(Matthias Balk / AFP/Getty Images)
German police officers respond to a shooting at the Olympia Einkaufzentrum in Munich.
(Joerg Koch / Getty Images)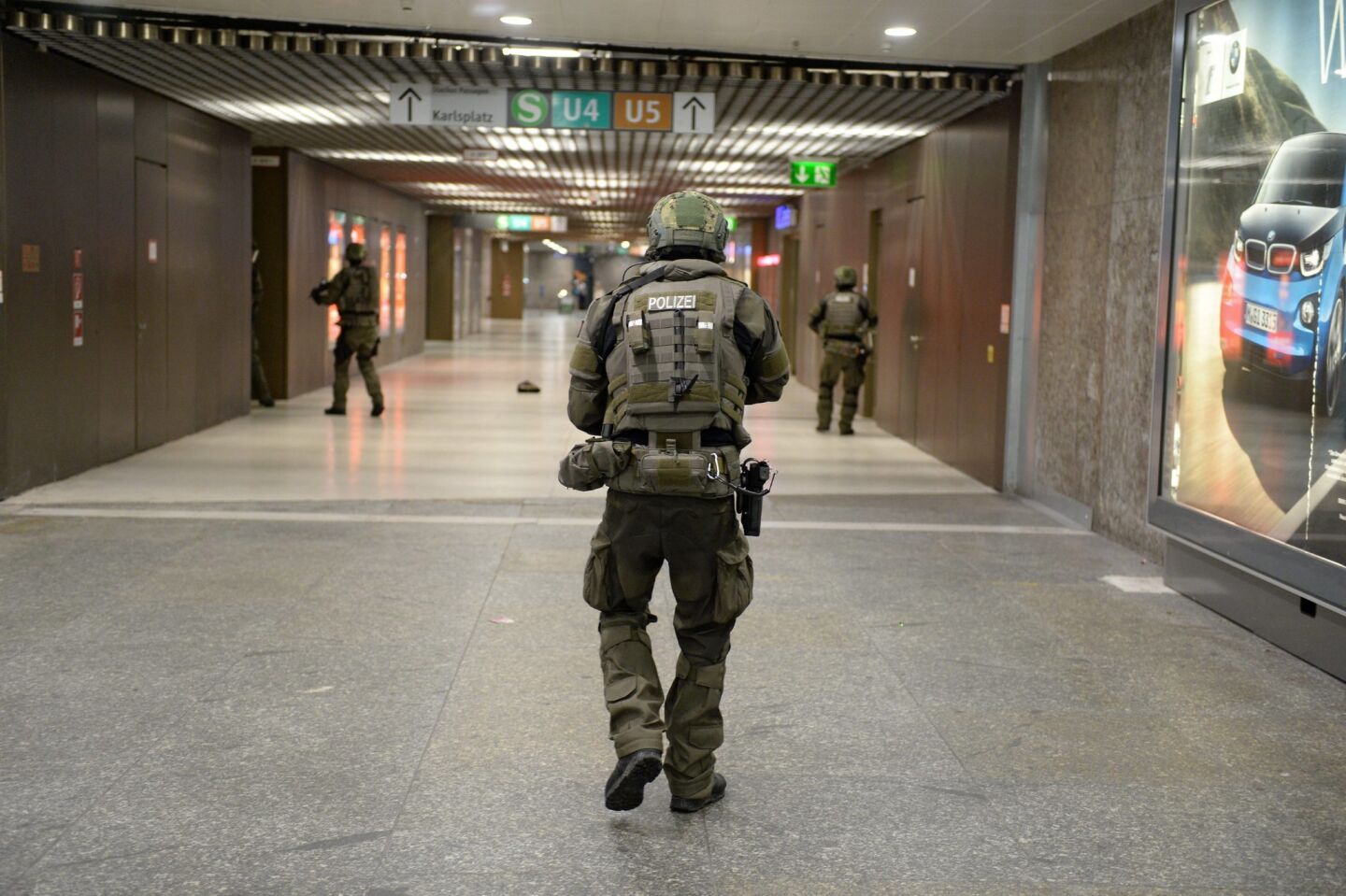 Police secure the area in the underground station Karlsplatz in Munich after a shooting in a shopping mall.
(Andreas Gebert / EPA)
Police secure the area inside a shopping center in Munich, Germany, following a shooting.
( AFP / Getty Images)
Police officers respond to a shooting at the Olympia Einkaufzentrum in Munich, Germany.
(Joerg Koch / Getty Images)
Police officers rush to the shooting scene at a shopping center in Munich on Friday.
(Matthias Balk / EPA)
Police officers secure the entrance to a subway station near a shopping mall where a shooting took place in Munich, Germany, on Friday.
(Lukas Schulze / AFP / Getty Images)
Police cars and fire trucks stage near a shopping center after a shooting in Munich on Friday.
(Matthias Balk / Associated Press)
Special police forces rush to the scene of a shooting at a shopping center in Munich, Germany.
(Matthias Balk / EPA)
Munich, a city of 1.4 million people, came to a virtual standstill for hours following the shootings at a McDonald's restaurant and the Olympia shopping mall, with a large and efficient public transport network shut down and people ordered to stay indoors in case there were more attackers.
The gunman -- a Munich native of Iranian descent, identified by authorities as David S. and whose family name was Sonboly, according to German news reports -- apparently acted alone, police said.
The Munich police chief, Hubertus Andrae, told reporters that investigators who searched the attacker's home overnight found literature about mass shootings, including an academic study of students who kill, and no sign of any connection to Islamist extremism.
Andrae described the teenager as "obsessed with shooting rampages" and suggested he had drawn inspiration from the massacre in Norway — five years to the day earlier — of 77 people by a far-right extremist, Anders Behring Breivik.
Investigators were focusing on the gunman's activities in the hours before the attack, including whether he had deliberately lured victims to the McDonald's by hacking into a woman's Facebook account and posting a message offering a free meal as an inducement.
Neighbors of the gunman – who lived in an upscale apartment complex near a Maserati dealership – described him as quiet and withdrawn.
"I had a couple of friends that went to school with him, but none of us really knew him," said Davide Derl, 17. Another neighbor, 19-year-old Denny Pova, concurred.
"I couldn't tell you who his friends were, because we never saw him hanging around with people," Pova said. "He kept to himself, mostly."
Thomas Steinkraus-Koch, Munich's prosecutor, said the gunman may have suffered from "a mental disorder."
In a chaotic verbal exchange during the attack with bystanders, one of whom recorded it on his smartphone, the shooter seemed to refer to a psychiatric history, calling out, "I was in inpatient care!" His interlocutor yells back: "You belong in the psych ward!"
In another recorded exchange, the shooter reacts angrily to being referred to by a derogatory term for foreigners, proclaiming, "I am German!" He also says in the expletive-filled exchange that he was born "in a welfare district."
Authorities declared a day of mourning Saturday as Germans struggled to come to terms with the second violent episode in five days targeting innocents who were going about mundane daily activities – people who simply set out to shop or eat, as Chancellor Angela Merkel put it.
"We are in deep and profound grief for those who will never return to their families," the German leader said in a televised statement after an urgent meeting with senior security officials. She paid tribute to police who responded to the attack and noted the outpouring of sympathy and solidarity from around the world.
U.S. Secretary of State John F. Kerry telephoned his German counterpart, Frank-Walter Steinmeier, expressing condolences and pledging any needed assistance to investigators, the State Department said Saturday.
Europe had already been on edge in the wake of the Bastille Day truck rampage in the French Riviera resort city of Nice, which killed at least 84 people, carried out by a Tunisian-born deliveryman who police said had apparently undergone a rapid conversion to jihadist ideology.
That carnage came as France was still reeling from a pair of deadly attacks by Islamist extremists last year: the January strikes on the Paris offices of a satirical magazine and a kosher market, and November's coordinated attacks on Paris targets including the landmark Bataclan theater. Together, those attacks killed more than 140 people.
More recently, Germany was rattled when an Afghan teenager attacked passengers on a commuter train in the southern town of Wurzburg on Monday with a knife and an ax, injuring four aboard the train and a female passerby before being shot dead by police. He left behind a video proclaiming loyalty to Islamic State, but authorities have not uncovered any sign of involvement with the group.
On Saturday, the mood in the streets of Munich, the normally bustling capital of the southern state of Bavaria, remained somber and subdued. The immediate scene of the shootings was still closed off by police, but onlookers drew close to the barricades to lay flowers and light candles – makeshift public shrines that have become a familiar sight in the wake of other attacks on European soil in recent months.
Even black-leather-clad members of a biker gang called the Bavarian Rebels turned up with bouquets to pay their respects to the victims.
Some who were caught up in the attack described harrowing scenes inside the Olympia shopping center the previous evening.
"I heard gunshots that kept coming closer – the last one couldn't have been more than 20 feet from us," said Kirac Muhammet, 58, who was shopping with his wife.
He feared her heart condition wouldn't allow her to run away, but the two managed to make it out one of the mall's exits. When they arrived at their nearby apartment, they invited two young girls huddling in the hallway to shelter with them, Muhammet said.
The attack unfolded shortly before 6 p.m., triggering a frightened exodus of shoppers and pedestrians -- old and young, clad in tank tops or headscarves, some frantically clutching children or pushing baby strollers. It was almost eight hours later when police gave the all-clear for people to move about again.
The decision to lock down such a large city, stranding thousands of rush-hour commuters and leaving others to trudge home or seek shelter with strangers, was a dramatic one. But any misgivings over the widespread disruption were coupled with the grim realization that an increasing climate of fear left authorities with little choice but to weigh a worst-case scenario in deciding how to respond.
Some 2,300 police were scrambled in response to the attack, drawn from across Germany and neighboring Austria.
For some residents, there was a quiet sigh of relief that the shooter was not from among the enormous wave of migrants and refugees that washed across Europe last year. Only 40 miles from the Austrian border, Munich was for many of the new arrivals the entry point for hoped-for new lives in Germany.
But last year's influx, numbering more than 1 million, sparked a right-wing backlash and eroded the popularity of Merkel, who welcomed migrants with open arms but subsequently faced public unease over heavy demands being placed on Germany's infrastructure and budget.
As happened in France after the Bastille Day bloodshed, some cast blame upon their government.
"Thank you, Ms. Merkel, for the fear," said an angry Karin Fisher, a retiree who lives near the targeted shopping mall. "I never thought I would have to be afraid in my own country."
But others said it was the kind of incident that – in what has come to be a sobering new normal – could have happened anywhere. Azaliya Zarpova, 19, who works in a cafe near the gunman's home, said she would carry on with her usual routines.
"Munich is a safe place, and the police were really quick to respond," she said. "I'm not scared."
Special correspondent Waters reported from Munich and staff writer King from Washington.
ALSO
More than 130 dead in China flooding, many still missing
Democrats aren't the only tourists flocking to Philadelphia. So are heroin addicts
How a stockpile of America's nuclear weapons got tangled up in a Middle East crisis
---
UPDATES:
3:50 p.m.: This article was updated with additional details about the investigation and analysis.
10:50 a.m.: This article has been updated with accounts from witnesses and neighbors.
5:55 a.m.: This article has been updated with Times reporting.
The first version of this article was published at 4:15 a.m.
---
Must-read stories from the L.A. Times
Get the day's top news with our Today's Headlines newsletter, sent every weekday morning.
You may occasionally receive promotional content from the Los Angeles Times.