As Africa grows more prosperous, obesity grows as a problem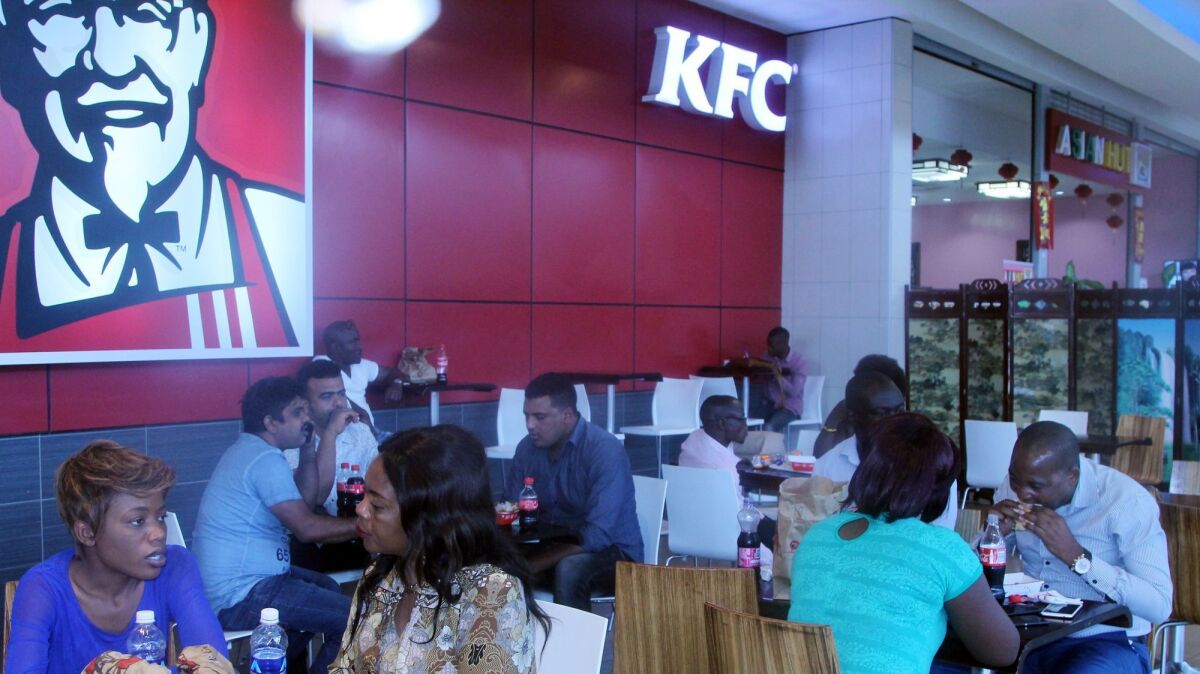 Reporting from LUSAKA, Zambia —
The advertisements for junk food are everywhere.
"Plenty for the price of one," says a billboard for super-sized sodas looming over a major highway.
"Bigger pieces," says a poster for a "Pride Bucket" of drumsticks.
Colonel Sanders, the KFC icon, is a familiar face in malls.
But this is not the United States. It's Lusaka, the teeming capital of Zambia.
To many residents, the rise of processed food here is a sign of economic progress in a region that has long struggled against poverty and hunger. But First World changes have come with a First World problem: obesity.
In Zambia — as across much of Africa — people are getting fatter.
A World Health Organization survey last year found that 15.3% of African women are obese, up from 11.4% a decade earlier. The rate for men more than doubled to 5.6% from 2.5%.
In Zambia, 12.4% of women and 3.6% of men are obese — still below the average for the continent and nowhere close to the U.S. rates of roughly 36% for each gender. But obesity rates here have grown rapidly enough over the last several years to have become a deep concern for national health officials.
"It's a very big issue," said Chitalu Chilufya, the minister of health. "It is a challenge that needs to be nipped in the bud now or else it will grow out of hand."
With expanding waistlines has come a rise in health issues. Diabetes, barely heard of here not long ago, now affects around 4.1% of Zambians, according to the International Diabetes Federation.
"We're losing a lot of people due to strokes and heart attacks because of obesity," the health minister said.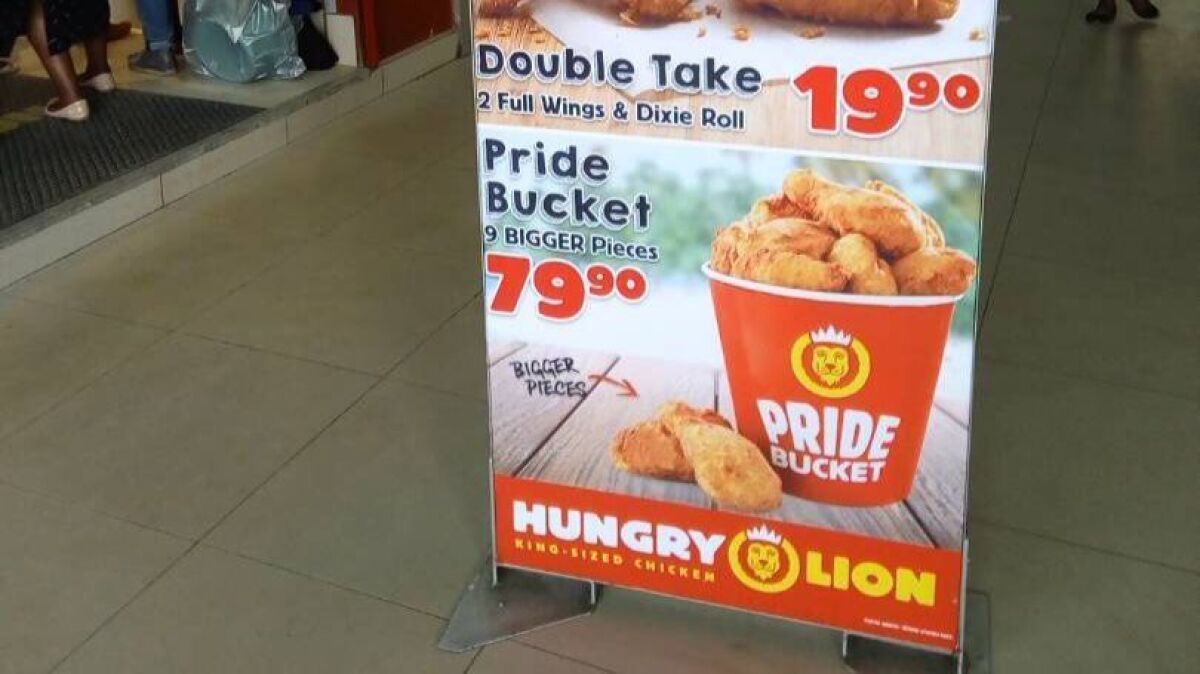 Driving the trend is a global economic shift that has brought a massive change in eating habits and physical activity levels in places such as Zambia. Subsistence farmers make up the majority of the population, as they always have, and manual labor, including jobs in the lucrative copper mining sector, remains a mainstay of the economy. But a growing urban consumer class is working in more sedentary jobs and being exposed to a variety of outside tastes and products as international companies look for new markets.
Food has been dramatically affected, with locally sourced fruits, vegetables and grains losing out to highly processed items that are quick to make, inexpensive, easy to transport and store and increasingly affordable, experts said.
"Prosperity can bring a change in terms of your focus and your lifestyle," said Dr. Bruce Lee, executive director of the Global Obesity Prevention Center at the Johns Hopkins Bloomberg School of Public Health. "One lifestyle change that seems to be coming with prosperity … is convenience. That changes how you approach eating."
Fast-food offerings have taken off in the last decade. When KFC arrived in Lusaka in 2011, the country's then-first lady presided over its launch amid much fanfare that it would bring service industry training and jobs and signal the country's emergence as a potential global business destination, according to local media reports. Three years later came Pizza Hut, the first of its franchises in sub-Saharan Africa. Lines at the Hungry Lion chicken restaurant, a South African fried chicken chain and home of the "Pride Bucket," typically stretch out the door.
William Chilufya (no relation to the health minister), regional advocacy manager for sustainable foods at a Dutch development nonprofit called HiVos, said advertising for fast food is making local food seem inferior.
"For example, if I'm not seen to be eating from KFC and I'm eating local food, they will think I'm poor," said Chilufya, who used to weigh 255 pounds but is down to 198 thanks to a rigorous exercise and dieting program. "So it's a lifestyle."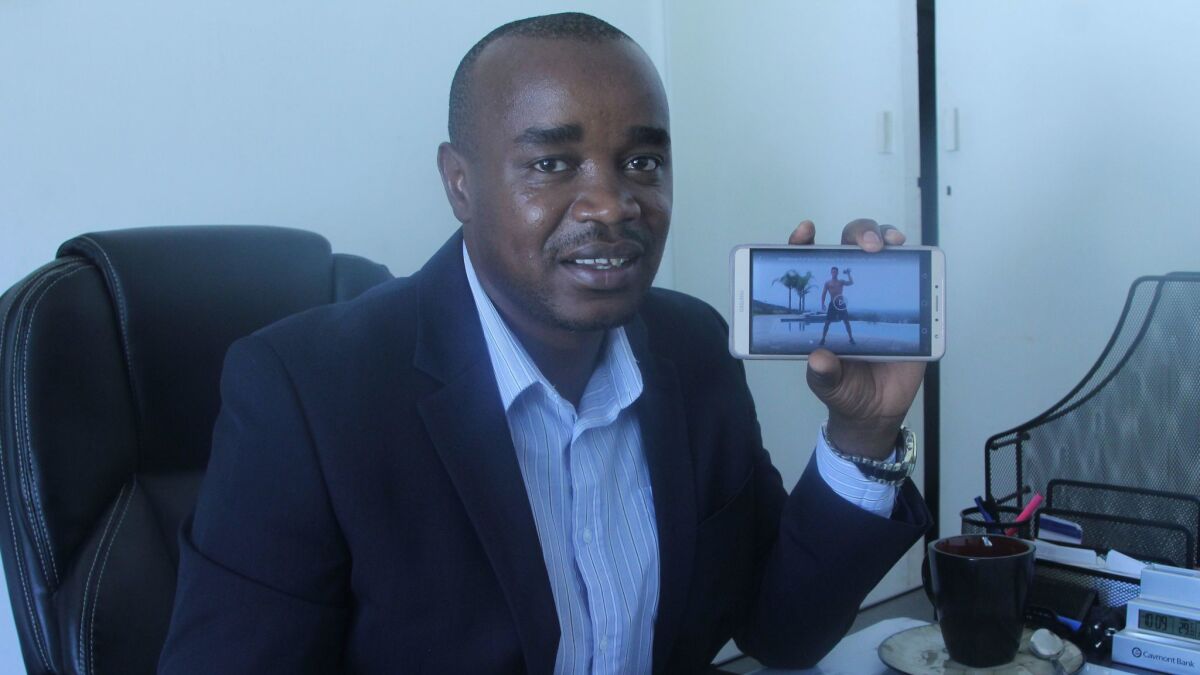 Many people don't know that fast food is unhealthy, said Wilbrand Zimba, publicity secretary of the Nutrition Association of Zambia. Others don't care.
Namwila Sikasula, a nutritionist in Lusaka, said she understands why people love junk food: "It looks more appealing on the plate. There is less stigma. But in turn they are killing themselves."
Maclean Phiri Njovu, a 28-year-old actress, had a simpler explanation: "It tastes good."
A steady diet of kebab sandwiches, pizza and Hungry Lion chicken — chased with gallons of soda — packed 158 pounds on her 4-foot-11 frame, well past the medical threshold for obesity.
"My weight was getting out of hand," she said.
The government has started to fight back against junk food.
The health minister said that the government plans to introduce a sin tax on junk food and sugary drinks — along with cigarettes and alcohol — next year, using the revenues to fund education and healthy lifestyle campaigns.
National Health Week was launched last year to encourage healthy eating, exercise and other habits — and offer free screenings for various ailments.
A national health insurance program under consideration by lawmakers would make it easier for people to get routine healthcare.
Concern about obesity and its ill effects has also spawned a fledgling health food movement.
It promotes African eggplant, pumpkin, cassava leaves and other traditional foods that are often grown organically in people's yards.
"People need to go back to their roots," said Sikasula, the nutritionist and managing partner of a wellness center called Ndichete Health Hub. "They need to know that whatever we're growing here in our country is actually quite healthy."
Open-air matebeto restaurants serving traditional food are making a comeback across the capital.
On a recent afternoon at Evamu Cho Restaurant, the smells of grilled T-bone steaks, local bream and vegetables wafted through the air as customers huddled around small tables.
"We make sure there's not too much oil when we prepare our food," said the owner, Eva Msiska Mukwai Chongo. "We use the natural fat of the meat and fish."
In August, Njovu, the actress, joined the health movement and went on a diet.
Working part-time at the juice station at the Ndichete wellness center, she replaced fried food with vegetables, and soda with water. Three months into her new lifestyle, she was down to around 145 pounds, with another six to go before she no longer meets the definition for obese. Her goal is less than 130.
The effort to control waistlines is complicated by some of the continent's traditional ideas about bodies, beauty and status. Thinness has long been associated with poverty, which still pervades much of Africa. Corpulence persists as a sign of wealth — especially among women, which may help explain why they have higher obesity rates than men.
Some Zambians are pushing back against the government's health campaign as bowing to Western standards of beauty.
"It was just shoved in people's faces," said Lungowe Simbotwe, a popular radio presenter who is 5-foot-6 and 290 pounds. "The word around was that you needed to be a certain size. You're not supposed to be above size 18. That's not the right size for a woman."
Last year, using the slogan "Lungowe Phat and Phabulous," Simbotwe launched the #PhatPhab campaign on social media to promote fat acceptance and confidence among heavy women.
She also launched a cosmetics brand and clothing line for plus sizes.
"I'm saying that even if you are fat, that cannot stop you from achieving your goals and attaining what you want to in life," she said. "It first starts off with you loving yourself and being happy with yourself."
Still, she said she is not ignoring her doctor's advice to drop at least 100 pounds.
"I love to eat whatever I like, because, hey, life is short," Simbotwe said. "If I want to enjoy fried chicken, I should be able to enjoy it. But I don't overdo it. I'm not going to eat a bucketful."
For more on global development news, see our Global Development Watch page, and follow me @AMSimmons1 on Twitter
---
Must-read stories from the L.A. Times
Get the day's top news with our Today's Headlines newsletter, sent every weekday morning.
You may occasionally receive promotional content from the Los Angeles Times.