Atal Bihari Vajpayee, former Indian prime minister who pursued peace with Pakistan, dies at 93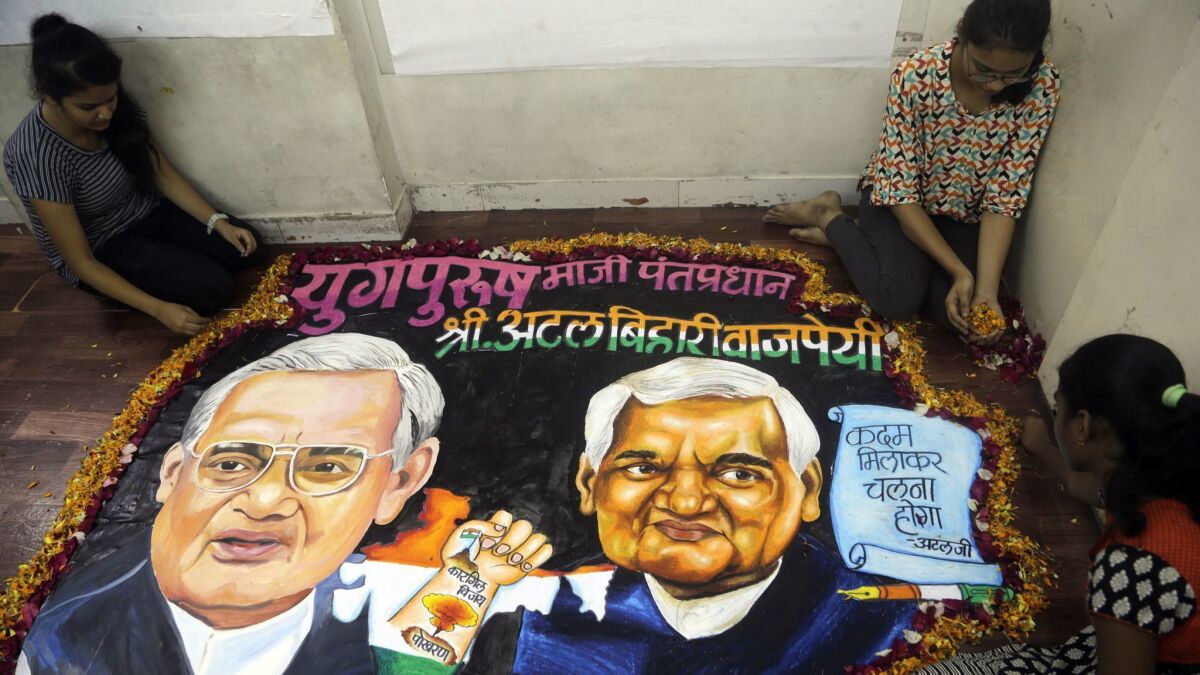 Reporting from New Delhi —
It was South Asia's version of Nixon going to China: the ardent Hindu nationalist leader of India riding a golden-colored bus across the border into Pakistan, less than a year after the archrivals had conducted tit-for-tat nuclear tests that pushed the region to the brink of atomic war.
The February 1999 bus ride cemented former Indian Prime Minister Atal Bihari Vajpayee's stature as a peacemaker even though he had set off the nuclear arms race. The rapprochement ended three months later when the two countries fought a brief conflict in the disputed Kashmir region, but Vajpayee's reputation endured.
Vajpayee had been out of the public eye since losing power in 2004, but his name has been invoked often in recent years in comparison with another Hindu nationalist prime minister, Narendra Modi.
Since Modi took office in 2014, prospects for peace with Pakistan have dimmed, and the Indian military has pursued a bloody campaign against Muslim militants in Kashmir.
Vajpayee died Thursday at 93 after a lengthy illness, according to the All India Institute of Medical Sciences in New Delhi, where he was being treated for a kidney infection.
As India announced a seven-day mourning period, Vajpayee, prime minister from 1998 to 2004, was remembered as a humble leader and lifelong poet who rose through the ranks of a hard-line Hindu revivalist organization but later displayed a penchant for inclusivity.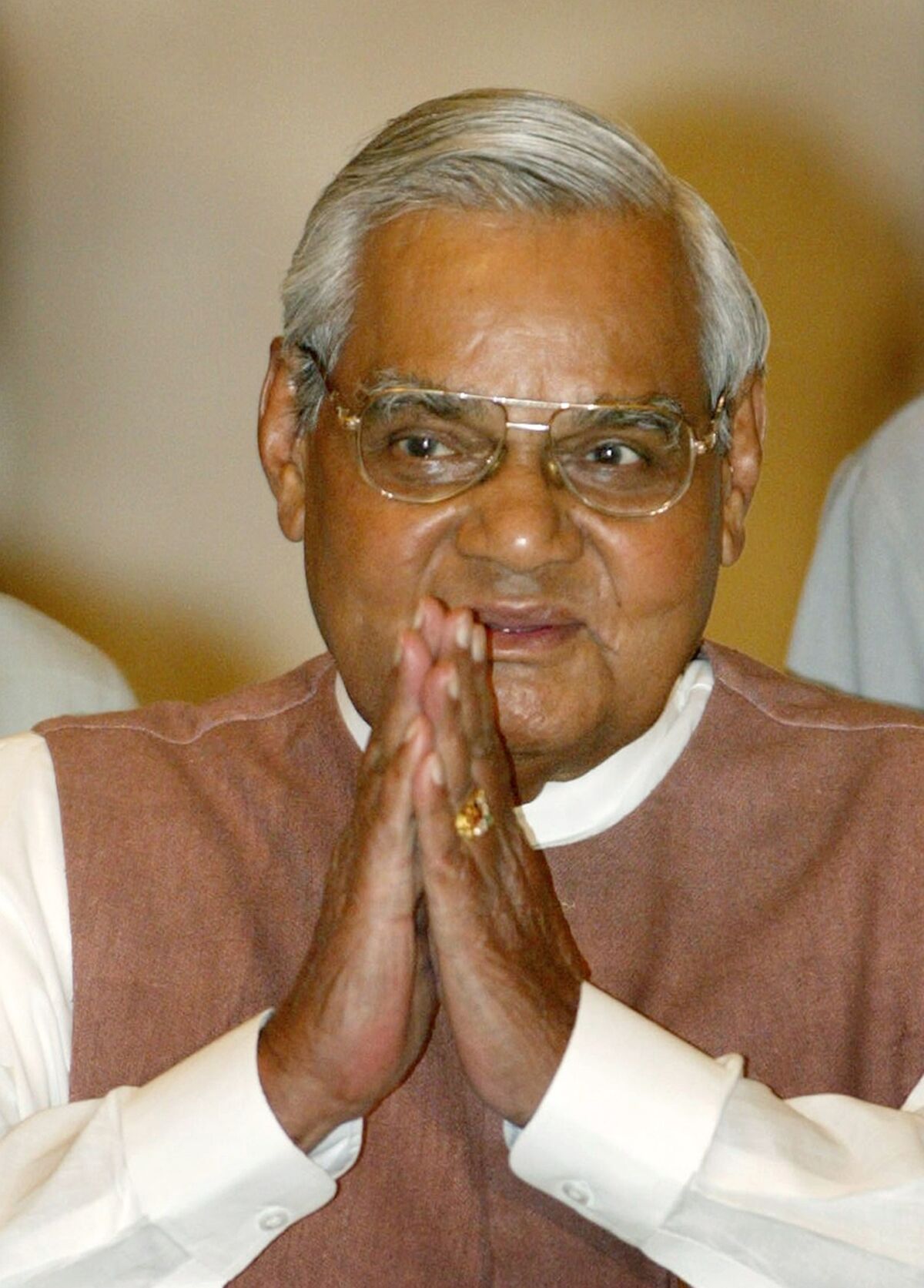 The son of a high school teacher, Vajpayee was a longtime politician who in 1980 helped found the Bharatiya Janata Party, a national party with roots in right-wing groups that believed India should be a Hindu country. The BJP emerged as the biggest challenger to the secular ideals of the Congress Party of Jawaharlal Nehru and Indira Gandhi, which had led the country for most of the years since independence in 1947.
Modi, the BJP's most powerful leader since Vajpayee, called his death "a personal and irreplaceable loss for me."
"It was Atal Ji's exemplary leadership that set the foundations for a strong, prosperous and inclusive India in the 21st century," Modi tweeted, using an honorific for Vajpayee.
But Vajpayee had misgivings about Modi, particularly after 2002, when Muslims attacked a train car carrying Hindu pilgrims in the western state of Gujarat, touching off religious riots that left 1,000 people dead, most of them Muslims. As prime minister, Vajpayee was said to have been displeased at how Modi, then the state's chief minister, failed to stop the bloodshed.
Modi remained in office thanks to the support of hard-line elements of the party. In 2004, after he was unseated as prime minister, Vajpayee said it was a mistake not to have fired Modi.
But before developing a grandfatherly persona as prime minister, Vajpayee was, like Modi, a powerful orator with a rabble-rousing streak.
In 1992, speaking about the site of a mosque in the northern city of Ayodhya where Hindu hard-liners wanted to build a temple to the god Ram, Vajpayee, then a BJP parliamentarian, told a crowd that "the ground has to be leveled."
The next day, mobs tore down the mosque, sparking religious riots that left 2,000 people dead. Vajpayee later apologized for the demolition of the mosque, saying "it should not have happened."
But some BJP leaders say they remain committed to building the temple on that site, now the subject of a legal dispute. It was one of several instances in which Vajpayee's moderate persona placed him out of step with conservative Hindus in the BJP, leading some admirers to call him "the right man in the wrong party."
"He was a man of dialogue who could talk to people," historian Irfan Habib said. "That is why he is missed today when we recall his initiatives with Pakistan and Kashmir."
Vajpayee had been prime minister for just weeks when India conducted five underground nuclear tests, provoking harsh condemnations and sanctions from the U.S., Britain, Canada and other Western nations.
Months later Vajpayee began a push to engage Pakistan in peace talks, beginning with a historic February 1999 summit where the rivals committed to resolving all their disputes including Kashmir, the divided Himalayan territory that both countries claim in its entirety.
The brief conflict in 2000, followed by a 2001 attack on the Parliament building in New Delhi that India blamed on Pakistan, derailed hopes for peace. But Vajpayee continued his outreach until his party suffered a surprising defeat in 2004 elections.
"You can decide when to start a war," Vajpayee told the journalist Shekhar Gupta in 2001. "But once started, when it will end, how it will end, nobody knows."
Pakistan's government praised Vajpayee on Thursday as "a renowned statesman who contributed to bringing a change in India-Pakistan relations."
Vajpayee also cultivated ties with the United States, hosting President Clinton for a state visit in 2000 — the first by a U.S. leader to India in more than two decades. Coming just two years after the nuclear tests, the visit was a coup for Vajpayee and marked the beginning of warmer ties with Washington led by stronger economic and trade links.
Vajpayee "will be remembered for his immense contribution in bolstering U.S.-India relations," the U.S. Embassy in New Delhi said.
Historian Ramachandra Guha said Vajpayee is judged fondly in part because his gentleness stands apart from the coarser political culture of today's India.
"Vajpayee had a certain humanity about him; he had relationships," Guha said. "He fell in love, he had a child, he had friends, he wrote his own poetry. And I think we miss that."
Parth M.N. is a special correspondent.
Shashank Bengali is The Times' South Asia correspondent. Follow him on Twitter at @SBengali
---
UPDATES:
12:15 p.m.: This article was updated throughout with staff reporting.
This article was originally published at 8:50 a.m.
Must-read stories from the L.A. Times
Get the day's top news with our Today's Headlines newsletter, sent every weekday morning.
You may occasionally receive promotional content from the Los Angeles Times.