Brazil's highest court says LGBTQ discrimination should be a crime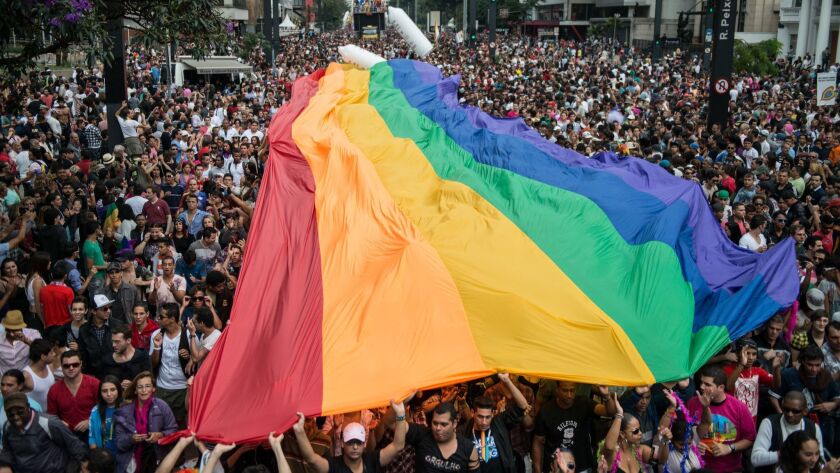 Reporting from Sao Paulo, Brazil —
In a victory for gay, lesbian and transgender rights, Brazil's top court indicated that it would outlaw discrimination based on sexuality or gender.
A court majority said Thursday that Congress had acted unconstitutionally by failing to include homophobia and transphobia within its anti-discrimination statutes. While the court has not yet formally ruled, the expected outcome would be a rebuke of President Jair Bolsonaro, who has a history of anti-LGBTQ statements.
Fearful that the president will change the law, same-sex couples in Brazil rush to the altar »
"This is a day I never thought would come, especially with the president we have now," said Afonso Nogueira, a 36-year-old electrical engineer who plans to marry his boyfriend later this year. "The threats we live with on a daily basis might finally be taken seriously. Now someone will have to do something about them. This shows that our lives matter."
The Supreme Federal Court is acting on two cases brought by an LGBTQ rights group and the Popular Socialist Party in 2012 and 2013, arguing that Congress was dragging its feet on criminalizing discrimination based on sexual orientation and gender identity. The court considered the cases over four days in February, when four justices — short of a majority — said such behavior should be criminalized. The case was resumed Thursday, and two more justices agreed, creating a majority. The other five justices are set to vote on June 5, but they do not have the numbers to reverse a ruling.
The supreme court decision comes a day after the Senate's Commission on Constitution Justice and Citizenship also voted in favor of a bill to criminalize homophobia and transphobia. It asked the high court to suspend its decision while the bill makes its way through the lower house, but the court voted 9 to 2 to continue.
The first justice to announce his decision in February, Celso de Mello, criticized the "inertia" of Congress in allowing these types of offenses to go unpunished and spoke at length about the need to uphold the rights of LGBTQ people.
"There is nothing more illegitimate than drafting a constitution without the will to fully carry it out and to only apply the points that are convenient for majority groups," he said.
The Brazilian Assn. of Gays, Lesbians, Bisexuals, Transvestites and Transsexuals and the Popular Socialist Party say the rate of violence against members of the LGBTQ community makes the situation urgent and the criminalization of hate crimes targeting LGBTQ people requires swifter action.
Despite hosting the world's largest gay pride parade and legalizing same-sex marriage in 2013, Brazil continues to be a dangerous place to identify as LGBTQ. Just last year, 320 people were the victims of homophobic or transphobic homicides, according to watchdog group Grupo Gay de Bahia.
Paulo Roberto Iotti Vecchiatti, the attorney representing both plaintiffs in the joint legal actions, said attacks on LGBTQ people should be considered a form of racism, which Brazil's constitution defines as any "discrimination against fundamental rights and freedoms." He cited a 2003 Supreme Federal Court decision declaring anti-Semitism to be a form of racism, as is "any ideology that preaches the superiority/inferiority of one group over another."
Members of the country's evangelical Christian lobby, who are opposed to the proposed changes in legislation, argue that their religious rights would be violated if they could no longer preach against homosexuality.
The court's action comes less than five months into the presidency of Bolsonaro, a former army captain who is well known for homophobic comments.
In 2011, he told Brazil's edition of Playboy magazine that he "would not be able to love a homosexual son" and that he would "rather have a son of mine die in an accident than show up with someone with a mustache. To me he would be dead anyway."
Langlois is a special correspondent.
---
Must-read stories from the L.A. Times
Get the day's top news with our Today's Headlines newsletter, sent every weekday morning.
You may occasionally receive promotional content from the Los Angeles Times.