Far-right populist Jair Bolsonaro wins Brazil presidential election
Reporting from Sao Paulo, Brazil —
Brazil on Sunday became the latest country to shift toward far-right populism, electing as president a bombastic former army captain who has insulted women and racial minorities, praised the country's former military dictatorship and defended the use of torture.
Jair Bolsonaro garnered 55% of the vote compared with 45% for his competitor, Fernando Haddad, election officials said. The triumph marks a substantial change for Latin America's largest democracy, which has been dominated for years by Haddad's left-leaning and scandal-plagued Workers' Party.
Bolsonaro's blunt, provocative manner earned him comparisons to President Trump and deeply divided Brazilians who are anxious about rising crime, high unemployment and a series of wide-ranging corruption investigations that have touched dozens of politicians — and have particularly stained the Workers' Party.
"Thank God we got rid of the Workers' Party!" said Andre Prado, a 44-year-old attorney who was celebrating in the streets of Sao Paulo. "Now we have a real leader for our country, one who won't take advantage of us and pocket what's ours."
In a victory speech Sunday night, Bolsonaro emphasized the same nationalistic and anti-corruption message that helped fuel his unexpected rise, vowing to create "a decent government committed exclusively to our country and our people."
A large crowd gathered outside his apartment in Rio de Janeiro, chanting his name, singing the national anthem and setting off loud bursts of fireworks.
In Sao Paulo and at least one other city, Bolsonaro and Haddad supporters clashed in the streets, with police using pepper spray to disperse the crowds.
Many voters said they were drawn to Bolsonaro's strong style, particularly his vows to be tough on crime and loosen gun laws to make it easier for Brazilians to carry firearms.
Gislaine Freitas, a 54-year-old nurse who voted for Bolsonaro in Sao Paulo's main business district, said she had been the victim of an armed robbery. If criminals have access to guns, she said, "why shouldn't I be able to carry one too?"
Freitas said she likes Bolsonaro because he represents a clean break with the country's recent leaders. "Bolsonaro is the only one who can change this country now," she said. "If we don't do something to stop the Workers' Party, we'll end up like Venezuela."
But Bolsonaro's victory stirred deep fears among some that he could return Brazil to the violence of the military dictatorship that ruled the country from 1964 to 1985.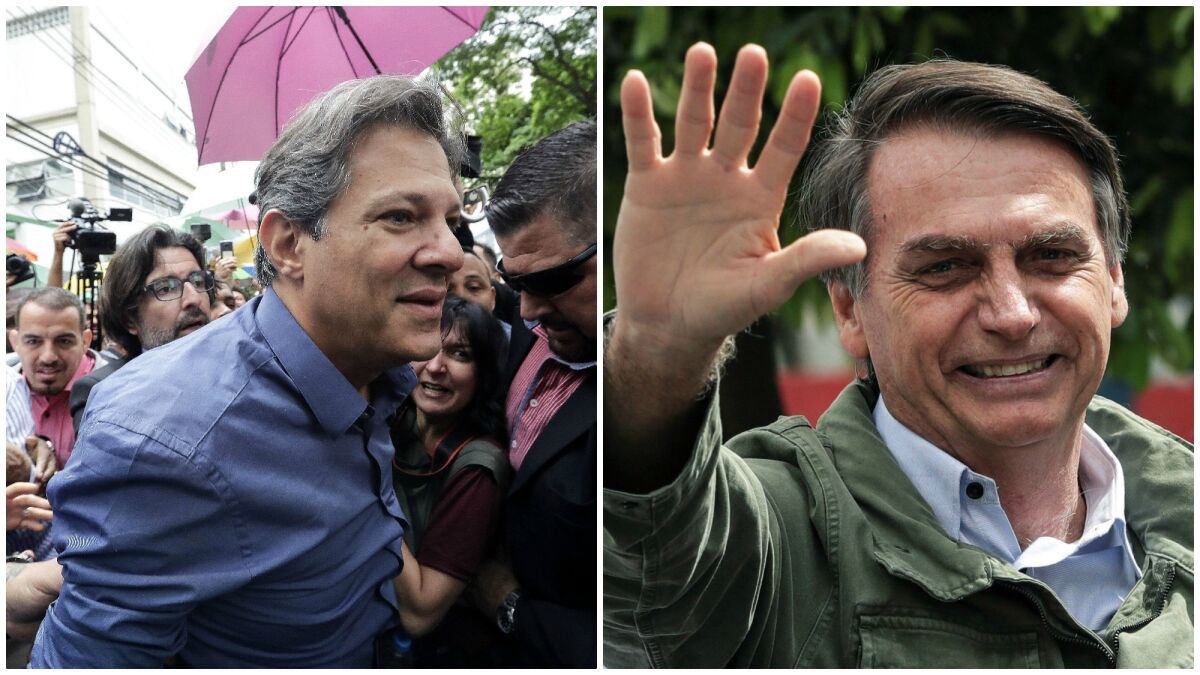 Bolsonaro, a long-serving member of Congress, has praised leaders of the dictatorship as heroes, and has said the country's biggest mistake during that era was not killing 30,000 more people.
He has said he would rather have a dead son than one who was gay, and that a congresswoman didn't deserve to be raped by him because she was "very ugly."
He has insulted Afro-Brazilians and plans to boost the economy by expanding agribusiness on the land of indigenous Brazilians.
Pedro Azevedo, a 33-year-old social worker who is gay and black, said he worries about his safety under a Bolsonaro presidency.
"I never feel 100% safe ... but if Bolsonaro wins it'll only get worse," said Azevedo, who voted for Haddad.
"People feel empowered to be violent when they see a leader who condones it," he said. "Imagine what it'll be like if they can legally carry guns too."
Mark Weisbrot of the Washington-based think tank Center for Economic and Policy Research said Bolsonaro's victory thrusts Brazil's democracy into crisis.
Bolsonaro has vowed to expand Brazil's Supreme Court, stacking it with his supporters, and has threatened to expel from the country or even exterminate political opponents.
"This is a dark day for Brazil," Weisbrot said. "The international community must help preserve Brazil's democratic institutions and stand up for the rights of its citizens by letting Bolsonaro know that there will be consequences if he follows through on his dangerous and hateful rhetoric."
Some political analysts and journalists have blamed a recent wave of political violence on Bolsonaro's divisive speech.
There were at least 71 politically motivated violent attacks between Sept. 30 and Oct. 10, according to the Brazilian investigative journalism organization Publica. Of those attacks, 50 were attributed to supporters of Bolsonaro.
Bolsonaro has also been a victim of violence. During a campaign rally in September, he was stabbed by a man who told police that God instructed him to do it. The man has been charged under Brazil's National Security Law with carrying out a politically motivated assault.
The attack was the latest twist in the country's most turbulent election campaign in memory.
A few months ago, the Workers' Party appeared set to reclaim the presidency, which it lost in 2016 when Dilma Rousseff was impeached on charges of manipulating the federal budget to try to conceal the country's financial woes.
Former President Luiz Inacio Lula da Silva, who left office in 2010 with approval ratings near 90%, ran again this year, despite the fact that he is serving a 12-year prison sentence for his involvement in the billion-dollar "Car Wash" corruption scandal involving Brazil's state-run oil company.
Polls in late August showed Lula as the clear front-runner, with 39% of the vote. Many Brazilians associate him with the country's surging economic growth during the late 2000s before a crippling recession hit in 2014.
But Lula was declared ineligible because of a law that bars people convicted of crimes from running for election for eight years after they are released, and he abandoned his campaign in September.
The Workers' Party replaced him with Haddad. Relatively unknown outside Sao Paulo, where he served as mayor, Haddad did not inspire the same level of enthusiasm as Lula.
Haddad also failed to connect with voters in the same way as Bolsonaro, who has shunned news conferences in favor of Facebook Live videos and messages on the chat program WhatsApp.
Several entrepreneurs who have been bankrolling Bolsonaro's campaign were accused of bombarding users on WhatsApp with hundreds of millions of messages containing false claims about Haddad, part of a wave of disinformation that has been rampant during the election. Brazil's electoral court banned some posts from social media and some campaign videos from airing on television, accusing them of spreading lies.
The vitriolic campaign turned some voters off to the electoral process altogether. A poll taken shortly before the election found many people planned to cast blank votes in protest.
That was what 47-year-old banker Laura Carvalho did.
Carvalho said she voted for Bolsonaro during the first round of voting, held three weeks ago, in which Bolsonaro fell short of the 50% needed to win outright and avoid a runoff election, but then had second thoughts.
"I have friends who are gay and black, and I worry about them because of all the people who have been attacked since the last vote," she said.
"But voting for Haddad doesn't seem right either," she said. "He's just another Workers' Party puppet there to represent Lula. Brazil's economy can't handle more corruption."
Trump called Bolsonaro to congratulate him, according to White House Press Secretary Sarah Huckabee Sanders.
"Both expressed a strong commitment to work side by side to improve the lives of the people of the United States and Brazil, and as regional leaders, of the Americas," she said.
Special correspondent Langlois reported from Sao Paulo and Times staff writer Linthicum from Mexico City.
Special correspondent Langlois reported from São Paulo and Times staff writer Linthicum from Mexico City.
Twitter: @katelinthicum
---
UPDATES:
7:40 p.m.: This article was updated with election officials announcing Jair Bolsonaro as the winner of the presidential race and additional reaction.
4:00 p.m.: This article was updated with preliminary election results indicating Jair Bolsonaro apparently held an insurmountable lead in Brazil's presidential election.
This article was originally published at 11:35 a.m.
---
Must-read stories from the L.A. Times
Get the day's top news with our Today's Headlines newsletter, sent every weekday morning.
You may occasionally receive promotional content from the Los Angeles Times.