China presses Trump to compromise on trade war demands ahead of key meeting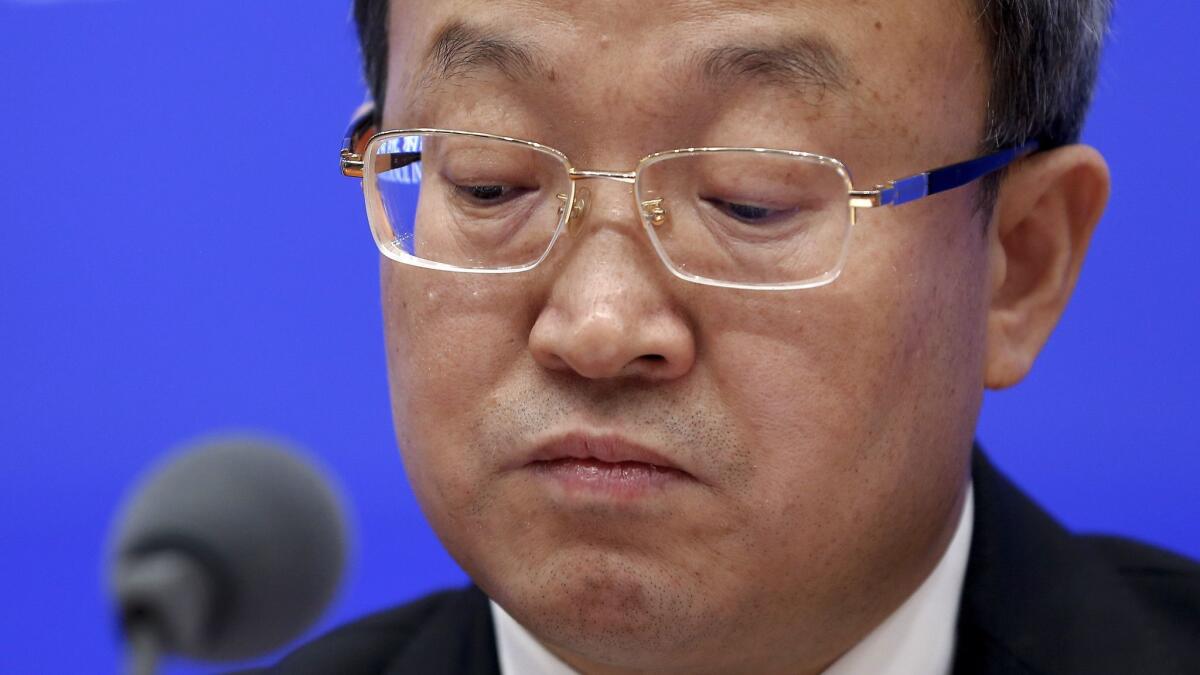 Reporting from Beijing, China —
Chinese officials on Monday demanded compromise from the Trump administration, with hopes for an end to a bruising trade war resting on a key meeting this week with China's Xi Jinping.
China's vice minister of commerce, Wang Shouwen, told journalists Monday that compromise had to come from both sides.
"Both sides must make compromises and concessions, not just one party," Wang said.
Relations are prickly in the lead-up to the meeting on the sidelines of the Group of 20 summit in Osaka, Japan. After trade talks broke down last month, the U.S. increased tariffs on Chinese goods worth about $200 billion to 25% from 10% and threatened tariffs on $325 billion more. Presidents Trump and Xi agreed last week to rekindle the talks.
But in a step that further infuriated Chinese officials, the U.S. on Friday banned five Chinese tech companies from buying U.S. components without government permission — after an earlier ban on Chinese tech giant Huawei and related entities.
Unless Trump and Xi agree to pull back from the confrontation, the stage is set for increasingly sharp retaliations and the decoupling of the U.S. and Chinese economies in many high-tech fields, which would disrupt global supply chains and slow global growth.
RELATED: Is the U.S. in a new Cold War with China?
Wang called on the U.S. to reverse its actions against Huawei and others.
"We hope the U.S. can remove certain unilateral measures inappropriately taken against Chinese companies in the spirit of free trade and the World Trade Organization," Wang said. He added that the two sides were "continuing to discuss the possibility of further communication."
According to Hu Xijin, editor of the state-owned Global Times, the decision to blacklist five more companies has undermined the atmosphere of the upcoming Trump-Xi meeting and complicated chances of reaching a deal.
In comments on Twitter, he added that it strengthened the hand of those in Beijing convinced that any deal with Washington was useless because the U.S. could not be trusted. He added that the "Chinese side is concerned about the fairness of a trade deal."
China is expected to demand that the U.S. lift all tariffs as a condition to any deal, according to state media.
A deal seemed close last month but failed to materialize, with the U.S. accusing China of breaking earlier commitments, and China saying the U.S. was not negotiating in good faith.
The U.S. said China had made last-minute revisions — reportedly related to enforcement mechanisms designed to ensure Chinese compliance. But China's public repudiation of those terms means Xi is unlikely to back down significantly without a retreat from the U.S. on its demands, as well as the removal of tariffs.
One key Washington demand is for Beijing to end subsidies to strategic state-owned entities because this makes it hard for foreign companies to compete. To China, that demand is seen as an attempt to interfere with its domestic policies.
Washington also has demanded an end to U.S. companies being forced to surrender trade secrets to Chinese partners as a condition for doing business in China and better protection of their intellectual property. The U.S. accuses Beijing of breaking a commitment to open up its market, but China insists it complies with World Trade Organization rules.
Wang, who is a member of China's negotiating team, said the trade talks had to be based on equality and respect.
"Mutual respect means that each should respect the sovereignty of the other country," he told journalists. "Focus on equality and mutual benefit means that consultations should be based on equality, and the agreement reached should be beneficial to both sides."
In a sign of how much ground must be covered to overcome the trade conflict, Chinese state media have adopted a skeptical posture, arguing that Washington wants to prevent China from rising to become a global tech power — one of Xi's flagship policies.
"By adding five more Chinese companies to its blacklist, the U.S. has shown that its attitude won't change," a Global Times editorial said Sunday, calling on China to "abandon illusions" and become technologically independent of the U.S. "The U.S. doesn't want to see China develop its high technology and is determined by its strategic need to lead China in technology forever."
Xi will also meet Russian President Vladimir Putin and Indian Prime Minister Narendra Modi on the sidelines of the summit, as well as other leaders from the BRICS grouping, which includes Brazil and South Africa.
Chinese officials Monday also ruled out any G-20 discussion of recent mass protests in Hong Kong, calling this a domestic matter. Protests broke out over the Hong Kong government's plan to pass a law that would allow extradition to mainland China.
Tough U.S. action against Huawei, the world's second-biggest smartphone maker, is particularly sensitive in China. In addition to the ban on supplying components without government permission, the U.S. has laid charges of fraud and theft of trade secrets against the company and one of its executives, Meng Wanzhou, and has mounted a vigorous campaign in Europe to sway allies from using Huawei in 5G networks, arguing this would compromise security. Huawei has rejected the accusations.
The five additional Chinese companies banned Friday by the U.S. were Higon, Sugon, Chengdu Haiguang Integrated Circuit, Chengdu Haiguang Microelectronics Technology and Wuxi Jiangnan Institute of Computing Technology. The companies are involved in high-tech computing or military technology.
China is working on its own list of "unreliable entities," with FedEx likely to be one of the first U.S. companies hit, according to the Global Times, after the courier company twice misdirected or returned Huawei packages. Other companies that could be declared unreliable are those that flout the rules or "spirit" of contracts, block supplies to Chinese companies or harm the interests of Chinese companies.
FedEx apologized for "an operational error" after it failed to deliver a Huawei phone on Saturday that had been sent from PC Magazine's London office to its New York office, citing the ban.
Chinese Foreign Ministry spokesman Geng Shuang said Monday that FedEx had to take responsibility for failing to ship the phone, but he also blamed the Trump administration for triggering the chaos.
"The U.S. government has been trumping up charges to abuse national security and employing state power to clamp down on a Chinese company," Geng said. "That is the root cause of the problem. U.S. bullying has hurt Chinese companies and U.S. companies. It affects normal operations of businesses and disrupts normal cooperation."
In May, Reuters reported that FedEx directed two parcels that should have gone to Huawei's Asia offices to the United States and tried to reroute two others. Huawei has accused FedEx of conducting a vendetta against it.
To smooth the way for the Osaka talks, Vice President Mike Pence on Friday postponed a planned speech where he was expected to denounce China's human rights record. The U.S. State Department, however, released a report last week on religious freedom globally, criticizing China over the detention of at least a million Muslim people from Uighur and other ethnic groups in Xinjiang, western China.
Secretary of State Michael R. Pompeo called the detentions "an outright atrocity."
Twitter: @RobynDixon_LAT
Sign up for Essential California for the L.A. Times biggest news, features and recommendations in your inbox six days a week.
You may occasionally receive promotional content from the Los Angeles Times.