A new protest generation in Hong Kong takes on China. Will Beijing let them win?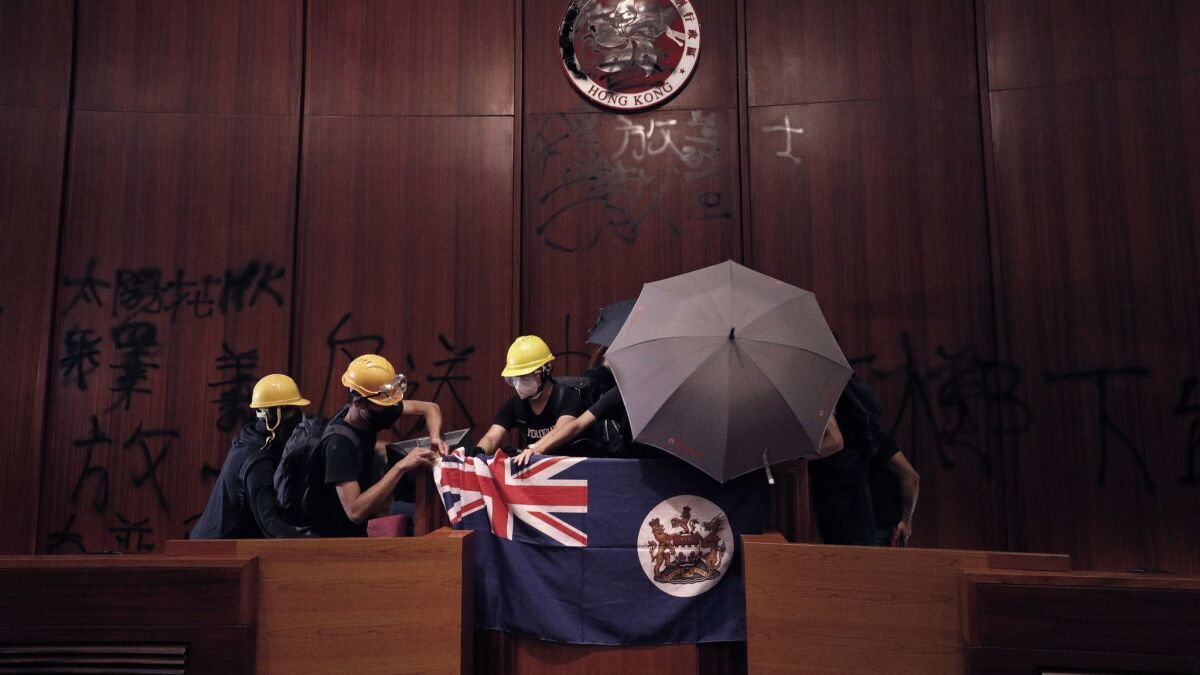 Reporting from Beijing —
A new young protest generation in Hong Kong has exposed China's failure to win over Hong Kongers — young or old — a trend that has shown up in surveys for years.
As they confront the world's most powerful authoritarian state, few believe the protesters can win — but their willingness to risk jail to protect Hong Kong freedoms has laid bare the problems of China's Hong Kong policy.
Simply put, most Hong Kongers feel alienated from China: Only 3.1% of young Hong Kongers ages 18 to 29 think of themselves as Chinese, according to a 2017 survey by the University of Hong Kong.
Some 71% of Hong Kongers told the university's researchers last month that they are not proud to be part of China, but 90% of young people felt that way. The percentage of people identifying as Chinese sank to a record low, 11%, and the percentage identifying as Hong Kongers reached a record high, 53%.
This helps explain the defiance of younger protesters who invaded the Legislative Council building Monday, daubed anti-government slogans and raised a colonial-era British flag in a primal scream of frustration and distrust.
But it also poses a challenge to China's "one country, two systems" policy — one of Beijing's red lines, never to be challenged. The policy set down in 1984 by then-Chinese leader Deng Xiaoping to govern Hong Kong's return to China from Britain after a colonial-era lease expired, allowed Hong Kong to retain its own governance system with a "high level of autonomy," its own legal system, free speech and the right to protest.
"From the optics perspective, this looks pretty terrible. You had a bunch of people who broke into the Legislative Council, waved the British colonial flag around, defiled the place symbolically and then were actually getting quite a lot of support in Hong Kong and the rest of the world. It's a pretty disturbing sign in terms of the failure of the whole Hong Kong project from a mainland perspective," said Ben Bland, an analyst with Sydney-based think tank the Lowy Institute.
Bland said Hong Kong, once regarded as an economic issue by Beijing leaders, had slowly morphed into a national security concern because of the growing pro-democracy movement, the rise of groups calling for independence and the mass protests.
"Separatism is anathema to the party and, now, the Hong Kong government has lost control of the situation not just with the most extreme protesters but the fact that you had over a million people on the streets on a couple of occasions, which shows that they are not able to deliver control over Hong Kong society to their bosses in Beijing."
For China, Hong Kong is a core issue, at the heart of President Xi Jinping's "China Dream," which aims to see China rise as a leading global power — reversing the "century of humiliation" in the 19th and 20th centuries when foreign powers forced unequal treaties on China's weak dynastic rulers. Hong Kong was part of the humiliation, after Britain invaded the island in 1841 as a staging point for the First Opium War — forcing China to accept opium in payment for tea — which is why the return of Hong Kong meant so much.
The Hong Kong protests pose a delicate challenge at a difficult time. China faces problems on many fronts: a bruising trade war with the U.S., a slowing economy, U.S. attacks on China's global tech giant Huawei, rising food prices after a catastrophic African swine flu epidemic wiped out much of the nation's pig herd, and growing criticisms from the U.S. and other Western nations over the detention of around a million Muslims in reeducation camps in Xinjiang, western China.
In addition, the Hong Kong protests — over the unpopular effort by the Hong Kong government to pass a law enabling extradition to China — have rattled Hong Kong's business community. As well as being core to China's unity, Hong Kong's position as a global financial center remains important to Beijing, even though China's economy now dwarfs Hong Kong's.
As president, Xi has reasserted the dominance of the Communist Party and taken a tough line on China's territorial unity — including Hong Kong and Taiwan. He has centralized power and suppressed dissent, cracked down on corruption, and expanded digital surveillance of the population.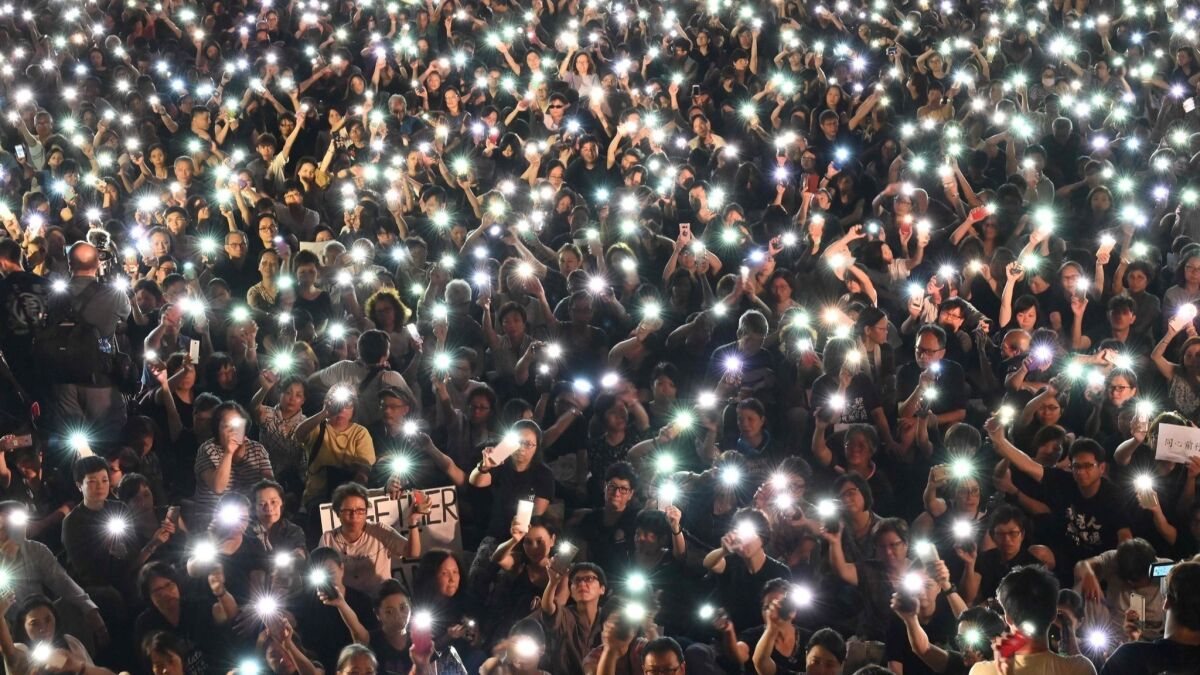 Kevin Rudd, president of the Asia Society and former Australian prime minister, speaking last month at the Lowy Institute, said Xi's central concern was "the absolute centrality of keeping the Communist Party in power. This is followed by maintaining national unity, including Tibet, Xinjiang, Taiwan and Hong Kong, all central in the party's eyes to its continuing national political legitimacy.
"On the question of national unity, Xi Jinping has presided over a large-scale crackdown in Xinjiang, an increasingly assertive policy towards Taiwan as well as a hard-line approach to Hong Kong," Rudd added.
For now, according to analysts, Beijing — and Hong Kong authorities following its lead — seems to have retreated temporarily, hoping that the protests will lose momentum and support over the summer.
"There will be a tactical pause to try to let tempers calm down because Beijing and the Hong Kong government don't want bloodshed," said Bland. "They don't want mass disorder."
But Xi Jinping's determination to return the Communist Party to what he calls its core values makes it unlikely that Beijing authorities will allow Hong Kong to take a democratic path, no matter what Hong Kong opinion polls show.
"It looks like a vicious circle of repression and pressure and protest and reprisal is going to continue," Bland said.
The chances of a young leaderless group of protesters succeeding in their struggle against Beijing seem slight. Meanwhile, Hong Kong authorities are likely to pursue tough action against protesters in coming weeks and months.
In the past, after the Umbrella Movement in 2014 (also called the Occupy movement) staged peaceful protests, Hong Kong authorities prosecuted the protest leaders and sentenced them to jail terms. They barred opposition candidates from running for office. Last year, authorities used a colonial-era law to ban the pro-independence Hong Kong National Party, on the basis it was a threat to national security — although it had not carried out violent acts.
"There are many ways to try and prosecute and harass and disrupt the opposition movement," said Bland. "They could come after student groups and say that you're an illegal organization because you're a threat to national security."
A new kind of Hong Kong activism emerges as protesters mobilize without any leaders »
In recent years, Beijing appeared hopeful that the momentum of the pro-democracy movement would slow and that China's economic growth would lure a generation of young Hong Kongers looking for job opportunities and cheaper housing. The world's longest sea bridge opened last year, linking Hong Kong to the mainland, opening up access to a vast planned Chinese development on the Pearl River Delta called the Greater Bay Area, which is supposed to be China's answer to Silicon Valley.
But Hong Kong leader Carrie Lam's clumsy handling of the extradition bill — which she delayed but refused to withdraw despite the mass opposition — succeeded in igniting a new generation of protesters willing to risk jail to defend their freedoms.
The increasing encroachment on Hong Kongers' rights to protest and the banning of political groups and parties has damaged the reputation of Beijing's "one country, two systems" policy, which it touts as a model for the return of Taiwan to China.
In January, Xi said Taiwan's reunification with China on the basis of the "one country, two systems" model was inevitable. However, popular opinion in Taiwan remains firmly opposed. After Hong Kong's recent protests, Taiwanese protesters demonstrated in support.
In recent days, Chinese state media have strongly condemned the protesters as "ultra-radicals" led by shadowy "foreign" forces and called the occupation of the parliament as a "blatant challenge to the bottom line of "one country, two systems."
"These violent offenders must not be tolerated and must be severely punished for their illegal acts within the law," said an editorial in the New China News Agency, controlled by the Communist Party.
China has reacted sharply to foreign criticism of the approach taken by Hong Kong authorities — and was particularly vehement after British Foreign Secretary Jeremy Hunt warned China could face "serious consequences" over Hong Kong's treatment of protesters.
Chinese Foreign Ministry spokesman Geng Shuang said China "deplored" Hunt's comments, adding that Britain had no right to claim any responsibility over Hong Kong, which is an internal matter for China.
"It seems that he is still immersed in the faded glory of colonialism. He is obsessed with condescendingly criticizing other countries. He keeps lying without remorse."
Twitter: @RobynDixon_LAT
Must-read stories from the L.A. Times
Get the day's top news with our Today's Headlines newsletter, sent every weekday morning.
You may occasionally receive promotional content from the Los Angeles Times.