Mosque attack that left 49 dead was the worst mass killing in New Zealand's history
A man reacts during a vigil Sunday at the Basin Reserve in Wellington, New Zealand.
(Elias Rodriguez / Getty Images)
Mourners embrace at a vigil Sunday at the Basin Reserve in Wellington, New Zealand.
(Elias Rodriguez / Getty Images)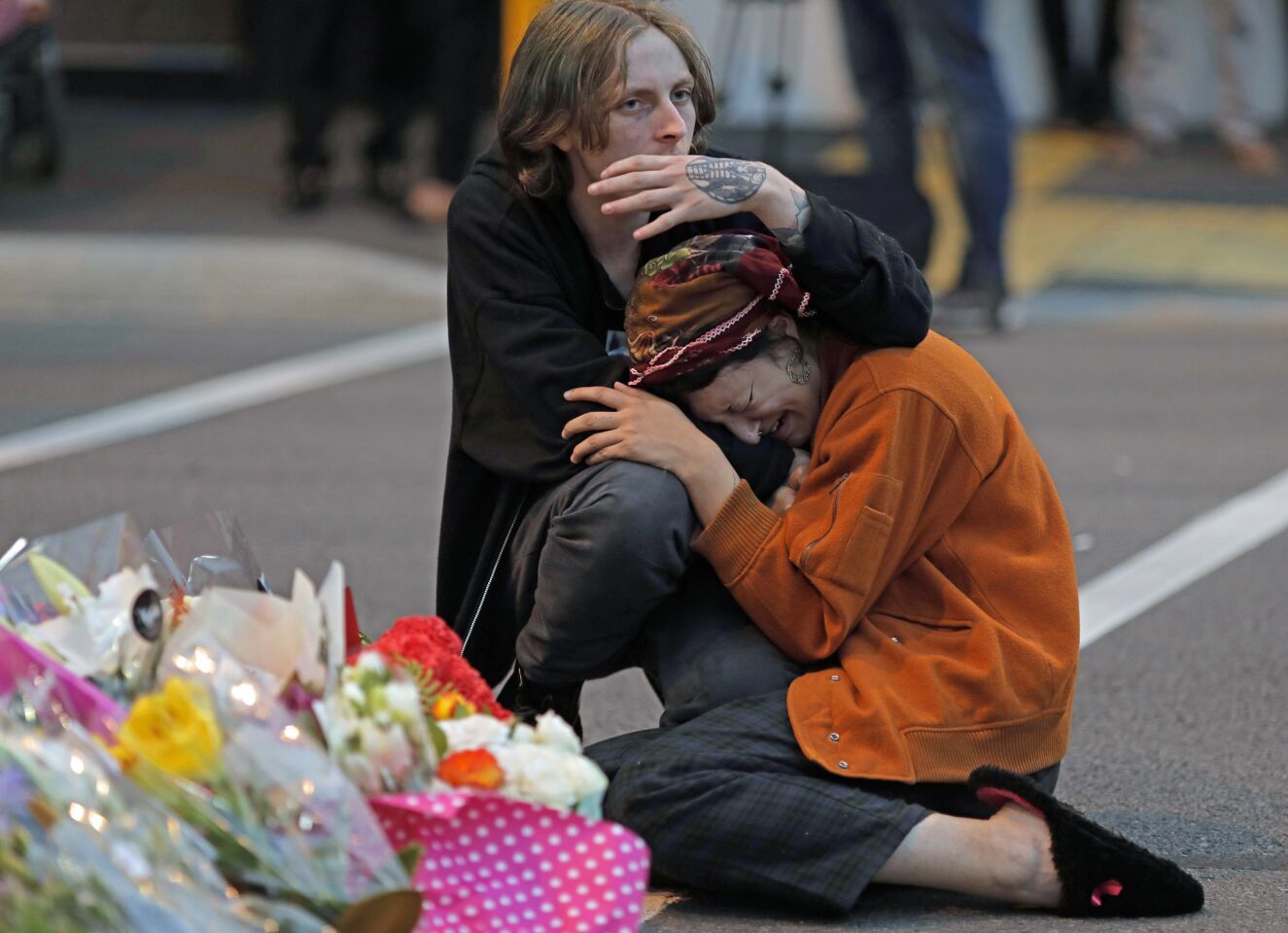 Mourners share their grief at a memorial near the Al Noor Mosque in Christchurch, New Zealand.
(Vincent Yu / Associated Press)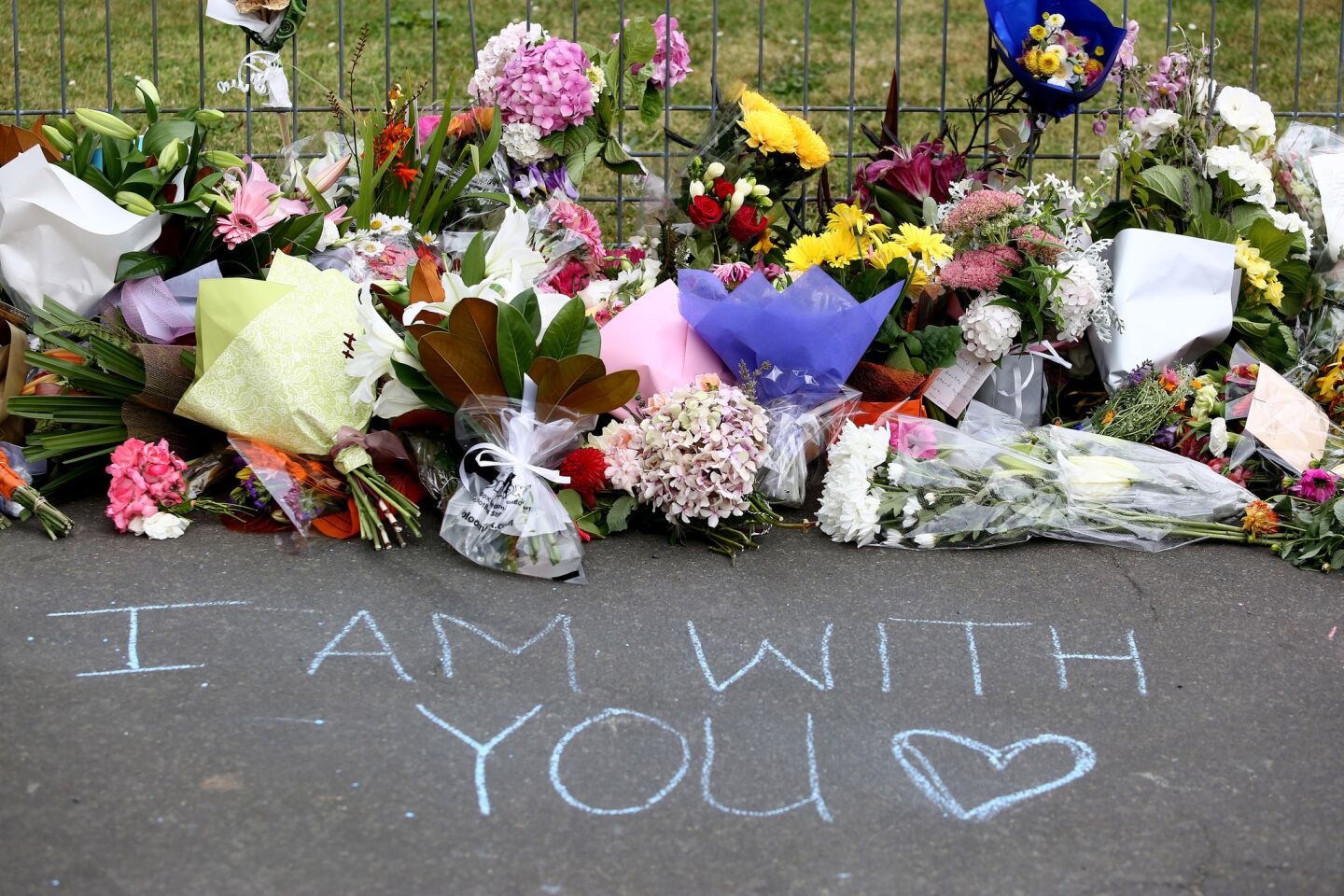 Dunedin residents leave flowers and messages at a local mosque in tribute to Christchurch victims.
(Dianne Manson / Getty Images)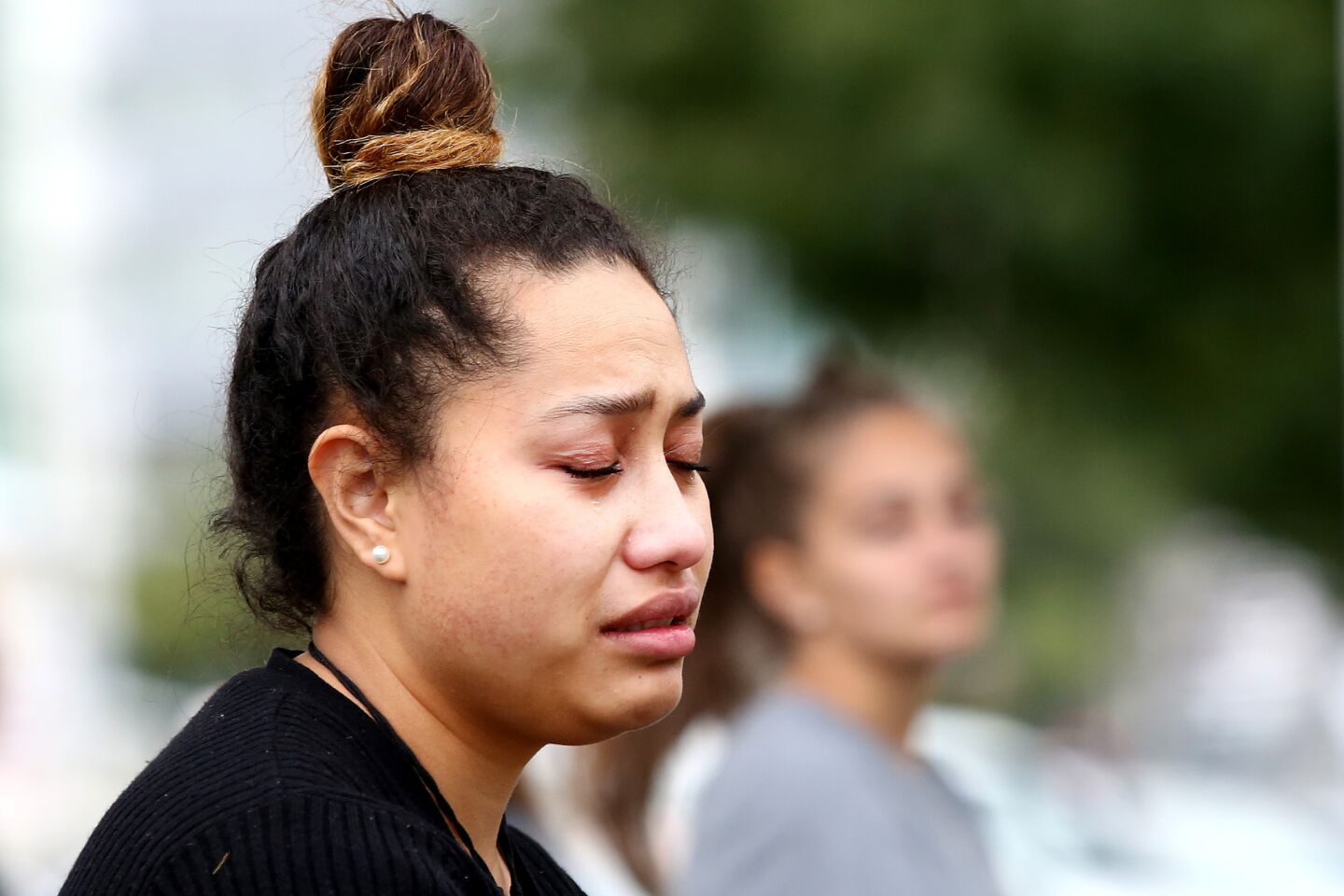 Residents of Dunedin, New Zealand, pay tribute to those killed and injured in Christchurch.
(Dianne Manson / Getty Images)
Mourners pay their respects at Hagley College after the attacks in Christchurch.
(Michael Bradley / AFP/Getty Images)
Residents pay respects to the victims of the mosque attacks in Christchurch.
(Tessa Burrows / AFP/Getty Images)
A woman whose husband was killed in Friday's mass shootings in Christchurch mourns her loss Saturday.
(Vincent Thian / Associated Press)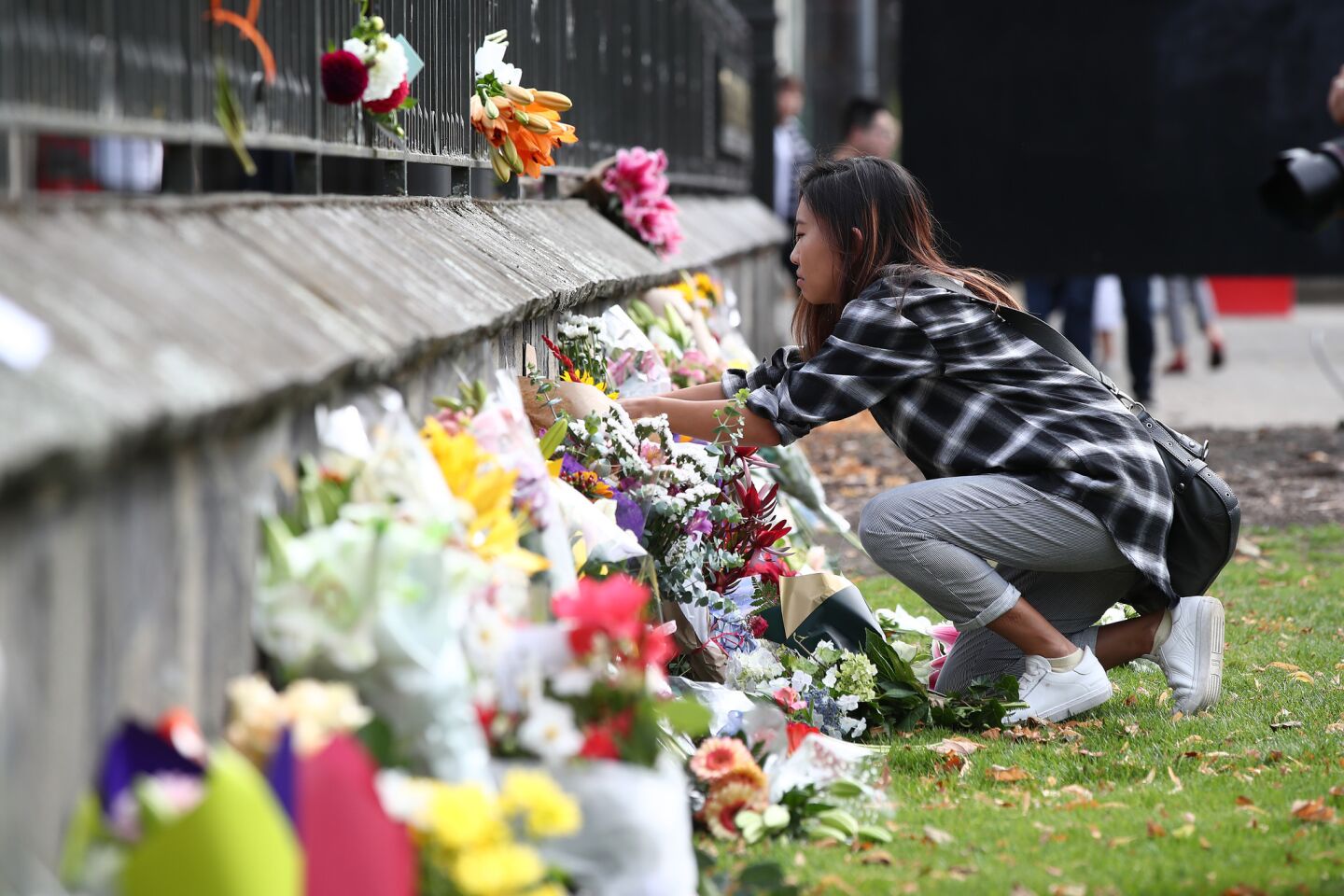 A mourner lays flowers outside the Botanic Gardens in Christchurch.
(Fiona Goodall / Getty Images)
Flowers accumulate at a street memorial for the victims of the mosque attacks in Christchurch.
(Dianne Manson / Getty Images)
New Zealand Prime Minister Jacinda Ardern, right, speaks with a representative of the Canterbury Refugee Center in Christchurch.
(Marty Melville / AFP/Getty Images)
Flags fly at half staff on the Sydney Harbor Bridge in Sydney, Australia.
(James Gourley / Getty Images)
Men gather after laying flowers for the victims outside one of the Christchurch mosques.
(Dianne Manson / Getty Images)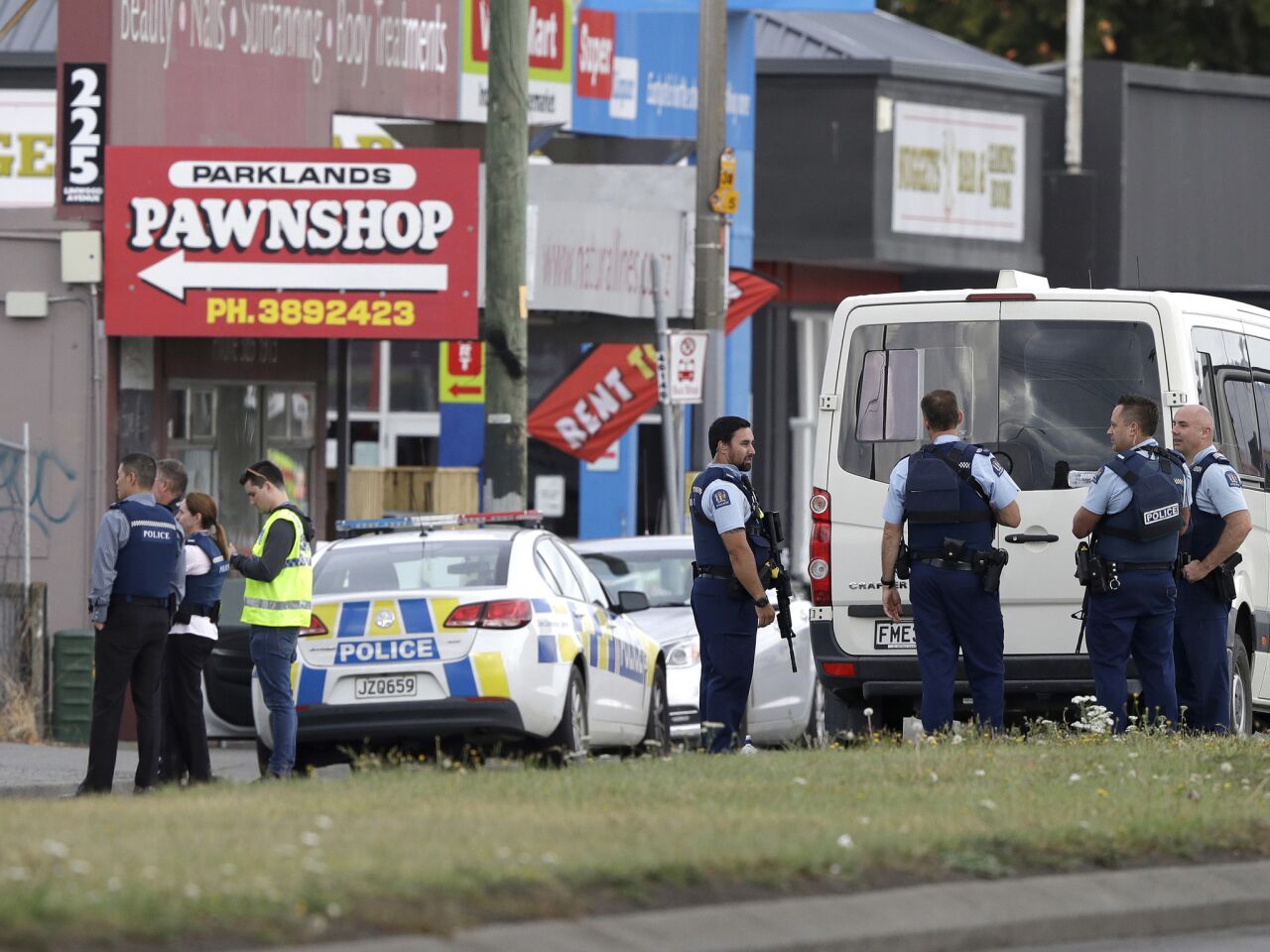 Police stand outside a mosque in Christchurch, New Zealand. Multiple people were killed during shootings at two mosques full of people attending Friday prayers.
(Mark Baker / Associated Press)
People in front of the Al Noor Mosque in Christchurch, New Zealand, awaiting word on victims.
(Kai Schwoerer / Getty Images)
Police cordon off the area in front of the Al Noor Mosque after the shooting in Christchurch, New Zealand.
(Tessa Burrows / AFP/Getty Images)
A man speaks on a cellphone outside a mosque in central Christchurch, New Zealand, after a shooting there.
(Mark Baker / Associated Press)
Prime Minister Jacinda Ardern speaks at a news conference in Wellington, New Zealand, after the mosque attacks Friday.
(Hagen Hopkins / Getty Images)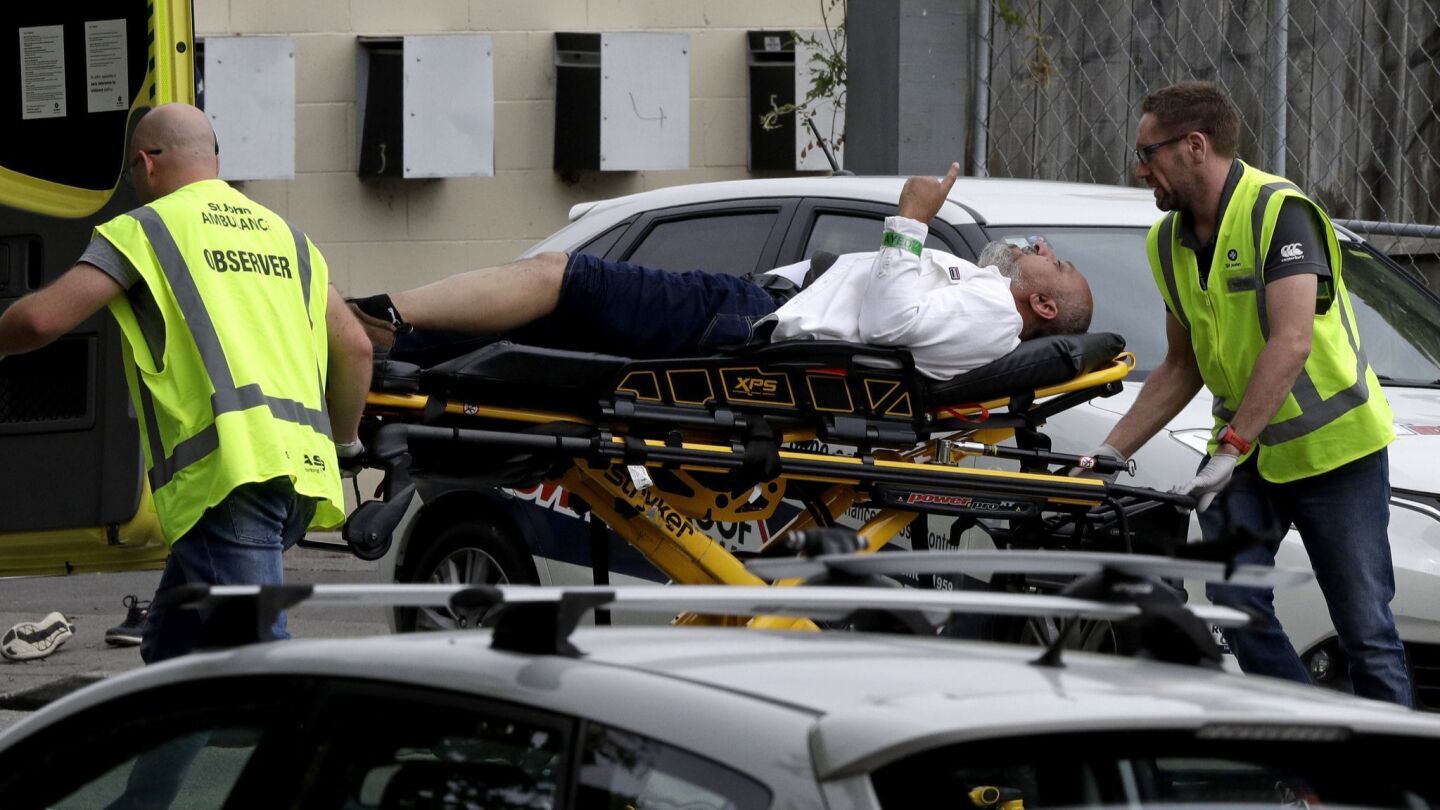 Medical workers remove an injured man from the scene of one of the mosque shootings in central Christchurch.
(Mark Baker / Associated Press)
A body lies on a sidewalk outside a mosque in central Christchurch.
(Mark Baker / Associated Press)
A man rests on the ground as he speaks on his mobile phone across the road from one of the targeted mosques.
(Mark Baker / Associated Press)
Hamzah Noor Yahaya, a survivor of the shootings at Masjid al Noor mosque, stands in front of Christchurch Hospital at the end of a lockdown Friday.
(Kai Schwoerer / Getty Images)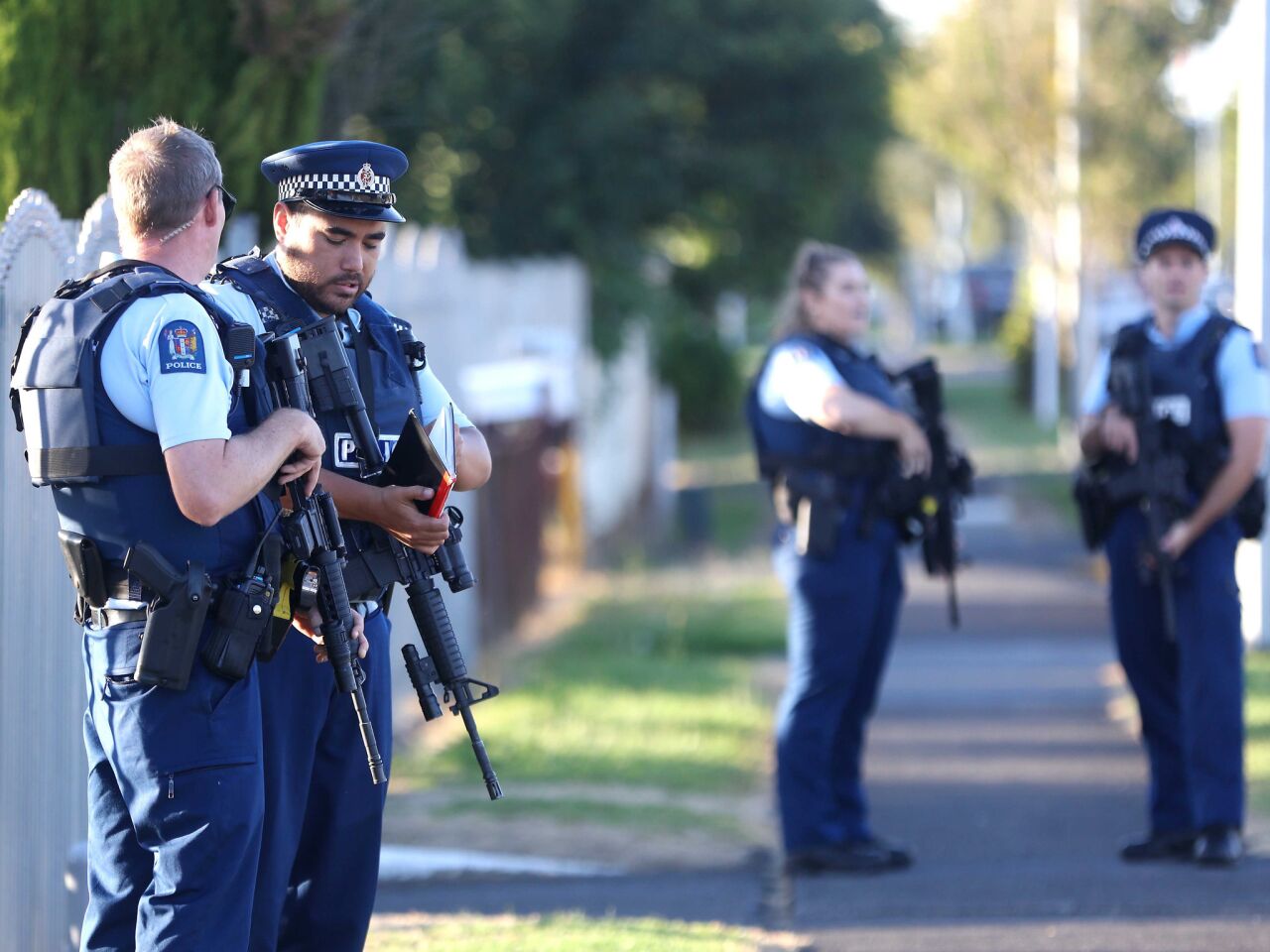 Armed police maintain a presence outside the Masijd Ayesha Mosque in Auckland, New Zealand.
(Phil Walter / Getty Images)
The New Zealand national flag is flown at half-staff on a Parliament building in Wellington after a mass shooting in Christchurch left 49 people dead.
(Marty Melville / AFP/Getty Images)
A police officer patrols at a cordon near a mosque in central Christchurch, New Zealand.
(Mark Baker / Associated Press)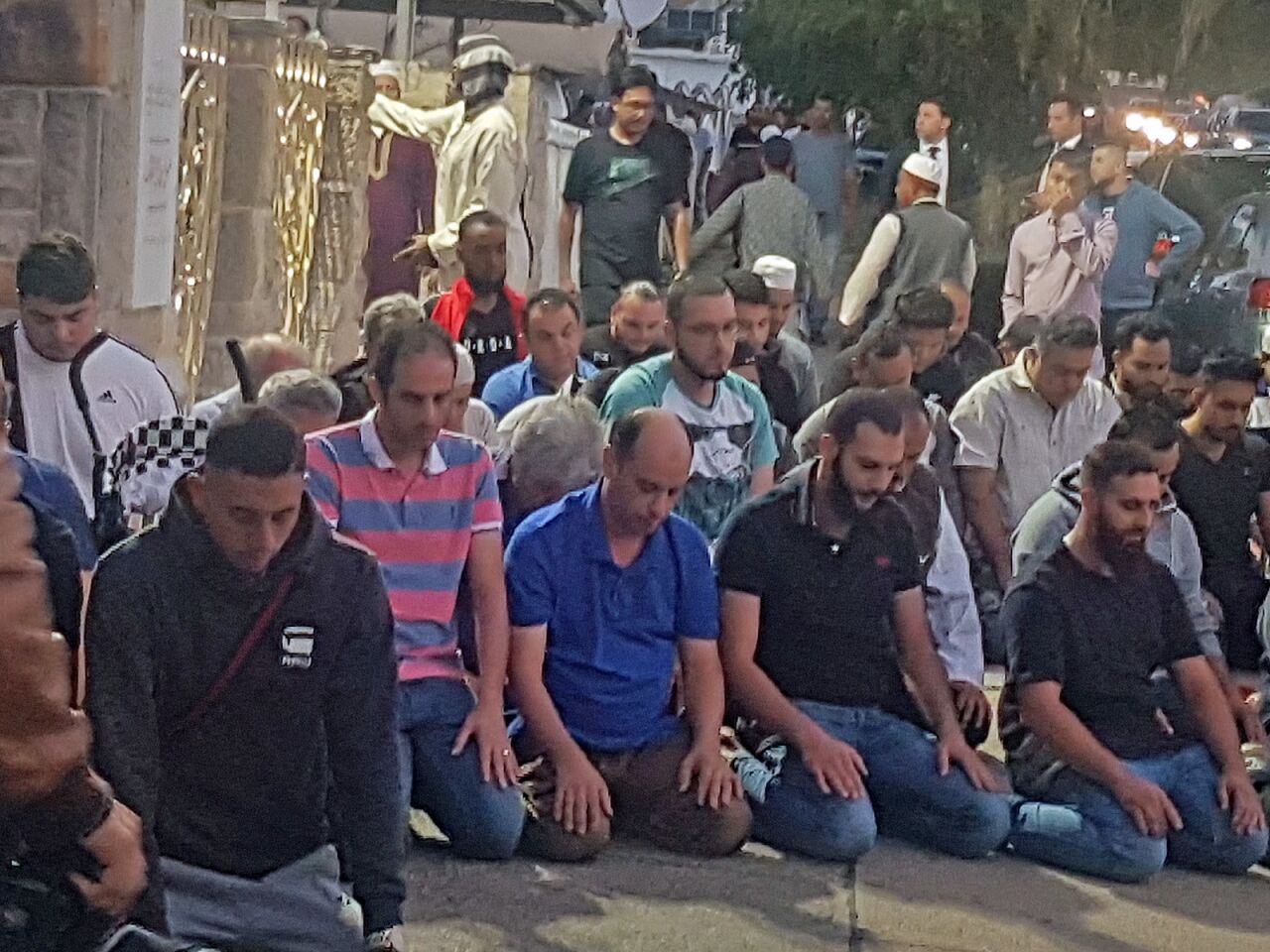 Worshipers pray for victims of the New Zealand shootings at a Friday evening vigil at the Lakemba Mosque in New South Wales, Australia.
(Mark Goudkamp / AP)
People wait for news outside a mosque in central Christchurch after the shootings.
(Mark Baker / Associated Press)
Flowers are placed on the front steps of the Wellington Masjid mosque in Kilbirnie in Wellington after a shooting incident at two mosques in Christchurch.
(Marty Melville / AFP/Getty Images)
The Chiefs and Hurricanes observe a moment of silence Friday before a Super Rugby match at FMG Stadium in Hamilton, New Zealand.
(Michael Bradley / Getty Images)
Reporting from Christchurch, New Zealand —
Abdirisak Sheikh left Somalia eight years ago to move to New Zealand. "We were thinking it was a safe country," the 28-year-old said.
During Friday prayers, he was surrounded by dozens of worshipers at a mosque in Christchurch. He looked through a window and saw a figure outside dressed in military-style gear, and he watched as the man in all black shot another person.
Then the gunman came through the main doors of the Linwood mosque, spraying bullets into congregants praying at the back and sending others fleeing to the front. Those who had been in the back piled onto congregants in the front, probably saving their lives, said Sheikh.
"They fell into us," said Sheikh, who escaped unharmed. "It was so sad."
A terrorist attack, apparently fueled by white supremacy and a loathing for immigrants, left 49 people dead, scores wounded and a nation trying to come to grips with the worst mass killing in New Zealand history. The gunman had livestreamed the slaughter, apparently from a helmet-cam, on Facebook.
An Australian suspect identified as Brenton Tarrant was charged with murder Saturday in this nation where police rarely carry firearms. Two other suspects were in custody; police were trying to determine what role they may have played in the slaughter.
"This is one of New Zealand's darkest days," Prime Minister Jacinda Ardern said late Friday after the attacks.
She noted that many of the victims were migrants or refugees. The dead, wounded or missing included Bangladeshis, Jordanians, Pakistanis, Indians, Indonesians, Afghans and Turks, according to officials from those countries.
"They are us," Ardern said.
New Zealand's police commissioner and eyewitnesses discuss the deadly mass shootings at multiple mosques Friday in Christchurch.
"It is clear that this can now only be described as a terrorist attack," the prime minister said. She said the suspect's extremist views "have absolutely no place in New Zealand."
A jumbled, 74-page manifesto was posted on social media under Tarrant's name, in which the writer identified himself as a 28-year-old white supremacist out to avenge attacks in Europe perpetrated by Muslims. The manifesto said the former personal trainer — an "ordinary white man" from a "low income family" — had come to New Zealand only to plan and train for the attack.
The gunman livestreamed 17 minutes of his rampage at Al Noor Mosque, where he sprayed worshipers with bullets over and over, killing at least 41 people. Several more people were killed in the attack on the Linwood mosque a short time later.
Authorities warned that the death toll could rise because many of the other 48 people wounded in the attacks were in grave condition.
READ MORE: Facebook and Google broke down barriers to broadcast media — even for mass killers »
Officials were urging mosques to remain closed on Saturday. New Zealand Police Commissioner Mike Bush issued a plea late Friday directed at the nation's Muslims: "I want to ask anyone that was thinking of going to a mosque anywhere in New Zealand today, not to go, to close your doors until you hear from us again."
World leaders condemned the attacks and offered condolences. Pakistan's Prime Minister Imran Khan and others pointed to the bloodbath and other such attacks as evidence of rising hostility toward Muslims.
"I blame these increasing terror attacks on the current Islamophobia post-9/11 where Islam & 1.3 bn Muslims have collectively been blamed for any act of terror by a Muslim," Khan tweeted.
President Trump said on Twitter that he had spoken with Ardern, offering solidarity and assistance. "We love you New Zealand!" he tweeted.
Trump has drawn criticism for demonizing migrants and for saying that there were "fine people on both sides" of a 2017 white nationalist march in Virginia that turned deadly.
When Trump was asked by reporters Friday whether he considered white supremacy a "rising threat," he said: "I don't really. I think it's a small group of people that have very, very serious problems, I guess."
Ardern told reporters, "I said to Donald Trump that New Zealand needed sympathy and love for all Muslim communities," according to the New Zealand Herald.
New Zealand is generally considered to be welcoming to immigrants.
In the wake of the slaughter, the prime minister said that immigrants and refugees "have chosen to make New Zealand their home, and it is their home."
Last year, New Zealand announced it would boost its annual refugee quota from 1,000 to 1,500 in 2020. Ardern, whose party campaigned on a promise to take in more refugees, called it "the right thing to do."
At the Al Noor mosque, witness Len Peneha said he saw a man dressed in black and wearing a helmet with some kind of device on top enter the house of worship and then heard dozens of shots, followed by people running out in terror.
Peneha, who lives next door, said the gunman ran out of the mosque, dropped what appeared to be a semiautomatic weapon in his driveway and fled. Peneha went into the mosque to help the victims.
LAPD beefs up patrols around mosques after deadly New Zealand terrorist attacks »
"I saw dead people everywhere. There were three in the hallway, at the door leading into the mosque, and people inside the mosque," he said. "I don't understand how anyone could do this to these people, to anyone. It's ridiculous."
Facebook, Twitter and Google scrambled to take down the gunman's video, which was widely available on social media for hours after the horrific attack.
The companies have faced criticism since the massacre. "Social media companies have avoided any real confrontation with the fact that their product is toxic and out of control," said Mary Anne Franks, University of Miami law professor and president of the Cyber Civil Rights Initiative.
In the video, the killer spends more than two minutes inside the mosque spraying terrified worshipers with gunfire. He then walks outside, where he shoots at people on the sidewalk. Children's screams can be heard in the distance as he returns to his car to get another rifle. He walks back into the mosque, where there are at least two dozen people lying on the ground.
The footage showed the killer was carrying a shotgun and two fully automatic military assault rifles, with an extra magazine taped to one of the weapons so that he could reload quickly. He also had more assault weapons in the trunk of his car, along with what appeared to be explosives.
After going back outside and shooting a woman, he gets back in his car, where the song "Fire" by the English rock band the Crazy World of Arthur Brown can be heard blasting. The singer bellows, "I am the god of hellfire!" and the gunman drives off.
The manifesto posted under the suspect's name was a welter of often politically contradictory views, touching on many of the most combustible issues of the day, among them the U.S. 2nd Amendment, Muslim immigration, terrorist attacks and the wealthiest 1%.
The writer portrayed himself as a racist and a fascist and raged against non-Westerners, but said China is the nation that most aligns with his political and social values.
One of the questions the manifesto's author posed to himself was: "Were/are you a supporter of Donald Trump?" His answer: "As a symbol of renewed white identity and common purpose? Sure. As a policy maker and leader? Dear god no."
The White House rejected any link between the shooting and Trump.
The manifesto said the suspect was not a member of any organization, acted alone and chose New Zealand to show that even the most remote parts of the world are not free of "mass immigration."
Mass shootings are extremely rare in New Zealand, with the most well-known the Aramoana massacre in 1990, when a man gunned down 13 people in a tiny seaside village. The worst massacre before that was in 1941, when a man killed six police officers.
The nation has relatively loose gun laws but few gun homicides. The prime minister on Saturday vowed to tighten those laws.
The primary perpetrator used five guns and acquired a gun license in November 2017, Ardern said at a news conference. She pointed out that there had been several attempts in recent years to change the country's gun laws. Now, she said, is the time to take action.
"I can tell you one thing right now: Our gun laws will change."
Ardern expressed solidarity with the Muslim and refugee community and said New Zealanders must reject the hate and extremism of the gunman.
"We were not chosen for this act of violence because we condone racism, because we are an enclave for extremism. We were chosen for the very fact that we are none of these things," the prime minister said. "Because we represent diversity, kindness, compassion. A home for those who share our values. Refuge for those who need it. And those values, I can assure you, will not and cannot be shaken by this attack."
The New Zealand mosque shooting is just the latest in a trend of violence against houses of worship »
New Zealanders appeared stunned the morning after the attacks.
Near the Al Noor mosque, people came bearing flowers and paper cranes. Some said they weren't sure what else to do to show solidarity.
Linda Bateman, a Christchurch native laying down a bouquet of lilies and Gerbera daisies, said she was "just devastated. We all feel helpless. It's the only thing you can do to show respect."
"I love this city, and what we need is more love," Dayne Ingham, a 66-year-old Christchurch resident, said, looking at a growing mound of flowers at a police checkpoint near the mosque.
Ingham said he had just quit Facebook after being a member for nine years because he was upset by the video of the shooting. He said Facebook, Google and YouTube need to be more responsible.
"These guys are [some of] the wealthiest businesses in the world, and they are perpetuating hatred."
New Zealand's population of 5 million is about half that of Los Angeles County. The south island is home to 1 million people, and 388,000 live in Christchurch. The city and the region of Canterbury are still rebuilding from a devastating earthquake in 2011 that killed 185 people.
"Canterbury people have been through a lot in recent years," said David Meates, CEO of the regional health board. "It's hard to fathom the enormity of this act of terrorism in our hometown."
Some of the doctors who treated mosque attack victims had also cared for those injured in the earthquake. After the attack, 12 operating rooms at Christchurch Hospital were used throughout the night.
The hospital admitted 48 patients wounded in the terrorist attack, said Greg Robertson, Canterbury District Health Board's chief of surgery. Of those, 36 remain in the hospital, with 11 in the intensive care unit, the hospital said. Patients ranged from 2 to 60, though many were men in their 30s, according to the hospital.
Times staff writers Leila Miller, Sam Dean and Melissa Etehad in Los Angeles and the Associated Press contributed to this report.
---
Must-read stories from the L.A. Times
Get the day's top news with our Today's Headlines newsletter, sent every weekday morning.
You may occasionally receive promotional content from the Los Angeles Times.