Southern California Muslims react to New Zealand massacre: 'It could have been us'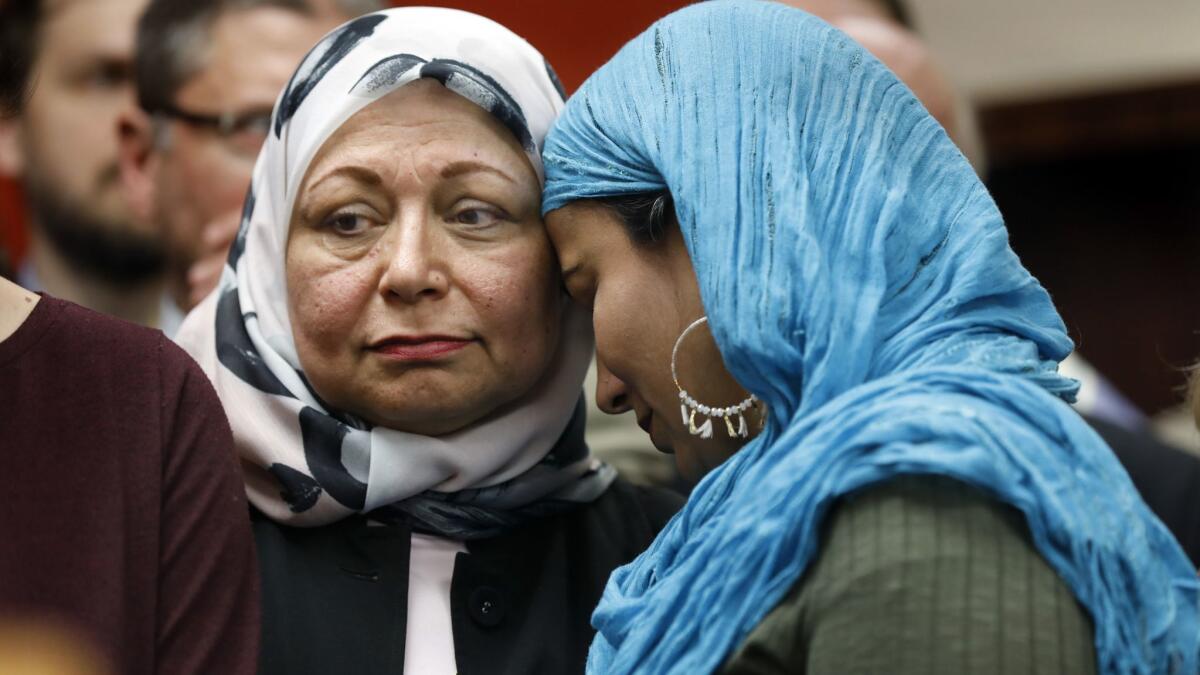 The worshipers sat in rows inside the mosque, the men in the front and women behind. Dozens of believers of other faiths settled in between.
Hundreds of Muslims, Jews, Christians and Sikhs gathered at the Islamic Center of Southern California on Friday for prayers, some hoping to find the guidance needed to help make sense of the violence that had killed so many of their fellow faithful nearly 7,000 miles away.
"The ugliness of what unfolded cannot be missed," Khaled Abou El Fadl told the crowd. "They are us. It could have been us."
At least 49 people were shot to death at two mosques during midday prayers in Christchurch, New Zealand, on Friday — gunned down by a white supremacist who broadcast the massacre live on Facebook.
The terrorist attack sent ripples of fear throughout the Muslim community in Southern California and led police to ramp up their presence outside mosques. A handful of LAPD officers guarded the Islamic Center during prayers alongside private security and sheriff's deputies.
The violence also spawned calls for unity and solidarity with Muslims across the globe.
In his khutbah, or sermon, Abou El Fadl decried the growth of Islamophobia as he clutched a copy of the shooter's 74-page manifesto. A law professor at UCLA, Abou El Fadl had been invited to speak to Islamic center members during Friday prayers.
"Islamophobia has taught everyone that we Muslims do not embrace a religion, but rather, an ideology," he said with force. "That we love to hate, rather than love to love."
Blasting the gunman as an "immoral idiot," Abou El Fadl slammed the political environment that has provided a "steady drumbeat of hateful language that has made your sons and daughters … so uncomfortable in school that they often try to conceal that they are Muslim."
Twenty minutes later, his speech gave way to prayer. As the congregants knelt and bowed their heads, they made one final invocation: Janazah, the Islamic funeral prayer, uttered for the souls lost in Christchurch.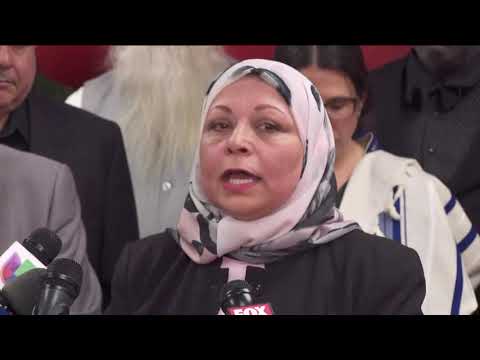 Reactions from Los Angeles Mayor Eric Garcetti and the Islamic Center of Southern California on mass shooting.
In a news conference before Jumu'ah prayers, LAPD Chief Michel Moore, Mayor Eric Garcetti and faith leaders called on communities to stand up against hate. Nearly 100 people packed into the back of the room, some holding signs with messages like "We are one" scrawled in Hebrew.
"We are a city that is called the city of angels, and today I feel those wings stretched out," Garcetti said. "But our angels weep today as well for our brothers and sisters in New Zealand."
The fallout from the violence is about more than one incident — it is about a growing threat of white supremacy, said Salam Al-Marayati, founder of the Muslim Public Affairs Council.
"Imagine if you will that you are ready to bow and kneel for prayer, but instead of receiving the blessings that are showered upon you, you are sprayed with bullets," Al-Marayati said.
"We finally said it is terrorism," he added.
"That's right," the crowd replied. Some nodded.
Rabbi Sharon Brous said she stood with all people who have been targeted for their faith, race or ethnicity.
"We have witnessed as your faith has been mocked and desecrated for political gain, as your bodies and your holy sites have been threatened," she said. "Enough is enough."
Tears welled in Najeeba Syeed's eyes as she listened. As a mother, she said, her mind immediately went to her children and how to explain the violence.
"It felt like this whole act was to dehumanize the community, to approach it like we were characters in a video game," Syeed, 45, said.
It's important, she said, to ensure children feel comfortable with their identity and proud of who they are.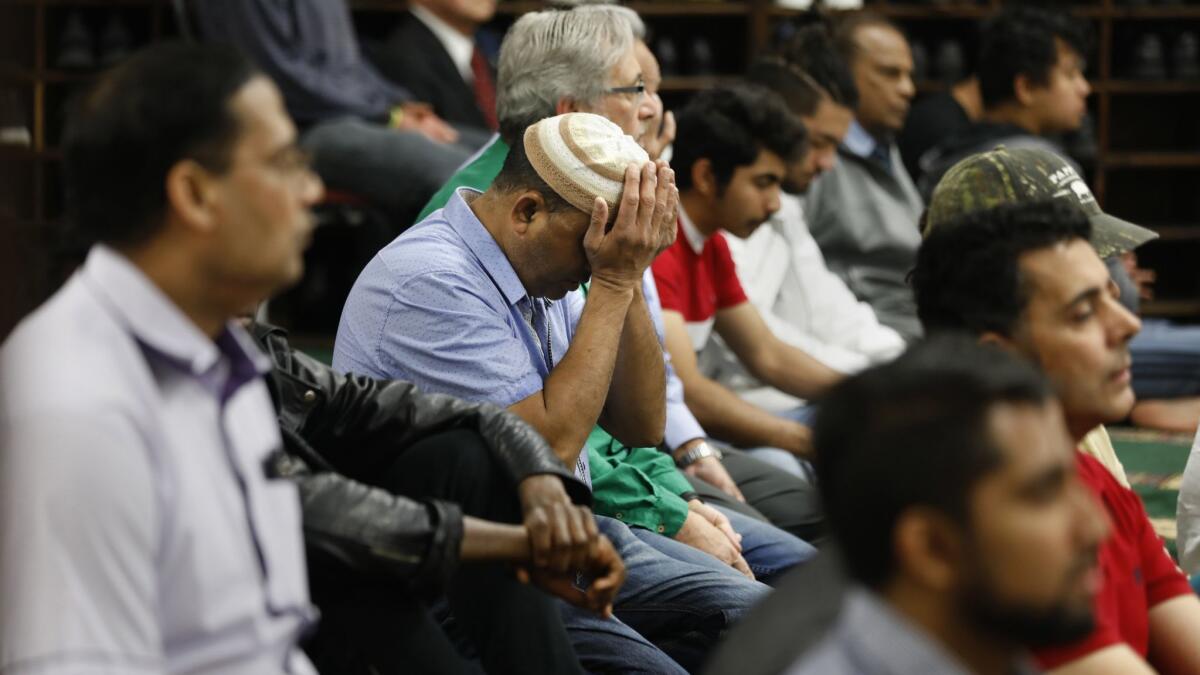 In Long Beach, Mayor Robert Garcia, Los Angeles County Supervisor Janice Hahn and other public officials joined the congregation at the city's Islamic Center on Friday afternoon in a similar show of solidarity.
Mohammed Alrawi said looking around at the gathered crowd that included people of different faiths and ethnicities was a comforting antidote after reading a racist manifesto the killer is thought to have written.
"It reaffirmed the hope that we are a nation of love, not one of hate," he said.
For some, the attack was less of a surprise and more of an inevitability at a time when mass shootings seem to regularly punctuate the news.
"I don't want to sound like I'm numb, but it's not like, 'Oh, my God, a white nationalist went into a mosque and shot and killed people,'" said Marc Manley, imam at Middle Ground Muslim Center in Upland.
Manley said he felt conflicted about discussing the shooting during Friday prayers, which he uses as a time to lift people's spirits.
"You can't really address a complicated issue like this in 20 minutes," he said.
Omar Ricci couldn't shake the thought that as the observant in his mosque prepared to pray, they were in the same position as the victims in Christchurch, at the same time of day that they lost their lives.
The congregants in Christchurch were seeking spiritual solace the way they did every Friday, Ricci said. They were attacked when they were most vulnerable.
"The very first texts I got today were, 'Is there going to be extra security at the mosque?' " said Ricci, chair of the Islamic Center of Southern California. "We're all going through it."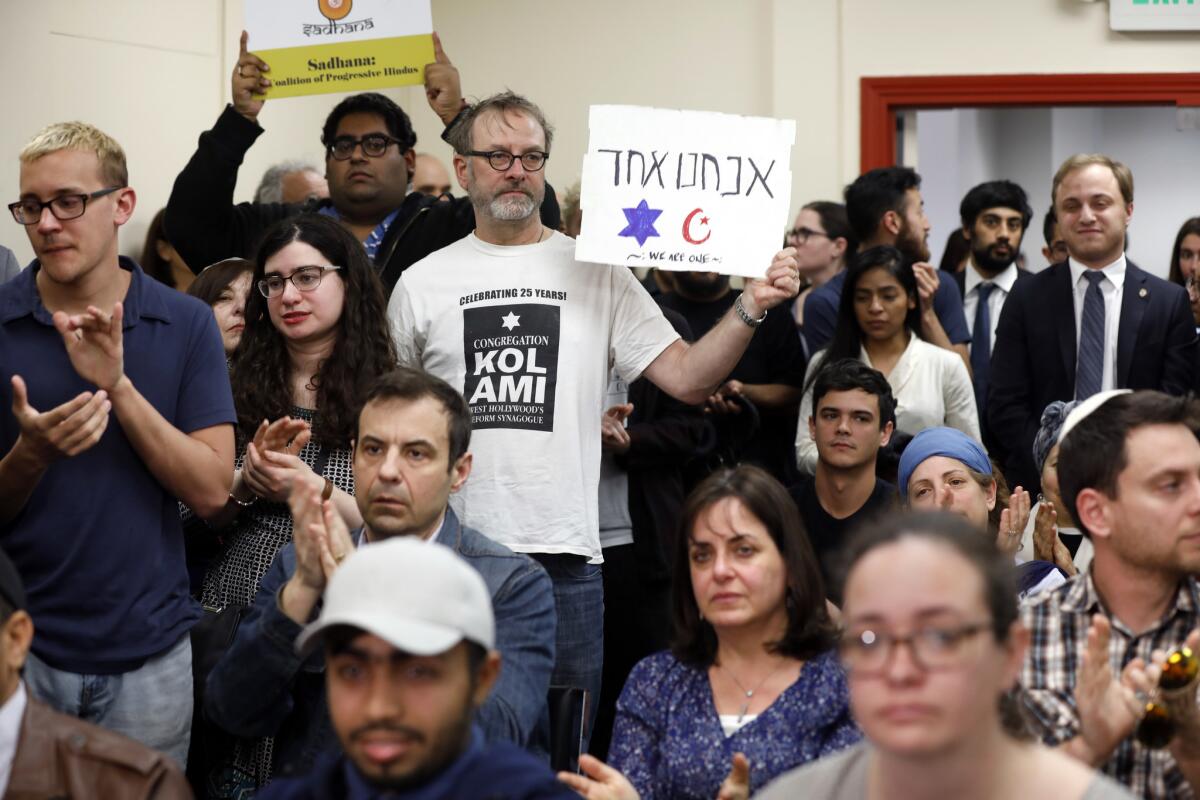 Sign up for Essential California for news, features and recommendations from the L.A. Times and beyond in your inbox six days a week.
You may occasionally receive promotional content from the Los Angeles Times.