Seoul says North Korea fired submarine-launched missile more than 300 miles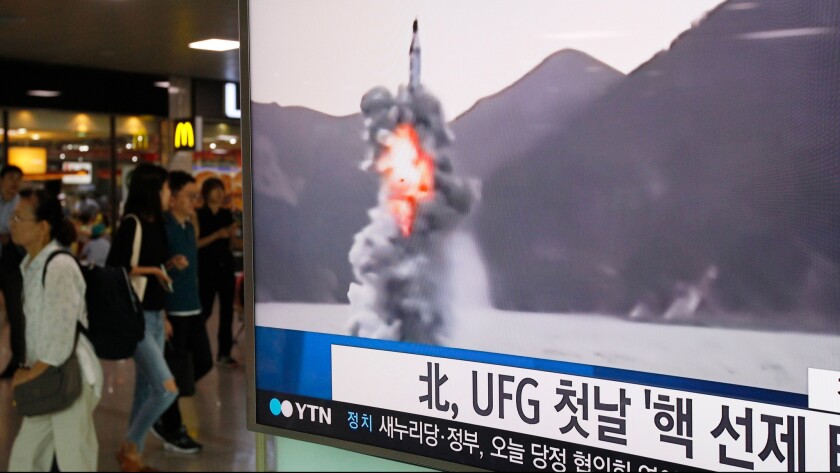 Reporting from SEOUL —
North Korea fired a submarine-launched ballistic missile Wednesday that flew for more than 300 miles, a step forward in the increasingly isolated country's development of weapons that defy United Nations sanctions, the South Korean military said.
The range, which would allow North Korea to strike anywhere on the South Korean mainland, marked a vast improvement over a launch in April that traveled less than 20 miles. The U.S. Strategic Command said in a news release that the launch "did not pose a threat to North America."
South Korea's Joint Chiefs of Staff said in a statement that the missile was launched at 5:30 a.m. from near Sinpo, a city on North Korea's east coast, and landed in the Sea of Japan, within Japan's air defense identification zone. No damage or casualties were reported.
The statement condemned the launch as a "serious threat to security on the Korean peninsula." In response to the launch, South Korea held an emergency meeting of its National Security Council at the Blue House, South Korea's presidential office.
The launch could be North Korea's way of communicating displeasure with military exercises being held in South Korea by U.S. and South Korean forces. The annual Ulchi Freedom Guardian exercises, which involve about 25,000 U.S. and 50,000 South Korean troops and last for about two weeks, mostly consist of computer simulations of defense scenarios.
North Korea routinely objects to such exercises, calling them a rehearsal for an invasion of North Korea and threatening retaliation. On Tuesday, a statement carried by North Korea's state media threatened a "preemptive nuclear strike" on South Korea and the U.S. in response to the exercises.
The statement called the exercises an "unpardonable criminal act of pushing the situation on the Korean peninsula to the brink of a war."
Wednesday's launch also took place on a day of scheduled meetings between the foreign ministers of South Korea, China and Japan, with the growing nuclear and missile threats from North Korea high on the agenda.
At the meeting, South Korea and Japan are likely to seek further cooperation from China, North Korea's only significant ally, in enforcing sanctions and pressuring the Pyongyang government to cease provocations. Relations between South Korea and China have been complicated by South Korea's decision in July to deploy the missile defense system known as THAAD, for Terminal High Altitude Area Defense.
China has objected to the decision, arguing that the system's radar can be used to gather military intelligence from Chinese territory.
Borowiec is a special correspondent.
MORE FROM WORLD
Korea's smash summer hit is a zombie movie that strikes a deep chord
There's just one country other than the Vatican where divorce is illegal — and some want to change that
Her husband was killed in the Philippines drug war. No one would help her find answers
---
UPDATES:
8:35 p.m.: This article was updated with staff reporting.
This article was originally published at 6:30 p.m.
---
Must-read stories from the L.A. Times
Get the day's top news with our Today's Headlines newsletter, sent every weekday morning.
You may occasionally receive promotional content from the Los Angeles Times.