Pakistan elections end in fraud allegations and violence after 31 are killed in bombing at polling center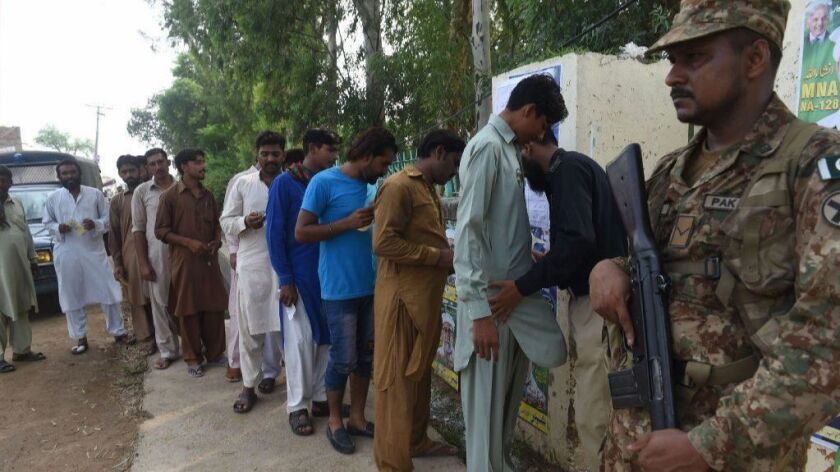 Reporting from Islamabad, Pakistan —
A bitter election season in Pakistan concluded in bloodshed and fraud allegations Wednesday after a suicide bombing killed at least 31 people outside a polling station and a top contender rejected preliminary results because of "massive irregularities."
Early unofficial returns gave a commanding lead to Imran Khan, a nationalist and former cricket star who emerged as the favorite to become prime minister.
Khan's rival, Shahbaz Sharif, the younger brother of jailed former Prime Minister Nawaz Sharif, accused election workers of expelling his party representatives from polling stations and said votes were being counted in secret. He called it the dirtiest elections in Pakistan's history, hinting at an acrimonious political fight that could delay the formation of the next government.
"I completely reject these results," Sharif said at a news conference in Lahore late Wednesday. "There has been a blatant violation of the public's mandate."
With votes from less than half the polling stations counted, Khan's party was leading in 111 of the 270 National Assembly seats up for grabs — suggesting a massive victory for his formerly moribund party but less than an absolute majority needed to form a government. Official results were expected Thursday.
The head of Pakistan's election commission, Sardar Raza Khan, called a 4 a.m. news conference Thursday to deny reports of voting irregularities.
Before counting began, officials said that 31 were killed and dozens wounded in the bombing outside a school that served as a polling center in Quetta, the capital of the southwestern province of Baluchistan, where about 150 people were killed in a blast at a campaign rally two weeks ago. Both attacks were claimed by Islamic State.
Among the dead in Wednesday's blast were at least four police officers, part of a deployment of 600,000 security personnel that illustrated the troubles facing Pakistan's democracy — and one that was a sign of the army's outsize role in the elections.
The army, which has ruled Pakistan directly or through proxy civilian governments for most of its 70 years as an independent nation, was thought by many Pakistanis to have led a political witch hunt against Nawaz Sharif that tilted the playing field in Khan's favor.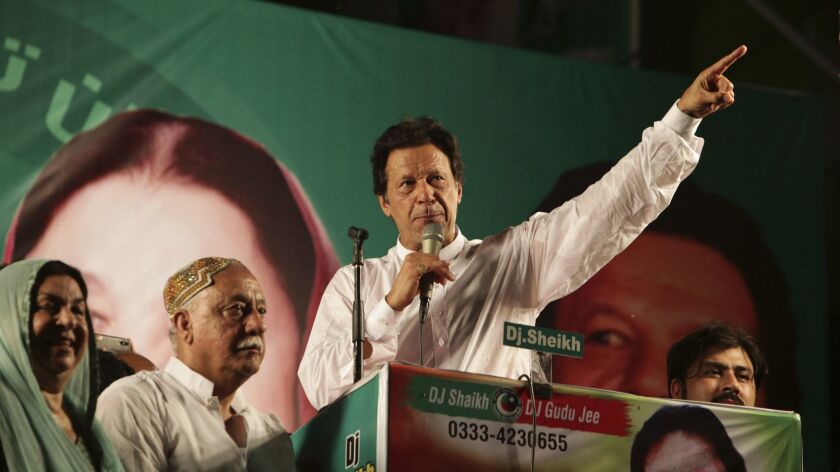 Khan portrayed himself as an antidote to the corrupt rule of the Sharifs and Bhuttos, the two elite political families who have traded power in recent decades in between periods of military rule.
He has also lashed out at the U.S. for its bombing campaign in Pakistan's tribal belt and courted Islamic extremists by endorsing anti-blasphemy laws that are used to target Pakistan's non-Muslim religious minorities.
First-time voter Muhammad Adnan, a 20-year-old student living in the capital, Islamabad, said he supported Khan's campaign for change.
"He is against the status quo. He is against thieves and looters. He has promised to make a new Pakistan and we trust him," Adnan said, surrounded at a polling station by friends who said they were also backing Khan.
"We have come here on our own free will and are voting for him," he said. "Nobody, including the army, forced us. You can see our smiling faces."
Khan denied allegations that he was the army's favored candidate despite widespread reports of meddling and intimidation by the security establishment that appeared aimed at crippling the Pakistan Muslim League led by Nawaz Sharif, the former three-time prime minister who won the last general elections in 2013.
While in office, Sharif irked Pakistan's generals by trying to exert control over security affairs, including relations with rival India. The judiciary ousted Sharif and banned him from office last year over allegations that his family used undeclared wealth to purchase four expensive apartments in London, a case their supporters argue was politically motivated.
Weeks before the vote, a court jailed Sharif and daughter Maryam Nawaz, widely seen as his electoral stand-in. The party leader became Sharif's brother Shahbaz, the leader of Punjab province, home to half of Pakistan's 200 million people.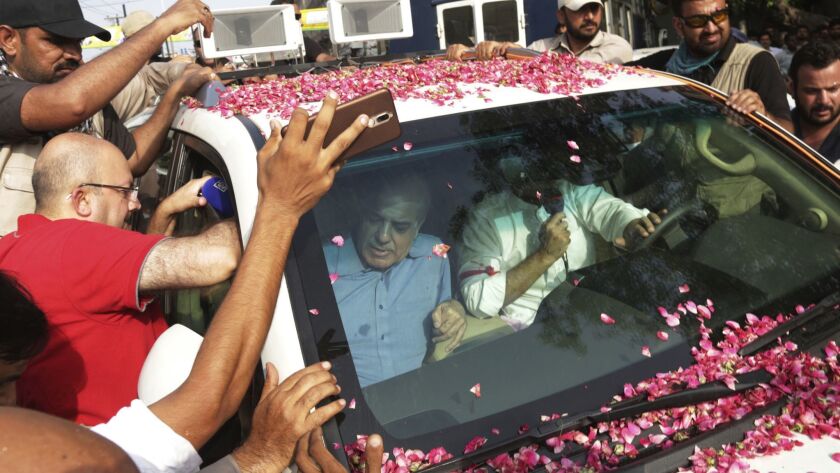 Nawaz Sharif and his daughter returned to Pakistan from London to appeal their convictions and were arrested. They remain in jail, garnering more sympathy from their supporters.
Fatima Bibi, 85, said she traveled nearly 900 miles to vote for Sharif's party at her registered polling place in the garrison city of Rawalpindi, outside Islamabad.
"I have seen so many governments and rulers in this country in my lifetime," she said. "Only a few of them have made this country better and Nawaz Sharif is one of them…. He is not a thief but a true Pakistani."
The Sharifs' supporters accused the security establishment of attempting to erode their party's vote base in Punjab by engineering the defections of several Pakistan Muslim League candidates, some of whom joined Khan's campaign, and by allowing candidates from banned Islamic extremist groups to run under newly formed political organizations.
Those developments, along with restrictions on privately owned news media, contributed to what the independent Human Rights Commission of Pakistan called "blatant, aggressive and unabashed attempts to manipulate the outcome of the upcoming elections."
The army said it would deploy nearly 400,000 soldiers at polling places to provide security, more than five times as many as in 2013, although security nationwide has generally improved. An additional 200,000 police and other security personnel were also stationed inside and outside polling stations at the request of election authorities.
The heavy deployment "border[s] dangerously on micromanagement by an institution that should not be involved so closely in what is strictly a civilian mandate," the human rights commission said.
Special correspondent Sahi reported from Islamabad and Times staff writer Shashank Bengali from Mumbai, India. Special correspondent Zulfiqar Ali in Peshawar, Pakistan, contributed to this report.
Shashank Bengali is the South Asia correspondent for The Times. Follow him on Twitter at @SBengali
---
UPDATES:
4:35 p.m.: This article was updated with preliminary results and allegation of voting irregularities.
This article was originally published at 9 a.m.
---
Must-read stories from the L.A. Times
Get the day's top news with our Today's Headlines newsletter, sent every weekday morning.
You may occasionally receive promotional content from the Los Angeles Times.