In Venezuela, where the currency is unstable and scarce, many rely on debit cards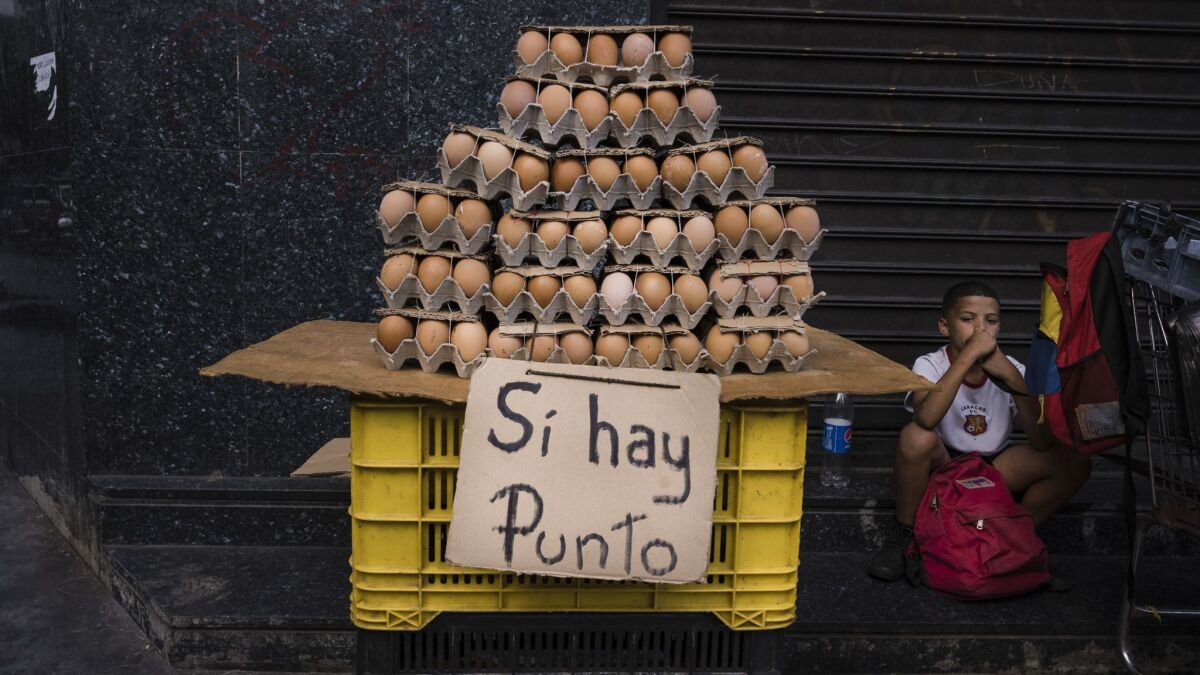 Reporting from Caracas, Venezuela —
Antonio Rodriguez pulled out his bank debit card to cover his meager purchase — three bananas and three oranges, which cost the equivalent of about 30 U.S. cents.
"There's just no cash," Rodriguez explained as he handed over his plastic at a shop in the impoverished Las Minas de Baruta district in the hillside eastern fringes of this capital.
It's a frequent lament in Venezuela, a once-prosperous country enmeshed in political and economic turmoil where hyperinflation and resulting shortages of bank notes have yielded a ubiquitous noncash economy.
Successive presidents have sliced multiple zeros off the value of the free-falling currency, the bolivar — which is often, literally, not worth the paper it's printed on.
Much of the population, especially in urban areas, uses debit cards to pay for basic purchases, including food and household goods. Many routine debit purchases amount to less than a U.S. dollar, currently the equivalent of about 3,300 bolivars.
Hyperinflation has ravaged earning power and pushed people toward destitution. A university study found that about 90% of households live in poverty and that hunger has been on the rise.
Shoppers have become accustomed to reciting a dizzying series of digits — security codes, ID numbers, bank accounts — as cash register clerks expertly enter the figures into portable electronic terminals.
It is need and adaptability that have pointed the way to Venezuela's plastic-dependent shopping, not some modernist push to do away with bank notes — though embattled President Nicolas Maduro has created a mysterious cryptocurrency, the petro, that appears more fictitious than real.
Widespread debit-card use is not a profligate luxury or a matter of convenience. Rather, the practice is a high-tech necessity in a cash-starved society where the economy has been shrinkingand vital oil revenue has been plummeting.
Thriving within this debit-card society is a parallel black market for dollars, which many Venezuelans hoard for major purchases. But day-to-day acquisitions are inevitably paid for in bolivars, via debit cards.
The once-solid bolivar — a currency that dates to the 19th century and is named after Simon Bolivar, the South American independence hero — has been battered about like a punch-drunk boxer in recent years.
The current rate of inflation remains a matter of dispute in a country where the government releases no official figures.
"It's not even worth calculating anymore," concluded Alexander Guerrero, an economist at the Metropolitan University in Caracas.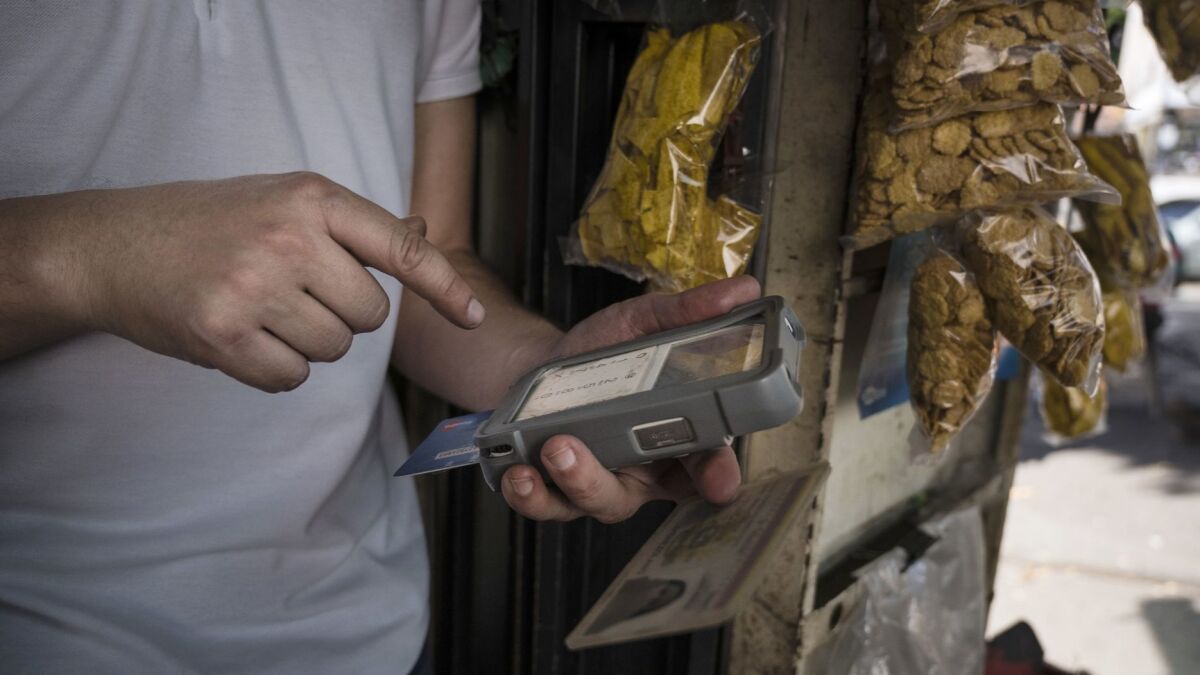 Opposition lawmakers and the International Monetary Fund have projected the current inflation rate at more than 1 million percent.
But Steve H. Hanke, an economist at Johns Hopkins University who tracks the rate daily, calls that estimate "rubbish."
Earlier this week, he calculated the annual inflation at 129,707%. That ranked a relatively modest 26th in the 58 instances of hyperinflation worldwide that Hanke has studied — but, at 27 months, the Venezuelan iteration is fifth-longest in duration.
The bolivar, he says, is "like a hot potato," not something that one should hold onto for long. "If you see something to buy, buy it," is Hanke's advice to Venezuelans. "If you're not using your debit card, you're a fool."
The country's currency-producing capability — many bank notes are printed abroad, adding to the costs — has not been able to keep pace with the sinking bolivar. Hence the endemic currency shortfall, and the mass migration to a debit culture.
"The money depreciates so quickly that the paper to print it has a greater value than what the notes can buy," said Guerrero, the economist.
Because of the paucity of cash, daily bank withdrawals are now generally limited to between 500 and 2,000 bolivars — about 15 to 61 cents.
The distressing tableau adds up to an existential struggle to gather enough cash to make it through the day without capitulating to the plastic.
"Just for this little purchase, I'd have to go to the bank two days in a row to withdraw money — and often the banks don't have cash," said a frustrated Rodriguez, 40, the computer technician shopping for produce, as he gestured toward his skimpy stash of bananas and oranges. "We don't truly live here. We just survive."
Each weekday, people line up at banks to score what little cash they can. They often keep multiple accounts and pool information on which banks have more cash available on which days.
Even with the widespread use of debit cards, cash is still needed for some purchases, such as rides on public transportation — which has deteriorated considerably during the country's protracted crisis.
"I try to go to the bank every day so I'm not left without cash," Maria Zambrano, 39, an office administrator who also has multiple debit cards, said at an upscale shopping center with several bank outlets. "Really, it's a disaster."
When the currency began to crater more than two years ago, many people toted larger and larger amounts of cash — not advisable or practical in a country where street crime is rampant. Back then, customers produced wads of millions of dog-eared bolivars bound in rubber bands from pockets and bags.
Last summer, Maduro's socialist government introduced a new currency, the sovereign bolivar (bolivar soberano), and lopped five zeros off the value of the old bolivar. Maduro's predecessor, the late Hugo Chavez, had eliminated three zeros from currency's sagging value when he introduced the "strong" bolivar (bolivar fuerte) more than a decade earlier.
But the shift to plastic also has drawbacks.
Many Venezuelans at the bottom of the country's economic ladder — especially outside the big cities — don't have bank accounts, so they have to rely on cash. And delays in confirming debit purchases regularly result from internet crashes and breakdowns in heavily used debit card terminals — known here as puntos, or points, and often advertised with handmade signs declaring: "Si hay punto," signifying that the shop or stand accepts debit cards. Limits on debit card expenditures mean many people split even modest purchases among various cards.
And perhaps most importantly in a society where so many survive on the margins, prices are often better in cash, albeit by pennies or less.
"It's faster and it's cheaper" with cash, said German Rodriguez, 48, an electrician who was among scores in line at a bakery along the main drag in the Las Minas de Baruta neighborhood.
He was shopping for fresh canillas, a popular form of bread typically sliced to make sandwiches, often with eggs or canned sardines, among the relatively inexpensive sources of protein still available at affordable prices. Each canilla costs 250 bolivars, about 8 cents.
The bakery, in fact, had two lines — one for those paying with debit cards, the other for cash clients. The latter was considerably shorter and moved quicker. Rodriguez opted for the cash line.
The lack of ready cash has other downsides.
The number of taxis roaming the streets has declined dramatically, residents say, since people don't have cash to pay for rides — and the country's mostly lumbering taxi fleet isn't equipped with debit card readers. Tips for parking attendants, hotel workers and others have largely disappeared, though restaurant clients and others paying by debit are encouraged to add tips to bill totals.
The cash crunch has also worsened life for gas station attendants, who generally earn the minimum wage, the equivalent of about $6 a month. Heavily subsidized gasoline here is pumped free and business is constant, since many drivers don't let their fuel tanks approach empty. But clients are expected to chip in cash for the attendants, known here as bomberos, or pumpers, who typically pool tips at each gas station — all of which are owned by the state — and divide the cash among themselves.
"It's very difficult now because most drivers only have bills or 5 or 10 bolivares to give us," said Juan Gonzalez, 54, a gas station attendant the capital's busy Chuao district, referring to notes that have real values of less than 1 cent. "But we draw the line at bills of 2 bolivares. We absolutely won't accept them. They have no value. You can't buy anything with them."
Times staff writer Patrick J. McDonnell contributed to this report.
---
Must-read stories from the L.A. Times
Get the day's top news with our Today's Headlines newsletter, sent every weekday morning.
You may occasionally receive promotional content from the Los Angeles Times.