Mexico's ruling party faces major challenges in voting on Sunday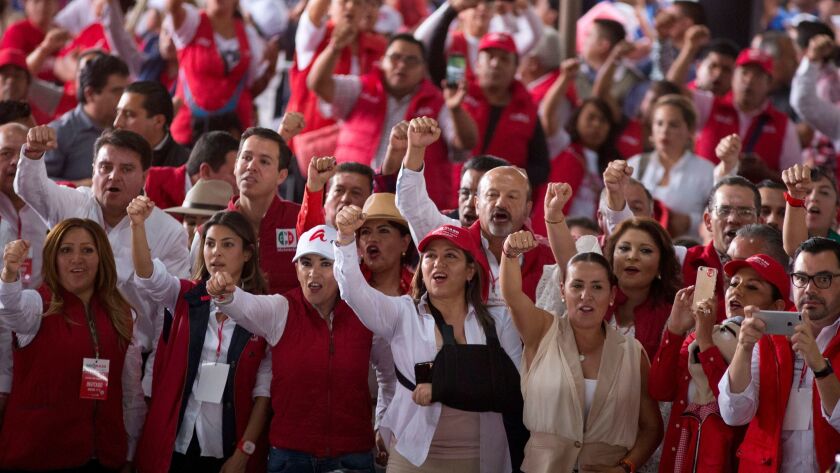 Reporting from Mexico City —
Millions of Mexican voters go to the polls Sunday in closely watched state elections that will provide a critical preview of presidential balloting scheduled for next year.
Gubernatorial elections are taking place in three states — the northern border state of Coahuila; the small western state of Nayarit; and, most significantly, in the sprawling state of Mexico, the country's most populous and politically significant entity.
In addition, citizens of Veracruz are electing more than 200 mayors amid widespread discontent with rampant crime and massive corruption in the oil-rich state along the Gulf of Mexico.
Sunday's showcase contest, however, is in Mexico state, where a bitterly fought battle featuring accusations of dirty tricks and smear tactics is widely viewed as a bellwether for next year's presidential contest, with broad ramifications for the country's long-term political scene.
The long-dominant Institutional Revolutionary Party, or PRI, has never lost the governor's seat in Mexico state since the party's founding in 1929 after the tumult of the revolutionary era. But on Sunday, the PRI faces a stiff challenge in the state, which surrounds Mexico City, the capital, on three sides and is the home turf of President Enrique Peña Nieto.
The president approaches the final year of his single, six-year term as a greatly diminished figure — deeply unpopular in polls and suffering broad citizen dissatisfaction with rising crime, corruption and sluggish economic growth.
Consequently, the vote in Mexico state is also emerging as a referendum on the future of the PRI, which regained the presidency in 2012 with high hopes for a resurgence after losing the top post in 2006 and 2000 to the conservative National Action Party.
Many analysts have predicted that a loss for the PRI in the state of Mexico — home to more than 11 million voters, about as many as in Texas — would doom the PRI's chances in next year's presidential race.
"The state of Mexico is the support base of the PRI, and if it loses there it will be in a worse position than ever," said Jose Antonio Crespo, a political analyst. "If it loses in its bastion, the PRI could face a collapse."
Looming over the race is Andres Manuel Lopez Obrador, 63, a fiery left-wing populist and twice-unsuccessful presidential aspirant who is gearing up for a third run next year. He is not a candidate in Sunday's balloting. But "Amlo," as he is known, after his initials, has been a prominent and contentious figure in the Mexico state campaign.
In rallies, Lopez Obrador has publicly called for the "transformation" of Mexico, lumping existing political parties (except his own) into what he labels the "mafia of power."
The skilled orator has also seen his political fortunes rise with the election of President Trump, whom he has accused of mounting a "campaign of hate" against Mexicans.
Lopez Obrador heads the left-wing National Regeneration Movement, known as Morena. A victory for Morena in Mexico state on Sunday would probably cement Lopez Obrador's status as front-runner for president, even though major parties have yet to name their nominees.
Polls in Mexico state show a tight, two-person battle in the governor's race between the Morena candidate, Delfina Gomez, 54, a former schoolteacher and local mayor, and the PRI hopeful, Alfredo Del Mazo Maza, 41, a ruling-party stalwart who is the son and grandson of former state governors.
Surging in recent polls is Juan Zepeda of the left-leaning Democratic Revolution Party, a former mayor of the gritty suburb of Ciudad Nezahualcoyotl. The resume of the charismatic Zepeda features a singular attribute: He says he lived in the United States illegally for years, an experience shared by millions of Mexican citizens.
The race has featured allegations of electoral improprieties from various candidates and parties. Without offering many specifics, all office-seekers have vowed to reduce crime, improve decrepit infrastructure and public transportation and increase benefits for the poor and working-class multitudes who make up the vast majority of the state's population.
The PRI has geared up its immense electoral machinery on behalf of its gubernatorial candidate, Del Mazo. Party loyalists are referring to June 4 as "D-day," reported the magazine Proceso. The PRI has long been adroit at corralling votes via handouts, patronage posts, job-generating public works projects and other strategies.
The PRI-led central government has denied opposition allegations of improper use of public personnel and funds in the Mexico state electoral campaign.
A narrow victory by the PRI candidate in Mexico state could spur appeals and protests from Lopez Obrador, who alleges he was cheated out of presidential victories in 2006 and 2012. In 2006, after his razor-thin loss, Lopez Obrador's irate supporters practically shut down Mexico City for weeks.
Elsewhere in the country, the PRI also faces a stiff challenge in Coahuila, another state where the party has ruled for decades. Corruption accusations swirling around a former governor have damaged the party's standing. Polls show the PRI's gubernatorial hopeful, Miguel Riquelme, with a slight lead over Guillermo Anaya of the National Action Party.
In Nayarit, where various drug syndicates battle for a vital smuggling corridor, the arrest by U.S. authorities of the former state attorney general, Edgar Veytia, in March on trafficking charges appears to have eroded support for the ruling party. Veytia was a high-profile member of the PRI-controlled Nayarit state government.
The PRI enters Sunday's balloting already on its back foot in the Gulf Coast state of Veracruz, which boasts Mexico's third-largest bloc of voters, after Mexico state and Mexico City.
Last June, the PRI suffered a major blow when it lost the governor's seat in Veracruz and in neighboring Tamaulipas state, both longtime PRI strongholds. Veracruz's former PRI governor, Javier Duarte, who is jailed while facing multiple corruption charges, has become a symbol of crooked and kleptocratic PRI leadership.
twitter: @mcdneville
Cecilia Sanchez of the Times' Mexico City bureau contributed to this report.
ALSO
Venezuela tragedy: 15 images capture a nation's sorrow and turmoil
The politician with the most at stake in Mexican governor's race isn't even running
'You're just there, trapped': Why one Mexican woman decided to 'self-deport,' long before Trump
---
The Latinx experience chronicled
Get the Latinx Files newsletter for stories that capture the multitudes within our communities.
You may occasionally receive promotional content from the Los Angeles Times.