Hamas executes suspected informers in Gaza; attack kills Israeli child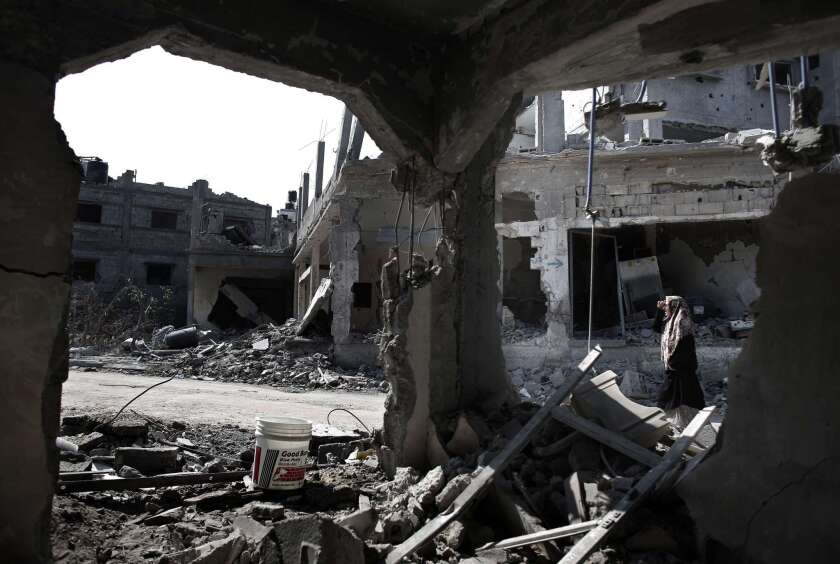 Reporting from Tel Aviv —
Even amid a torrent of shocking images from the six-week war in the Gaza Strip, these stood out for their stark brutality: masked Palestinian gunmen on Friday lining up and gunning down 18 fellow Palestinians accused of spying for Israel.
With truces having unraveled, Palestinian militants in Gaza also lashed out against Israel with a barrage of rocket and mortar fire.
A child reported to be younger than 5 was killed in an Israeli farm community near the Gaza boundary, the first Israeli civilian fatality since the early days of the conflict. Tel Aviv residents hurried into bomb shelters as booms sounded over the metropolitan area before sunset. And a synagogue in the southern city of Ashdod sustained a direct hit, resulting in major damage but no serious injuries.
The day was also punctuated by Israeli airstrikes described by the military as hitting unspecified "terrorist" targets in Gaza. Two Palestinian men were reported killed in a strike on the Nusseirat refugee camp.
The mass executions in Gaza, reported by Hamas-linked news media and corroborated by witnesses and human rights groups, came one day after Israeli airstrikes killed three senior Hamas military commanders and three days after Israeli forces took aim at the leader of the group's military wing, killing his wife and two of his children and leaving his own fate the subject of rumor and intrigue.
Taken together, the Israeli strikes were considered the strongest strategic blow yet in the current round of fighting against the command structure of Hamas, the militant group that dominates the coastal enclave.
Analysts said that to so accurately target the Hamas leaders, Israel's military would almost certainly have needed human intelligence to supplement electronic surveillance. Friday's executions — said by Hamas-linked news media to have been decreed by a "revolutionary court" — were thus widely interpreted as an unmistakable warning to one and all in Gaza against supplying information to the Israelis.
The escalating violence followed the collapse Tuesday of a series strung-together cease-fires and the derailing of indirect Egyptian-led negotiations that had been taking place in Cairo. Consultations were still underway Friday, with Palestinian Authority President Mahmoud Abbas visiting the Persian Gulf emirate of Qatar, a chief patron of Hamas. But there was no word on whether talks in the Egyptian capital between the Palestinians and Israel might reconvene.
In Gaza, notices posted on walls and on Hamas-linked websites declared that those who were executed — including two women, according to a Palestinian human rights group — were "traitors" who had "given information to the enemy" about the location of infiltration tunnels, weapons caches, rocket-launching sites and the homes of fighters. The Al Majd website, run by Hamas' internal security apparatus, declared it the start of a "chokehold" on those who aided Israel.
Eleven of the accused collaborators were shot in Gaza City's Katiba Square near Al Azhar University, according to Hamas' Al Aqsa radio, and the seven others were executed near Omari mosque after Friday prayers. Photos on Hamas-affiliated websites purportedly showed some of the condemned, heads covered with paper bags, being forced to their knees in front of a wall. Bloodstains marked the ground in the aftermath.
Most Palestinians are well aware of the potential consequences of cooperating in any way with Israeli forces, but intelligence provided by informants often plays a key role in pinpoint attacks against Palestinian militant fugitives. Some collaborators are offered inducements such as exit if they provide information to Israel; others have reported being blackmailed or coerced into spying. And some are wrongly accused by Hamas.
During previous rounds of fighting in Gaza, including two wars in the last six years, suspected collaborators were also killed under similar extrajudicial circumstances. In 2012, the body of one alleged informant was dragged through the streets by motorcycle.
Special correspondent Maher Abukhater in Ramallah, West Bank, contributed to this report.
Twitter: @laurakingLAT
---
Must-read stories from the L.A. Times
Get the day's top news with our Today's Headlines newsletter, sent every weekday morning.
You may occasionally receive promotional content from the Los Angeles Times.