Why are U.S.-led coalition airstrikes killing friendly troops?
Ali Hussein Khalaf recounts his survival after a coalition-led airstrike killed many of his fellow fighters from the Popular Mobilization Forces.
Reporting from KHARA'IB JABR, Iraq —
A regiment of Sunni Muslim tribal fighters successfully repelled Islamic State militants from this village about 40 miles south of Mosul last fall, forcing them to scoop up their dead in blankets and flee in a hail of gunfire.
It was nearly midnight Oct. 5, and the air was thick with smoke from fires militants had set at nearby oil fields. The Sunni fighters, allied with the U.S.-led coalition fighting to drive the jihadis out of Mosul, withdrew to an abandoned house to regroup.

For the record:
11:20 a.m. June 6, 2017
An earlier version of this article incorrectly stated that 19 friendly fire strikes in Iraq and Syria since 2014 had been confirmed by multiple sources. They have been reported by multiple sources.
The last thing Ali Hussein Khalaf remembers was another fighter asking him for more ammunition. Khalaf reached for the bullets, and a week and a half later he woke up in a hospital. The house had been hit by friendly fire from a coalition airstrike.
Everyone on the 19-man unit had been killed except for Khalaf.
"It was so difficult for me to hear that. We were like one family, sharing the same mattress, fighting on the front lines," Khalaf, 26, said last month at his home near Khara'ib Jabr, a village of 2,000.
He said he always felt comfortable with air support from the coalition. "We trust them," he said.
Although there has been widespread debate over hundreds of civilian casualties associated with coalition airstrikes in Iraq and Syria, little is known about so-called friendly fire deaths and injuries. The coalition does not release monthly information about them, as it does strikes that kill civilians.
"The coalition takes each of these incidents very seriously but we do not keep cumulative data on them like we do civilian casualties because they happen so infrequently," said U.S. Army Col. Joe Scrocca, a Baghdad-based coalition spokesman.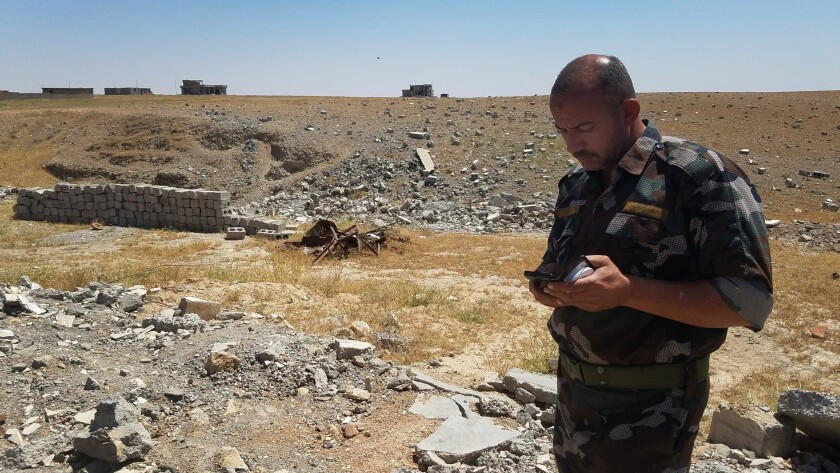 The London-based nonprofit monitoring group Airwars has not been able to independently determine how many times coalition airstrikes have mistakenly targeted allied soldiers.
"We don't really know how big a problem this is," Airwars director Chris Woods said. He said his group has tracked at least 224 allied deaths from coalition strikes in Iraq in the three years since the campaign against Islamic State began and at least 35 in Syria.
The U.S. military recently announced that a misdirected airstrike in Tabqa, Syria, killed 18 coalition-allied fighters on April 11. The Americans apologized.
"I don't know why they didn't do the same for us," Khalaf said.
Airwars said it found 40 reported friendly fire strikes in Iraq and Syria since 2014. Although Islamic State may have tried to inflate the numbers through propaganda, at least 19 of the strikes have been reported by multiple sources, Woods said.
Three of the strikes have been confirmed by the coalition, Scrocca said: in Tabqa, Khara'ib Jabr and Fallouja.
Iraqi special forces Lt. Gen. Abdul Ghani Assadi said the strike in Fallouja on Dec. 18, 2015, killed at least nine Iraqi Shiite fighters from militias known as the Popular Mobilization Units, or, in Arabic, Hashd al Shaabi.
"It happened to the Popular Mobilization Units in Fallouja because the forces on the ground gave the wrong coordinates to the jet," Assadi said.
He did not have a tally of all Iraqi troops killed by coalition airstrikes.
Without the coalition making public its findings, it can be difficult to determine whether airstrike casualties were enemy fighters, civilians or allied forces. Nur Din Kaplan, deputy chief of the Mosul city council, said a coalition airstrike mistakenly killed four Iraqi soldiers from the 16th armored division and wounded 11 more in the town of Tall Kayf about eight miles northeast of Mosul on Oct. 28.
"There was a plan where forces were supposed to be, but the division went further than they were supposed to, that's why — there was a lack of communication," Kaplan said in explaining why allied troops were hit.
Scrocca said the coalition has "no investigations or operational reporting from our partnered forces" about any strike in Tall Kayf. Iraqi Army Col. Abbas Abdullah, who served in the area at the time, said he also had no record of an Oct. 28 strike.
But Kaplan said he was contacted by residents who witnessed the strike. He called for the coalition to investigate, to better distinguish between army troops and Islamic State militants in the Mosul area.
"If you show what you did, in the future you will not make the same mistake and you will be accountable," Kaplan said.
The coalition initially didn't question the Oct. 5 Khara'ib Jabr strike, considering those killed to be combatants, Woods said. But Airwars found the names of the 18 dead friendly fighters online, which The Times also verified with relatives, Khalaf and his commanders.
Scrocca said the coalition "determined that partnered forces called for the strike that resulted in the unintentional death of partnered tribal forces."
"Surveillance could determine that fighters were present in a target building and the area was clear of civilians," he said.
"Based on this information and the assurance by partner forces that these were ISIS fighters, and not their own fighters, the strike was launched," said Scrocca, using an acronym for Islamic State. "Unfortunately, the partnered ground force did not have accurate information on their friendly forces."
Scrocca said nothing in the coalition's investigation of friendly fire incidents has prompted a change in how strikes are carried out.
But he said the coalition has tried to improve how the strikes are called in.
"We are helping our partners, through technical and nontechnical means, better track and report the locations of their forces so they have the most accurate picture of their forces arrayed across the battlefield and can adequately take that into account when requesting airstrikes," Scrocca said.
Sunni tribal fighters and relatives of those killed in the Khara'ib Jabr strike said that's not enough.
"We heard they did an investigation, but we didn't hear the results," said Sheik Ahmed Jad Allah, a local Sunni tribal commander.
A mix of Iraqi forces were fighting in the village at the time: 400 tribal fighters, plus federal police and soldiers. He didn't know which forces provided the strike location, but said, "The coalition, they know who called them."
Khalida Yasin Hamid lost two sons in the strike: Ali Yasin, 26, the unit commander, and Hassein Yasin, 20. When tribal officials called to notify her, they said the two had been killed by a coalition airstrike.
"The first thing I said was, 'How could the coalition jets make such a mistake?'" Hamid, 50, recalled while sitting on a patio with her grandchildren.
Hamid insisted on identifying her sons' bodies, which she said she recognized despite skull fractures. Listening to her recount the experience, a tribal commander who retrieved some of the bodies began to weep.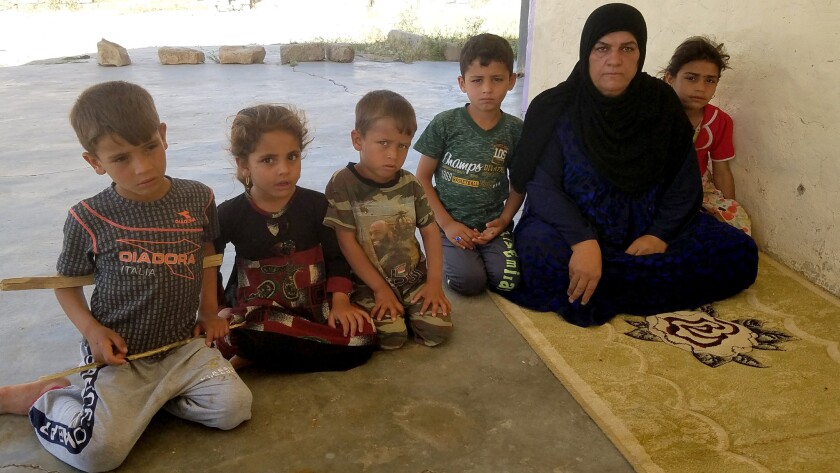 Hamid is unemployed, disabled, her feet partially amputated because of diabetes. Her older son was divorced, so she is now caring for his children, ages 9 and 6. Displaced from Hamid's home in west Mosul, they share an abandoned two-bedroom house with 14 relatives. Hamid worries that militants know her sons died fighting them and have destroyed what's left of her house.
No investigators from the Iraqi government or the coalition have contacted her about the strike.
Khalaf, the sole survivor, said his farming family has spent more than $500 on medicine to treat his wounds. He rejoined tribal fighters five months after the strike despite injuries to his hand, leg and head. He can't hear out of his left ear and still suffers dizzy spells. He and other fighters donated to support relatives of those killed, and think the coalition should help too.
The coalition does not generally compensate strike victims, although it has made occasional sympathy payments to civilians, Scrocca said.
"Those people sacrificed their lives for their country," said Khalaf's commander, Abdul Kareem Ahmed Shahab, "so their families deserve fair compensation."
Times staff writer W.J. Hennigan in Washington contributed to this report.
Click here for a Spanish version of this story
ALSO
Arab nations cut ties to Qatar, deepening rift in Persian Gulf
After Iranians' vote for reform, a bigger question looms: Who will be the next supreme leader?
ISIS militants battered Syria's ancient Palmyra, but signs of splendor still stand
---
Must-read stories from the L.A. Times
Get all the day's most vital news with our Today's Headlines newsletter, sent every weekday morning.
You may occasionally receive promotional content from the Los Angeles Times.