Facing fierce resistance from Islamic State, Iraqi army crosses into Mosul
Reporting from Irbil, Iraq —
Lt. Col. Ali Hussein Fadil and his elite troops followed in the footsteps of a biblical prophet who once walked these desert plains, and like him, they found themselves in the belly of the beast.
Meeting fierce resistance from Sunni Muslim militants defending their most crucial bastion in Iraq, elite Iraqi troops pushed their way inside Mosul's eastern perimeter on Tuesday, marking the start of a ferocious new phase in the battle to retake the northern city.
The incursion by Iraqi special forces -- acting as the tip of the spear in a massive U.S.-backed offensive -- marked the first presence of government troops within the city limits during more than two years of harsh rule by the Sunni militants of Islamic State.
Hussein, speaking by phone from the eastern district of Gogjali, his troops' first foothold in the city proper, described their reception: A volley of suicide car bombs dispatched by the extremists.
American-led airstrikes, he said, helped them push on, but they had no illusions about the expected brutality of house-to-house fighting that lay ahead as they entered "the heart of Islamic State."
"The operation is so hard," he said. "And in coming days it's going to be harder."
The drive deeper into the city from districts on the east bank of the Tigris River was to continue in coordination with other forces approaching from the north and south, said Sabah Numan, a spokesman for the counter-terrorism forces that led the drive into the city. In Gogjali, they raised the Iraqi flag.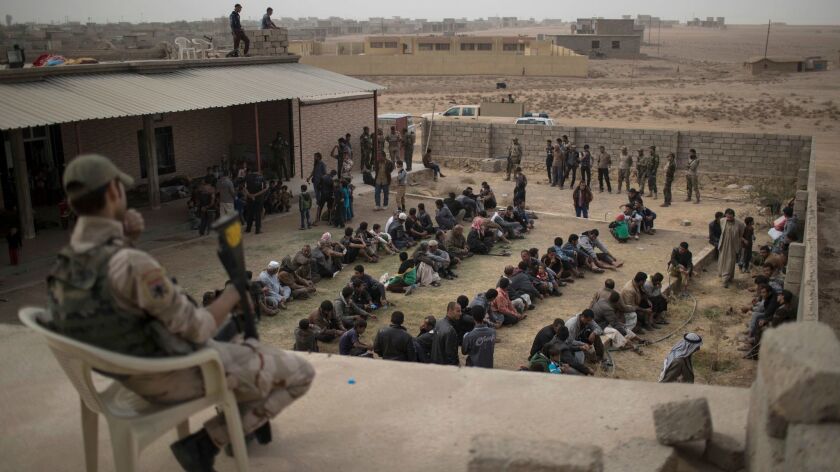 After nearly a full day of fighting, Iraqi forces continued to advance toward the densely populated Karama district, which Islamic State fighters were using as a base to fight from behind makeshift blast walls. The militants deployed at least three car bombs that were detonated before they could kill or injure any Iraqi troops, the counter-terrorism force spokesman said.
As has been their practice since the overall offensive began two weeks ago, Islamic State fighters sought to hold off the attackers by lacing structures and roadways with explosives. As elsewhere, American airstrikes were aiding the advance of coalition troops, including Iraqi government forces, Kurdish fighters, and tribal and Shiite militias.
Mosul, once Iraq's second-most populous city, with a population of about 1.2 million, fell to Islamic State in 2014, and it has been the militants' main urban stronghold in the country since then. Losing Mosul would represent a major blow to the group — both militarily and in terms of prestige.
Even though the U.S.-backed attackers are now operating inside the city, the urban core of Mosul is still about six miles away, and in fighting so far, advancing only a few yards can be a costly endeavor.
This modern-day war zone is redolent with millenniums of history and of sites sacred to Islam and Christianity alike. Jonah, the prophet best known for the Bible story telling of his three days in the belly of a whale, also traveled to Nineveh, the ancient city that partly overlaps with present-day Mosul.
Near the battle lines on the city's eastern edge, black smoke rose from fires set by the militants in an attempt to shield their positions from airstrikes. Many civilians trapped by the fighting huddled in their homes, and television footage showed white flags hung by residents from windows and balconies in an effort to stave off strikes aimed at Islamic State fighters.
For civilians, the fighting was a terrifying ordeal.
People living in the district of Al Quds, at the city's eastern approach, said heavy clashes had erupted at dawn, punctuated by loud explosions. One told the Reuters news agency by phone that residents could see Islamic State fighters using vehicles and alleyways for cover as they fired on advancing Iraqi troops.
"We advise people in Mosul to stay in their houses to be safe," the commander of the Iraqi counter-terrorism forces said in a briefing carried on the Kurdish television channel Rudaw. The commander, Talib Kanani, said militants were seizing civilians to use as human shields.
Many people were anxiously awaiting word of the fate of relatives caught near the front lines. Omar Turki, 26, said his parents were trapped at home on Mosul's eastern edge just half a mile from the fighting. When he spoke to them on Tuesday afternoon, he could hear the thump of mortars landing — and the terrified crying of his 8-year-old sister, Hoda.
The family had packed a few belongings, readied a white flag and was ready to flee whenever they had a chance to do so, he said by telephone from Debaga, a camp for the displace.
"They are so happy the army is approaching their area and they are close to liberating the whole city," Turki said. Living under Islamic State, he said, had been "like a death."
Others remained in suspense over loved ones' safety. Hazim Jasm Mohammed, 60, a local official in Gogjali, wanted to check on his 25-year-old daughter, her husband and their three children under the age of 4, who live in an area still held by Islamic State. But his way was blocked by a military checkpoint.
A day earlier, the family was "so worried" by the continuing presence of the militant fighters close to their home, he said. By late Tuesday, he had still not learned whether they were alive.
Hennessy-Fiske reported from Irbil and King from Washington.
ALSO
An Iraqi band of brothers: They watch 'American Sniper' and play 'Call of Duty' – and they're out to recapture Mosul
In the aftermath of Islamic State's retreat in Iraq: destruction, fire and toxic fumes
In Syria's capital, the civil war suddenly seems far away
---
UPDATES:
5:15 p.m.: This article was updated quotes, details and description of the Mosul offensive.
10 a.m.: This article was updated with additional quotes and description.
This article was originally posted at 8:05 a.m.
---
Must-read stories from the L.A. Times
Get all the day's most vital news with our Today's Headlines newsletter, sent every weekday morning.
You may occasionally receive promotional content from the Los Angeles Times.