Syrian activists mock Geneva 2 talks online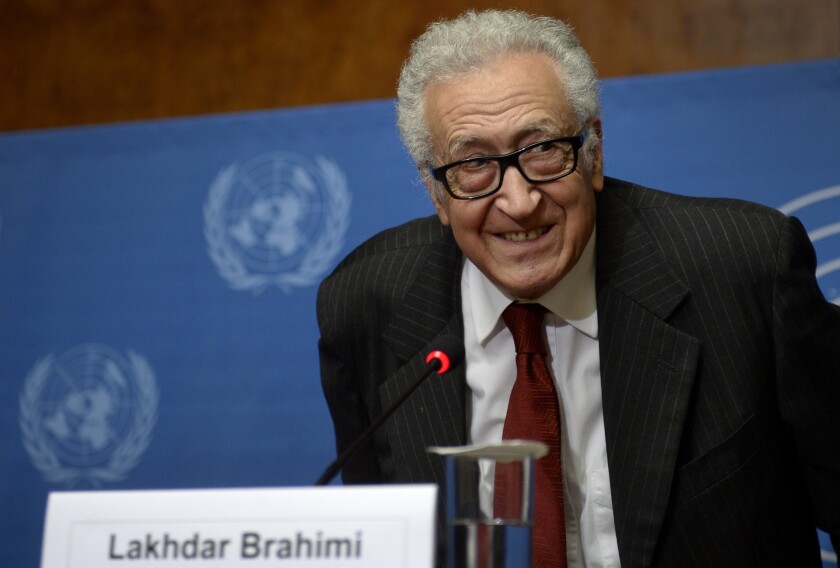 AMMAN, Jordan -- During Syria's lengthy civil war, opposition activists have made social media a crucial front in a furious propaganda battle, posting web pages and online videos touting their cause.
Now, with the bloody conflict in its third year and no end in sight, many Syrians are heading online to vent their frustrations with the so-called Geneva 2 peace process, mired in seemingly perpetual postponement mode as opposition elements bicker about whether to attend. For many Syrians, humor appears the best way to vent their disillusionment.
The "Geneva 2" Facebook page features a cover banner with a garishly decorated bus like the ones used in Syria's public transportation system. A virtual jaunt to the iconic Swiss city by the lake proceeds, with certain rules of decorum enforced.
"Government supporters go to the back of the bus while opposition members stick to the right," would-be Geneva 2 passengers are advised.
"Pulling hair is not allowed, no talking to the driver."
And just in case anyone gets any funny ideas, "Hand grenades cannot be used in debates."
The Facebook page's "event" section, with 15,000 members invited (9,000 have responded) appears to attract Syrians from across the political spectrum. While some posts veer into weighty commentary, the overall tone remains light-hearted.
For those who violate the guidelines, the punishment is draconian: Offenders are sentenced to watch, without interruption, the collected speeches of Syria's stolid and solemn foreign minister, Walid Moallem, known for his long-winded monologues, until they "commit suicide or spontaneously combust, whichever comes first."
Before agreeing to jump aboard, many understandably seek to learn what it is they're getting into. What food will be served? they ask. Is there free Wi-Fi? Is the fare payable in the ever-fluctuating Syrian pound? One poster wonders if there are any checkpoints along the way, since he has lost his ID. A member from the war-ravaged northern city of Aleppo asks if there is electricity in Geneva.
Yet another complains that price-gouging has already begun in the chic Swiss city. The price of yerba mate, the traditional South American tea consumed voraciously in many parts of Syria, "has increased in Switzerland ahead of the Geneva conference," the poster grumbles.
Last week, the fluctuating saga of Geneva 2 took another wrong turn, as a crestfallen Lakhdar Brahimi, the United Nations-Arab League peace envoy, announced the latest postponement after a frenetic but ultimately fruitless round of diplomatic visits in Geneva. A post eulogized the talks' death "until an unspecified time."
Others look bleakly to the future, posting a picture of a child urinating on a cardboard sign that reads "Geneva 3 and Geneva 4 and..."
ALSO:
Aid workers struggle to reach Philippine typhoon victims
In Karachi, Pakistan, few families are untouched by crime
North Korea executes 80, some for minor offenses, newspaper says--Bulos is a special correspondent.
Times Staff Writer Patrick J. McDonnell in Beirut contributed to this report.
---
The Latinx experience chronicled
Get the Latinx Files newsletter for stories that capture the multitudes within our communities.
You may occasionally receive promotional content from the Los Angeles Times.