The final day of the Democratic National Convention is over:
• In her acceptance speech Hillary Clinton says the nation is facing a "moment of reckoning" but "we are not afraid."
• This week's speakers have largely sought to contrast a message of optimism with what they've called the dark, divisive vision of America offered by Donald Trump and the Republicans.
It's been fun. See you on the campaign trail.
Reporting from philadelphia
Cartoonist's view: Hillary Clinton closes out her convention
From the delegates: 'I know that she'll take care of my kids'
Jan Brown, 67, of Roseville, a retired U.S. Air Force captain whose children are veterans and active duty military officers:
On Hillary Clinton's qualifications: "I am so proud that Hillary Clinton is going to be commander and chief. I know that she'll take care of my kids," Brown said. "She is beyond a doubt the most qualified person I've ever seen for this job and I can hardly wait for the next 102 days to work every single day to make sure we get the votes to make sure that she wins."
On Clinton's historic nomination: "When she walked out it was like all the dreams of all the little girls who want to do everything and for too often were told what they can't do, instead of what they can. Just seeing her come out and when she accepted the nomination it was like, finally, finally we made it."
'I accept your nomination' — here are the key words Clinton and Trump used in their convention speeches
Words like "our," "America" and "your" consistently rank among the most-used words in the speeches made by the major party candidates at their conventions. To see how similar, or different, this year's candidates were from the past, we compared Donald Trump and Hillary Clinton's acceptance speeches to all Republican and Democratic presidential candidates since 1980.  Check out how they rank among their peers.
From a delegate: 'It's sort of breathtaking. It hits you in waves'
Former Democratic National Committee secretary Alice Germond, 73, of West Hollywood:
On the speech: "I thought it was warm, I thought it was caring, I thought it was smart and I thought it just hit all the right buttons. It wasn't negative, it wasn't angry, it wasn't bitter. It had humor, it had laughter. I just thought she did a great job."
On the experience: "There's just been sort of those poignant moments, where you look up, somebody says something up on the stage or sitting next to you or you see a little glimmer or a kid and you go, 'Oh God, we just nominated the first woman of a major party,'" Germond said. "It's sort of breathtaking. It hits you in waves.
"To me, it's just glorious. Something I've fought for all my life," she said. "It's particularly magical."
analysis
21 thoughts about the Republican and Democratic conventions
Cathleen Decker, who analyzes politics for The Times, took to Twitter tonight for an instant analysis of the Republican and Democratic conventions. Here's what she had to say, in 21 tweets: 
Conventions have a specific purpose: to sell or redefine.
To the extent that people watched, there was tons of testimony from people about HRC's good deeds/warmth, that helps redefinition.
Tons of time was spent emphasizing Donald Trump, and what speakers from Obama on down see as the threat he poses to America.
That went beyond the usual criticism to ground-floor level impact he would have on democracy, in their view, imperiling it.
The question now is whether Trump and Clinton are so well known that no further definition, for good or bad, will stick.
Hundreds of millions of dollars will be spent on ads. Will we still have at the end two highly unpopular candidates, a coin flip?
Or will one candidate have dramatically reshaped his/her image over the course of the four days each spent in convention hoo-haw.
Some observations: This was Clinton's best big speech. Well written and delivered well. Akin to challenge/execution by GHW Bush in 1988.
Both Bush and Clinton were seeking office after two terms of a popular same-party president who'd overshadowed them. Both delivered.
In Bush's case, his success at the convention speech improved his future speechmaking/communication. Will this do the same for Clinton?
Other observations: Staging of Clinton's convention speech was lush. Flags of different sizes, signs, color scheme all worked together.
People can laugh at things like that but they translate in voters' minds. Staging at GOP convention felt more haphazard; speakers too.
The theatrics of it all won't matter in a blow-out. But they can matter in a close race. After this year, is anyone betting against that?
Viewers of all convention hours saw tons of people testifying for Clinton or against Trump. You can bet the ads have already been cut.
That brings up another Clinton advantage: A team that has done this before. Crispness, efficiency, knowing where to get voters, helps.
Tonight also was something of a Sista Soulja night for Dems: Army general/military endorsing HRC, gun control a big part of her speech.
Also worth noting: Chelsea Clinton + other speakers offered reams of personal anecdotes about Hillary. Not even Trump's kids did much.
Personal anecdotes may not matter; the combo of anti-Clinton and economy woes may negate. Just like no minds may change on Trump.
But re the conventions, Clinton helped herself on a personal level. On a policy level, too little talk of the economy, seems to me.
And Trump had a rocky convention and has worked to obliterate any gains with his talk about Russia and continued belligerence.
As to what it all adds up to, voters will decide in November. That's why they call it "democracy." A bipartisan suggestion: Vote.
Sen. Barbara Boxer on Hillary Clinton's speech: 'She's so smart, she's so strong, so resilient'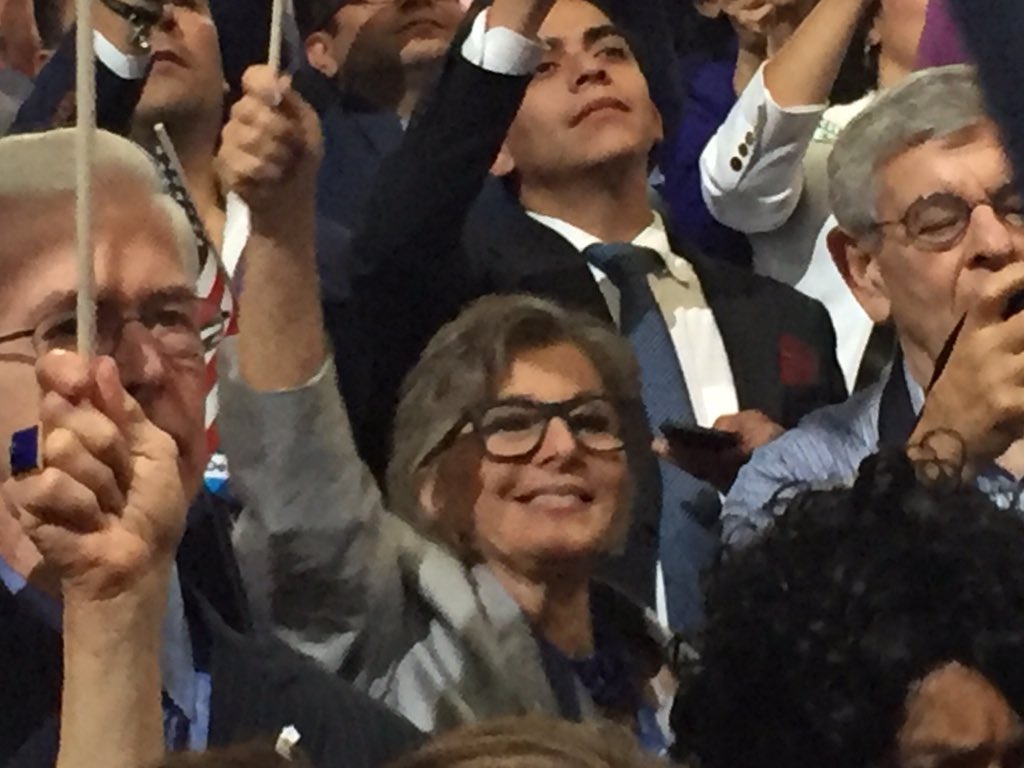 Democratic presidential nominee Hillary Clinton's former U.S. Senate colleague, California Sen. Barbara Boxer, was effusive about Thursday night's acceptance speech.
"This is the Hillary I know. She has that sense of humor, that dry sense of humor. She's so smart, she's so strong, so resilient," Boxer said. "She really showed the American people what kind of leader she'll be.
"She's been hit so hard, I'm sure she thinks, what else can they do? I'm going to be myself," Boxer added.
The historic nature of the speech was moving to Boxer.
"What Hillary proved tonight, that a woman can be just what America needs in a leader: strong, but with a big heart. Someone who understands how to nurture a daughter and nurture a nation, and I'm really just very moved and touched with what she said, by the response to it and really the whole convention. It was remarkable."
Favorite line: Boxer said she liked when Clinton said, "No, you don't, Donald."
"It was just like a mom telling a kid, 'Respect your elders.' It was so well done," she said.
REPORTING FROM PHILADELPHIA
For die-hard Bernie Sanders supporters, it's decision time
Nic McCarthy, a 27-year-old delegate from Virginia, wasn't planning to vote for Hillary Clinton before she started her acceptance speech. He even shouted at her during the speech, telling her to "walk the walk."
But by the time she finished speaking, the Bernie Sanders supporter had a change of heart.
"I don't like her. I don't trust her," McCarthy said. "But we have got to push for some of these issues we have to make sure she walks the walk, even if we have to lift her feet every step of the way."
The only way to do that, he decided, was to vote for her and keep Donald Trump out of office.
Tim Weaver, a 34-year-old delegate from Texas, said he's leaving the convention feeling more confident about voting for Clinton, and not just because of her speech.
"A lot of people that I trust have spoken for her," Weaver said, including President Obama and Vice President Joe Biden. 
A fellow Texas delegate, Emily Wells, 34, said she'd also vote for Clinton.
"It will be a frustrating, begrudging vote, but we can't let Donald Trump be president," she said. 
Wells added, "I have more problems with the system than with Hillary Clinton."
Not everyone was convinced. Diana Orozco-Garrett, a 58-year-old delegate from New Mexico, said she was just as conflicted after the speech as she was before. 
"There are consequences for people I know if Donald Trump wins," she said, referring to his support for deportations of immigrants in the country illegally. "But there are other dangers and concerns for another set of people if Hillary wins."
Orozco-Garrett is worried that Clinton will push through the Trans-Pacific Partnership, a massive trade deal, even though she said she opposes it. 
REPORTING FROM PHILADELPHIA
The crux of the Clinton campaign: Would you rather be ruled by Trump?
Hillary Clinton's acceptance speech was a lot like the woman herself: serious, comprehensive, competent – but not quite poetic.  And weighted with the heavy burden of convincing skeptics set against her.

Clinton touched all the bases a Democratic nominee needs to touch, from equal rights for women, minorities and LGBT people to immigration reform. From military strength to gun control.

She repeated her campaign's benign but pallid slogan, "stronger together"; her favorite line about playing the woman's card, "deal me in"; her favorite Methodist precept, "Do all the good you can, for all the people you can."

Most important, she tried to solve her party's central problem: the perception by many voters that establishment Democrats (which is what she is) don't grasp the economic hardship and social dislocation that ordinary people feel in the eighth year of the Obama presidency.

"Some of you are frustrated, even furious," she said. "You know what? You're right…. We haven't done a good enough job."

And she tried to convince disgruntled followers of Bernie Sanders that she agrees that economic inequality is the product of a political system swamped in special-interest money: "I believe our economy isn't working the way it should because our democratic isn't working the way it should," she said.

But judging by the response of Sanders delegates, many of whom booed or heckled or waved protest signs, she still has a distance to go.

And so, half a dozen times, she pivoted to the inevitable contrast with her erratic opponent, Donald Trump.

"A man you can bait with a tweet is not a man we can trust with nuclear weapons," she said in one of many, many barbs.

In the end, that was her main theme, at least by volume, and will probably be the main theme of her campaign: You may or may not love Hillary Clinton – but that's not the question you face. The question is whether you'd rather be ruled by Donald Trump.
Trump campaign: Clinton's speech was 'delivered from a fantasy universe'
Republicans found a lot to criticize in Hillary Clinton's speech on the final night of the Democratic National Convention. 
Donald Trump's campaign sent out a statement calling the speech an "insulting collection of cliches and recycled rhetoric" that was "delivered from a fantasy universe, not the reality we live in today." 
Some like Florida senator and onetime Republican presidential hopeful Marco Rubio found problems with Clinton's policy proposals. 
Others focused on the discord happening inside and outside the arena as some delegates heckled Clinton on the convention floor while protesters outside burned an American flag.
Some leveled another criticism: Coming a night after President Obama's well-received speech, Clinton's was simply boring. 
Trump campaign spokeswoman Katrina Pierson pushed back at Clinton's oft-used line that "it takes a village" to raise a child. Clinton re-purposed the line, also the title of one of her books, to criticize Trump's assertion that only he could fix the country's ills.
The GOP's Twitter account put out a video featuring a polygraph machine in a darkened room with a message displayed across the screen as it fades to black: "We need a president who tells the truth."
Other Republicans shared reports of protesters booing Clinton and burning flags. Rubio declared the convention a "disaster." 
Other conservative commentators ended the night frustrated with the two candidates in the election, including John McCormack, who in March penned a column for the Weekly Standard titled "How Trump Can Be Stopped." 
Conservative writer Erick Erickson vowed in a February article "I Will Not Vote For Donald Trump. Ever." 
On Thursday night he found one point of admiration for Democrats: They seemed to have found a viable way to attack Trump.
California Republican political consultant Matt Rexroad was sure of one thing: September's debate would be "crazy."
reporting from grand rapids, mich.
Clinton slams Trump for not paying his bills
As she accepted the Democratic presidential nomination on Thursday, Hillary Clinton castigated GOP rival Donald Trump for short-changing small businesses in his pursuit of wealth.
"In Atlantic City, 60 miles from here, you'll find contractors and small businesses who lost everything because Donald Trump refused to pay his bills," Clinton said at the Democratic National Convention in Philadelphia.
"People who did the work and needed the money, and didn't get it — not because he couldn't pay them, but because he wouldn't pay them," Clinton said. "That sales pitch he's making to be your president? Put your faith in him — and you'll win big. That's the same sales pitch he made to all those small businesses. Then Trump walked away, and left working people holding the bag."
It's a statement backed in fact, according to investigations by USA Today and the Wall Street Journal.
"Donald Trump often portrays himself as a savior of the working class who will 'protect your job.' But a USA Today Network analysis found he has been involved in more than 3,500 lawsuits over the past three decades — and a large number of those involve ordinary Americans … who say Trump or his companies have refused to pay them," read the June USA Today story.
Earlier this week, Trump said he quickly paid contractors who did their job well, but threatened to not pay the bill for renting event space at the Hotel Roanoke & Conference Center in Virginia because he said the room was hot.
"We're in a ballroom and I feel like I'm in a sauna," he said. "… I think the people who own this hotel should be ashamed of themselves."
Yes, they dropped balloons at the DNC
The Times' Colleen Shalby reports that people on the floor at the Democratic National Convention in Philadelphia are "popping balloons like they never had permission to in their life."
Here's what the fireworks + balloon drop looked like in the room.
A man you can bait with a tweet is not a man we can trust with nuclear weapons. 
Hillary Clinton, on Donald Trump's temperament
Hillary Clinton accepts: 'When there are no ceilings, the sky's the limit'
Hillary Clinton took the stage Thursday night for the final and most anticipated act of the Democratic National Convention, building on a week of potent testimonials from the party's biggest stars to reintroduce herself to voters as the first female presidential nominee from a major party and crystallize her vision for the nation.
In the address, she said, "With humility, determination and boundless confidence in America's promise … I accept your nomination for president."
Copyright © 2017, Los Angeles Times