Danielle Paige's graphic novel 'Mera' showcases the powerful princess from 'Aquaman'
Danielle Paige made Dorothy from Kansas an evil tyrant in "Dorothy Must Die" and put a girl named Snow — who will grow up to be the Snow Queen — in a mental institution in "Stealing Snow." Next up is taking a teenage undersea warrior princess and making her a rebel assassin.
A New York Times best-selling author, Paige makes her first foray into the graphic novel scene with "Mera: Tidebreaker," the first story from DC Comics' DC Ink line, which caters to young adults. The book is illustrated by artist Stephen Byrne.
In "Tidebreaker," Paige introduces us to Mera, who some readers not into comic books may have gotten their first glimpse of through actress Amber Heard's portrayal in the recent Warner Bros. film "Aquaman." Paige shows us a different side of Mera as a headstrong princess fighting against betrothal and expectations by her overbearing father and her people. To prove she's worthy of leading, she takes on a mission to eliminate one of the biggest perceived threats to her way of life: the heir to the throne of Atlantis, Arthur Curry. But, will she be able to take his life?
We caught up with the Emmy-nominated Paige (she also wrote for soap operas) before her appearance at the Los Angeles Times' Festival of Books and chatted about Mera and what influences — comics, movies, etc. — guided her storytelling.
A rebellious warrior princess goes on a mission to a foreign land — and a forbidden relationship blossoms. Seems like "Mera: Tidebreaker" has the right elements for a young adult novel. As a New York Times best-selling author, what makes a good YA story?
I have always been fascinated by comic book origin stories, particularly those of heroes and villains — reading or watching a character become Batman or the Joker … Lex Luthor or Superman. Comic books have always explored those moments when characters decide whether they are heroes or villains. And I can't think of a better metaphor for YA adult stories wherein teens are deciding who they want to be and who they want to love in their own stories.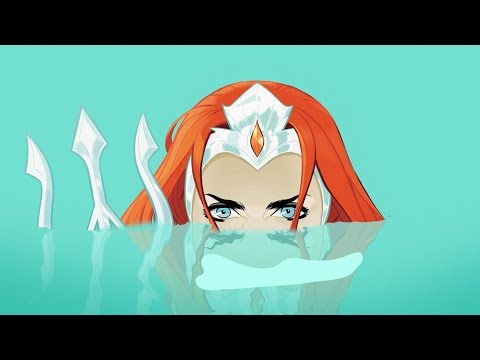 Graphic novels are (kind of) prose plus television, both of which you've written. Do those defining YA story qualities translate easily as graphic novels?
Absolutely! When you are writing a book, you have to show and tell. You have to paint every thought and action and setting. But when you are writing for television or film, you are supposed to show and not tell. You have to let the dialogue and the actors and set decorators and cinematographers speak for you without all that extra exposition and internal monologues. Graphic novels are much more akin to television or film, only you have an artist who is your partner in bringing the story to life. I was so lucky to work with Stephen Byrne, who also works with Brian Michael Bendis on "Wonder Twins."
DC Ink launches with your tale of a young Mera, whose backstory, even to comics fans, may not be well known. Activism and empowerment seem a part of her DNA, but what was most influential in crafting your version of the character?
Hopefully, the "Aquaman" movie has introduced Mera to a lot of people who didn't know about her and left them wanting to know more. I wrote my version of Mera before I saw the movie, but I found that my take and James Wan's and David Leslie Johnson-McGoldrick's had a lot in common. But with one stark difference: When my Mera meets Arthur, she isn't asking for help; she's trying to kill him! Mera grows up in Xebel, a penal colony of Atlantis. And she truly believes that assassinating Arthur Curry (a.k.a. Aquaman), the heir of Atlantis, will strike a blow for her homeland. Fiercely loyal to her kingdom, she is shocked to learn that Arthur doesn't know about his birthright and that he is far from her enemy … he is a good person, and he's also more than a bit dreamy. (Stephen loosely modeled him after a young "Baywatch"-era Jason Momoa.)
How did Stephen Byrne's art enhance your storytelling?
What Stephen can do without a single word is extraordinary. It would take me a page full of words to do what he can do in single panel!
This was your first graphic novel, but you've reimagined and expanded upon legendary story lines and characters before. Did you ever think about turning the "Dorothy Must Die" and/or "Stealing Snow" series into graphic novels?
I loved writing about Oz (in "Dorothy Must Die") and creating my own, darker version of the Snow Queen in "Stealing Snow." And I would love to see them come to life in panels!
Danielle Paige will be at the Festival of Books at USC on Sunday, signing at the DC booth (#833) from noon to 1 p.m. and on the "Screen to Page: The Novelization of TV and Film" panel from 3 to 4 p.m. (Annenberg Auditorium) with another signing to follow.
Sign up for our Book Club newsletter
Get the latest news, events and more from the Los Angeles Times Book Club, and help us get L.A. reading and talking.
You may occasionally receive promotional content from the Los Angeles Times.