Such a nice guy, such savage books: Don Winslow and 'The Cartel'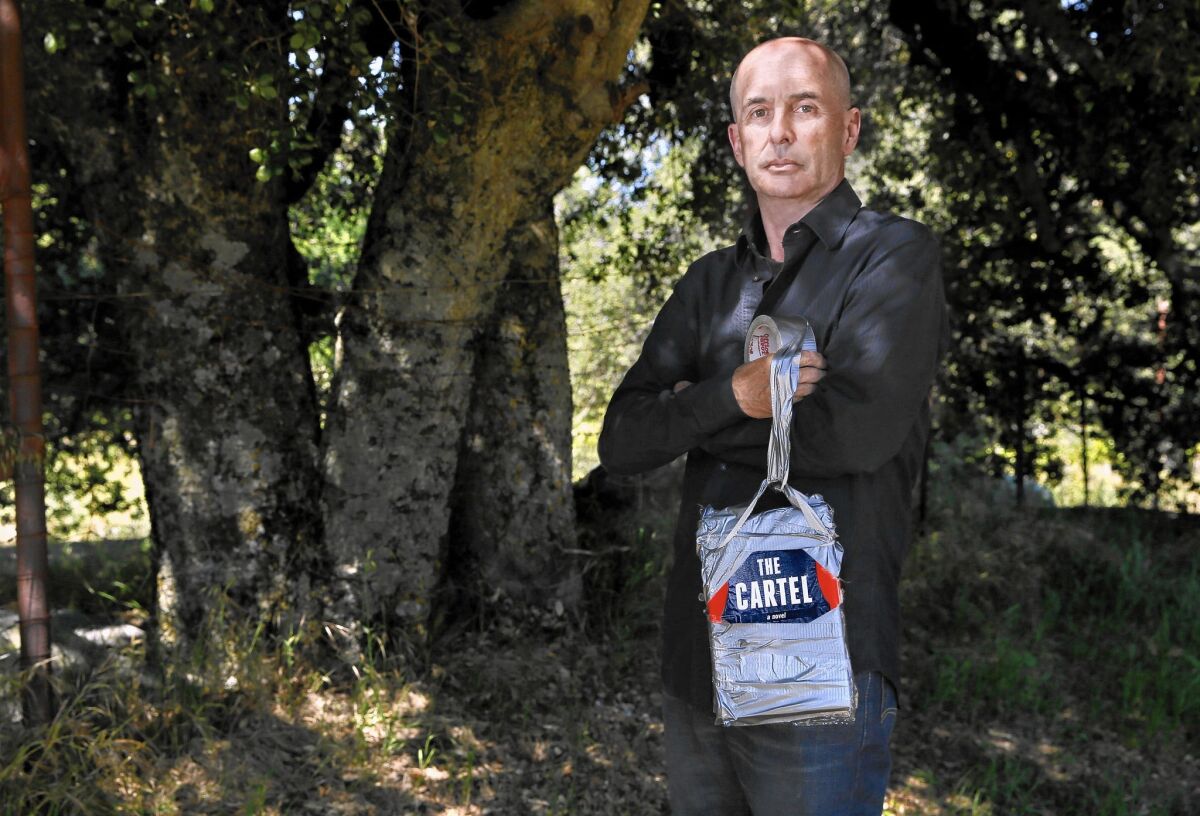 Don Winslow is a slight man, soft-spoken and remarkably polite. His quiet intelligence, careful elocution and slightly rumpled suit (in his defense he has just ridden a train for two hours) might trick you into mistaking him for a professor at a small liberal arts college or perhaps an author of the sort of books that take place in small college towns.
Don't be deceived — Winslow has delivered two of most savagely violent, not to mention emotionally resonant, novels in the past decade, 2005's "The Power of the Dog" and its epic conclusion, "The Cartel" (Alfred A. Knopf: 616 pp., $27.95), published this month, which has been dubbed by James Ellroy "the 'War and Peace' of dopewar books." Some might reasonably argue there's little peace in either novel.
One trope of interviewing authors is to meet them somewhere relevant to their most recent book. Given the subject matter of Winslow's latest, the Mexican-American drug war, neutral ground seems a better bet — in this case downtown's Los Angeles Athletic Club. It turns out that this is familiar territory. Winslow used to have lunch at the club when he was a PI investigating arson murders for a law firm based in the nearby Biltmore Hotel. That's the thing about spending time with him. Winslow's life is almost as compelling as the 17 novels he's written.
See more of our top stories on Facebook >>
Not many crime novelists can continually mine their own experience for material. Winslow has material to spare. He worked as a private investigator during the sleazy heyday of Times Square in the 1970s, then returned to school for a graduate degree in military history, intending to join the State Department as an expert on counterinsurgency warfare in Africa (he's conversant in both Zulu and Swahili) but became a safari guide instead.
It was the offer of another PI gig that drew the Rhode Island native out west, first to Los Angeles, then down to Orange County, and when that proved to be too stuffy and conservative for him and his wife, Jean, farther south to Julian, a Gold Rush town an hour east of San Diego famed for its apple orchards.
Winslow says he never meant to write something as terrifying or historically detailed as "The Power of the Dog." His previous novels are fairly traditional crime fiction, although not run of the mill. But one day in Julian he picked up the paper and read that 19 people had been machine gunned to death in Ensenada, a Mexican beach town just over an hour south of San Diego where he and his wife vacationed. He soon found himself unable to turn away from the daily reports of narco violence.
It took Winslow 10 grueling years and countless perilous trips Mexico to complete "The Power of the Dog." When he finished he swore he'd never revisit its bloody terrain.
"After I was done my wife was relieved," he says. "I was obsessed and not with puppies or sailing but with mass murders. And when you finish writing a book like that you think, 'I've written the worst of the worst. We're throwing kids off of bridges. We're massacring families with machine guns. How much worse can it get?" The answer: much worse.
By his own admission Winslow was dragged kicking and screaming into writing "The Cartel." When Shane Salerno, his scriptwriting partner and producer on several adaptations of his novels, including the Oliver Stone-directed "Savages," pitched him on a sequel, he hung up the phone. But the damage had already been done.
"I felt that I was a deserter, sitting on the sidelines," Winslow says. He was all too aware of the escalating violence across the border, where the cartels were reforming and growing more deadly. He also found himself increasingly infuriated by the continued homegrown ignorance and political schizophrenia concerning the drug wars. "Americans don't understand Mexico. They think it's the Mexican drug problem when it's really the American drug problem and to a lesser extent the European drug problem. What's crazy is that the U.S. spends billions importing drugs and also billions fighting them." So he dived back in.
Winslow treats writing as a factory job, one that he loves. And he's good at it. His prose is sparse and ferocious, and his rapid-fire story hits you like bullets from an AK-47. There's no fat on his pages, no room for rumination or contemplation. He shifts point of view repeatedly, sometimes even after a single paragraph. It shouldn't work. But it does.
This go-round he didn't have to travel to Mexico to unearth the latest atrocities. He could conduct most of his research online. "In 'Dog' I was trying to unlock secrets. But in 'The Cartel' there were no more secrets." In fact, the very method he used to research the book became part of the narrative. "People were proclaiming their crimes on websites, on banners, and by taking ads out in newspapers," he explains. "Things were developing in real time in front of you on social media. At times I felt as if I was watching a hideously real 'Game of Thrones' with similar violence, motivations and shifting alliances. The problem is you're dealing with real people."
While writing "The Cartel" much of his workday was spent watching atrocity videos and scouring Mexico's infamous red press — a species of media devoted to the pornography of violence. This process made him feel like a voyeur, and he worried that the amount of death — the body count on several pages of the "The Cartel" nearly hits triple digits — would be desensitizing to readers. So Winslow worked hard to put names to the bodies, cross-referencing newspaper and police reports and red press photographs.
"It was the very least I could do to give each victim a name," he says.
But it's not only the victims whom Winslow treats with respect. There's a depth and if not humanity, then human-ness, that he bestows on even the most evil drug lords. "For me it's not good enough to say, that's a bad guy. You have to at least see the world through his point of view. You might not like what you're looking at and the way that they think, but you have to make that effort."
Which is why after so many years immersed in the narco world, Winslow believes fiction is a more powerful tool than journalism for understanding the devastation in Mexico. "As novelists, we have license to imagine people's emotions and psychology and views of the world. I think that I can bring people closer to a story," he says. "Journalism can give the facts, but fiction can tell the truth."
Pochoda is the author, most recently, of "Visitation Street."
---
Get the latest news, events and more from the Los Angeles Times Book Club, and help us get L.A. reading and talking.
You may occasionally receive promotional content from the Los Angeles Times.