Review: Herbie Hancock's memoir recalls a creative life and all that jazz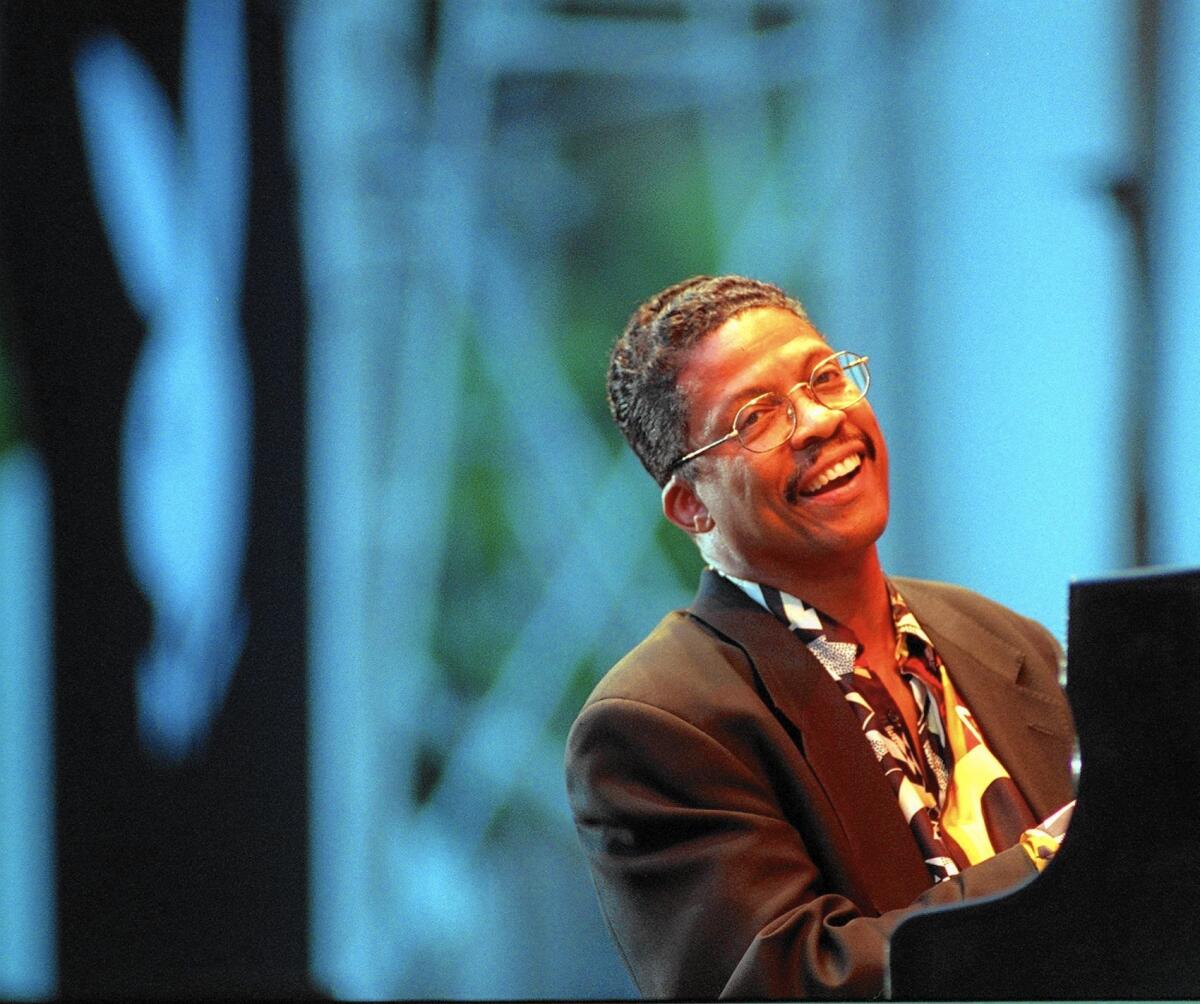 Herbie Hancock has had the kind of career that's unlikely to ever be duplicated. Appearing on landmark recordings with Miles Davis as well as his own band in the 1960s, Hancock memorably scaled to even greater fame while fusing jazz and funk with the Headhunters in the '70s and becoming the first crossover hip-hop artist in the early '80s with the Grammy-winning "Rockit."
It's a life marked by sonic evolution and a restless, even relentless drive toward creative expression that remains undiminished, as indicated by a recent turn on the new album by L.A.'s innovative electro jazz-fusion beatmaker Flying Lotus. The sort of life that generates fascinating stories, which is perhaps what makes his much-anticipated memoir, "Possibilities," such an occasionally frustrating read.
Maybe it's inevitable — apart from some autobiographies shaded by larger themes such as Art Pepper's "Straight Life" (heroin addiction) and Charles Mingus' "Beneath the Underdog" (mental illness), jazz isn't something easily put into words. Regardless, Hancock's is a career well worth the effort, and it's apparent from his benevolent, guru-like pose on the cover that he means to enlighten, both in his approach to music and his life, which here also includes significant space dedicated to his longtime practice of Nichiren Buddhism.
These are meaty topics, but the book's straightforward, often simplistic narration at times saps their energy. Cowritten by Lisa Dickey, the book has the flow of a casual conversation with Hancock, which captures the pleasant illusion of hearing his unhurried voice as you read about his early life and a bold move to New York to start his jazz career with Donald Byrd's band. But Hancock's well-intended aim to enlighten can be tedious as the book goes on, with many chapters closing with life-lessons that veer into familiar bromides such as "no person is responsible for another's happiness" and "judge events for what they actually are."
Just as with Hancock's career, however, the book picks up speed with the arrival of Miles Davis, who appears almost as a mythic oracle, speaking in cryptic riddles as he at one point encourages Hancock to avoid "the butter notes" — advice so bafflingly oblique yet consistent with his personality that even Hancock speculates he might have misheard him. Other moments, including an impromptu Manhattan drag race with Davis as the quintet hits its stride and the bandleader's request that Hancock play one-handed during sessions for "Miles Smiles" are the sort of delicious, fly-on-the-wall details jazz fans will savor.
Just as rewarding are accounts of Hancock's longtime friendship with Wayne Shorter, as well as the next stop in his career, which was the free-flowing early '70s band Mwandishi. Including the talents of reedist Bennie Maupin and drummer Billy Hart, the category-defying electric group all assumed Swahili names, one of Hancock's several acknowledgments in the book of his position in a changing racial climate. Hancock's near-mystical recollections of his group's improvisation-rich – if only cultishly appreciated — performances are as accurate a testimony to the intoxicating powers of in-the-moment creation as you'll read.
Less compelling are details of Hancock's fascination with technology, which fed his career with the funk-fusion band the Headhunters and beyond. His arms race-like passion for the latest gadgets point to an eagerness to push his music forward, but details of efforts to customize and rewire early synthesizers will satisfy only the most devout gear-heads. In addition, his many nods toward the power of his Buddhist practice begin to feel forced. The many references to "Actual Proof" of Buddhism's efficacy and a chant that "works whether you believe in it or not" are intriguing, but their pairing with pat language of self-help leave them at times feeling like a sales pitch.
The book doesn't rely on the tell-all details of most music biographies, apart from a surprise admission of crack addiction during the late '90s that's notable for how quickly a fleeting curiosity became a secret and shame-ridden compulsion. But otherwise Hancock keeps a gentlemanly distance from lurid details, backing away from tales of road indulgences ("I wasn't a skirt-chaser, but I did like skirts") and cocaine use during the "Rockit" and "Round Midnight" days, citing poor memory and a "tendency to suppress things," which is an understandable personal challenge but a hinderance to a page-turning memoir.
Still, setting aside the stilted advice and many linguistic clichés that reveal Hancock as a more gifted composer and improviser than a writer, there are rewards in the marrow of "Possibilities." From introducing Davis to chanting near his death ("Miles wasn't what you would call a hugger") to referencing a childhood fascination with puzzles while facing a challenge with his 2010 album "The Imagine Project" ("I started taking apart the clock once again"), intimate facets of Hancock's observations and process are there and served with a charming ease. You just have to listen closely.
Possibilities
Herbie Hancock with Lisa Dickey
Viking: 352 pp., $29.95
Get the latest news, events and more from the Los Angeles Times Book Club, and help us get L.A. reading and talking.
You may occasionally receive promotional content from the Los Angeles Times.