A visit with Other Books in Boyle Heights
In between a Mexican-crafted leather goods shop and an El Pollo Loco in Boyle Heights, works written by the likes of Alice Bag, James Baldwin, Inéz Estrada and Allen Ginsberg are shelved in light-wood bookcases.
Other Books carries a selection of new and used books, comics and zines, but there's more to it. The front of the store is a spacious extension of the East Los Angeles bookshop Seite Books owned by Denice Diaz and Adam Bernales, while the back houses a print shop from Tiny Splendor, an art collective and small press. Kaya Press, a small nonprofit publisher focused on Asian and Pacific Islander diaspora, is the third partner and uses the space as a venue for events and collaborating with writers.
The three partners met through literary and zine festivals held throughout Southern California. They connected on "being invested in the literary realm and providing literature and art in different ways," says Neelanjana Banerjee, managing editor of Kaya Press.
Seite Books had been looking for a bigger storefront. Bernales and Diaz's goal, from the conception of their first shop, was to provide something that was needed in this working-class neighborhood that was a bookstore black hole.
"I've lived in [East L.A.] for most of my life wanting to have a bookstore in the area," says Diaz. "I didn't have access to one and had to go outside the neighborhood."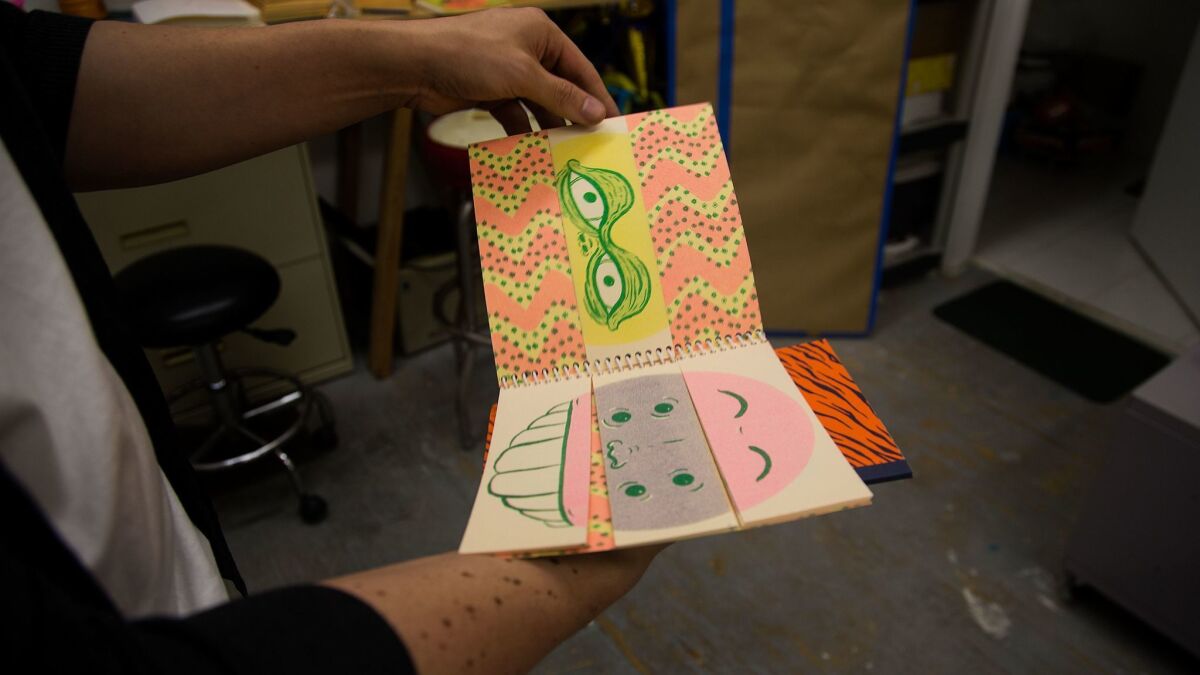 Diaz and Bernales opened Seite Books in 2010 when Diaz's mother invited them to sell items in her makeup and women's clothing store. The couple used their savings to grow Seite Books from one shelf of used books to multiple bookcases of new and used books arranged in what is now a tight space — and then the rent was raised. They wanted a more financially stable retail space to share with collaborators.
The opportunity to share a space was the right fit for the artists who run the L.A. branch of Tiny Splendor (also based in Berkeley), Cynthia Navarro and Kenneth Srivijittakar. They were looking for a new work space after being asked to move out of their rented studio in downtown L.A. For about a year, Navarro kept their equipment in her home, including a risograph — a cross between silkscreening and a printing machine.
A neon kewpie doll sign hanging in the middle of the shop's back wall shines pink light on the back half of Other Books, next to a shelf filled with Tiny Splendor's prints and zines. The round baby-faced doll is Tiny Splendor's logo and homage to Rose O'Neill, the pioneering female illustrator who created the Kewpie characters in the early 1900s. Whether Other Books is open for customers or not, someone is usually working at the Tiny Splendor tables, stocked with a paper guillotine, industrial stapler, glue binder, ink tubes and stacks of paper.
"This space is different than a lot of the businesses on this street," says Navarro. "I don't know too many spaces for artists and writers of color to come and present their books or have affordable fine art printing."
The previous business' denim store signage still hangs outside the bookshop. The front of the store is lined with birch wood bookcases; recently a fold-out table serving as the checkout was replaced by a more solid table of light wood. The bookcases in the middle of the floor are easily moved to make room for events.
All three owners coordinate events. But it was a particular goal of Kaya Press (based at USC's Department of American Studies and Ethnicity) to create a collaborative space for writers through book signings, readings and creative workshops.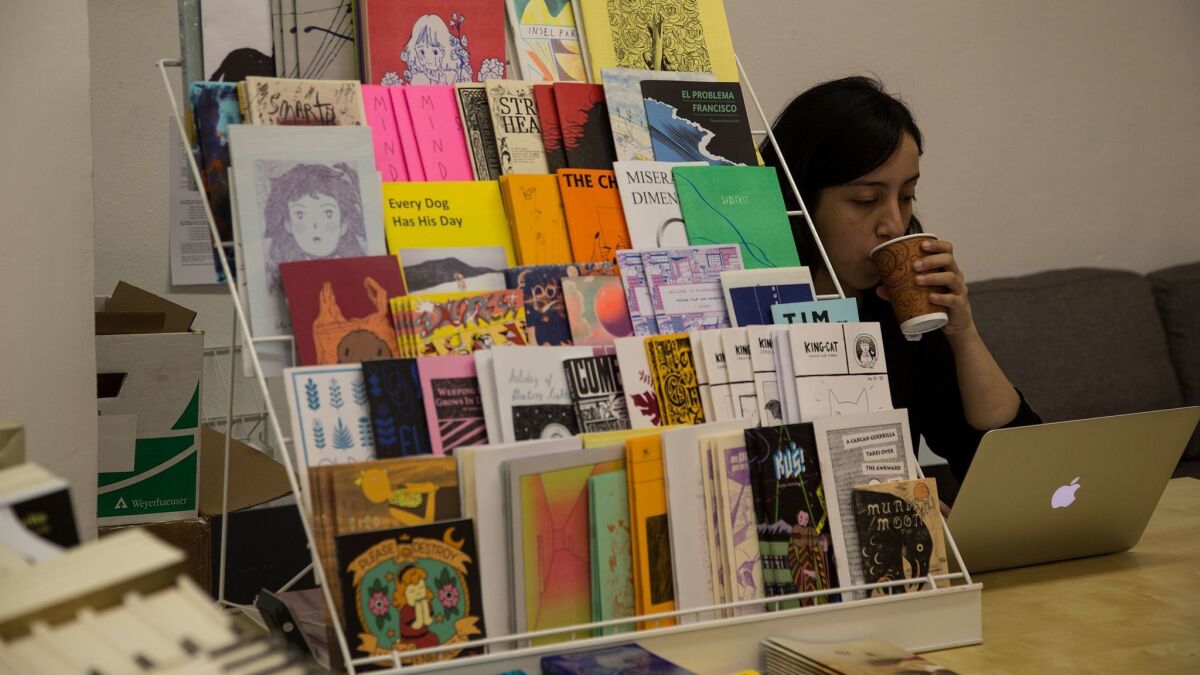 Other Books had a soft opening late last year but started running regular hours and producing events during the beginning of 2017. One of the bookshop's first events was a book release for Lilliam Rivera's "The Education of Margot Sanchez"— a young adult novel about a Puerto Rican girl struggling with family, identity and gentrification in the South Bronx.
Inside, the crowd filled every seat and a few stood in the back waiting for Rivera's reading and discussion to begin. Addressing the crowd, which included students from Felicitas & Gonzalo Mendez High School, Rivera said it was important for her to have a book launch in this location.
Her publicist Kima Jones explained, "We were determined to have [the event] in a space that was Latino-centric — where kids don't have to leave their neighborhood for arts, culture, music and books."
Although Seite Books and the lending library Libros Schmibros have settled into the Eastside community, it was important for Bernales and Diaz to find a space for Other Books in the book-starved neighborhood.
The name of the shop, whether referred to in its English or Spanish iteration (Otros Libros), is meant to express otherness in terms of race, gender, language and sense of place. It's referential, not just to the store's location, but also to the co-owners and the people who can see themselves reflected in the selection of books.
The collaborators for Other Books intend to continue to add to the books for sale while maintaining enough space to produce events, install equipment to hold regular screenings, and print an in-house paper or zine that will partly focus on local businesses.
Bernales noticed his customers' tastes vary from purchasing comics and poetry books to art books and novels in a single visit. He plans to organize a local alternative press festival that, like the bookstore itself, is inclusive of art, literary and zine publications.
"It's a work in progress," says Banerjee. "We are trying to figure out how we can use this space and have it be a resource for the L.A. literary community, the larger creative community and the local community."
Vera Castaneda is a writer who lives in Los Angeles.
---
Get the latest news, events and more from the Los Angeles Times Book Club, and help us get L.A. reading and talking.
You may occasionally receive promotional content from the Los Angeles Times.