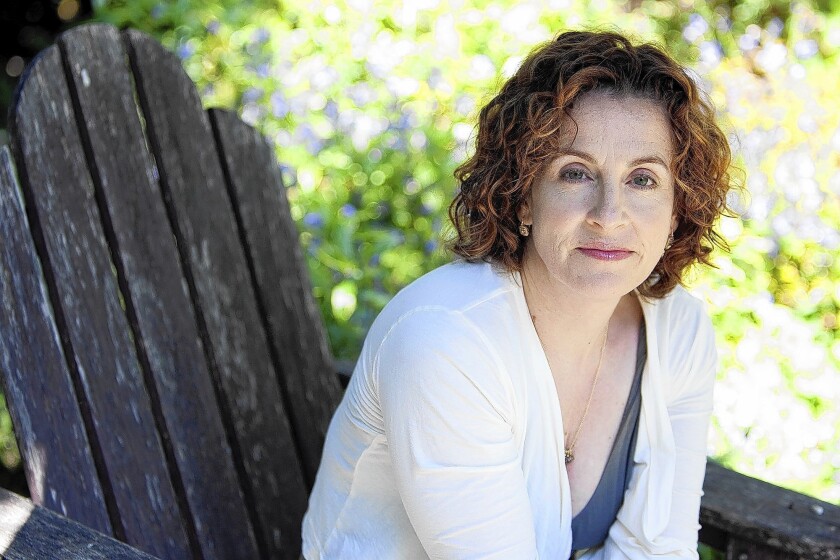 Ayelet Waldman's "Love and Treasure" (Alfred A. Knopf, $26.95, April 1) is a triptych novel that follows the lives of American and Hungarian Jews across the 20th century. A story of relationships, art and loss, it moves among a granddaughter trying to solve a puzzle, feminists in Budapest between the wars and European Holocaust survivors headed to Palestine.
"When my book was being auctioned in Britain, one of the people who didn't bid on it said, 'This book is too Zionist for us.' And then my Israeli publisher, who did end up buying it, was like, 'Man, this is a really anti-Zionist book.' I got those responses the same day," Waldman says via Skype.
She has set her laptop up on her treadmill desk so she can talk and exercise. "This is good, this is how people get 10,000 steps a day," she says, explaining that she's eager to catch up to writer Susan Orlean. "She's my Fitbit pal. I get like 3,000 steps and she gets 29,000. It's because she never gets off her treadmill. Maybe now I can approach her. She kills me."
Waldman can be a bit competitive. The author of a dozen books, including "Bad Mother" and "Love and Other Impossible Pursuits," was at one time a federal public defender in Los Angeles. She graduated from Harvard Law School in the class of 1991 alongside a young man named Barack Obama.
She was raised in the U.S. and Canada and Israel, where she was born. All four of her grandparents were Jewish and from parts of Eastern Europe that were part of Russia, off and on. They emigrated to North America in the years before and after World War I.
"Like your typical Jewish girl, I read not just Anne Frank but anything that had to do with the Holocaust. I was completely obsessed as kid. That kind of faded, then it came back after I had children," she says. "I wanted to write about it but there has been so much of the worst kind of Holocaust kitsch published that I was really afraid of writing one of those novels."
Finally, she was ready. She had already set herself the task of writing about visual art, something she knew little about, so researching the novel would allow her to learn something new. And when her friend Eleni Tsakopoulos Kounalakis was named ambassador to Hungary, Waldman wanted to go visit her and make it a business trip. "So I Googled the words 'Hungary,' 'Holocaust' and 'art,' I kid you not, and I found the Hungarian Gold Train. That is how I chose what to write."
Serendipity aside, a real sense of political engagement runs through "Love and Treasure," particularly in the form of an Israeli war hero, an American soldier managing the spoils of war found on the Hungarian Gold Train, and women in 20th century Budapest fighting for the right to vote.
"I don't believe in political novels — I think they're bad," Waldman says. "But I can't help myself. That's the way my mind works. I dig my teeth into an idea, and it's an idea that inspires me and excites me, and then I find myself writing about it."
She continues, "I think the trick is to be driven by character and driven by story, and have the rest feed your narrative the way those things feed your life as a human." And then she adds, "Unless you're really an idiot, you have a political identity in the sense that you care about the world around you and you lift your eyes occasionally from your own myopic interests."
It is that merging of art and edge that gives Waldman's work an extra boost of energy, and she's no stranger to controversy. In 2005, as the author of some moderately popular detective novels, she leapt into the national consciousness with an essay in which she declared, "I love my husband more than I love my children."
Never mind that she and her husband, Pulitzer Prize-winning novelist Michael Chabon, were happily raising four children together in Berkeley. Her controversial statement propelled her to "Oprah" and the "Today" show and resulted in her nonfiction book, "Bad Mother."
Almost a decade later, she says, "The truth of that essay is even more profound, because we sent our first kid to college this year, and when they are gone, they are gone." Her eldest daughter is independent, communicating mostly by text. "We send out the text, and we wait. We're so excited when she replies. If we didn't have each other, we'd be devastated. We'd be lonesome."
Then she adds, "I mean, we have three more."
Waldman began her writing career with a series called "The Mommy Track Mysteries"; her recent books have been increasingly ambitious. "I think there's definitely certain people who read me expecting they're going to get in-your-face sassy funny and they're a little taken aback," she says. "In my fantasy, people who read me thinking that then think, 'Oh wow, she can really write.'"
---