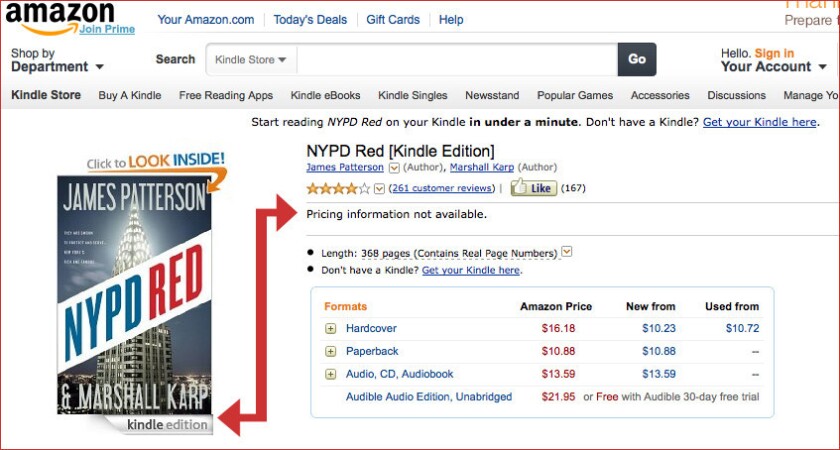 On Thursday evening, it suddenly became impossible to purchase most e-books on Amazon. It was possible to buy hardcovers, paperbacks and audiobooks, but not most Kindle e-books from the online retailer's website. The purchase of most Kindle e-books had been blocked -- however, those distributed through Amazon Digital Services, or published by one of Amazon's publishing houses, remained available.
Concerns that Amazon had deliberately removed the ability to purchase certain books sent ripples through the publishing industry -- those who were on Twitter, at least. In 2010, Amazon made a similar move shortly after Apple's iPad and iBookstore were announced and removed the "buy button" from publisher Macmillan's books. While the books still appeared on the site, the ability to purchase them had disappeared.
What happened Thursday night looked very much the same, but for two things. First, the so-called "buy buttons" had disappeared only from e-books. And instead of sales of a single major publisher's being blocked, it happened to all of them: Amazon titles were available. Titles from the six major publishing houses were not.
E-books that were not available included bestsellers by John Grisham, James Patterson, Nora Roberts, Danielle Steele, Barbara Kingsolver and John Green. Those who hoped to purchase the e-book of Nate Silver's "The Signal and the Noise," which had a surge of popularity after the election, could not.
When reached for comment Thursday, Amazon told the L.A. Times that the Kindle store was "experiencing a technical issue." Early Friday morning, the company notified us that it had been fixed, without providing any further detail.
The mysterious outage comes at an interesting time in publishing. A merger between Random House and Penguin, which will create mega-publisher Penguin Random House and reduce the number of major houses to five, was announced last month. Some have speculated that the merger was undertaken so the company could be big enough to "take on" Amazon.
Because Amazon has provided no further detail about the "technical issue" in its Kindle store, the outage remains mysterious. Why just e-books? Why were e-books distributed by Amazon exempt?
Specifying that it was a "technical issue" is reminiscent of the "glitch" that removed many books with gay or lesbian content from the site in 2009. Books with gay-positive content were de-ranked, which made them disappear from search results and not appear among the bestseller rankings, no matter how well they were sold. In that case, Amazon later explained its "glitch" as a "cataloging error."
ALSO:
EU reportedly poised to accept Apple e-books settlement
Tavi talks about the new Rookie book and her Los Angeles visit
Why is Amazon deleting writers' reviews of other authors' books?
---