In 'Wide Awake,' Suzanne Lummis gathers the poets of Los Angeles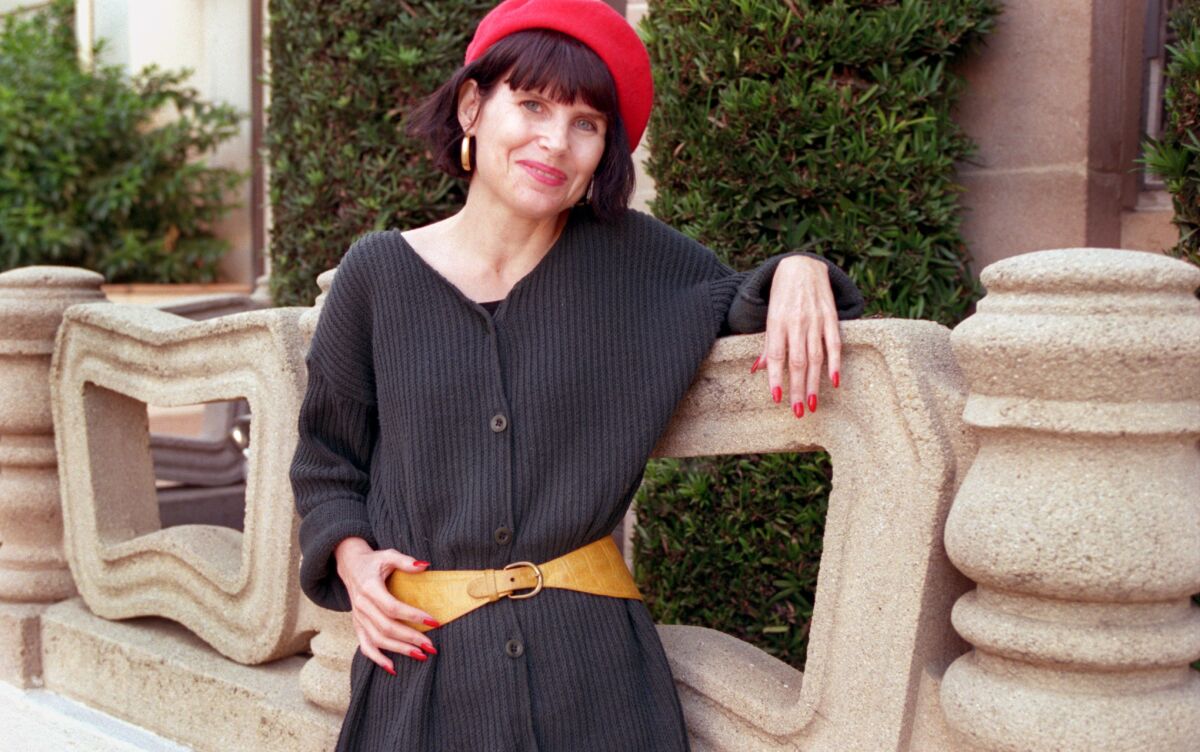 Los Angeles Times Book Critic
I got to know Los Angeles through its poetry. Even before I lived here, I experienced a different, human, side of the city through the works of Wanda Coleman, Michelle T. Clinton, Amy Gerstler, David Trinidad.
It's no coincidence that all of them were, at one time or another, affiliated with Beyond Baroque. The Venice-based literary center, founded in 1968 by George Drury Smith, was created as a place for poetry, particularly the poetry of Los Angeles.
Over the decades, scores of local and national writers — including Allen Ginsberg, Raymond Carver, Patti Smith and Amiri Baraka — have appeared there; John Doe and Exene Cervenka, of the band X, famously met at the long-running Wednesday Night Poetry Workshop.
Read through such a filter, Suzanne Lummis' new anthology "Wide Awake: Poets of Los Angeles and Beyond" (Beyond Baroque Books/Pacific Coast Poetry Series: 326 pp., $18 paper) feels like a bit of a homecoming, although it is not a backward-looking book. Gathering more than 100 poets (Coleman, Douglas Kearney, and L.A. laureates Eloise Klein Healy and Luis J. Rodriguez among them), it is a celebration of what let's call a Los Angeles aesthetic, an exploration of poetry and place.
What is this aesthetic? I'd call it offhand if that didn't sound dismissive. Perhaps a better word is "self-aware." This is how Lummis refers to it in her introduction, which cites, as emblematic, Florence Weinberger's "The Light Gatherers," with its stirring image of those who "poke around the blasted pieces / for traces of what newspapers call 'human remains' / … Impossible to get it all."
That sensibility — of poetry as observation, of poetry as piecing together, of poetry as a way to see beneath the surfaces of a city that still, to some extent, defines itself by surfaces — is central to "Wide Awake." It is both a diverse collection and a consistent one, a framing of voices, all trying to make sense of not Los Angeles in the abstract, but on the most concrete, experiential terms.
Lummis is an ideal guide for this endeavor — poet, anthologist, long-time L.A. literary booster — although perhaps the most essential aspect of the book is her generosity. As with its predecessor, 1997's "Grand Passion: The Poets of Los Angeles and Beyond," her intent here is not to showcase any particular school or aesthetic, but rather the range of Southern California poetry.
To highlight that, nationally recognized poets such as David St. John, Carol Muske-Dukes and B.H. Fairchild are juxtaposed with local heroes Amy Uyematsu, Jenny Factor and Brendan Constantine.
Coleman is represented by an idiosyncratic selection (the hilarious, if pointed, "I Live for My Car"; the beautiful and bitter "Wanda Why Aren't You Dead"), while the woefully underappreciated S.A. Griffin tells us, in "I Choose Not to Believe in War Holy or Not," that "if I were Christ I would be a drink of water / if I were Buddha I would gladly kill myself / in the garden of you eyes forever."
See what I mean about offhand? These lines read like notes sent from the poet to himself. And yet, it is in that movement, in that intimacy, that their power resides. I think of Wendy C. Ortiz's "Some Scars," with its portrait of a relationship unraveling: "The instant I met his eyes at the airport, he knew," she writes. "Like good / radicals we fought until we came to some arrangement we thought // we could live with."
The personal meets the political, or vice versa, confessional and capacious all at once.
Or Robin Costa Lewis' "Frame," with its community-level portrait of L.A.'s notorious housing covenants: "Before that, it was law; we could not own property / except in certain codes: South Central, Compton, Watts, / where the construction companies were under contract // with the LAPD to tile or tar our addresses onto our roofs, / so when their helicopters needed to shoot, / they'd know — and we'd know too — / who was what and what was who."
Offhand again, in the sense that these verses arise out of the city as both environment and circumstance, out of the poet's daily life. This is what poetry does, of course, but it is especially important in Los Angeles, where reality is often overwhelmed by myth.
There is little myth in "Wide Awake," just a set of personalities, perspectives: the poets of Los Angeles. Like L.A. itself, the book is a shifting landscape, formal and informal, collective and individual. The conversation it provokes insists we ask the most fundamental questions: Who are we? How do we live here? What is the essence of our engagement with this place?
Or, as Sesshu Foster wonders in "Taylor's Question": "— how do you survive, how do you make it through?"
twitter: @davidulin
---
Get the latest news, events and more from the Los Angeles Times Book Club, and help us get L.A. reading and talking.
You may occasionally receive promotional content from the Los Angeles Times.