Maggie Nelson, new MacArthur fellow, says, 'You've just got to do what each book demands'
Maggie Nelson has been named a MacArthur Foundation Fellow for her work that blends frank autobiography with criticism and philosophy. A poet who leads the MFA program at CalArts, Nelson's work wrestles with issues of gender, LGBT theory, art and violence; her most recent books are the award-winning memoir "The Argonauts" and the reissued "The Red Parts," about her aunt's murder. We talked to her about the MacArthur and what it means for her work.
What was it like hearing about the award?
It's not something I imagined would happen to me, especially with my particular writing career. It's incredibly meaningful to me that whoever the committee is, they recognized my work in that way. It's very unthinkable. I'm very grateful.
In the weeks you've known, has it opened anything up for you, thinking about what you might do next?
The kind of writing I do, I'm not in big-money writing. I've done a lot of hustling, a lot of readings, a lot of traveling, and it's just, the idea of not having to split so much of my time up and focus is very exciting to me. I feel like I've been kind of a strange writer that always follows exactly what I want to do and nothing else. And to kind of be told in this big way, like, whatever you've been doing, you're on the right track — it's a very, very heartening feeling.
I've been able to publish all my books, you know? But as anyone who looks at my publishing career will notice, they tend to be by different publishers. My agent and I often joke that I'll write something and everyone will be, like, oh, Maggie Nelson's really interesting, and they'll be interested in publishing something by me until they see the next book. And then they'll be, like, oh, we wanted one like that one. And then I have to find a new publisher because it's not what they thought I was like as a writer. It's a change for me conceptually to think that my work might be wanted by somebody, no matter what it was.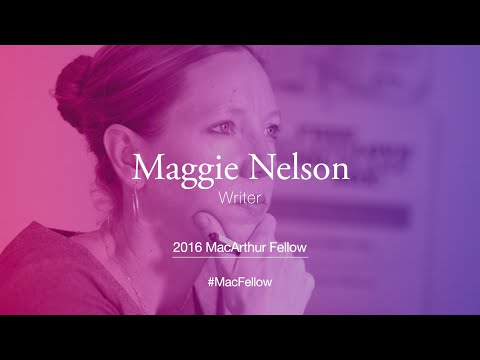 I know some writers see teaching as a burden. CalArts seems to be a good place for you, in terms of your writing and publishing. Will you be taking time off teaching, or does it feed you in a way?
Teaching does feed me. Annie Dillard was a writing teacher of mine. When I was back in college, she said: Never set yourself up in life where writing is the only thing you have to do. I thought it was kind of good advice. It's good for me to show up somewhere from time to time. But it would be nice to be a little decreased maybe. We'll see.
Your last book, "The Argonauts" was very intimate, as was "The Red Parts." Do you have any concerns about this award bringing your work to a wider audience?
You mean in terms of intimacy? I do have to admit that I think I've taken a lot of risks as a writer because I come from poetry and have not thought about a lot of people reading my work. I think that's been great, because I think you should write whatever you want to write. Even with this award, I'm not sure that I'm airport territory. [Laughs] At the end of the day, maybe I'm old-fashioned in thinking that you just don't get to choose what you've got in you to give. You've just got to do what each book demands. I've never thought intimacy was a goal of the writing, that violating my privacy was the best idea. I'm kind of an aesthetic purist about thinking that the work eventually tells you what needs to be in it for it to work, and it has to have what it has to have.
Especially with your critical work, do you see yourself as fitting into a continuum with prior MacArthur fellows?
There have been a lot. Ann Carson. Ben Lerner. Ta-Nehisi Coates. Kara Walker. People that have done difficult, challenging work. Lots of people that I'm surely just forgetting. Ann Carson, she's a huge inspiration to me, the way that she has moved through intimate moments and esoterica to the scholarly. She's another writer who's not so concerned with this dichotomy that a lot of people are compelled by, God bless them, between the so-called personal and the so-called cerebral or critical — to me it's just one flow. That's pretty amazing company.
2016 MacArthur fellows:
Sign up for our Book Club newsletter
Get the latest news, events and more from the Los Angeles Times Book Club, and help us get L.A. reading and talking.
You may occasionally receive promotional content from the Los Angeles Times.