Malala Yousafzai wants leaders to invest in #booksnotbullets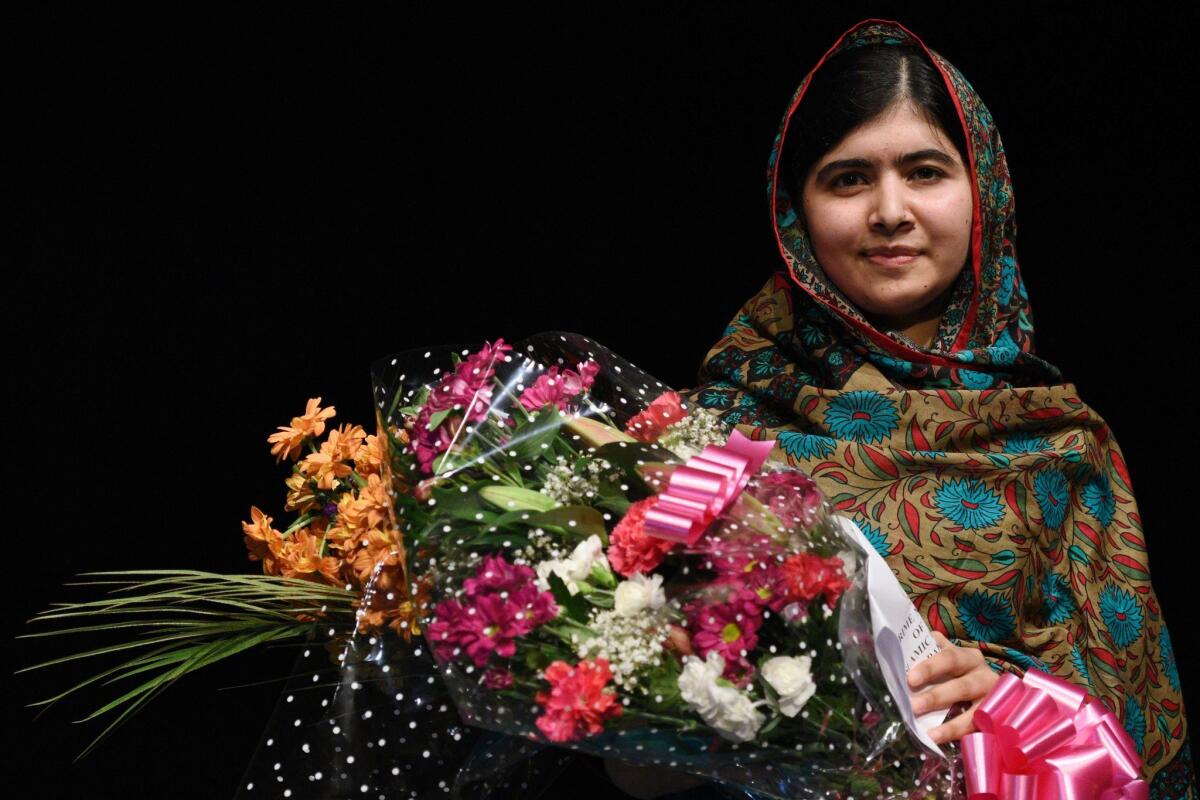 Pakistani education activist Malala Yousafzai, the youngest person ever to win a Nobel Prize, is turning 18 on Sunday. And she has one wish: that world leaders start investing in books, not bullets.
"If the world leaders decide to take one week and a day off from war and weapons, we can put every child in school," Yousafzai told the Oslo Summit on Education for Development on Tuesday. "Books are a better investment in our future than bullets. Books, not bullets, will pave the path towards peace and prosperity."
Yousafzai echoed the sentiment in a post on her Malala Fund Blog, urging people to use social media to advance her message of peace and education. "Post a photo of yourself holding up your favorite book now and share why YOU choose #booksnotbullets - and why world leaders should, too," she wrote.
The activist got the ball rolling on the hashtag with a post on Instagram, featuring a picture of her holding a copy of Anne Frank's "The Diary of a Young Girl." Yousafzai wrote she chose the book "because the book reveals the courage and strength of a young girl living under war and conflict. It inspires me to believe that every child deserves the right to dream, the right to learn and the right to live in peace."
Yousafzai became an education activist before she was a teenager, advocating for the right of Pakistani girls to attend school. When she was 15, she was shot in the head by a would-be assassin associated with the Taliban. Last year, Yousafzai won the Nobel Peace Prize, becoming the first Pakistani to receive the award.
In 2013, she published the book "I Am Malala: The Girl Who Stood Up for Education and Was Shot by the Taliban," a memoir co-written with Christina Lamb; the book was later banned by private schools in Pakistan. Yousafzai is the subject of the upcoming documentary "He Named Me Malala."
Yousafzai's admirers have picked up on the #booksnotbullets hashtag on Twitter. The Gutter Bookshop in Dublin, Ireland, tweeted a picture of a man holding Roald Dahl's "Matilda," and a technical writer named Michael Huggins posted a selfie of him holding "The Canterbury Tales," adding, "A bullet is used once, to end a life. A book is used for years, to enrich many lives."
The Twitter account of London-based Orion Publishing joined in with a picture of 17 people displaying their favorite books. Most of those pictured held two books, many of which were copies of "I Am Malala."
Get the latest news, events and more from the Los Angeles Times Book Club, and help us get L.A. reading and talking.
You may occasionally receive promotional content from the Los Angeles Times.