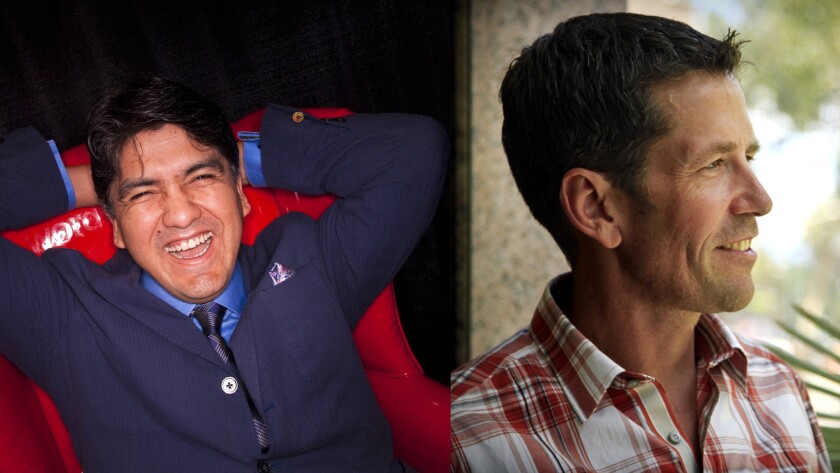 "We were too hot," Sherman Alexie says, laughing. The National Book Award-winning author of "The Absolutely True Diary of a Part-Time Indian" has launched a podcast with Jess Walter, who wrote the bestselling novel "Beautiful Ruins." Alexie clarifies, "In audio parlance, we were 'too hot.'"
The two accomplished authors are audio novices, jumping into the world of podcasting with "A Tiny Sense of Accomplishment," which launched Wednesday with two (cool enough) episodes.
The show comes from Infinite Guest, a new podcast network from American Public Media. The network includes podcast-only shows like Alexie and Walter's, as well as existing public radio programs like "The Dinner Party Download."
On their show, Alexie says, "We're going to talk about everything."
"The two of us can talk forever. We've had readings where all the people leave and we're still talking," Walter jokes.
They are speaking from Alexie's place in Seattle by phone; Walter also lives in Washington, in Spokane. Both men grew up there, Alexie on the Spokane Indian Reservation and Walter nearby.
When they were young, Walter says, "we probably played basketball against each other or were in the same rodeo," but they didn't meet until their 20s. They still play basketball against each other, hampered, they admit, by middle-aged frailties.
Basketball and other sports will be discussed on the show -- slightly unusual for a literary podcast. They'll be interviewing literary figures and also people with lives that aren't connected to books. "Naturally since we have no budget," Alexie jokes, "most of our guests are going to be from my neighborhood."
There are lots of wide-ranging podcasts from entertaining conversationalists. What makes "A Tiny Sense of Accomplishment" unique is that Walter and Alexie, two very accomplished writers, will be reading their works-in-progress.
Normally, Alexie explains, "I don't share anything with anybody; I share with a very small group of people."
Walter adds, "one of the things I've been thinking a lot about outside of this is how precious and timid we can be about our work." Sharing a work-in-progress, he says, is "more vital" because how those raw materials become finished work is "mysterious to all of us."
Alexie jumps in, joking, "We want to exploit people at their most vulnerable moments."
The two old friends have joined the podcasting boom. Individual podcasts like Marc Maron's "WTF" and "The Adam Carolla Show" have been wildly popular; Nerdist's success led it to launch one of the biggest podcast networks.
Up until now, book podcasts have been on the periphery. The longstanding "Other People Podcast" from Brad Listi, the "Three Percent Podcast," and "Literary Disco" are all independent. With Alexie and Walter's podcast being part of a well-organized network, that might change.
That is, if larger audiences are interested in listening to two writers talking about everything while sharing their own work. Alexie jokes, "We're hoping people are going to appreciate our literary narcissism."
New episodes of "A Tiny Sense of Accomplishment" will post every other Wednesday in iTunes and where other podcasts are downloaded.
Book news and more; I'm @paperhaus on Twitter
---