Books: For Jon Klassen, kids' books aren't old hat
This week in books, literary reaction to the election continues; I've got a report from the National Book Awards; and most important, we find out why kids are obsessed with books about hats.
THE BIG STORY
Children's book author and illustrator Jon Klassen started out working on animated films, but he catapulted onto bestseller lists with his delightful books "I Want My Hat Back" and "This Is Not My Hat." Jessica Gelt visited Klassen in his studio and learned why the Caldecott Award winner's books are so beloved by children. Plus, he shows us his latest book, "We Found a Hat".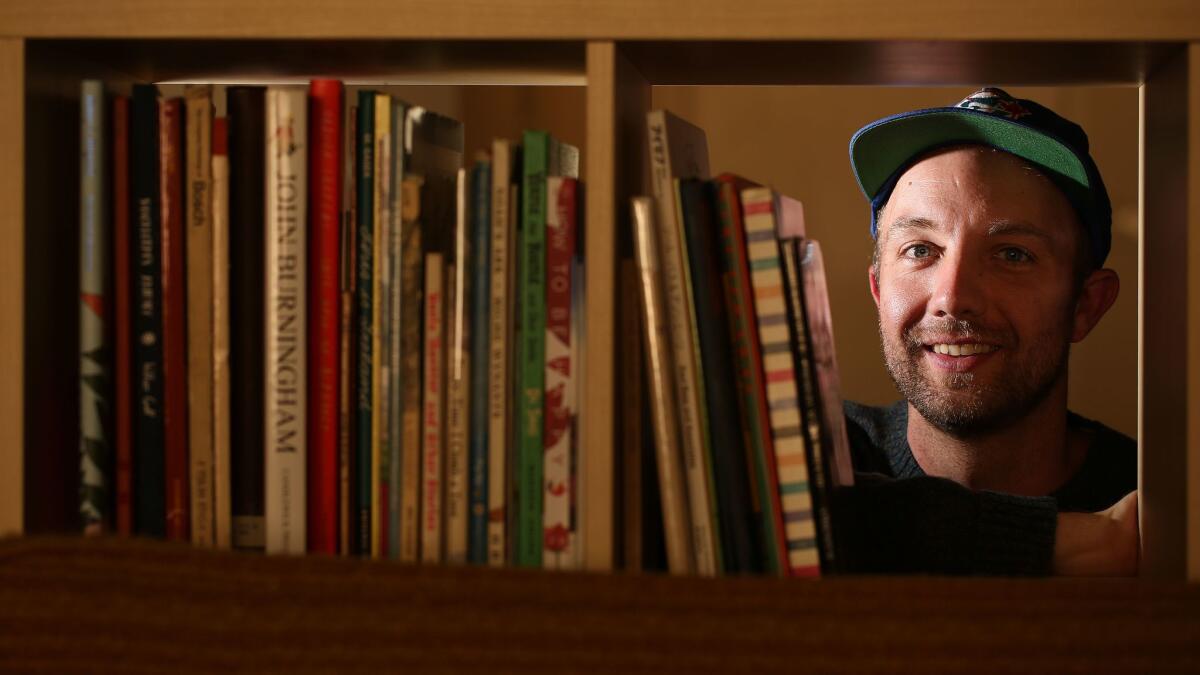 WHAT TRUMP'S WIN MEANS FOR BOOKS
Will the Donald Trump presidency affect publishing? Michelle Dean reports from New York that publishers, who generally expected Hillary Clinton to win, were reeling after the election; one literary magazine, n+1, even had to postpone publication because of stories pegged to a Clinton win. But some publishers on the far left see an opportunity to engage; says one, "we're absolutely ready for a fight."
A key figure in the election was Fox News' Megyn Kelly, whose confrontations with Trump marked significant points in the campaign. She calls his attacks "relentless" in her new memoir, "Settle for More." Lorraine Ali reviewed Kelly's book in Thursday's paper, writing, "As a precursor to the four years ahead, 'Settle for More' is unsettling."
Critic at Large Viet Thanh Nguyen has written a fiery essay about the Democrats' failure and our future. "Here's what I have to say to American liberals and leftists: instead of listening to the strategists, who don't believe it's possible to dramatically change our society, can we finally be bold and listen to the artists and the outsiders and the radicals and the freaks and the avant-garde and the base and the youth and the anarchists and all those who don't want to do business as usual with the limousine liberalism of both the elite Democrats and Republicans? Can we listen to the dreamers instead of the doubters?"
Speaking of Viet Thanh Nguyen, we had a story about him in the paper Tuesday. Nguyen has had a remarkable year — he won the Pultizer Prize for fiction in the spring for his novel "The Sympathizer," and his nonfiction book "Nothing Ever Dies: Vietnam and the Memory of War," published by Harvard University Press, was a finalist for the National Book Award. Jeffrey Fleishman, who sat down with Nguyen at his Los Angeles home, writes, "a conversation in Nguyen's living room can skip across the geographies, sins and fallibilities of a vexing world."
I ran into Nguyen at the National Book Awards; it was nice to see a friendly Los Angeles face among the 1,000-plus attendees at the New York gala. Here's my official report on the prizes: They were a resounding celebration of black voices. Unofficially, I can tell you that it was delightful to see so many people excited about books, but, boy, do they have cold banquet halls in New York! There were women actually wearing fur shawls — inside. A video of the award ceremony is online, so you can watch from the warmth of your own home.
If you want to go out, there are still tickets available to what is bound to be a fabulous book event: Andy Cohen being interviewed by RuPaul about Cohen's new memoir, "Superficial," at LiveTalksLA in Santa Monica. Work!
PEARL HARBOR: BEFORE AND AFTER
In "Countdown to Pearl Harbor: Twelve Days Before the Attack" Steve Twomey has mined the copious testimony, memoirs, oral histories and archives to produce a riveting narrative of the American mistakes that let to Japan's attack on Pearl Harbor on Dec. 7, 1941, writes Bob Drogin in our review.
As the 75th anniversary of the attack approaches, we've got a list of nine books for teens and middle-grade readers that can help explain the significance of Pearl Harbor and its aftermath — particularly the internment of Japanese Americans. The most recent of these titles, "Uprooted: The Japanese American Experience During World War II" by Albert Marrin, explains to adolescent readers that this chapter in history "shows that freedom is not free, and democracies do not automatically live up to their declared ideals."
BESTSELLERS
Michael Connelly enters our fiction bestseller list this week at No. 1 with his new Harry Bosch mystery, "The Wrong Side of Goodbye" (here's our review). The former Angeleno elbowed aside John Grisham, who moves down to No. 2 with his new book about the investigation into corruption in the Florida courts in "The Whistler."
WHAT DO YOU THINK?
I'm the book editor of the L.A. Times, and I'd like to hear your thoughts about the newsletter; email me at Carolyn.Kellogg@latimes.com.
Sign up for our Book Club newsletter
Get the latest news, events and more from the Los Angeles Times Book Club, and help us get L.A. reading and talking.
You may occasionally receive promotional content from the Los Angeles Times.