Why Susan Orlean sees a bright future for public libraries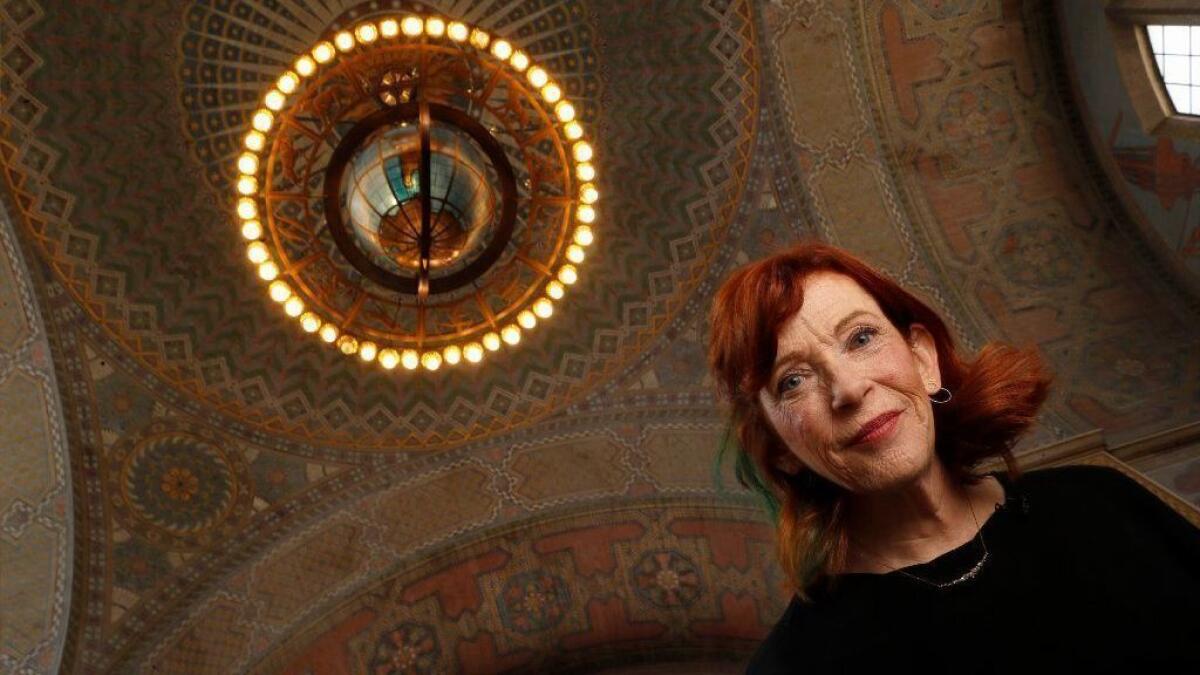 If you want to get Susan Orlean riled up, just ask her about the economist who suggested the government could eliminate public libraries and "save taxpayers lots of money" now that we have Amazon for books and Starbucks as a gathering place.
This modest proposal was published on Forbes.com last year, at least briefly, until the editors pulled it down amid a firestorm of derision.
"It was such a ridiculous, absurd position to take," said Orlean, author of "The Library Book," the bestseller about the 1986 Los Angeles Library fire, and a paean to the glories of the public library. The article, she said, demonstrated "an incredible lack of understanding of what libraries do."
Orlean joins the Los Angeles Times Book Club on June 25 in a conversation with Times Deputy Managing Editor Julia Turner at Barnsdall Gallery Theatre, marking "The Library Book" as the book club's first community read.
"The printed page has been the gold standard of communication for centuries, and I think it will continue, because you can hardly do better."
— Susan Orlean
Orlean spent six years taking a deep dive into L.A.'s landmark Central Library and emerged optimistic about the state of libraries and their future prospects.
"Libraries are not musty, fusty museums that are just filled with books that nobody even wants to look at — they are exactly the opposite," she said. "They're vital, robust, thriving institutions that are very much part of the modern world."
Libraries may have been threatened decades ago, Orlean said, when the internet came into widespread use and seemed to put the entire universe of information at people's fingertips. But rather than rejecting technology, libraries embraced the internet and transformed themselves into digital hubs as well as physical spaces to gather, learn, work and connect.
A huge mission
Books are still at the heart of the mission, but libraries are so much more than books. Just consider some of what was lost in the Los Angeles Central Library fire, as detailed in Orlean's book: Patent listings, magazines, microfilm, unbound manuscripts and 400,000 books of all types.
And what's available at the library today? Digital books, audiobooks, music, movies, digital and physical photographs, maps, fruit crate labels, autographs, obituaries, computers, Wi-Fi and an online high school.
Libraries today are hubs for all kinds of activities, living up to L.A. City Librarian John Szabo's description of them as "the people's university." For example:
The Los Angeles Public Library offers language classes in French, Mandarin, Spanish, Russian, Armenian and Italian.
In New York, library patrons can borrow accessories like neckties and briefcases to complete an ensemble for a job interview.
In Anchorage, the library lends out taxidermy items, including bear and wolf fur, apparently popular in Boy Scout ceremonies.
Libraries lend seeds, tools, toys, games and many other items. In this they follow in a rich tradition conceived as early as the 1880s, when an early Los Angles head librarian proposed an expansion that would have allowed the library to lend out tennis racquets, footballs, games and other equipment for children who otherwise would be unable to afford it.
Orlean finds that libraries have become increasingly popular among millennials, a generation of young adults who grew up completely wired, with seemingly little need for them. "That gives me tremendous hope for the future," she said.
Gathering spaces
Part of the appeal is that libraries are gathering spaces for workers who may not have a fixed office — or may not want one. Plus, the library is a great place to borrow electronic books and other media — Los Angeles library patrons borrowed 4 million e-books and other digital items last year.
"This is a generation of young people who place a very high value on the idea of sharing space and sharing in general," Orlean said. "What a wonderful thing to have a generation that's really endorsing that with a great enthusiasm."
Homeless patrons
While libraries benefit from taxpayer support, they face challenges too; one stands out above all others: homelessness. Orlean described it as "the single consistent issue" she heard from nearly every librarian she spoke with around the world.
"Libraries, because of their openness, are natural magnets for people who have nowhere else to go," Orlean said. By and large, she said, librarians have "opened their arms" and accepted the homeless as part of their clientele, although she acknowledges that problems like homelessness, drug use and mental illness can be "magnified" in the close quarters of the library.
While the problem is a societal one, Orlean said libraries "have done more than most city agencies" to help by offering services, even adding on-site social workers in some places.
The urge to have public libraries is apparently a universal one, says Orlean, who describes libraries around the world that, "depending on the location's terrain and weather, operate by bicycle, backpack, helicopter, boat, train, motorcycle, ox, donkey, elephant, camel, truck, bus, or horse." She mentions library vending machines, library trucks, library trains and a library in rural Peru where books are housed, section by section, in the homes of 700 farmers.
"There is no culture that doesn't have libraries," Orlean said. "Many of them are set up differently than the way we run them, but the idea of collecting and sharing books is something that is done in every culture on every continent."
Orlean has said she initially was reluctant to write "The Library Book" and questioned whether it would be published and read. Instead, the book, now in its 10th printing, has spent more than 30 weeks on the Los Angeles Times Bestseller List and is being adapted for a television series by Paramount TV. The series will go back and forth from the present day to the 1986 fire, with fictionalized characters helping to flesh out the still-unsolved mystery of the blaze, said Orlean, who is cowriting the screenplay with director James Ponsoldt.
While libraries today have cafes, auditoriums, classes and knitting circles, physical books remain at the heart of their mission — and always will, if Orlean has her way.
"The printed page has been the gold standard of communication for centuries, and I think it will continue, because you can hardly do better," she said.
Sign up for the Los Angeles Times Book Club at latimes.com/bookclub.
--------------------
Susan Orlean at a glance
Born: Cleveland, 1955.
Graduated from: The University of Michigan with a degree in literature and history.
Lives in: A landmark modernist home in Studio City and in New York's Hudson Valley.
Staff writer: For the New Yorker, since 1992.
Family: Married to businessman John Gillespie Jr.; one son, one stepson.
Books: Her work includes "The Library Book" (2018); "The Orchid Thief" (1998); "Saturday Night" (1990); "Rin Tin Tin: The Life and the Legend" (2011); and "The Bullfighter Checks Her Makeup: My Encounters With Extraordinary People" (2001).
Portrayed by: Meryl Streep in the movie "Adaptation," inspired by Orlean's book "The Orchid Thief."
Website: susanorlean.com
Twitter: @susanorlean
Sign up for our Book Club newsletter
Get the latest news, events and more from the Los Angeles Times Book Club, and help us get L.A. reading and talking.
You may occasionally receive promotional content from the Los Angeles Times.