Carrie Brownstein interviewed Chelsey Johnson about 'Stray City,' her novel set in Portland
Chelsey Johnson sang a few bars of Fleetwood Mac's "Second Hand News" in the Council Chambers at the West Hollywood Library on Thursday night. Beside her onstage, although not performing: Carrie Brownstein.
Johnson read — and sang — from "Stray City," her debut novel, which flips the script on the mainstream coming-out narrative: following a devastating breakup with her girlfriend, a young woman living in 1990's Portland, Ore., "crosses enemy lines," sleeps with a man, discovers she's pregnant, decides to keep the baby and confronts her group of astounded gay friends.
Johnson shared a tense (and hilarious) scene in a lesbian karaoke bar in which her protagonist unexpectedly runs into both her ex-girlfriend and the man in question — but not before finding herself staring down the lyric prompter, stuck with singing "Second Hand News."
"I've sung that song at karaoke" said Brownstein after the reading. "It's terrifying."
The rain seemed to have deterred attendance at the event, co-presented by Book Soup and WeHo Reads. "I know it's dangerous outside, so thanks for making the trek over," said Brownstein to the roughly 50 people in the crowd. "It's very Portland" Johnson said, fitting weather for her book.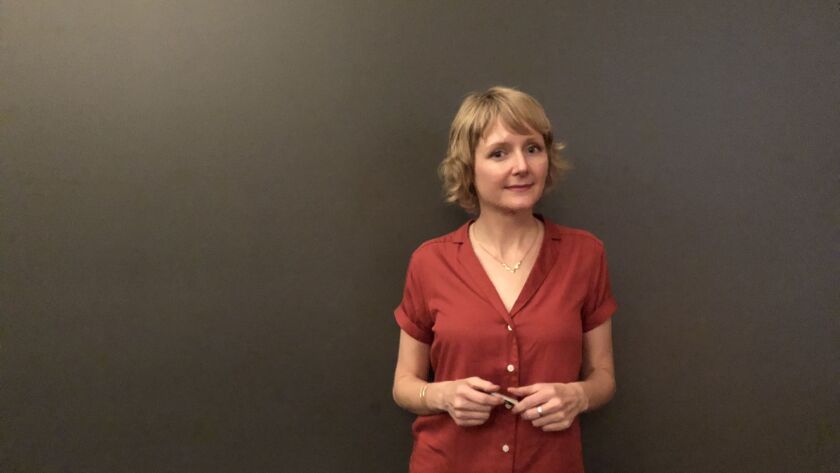 Before "Stray City" Johnson wrote short fiction; Brownstein asked what it was like to make the jump to a longer form. Writing her debut novel took seven years, she replied, and from its inception the book evolved dramatically.
"I started out with a straight white guy story," Johnson said, "Which is legitimate literary material, right?" As the novel presented itself, she realized how important it was to set it in a certain time and place. "We were a lot more rigid about identity and roles," she said, whereas the present moment is in flux.
"I see a lot of straight people claim queer," she said, adding, "Maybe it's on them to redefine straight."
"In some ways it can be a form of solidarity," said Brownstein. "In other ways it's co-opting."
Johnson agreed. She said that she recently saw a novelty mug that read "woke" in an airport. "If you carry that mug," she said, "you're trying too hard." Brownstein laughed: "Somebody bought that."
Johnson, who teaches at the College of William and Mary, "figured out the last chapter of the book in an in-class writing exercise," and in response to an audience question, offered a tip for writing satisfying endings.
"What would be the worst ending for your character," she asked, and what would be the best ending, "the Lifetime Movie" final scene? Once you have those two extremes, mix them. "That gets you to that sweet spot," she said.
Brownstein said that Johnson has been her first reader for years and that when she's stuck in a draft, she often uses another trick that Johnson taught her: "open up a new document" — that fresh, blank page — "and just start writing."
Stacks of books for sale sat beside buttons reading "Lesbian Mafia," a reference to the novel. Monica Iannessa, assistant principal at Pasadena Charter High School, said she was "amazed at people who can be teachers and also be artists." She wasn't familiar with Johnson's short fiction, but the novel's premise intrigued her: "Lesbians. Portland. This sounds like something I'd like to read." She couldn't wait to find out of the protagonist: "how did her group of friends treat her?"
Christine Hill, a native of New York who has lived in Berlin for 26 years, found the reading by seeking out literary events while visiting Los Angeles. "There's a parallel between the storied Portland '90s and the storied Berlin '90s," she said, "how scenes like that start and how they get mythologized." She enjoyed the conversation, and felt it deserved a full house. Like Brownstein, she blamed the weather before stepping out into the rain.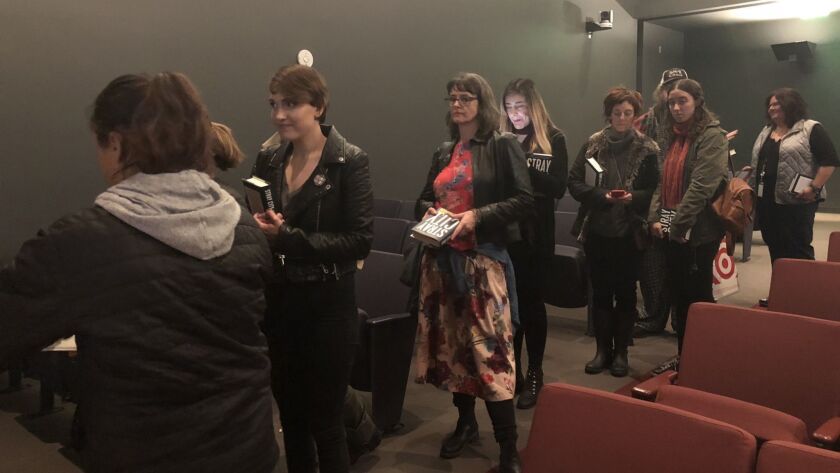 ---
Get the latest news, events and more from the Los Angeles Times Book Club, and help us get L.A. reading and talking.
You may occasionally receive promotional content from the Los Angeles Times.