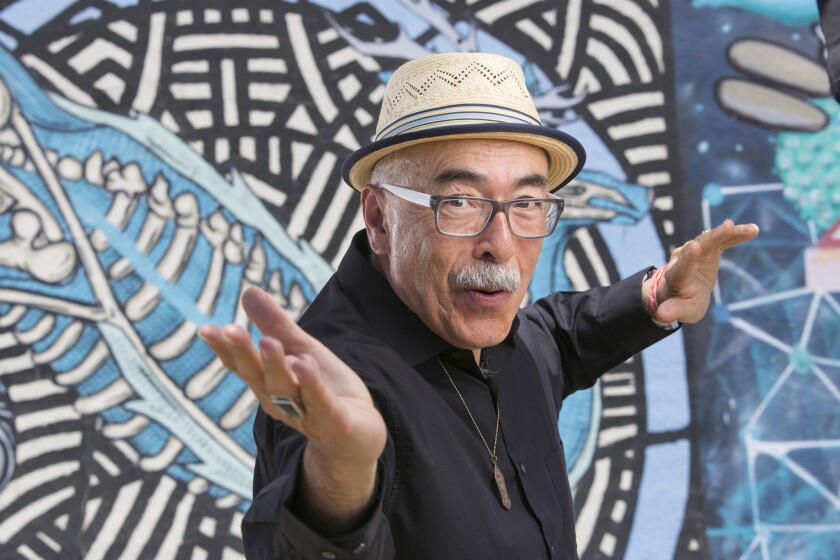 Leading the L.A. Times Book Prizes announced Tuesday are U.S. poet laureate Juan Felipe Herrera, who will be presented with the Robert Kirsch Award for lifetime achievement, and bestselling author James Patterson, recipient of the Innovator's Award for his work to inspire a lifelong love of reading in children and his support of independent bookstores nationwide.
Additionally, five finalists were named in 10 categories. Notable among the 50 finalists are Valeria Luiselli, who won the Art Seidenbaum Award for First Fiction in 2015, whose novel "The Story of My Teeth" is a finalist for this year's fiction award. The mystery/thriller category includes both veterans, such as prior finalist Don Winslow with "The Cartel," and newcomer Viet Thanh Nguyen with "The Sympathizer."
MORE: Get our best stories in your Facebook feed >>
Other notable finalists include poet Jorie Graham; Hayden Herrera for her biography of artist and designer Isamu Noguchi; Jason Reynolds in YA as a finalist for his novel "The Boy in the Black Suit"; Science and Technology finalists include John Markoff's "Machines of Loving Grace," about humans and robots; Chigozie Obioma is a First Fiction finalist with "The Fishermen," artist Carol Tyler a finalist in Graphic Novel for "Soldier's Heart," historian Mary Beard in that category for her history of Rome, "SPQR"; and Joe Domanick is a Current Interest contender with "Blue: The LAPD and the Battle to Redeem American Policing." The complete list of finalists is below.
------------
FOR THE RECORD
7:30 p.m.: An earlier version of this article stated that the title of John Markoff's book is "Loving Grace." It is "Machines of Loving Grace."
------------
This year marks the 36th annual L.A. Times Book Prizes. Kenneth Turan, L.A. Times film critic and director of the Book Prizes, remarked about the honorees that Patterson "has left a singular mark on the literary community through his writing for adults and young people, as well as through his efforts to make books and reading a national priority. His support of libraries, independent bookstores, booksellers, teachers and students is unsurpassed with millions of dollars in grants and scholarships going toward encouraging Americans to read and supporting those who foster reading." Additionally, Turan noted, "we are delighted to honor Juan Felipe Herrera's remarkable 45-year career as a writer, teacher and activist. His literary contributions include poetry, prose, young adult novels and children's literature, and his work in all artistic forms highlights a life dedicated to giving voice to those who are not always heard."
The L.A. Times Book Prizes will be given at a ceremony held at USC's Bovard Auditorium on Saturday, April 9, after the first full day of the L.A. Times Festival of Books. Tickets will be available online beginning March 8.
BIOGRAPHY
Terry Alford, "Fortune's Fool: The Life of John Wilkes Booth" (Oxford University Press)
Hayden Herrera, "Listening to Stone: The Art and Life of Isamu Noguchi" (Farrar, Straus and Giroux)
Charlotte DeCroes Jacobs, "Jonas Salk: A Life" (Oxford University Press)
Patrick McGilligan, "Young Orson: The Years of Luck and Genius on the Path to Citizen Kane" (HarperCollins)
John Norris, "Mary McGrory: The First Queen of Journalism" (Viking)
CURRENT INTEREST
Sarah Chayes, "Thieves of State: Why Corruption Threatens Global Security" (W.W. Norton & Co.)
Joe Domanick, "Blue: The LAPD and the Battle to Redeem American Policing" (Simon & Schuster)
Sam Quinones, "Dreamland: The True Tale of America's Opiate Epidemic" (Bloomsbury Press)
Sandy Tolan, "Children of the Stone: The Power of Music in a Hard Land" (Bloomsbury USA)
Stephen Witt, "How Music Got Free: The End of an Industry, the Turn of the Century, and the Patient Zero of Piracy" (Viking)
FICTION
Anne Enright, "The Green Road" (W.W. Norton & Co.)
James Hannaham, "Delicious Foods" (Little, Brown & Co.)
Adam Johnson, "Fortune Smiles" (Random House)
Valeria Luiselli, "The Story of My Teeth," translated by Christina MacSweeney, (Coffee House Press)
Helen Phillips, "Beautiful Bureaucrat" (Henry Holt and Co.)
GRAPHIC NOVEL/COMICS
Sam Alden, "New Construction: Two More Stories" (Uncivilized Books)
Julian Hanshaw, "Tim Ginger" (Top Shelf Productions, an imprint of IDW Publishing)
Riad Sattouf, "Arab of the Future: A Childhood in the Middle East, 1978-1984: A Graphic Memoir" (Metropolitan Books)
Maggie Thrash, "Honor Girl" (Candlewick)
Carol Tyler, "Soldier's Heart: The Campaign to Understand My WWII Veteran Father: A Daughter's Memoir" (Fantagraphics)
HISTORY
Mary Beard, "SPQR: A History of Ancient Rome" (Liveright / W.W. Norton & Co.)
Jonathan Bryant, "Dark Places of the Earth: The Voyage of the Slave Ship Antelope" (Liveright / W.W. Norton & Co.)
Dan Ephron, "Killing a King: The Assassination of Yitzhak Rabin and the Remaking of Israel" (W.W. Norton & Co.)
David Maraniss, "Once in a Great City: A Detroit Story" (Simon & Schuster)
Mark Molesky, "This Gulf of Fire: The Destruction of Lisbon, or Apocalypse in the Age of Science and Reason" (Alfred A. Knopf)
MYSTERY / THRILLER
Lou Berney, "The Long and Faraway Gone" (William Morrow)
Viet Thanh Nguyen, "The Sympathizer" (Grove Press)
Brian Panowich, "Bull Mountain" (G.P. Putnam's Sons)
Richard Price, "The Whites" (Picador)
Don Winslow, "The Cartel" (Alfred A. Knopf)
POETRY
Rick Barot, "Chord" (Sarabande Books)
Jorie Graham, "From the World: Poems 1976-2014" (Ecco/HarperCollins)
Robin Coste Lewis, "Voyage of the Sable Venus" (Alfred A. Knopf)
Fiona Sze-Lorrain, "The Ruined Elegance" (Princeton University Press)
Jean Valentine, "Shirt in Heaven" (Copper Canyon Press)
SCIENCE & TECHNOLOGY
John Markoff, "Machines of Loving Grace: The Quest for Common Ground Between Humans and Robots" (Ecco / HarperCollins)
David Morris, "The Evil Hours: A Biography of Post-Traumatic Stress Disorder" (Eamon Dolan / Houghton Mifflin Harcourt)
Beth Shapiro, "How to Clone a Mammoth: The Science of De-Extinction" (Princeton University Press)
Jonathan Waldman, "Rust: The Longest War" (Simon & Schuster)
Andrea Wulf, "The Invention of Nature: Alexander von Humboldt's New World" (Alfred A. Knopf)
THE ART SEIDENBAUM AWARD FOR FIRST FICTION
Sarah Gerard, "Binary Star" (Two Dollar Radio)
Ben Metcalf, "Against the Country" (Random House)
Sara Novic, "Girl at War" (Random House)
Chigozie Obioma, "The Fishermen" (Little, Brown and Company)
Andrew Roe, "The Miracle Girl" (Algonquin Books)
YOUNG ADULT LITERATURE
Don Brown, "Drowned City: Hurricane Katrina and New Orleans" (Houghton Mifflin Harcourt Books for Young Readers)
Marilyn Nelson, "My Seneca Village" (namelos)
Jason Reynolds, "The Boy in the Black Suit" (Atheneum Books for Young Readers)
Laura Amy Schlitz, "The Hired Girl" (Candlewick)
Steve Sheinkin, "Most Dangerous: Daniel Ellsberg and the Secret History of the Vietnam War" (Roaring Brook Press)
INNOVATOR'S AWARD
James Patterson
KIRSCH AWARD
Juan Felipe Herrera
Book news and more; I'm @paperhaus on Twitter
---