Roxane Gay and Marlon James explore his African myth-inspired 'Black Leopard, Red Wolf'
Surrounded by art depicting vibrant landscapes and black bodies, Marlon James discussed his latest novel, "Black Leopard, Red Wolf" with writer Roxane Gay at the Museum of African American Art in Crenshaw on Wednesday night.
Gay, author of numerous works including "Bad Feminist," Marvel Comics' "World of Wakanda" and "Hunger," took a deep dive into James' work ethic and mind while discussing various topics.
"There are no comfortable sentences where you can just sink in and read it without putting in work," Gay said of "Black Leopard, Red Wolf." "It really demands an active reading experience."
"Black Leopard, Red Wolf" is James' fourth novel, and his first since winning the Man Booker Prize in 2015 for "A Brief History of Seven Killings." It is the first installment of a Rashomon-style trilogy, in which three characters narrate the same story, but each sees it in a completely different way.
The excitement over James' novel began in 2017 when he announced that his next work would be the "African Game of Thrones." This year, actor Michael B. Jordan's Outlier Society and Warner Bros. acquired the film rights to James' "Black Leopard, Red Wolf" on Feb. 6. The novel was released the day before.
But during his conversation with Gay, James made a revelation: "They're going to be so disappointed," James joked about "Game of Thrones" fans. "Except for the sex and violence."
Yet the audience showed little signs of disappointment.
"Every fantasy novel that starts getting more attention than usual is going to garner comparisons," said David McKnight, who drove from Glendora for the event. "It just means it's an exciting time for fans of the genre."
The conversation between Gay and James drew an audience of about 300, and was organized by the Library Foundation of Los Angeles and Eso Won Books, Leimert Park's longstanding Black-owned shop.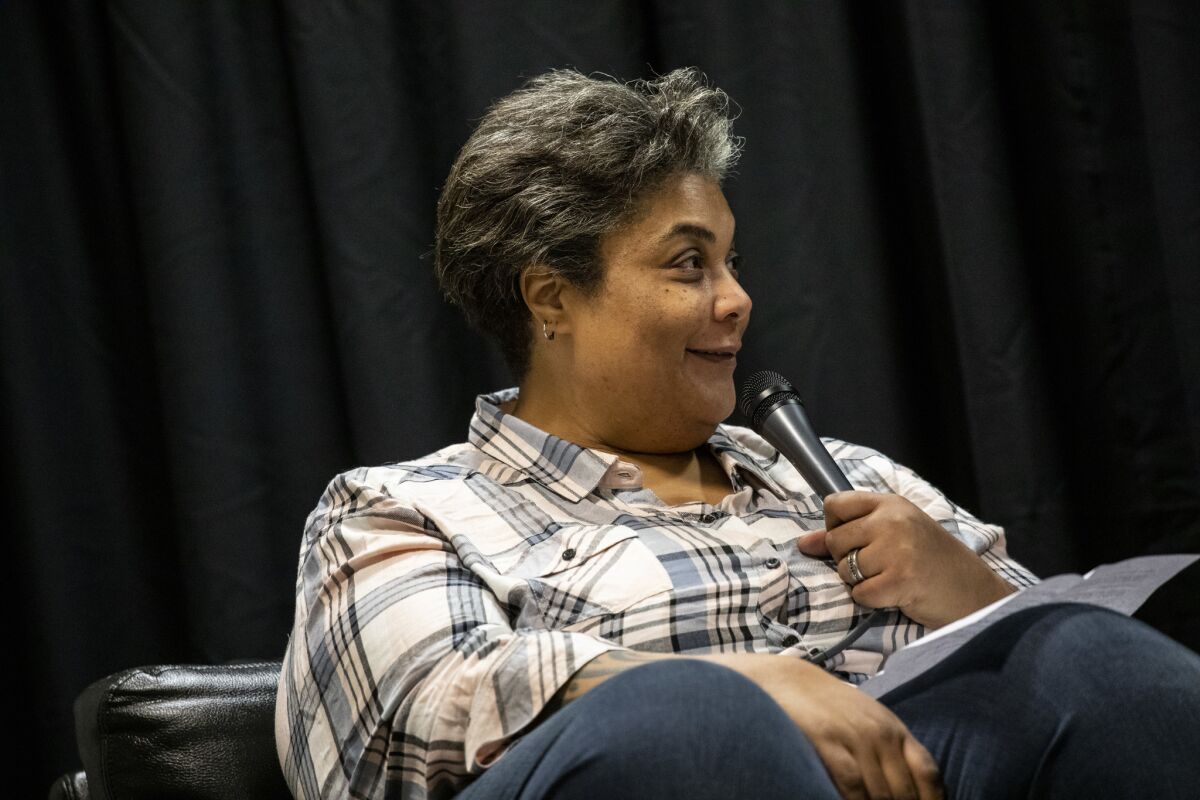 "Black Leopard, Red Wolf" follows a man named Tracker who is gifted with a heightened sense of smell, allowing him to follow scents throughout the mythical Africa-inspired lands concocted by James.
Tracker is sent on a quest with a group that includes his friend, the shape-shifting Leopard, to help find a missing boy. As the story unfolds, many things come into question, including Tracker's trustworthiness as a narrator.
The sprawling-style narrative gives the lead character the ability to blend truth with perspective and motive, which puts the burden of deciphering truth on the reader.
Throughout their conversation, Gay and James laughed with the audience when they reflected on the genre novels they grew up reading and the great storytellers of their families who, coincidentally, were also great liars.
"In a lot of African stories, the trickster is telling the story, so you already know this is an unreliable narrator," James said.
James also stripped away the religious influences of African folklore and went back to a time when African tales had an inherent eroticism to them.
"It was a very sensual and sensory world," James said. "The moral system was different. The whole idea of sexuality was different; the fluidity was different."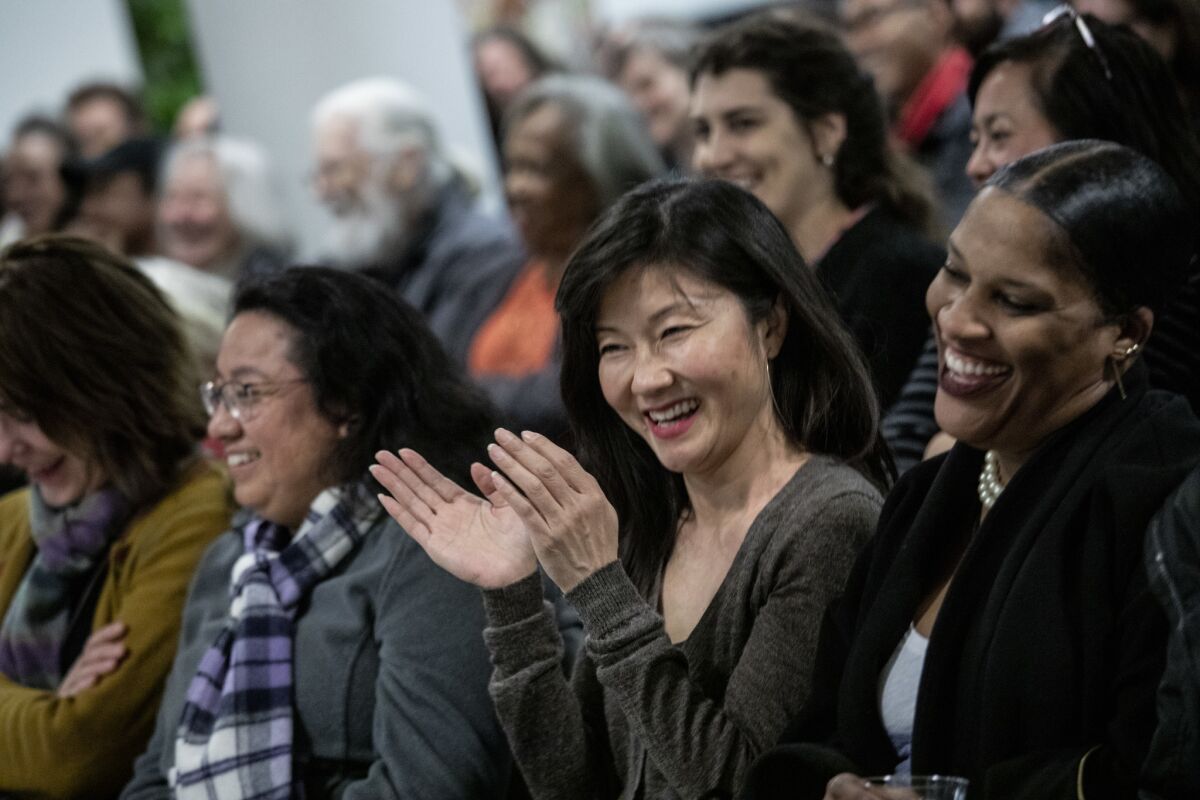 James told Gay about his contempt for "space-break sex" in literature.
"Space-break sex" is when a novel gives the reader the lead-up to sex and when the actual act is about to happen, the writer leaves the reader with a "space break," and begins again either with the next day or the lovers smoking a cigarette in bed. It leaves much to the imagination.
"It's a sign of subtlety, like subtlety has anything to do with sex," James said. "That sexual frankness, frankness in general, is part of the African."
Gay told the audience she read many reviews that said James' novel had an overt sexuality, which she did not see.
"I wonder if reviewers are fixed on the sexuality of this novel because it's queer?" Gay asked. Then she added, "Or because the characters are black?"
"Both," James answered.
James spares no image when it comes to the sex and violence in his latest novel, but he wanted the violence to resonate differently from what Western audiences are often used to.
"[In film], there's a lot of violence but never any suffering," James said. "If I'm going to have [violence], it has to reverberate; it has to echo after pages. It should be connected to suffering."
James flipped the script on many of the historical fantasy themes. Where there is the usual black and white between good and evil, James replaces it with gray areas of moral ambiguity.
"The thing about a lot of West fantasies is that it's still following European archetypes," James said. "Evil is clearly evil. Evil is Sauron. That reflects a Calvinist, Christian worldview."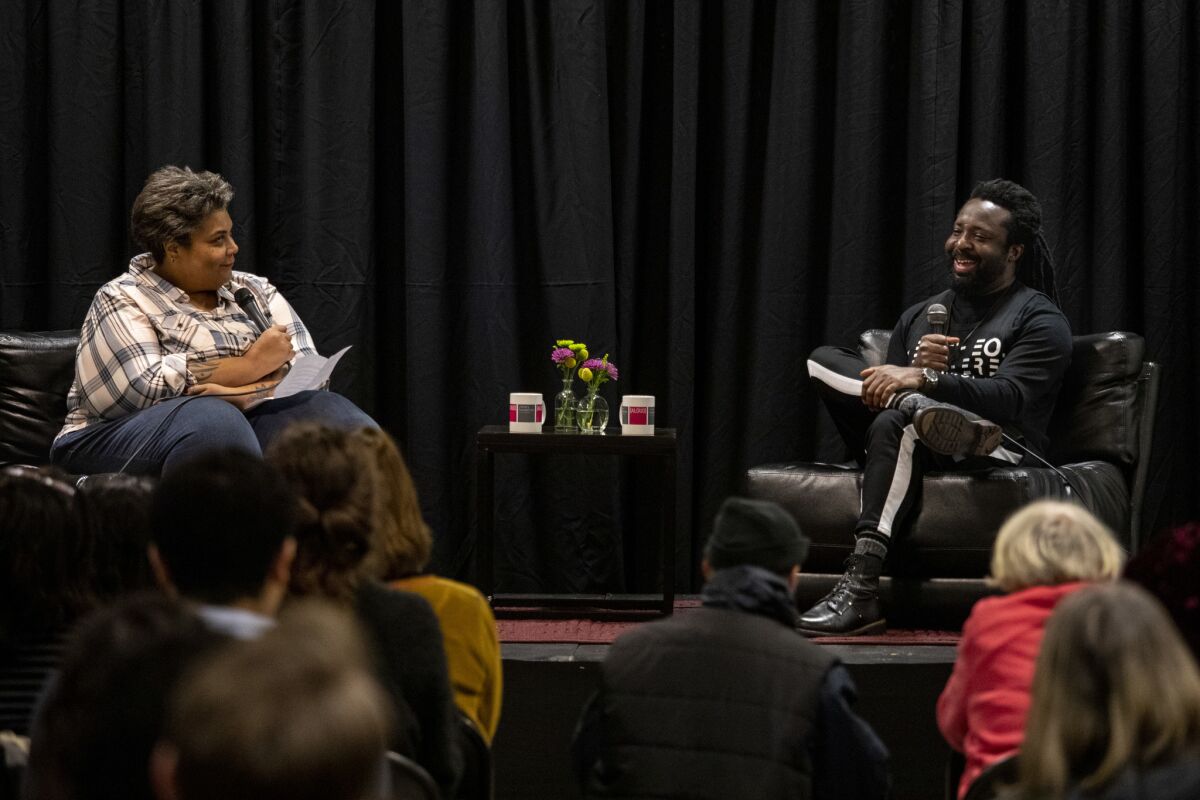 While "Black Leopard, Red Wolf" follows the story of The Tracker, the second installment will be from the perspective of Sologon, a witch who is part of the group sent to find the boy. James, from Jamaica, says he is keeping the third perspective a secret.
James said he has not started the follow up to "Black Leopard, Red Wolf."
"['Black Leopard, Red Wolf'] is a very masculine book," Gay said. "It's going to be interesting to have this story told from a woman's perspective."
Get the latest news, events and more from the Los Angeles Times Book Club, and help us get L.A. reading and talking.
You may occasionally receive promotional content from the Los Angeles Times.