'Follow Her Home' to Marlowe territory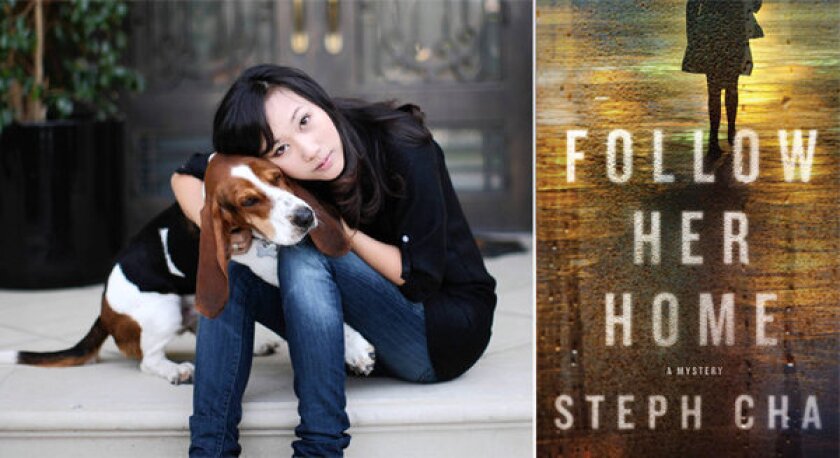 Raymond Chandler is among the undisputed masters of crime fiction, especially for stories set on the mean Southern California streets. His influence on crime fiction helped expand the genre's settings from sunny vicarages to gritty urban centers, set a high standard for using place as character, made the witty observation de rigueur and gave a new twist to the term "gimlet-eyed."
Chandler's detective hero Philip Marlowe was very much a man of his times, and Chandler a faithful chronicler of them, which included slurs against minorities and gays and a not-so-subtle demonization of many female characters. Although such tendencies might cause modern readers to wince, they have not diminished his appeal for subsequent generations of crime writers, from Robert Parker to Michael Connelly.
Now add to that list Steph Cha, a Southern California native whose debut novel, "Follow Her Home," begins as an homage to Marlowe and Chandler before ending up exploring vastly different mean streets.
Juniper Song is Cha's detective, a "half-employed" tutor and first-generation Korean American on the way to a housewarming party for her best friend, Luke Cook. Cook has moved into the Marlowe, less than two miles south of Hollywood and Ivar, where Chandler's detective had his offices. "But the Marlowe was a luxury apartment more likely to house the rich degenerates of Chandler's novels," Song notes, "than his wisecracking private eye with a heart of noir gold."
Supported by his rich attorney father while he studies documentary filmmaking at USC, Luke might well fit into a Chandler novel, although his friends are a more diverse group of twentysomethings — as witnessed by the assortment of flip-flops, Birkenstocks, Nikes and round-toed ballet flats clogging the entrance to his apartment.
Yet one pair stands out for Song even more than her own pin-thin stilettos: glittery, red-soled Christian Louboutins. The shoes, she soon learns, belong to Lori Lim, a striking Korean American "about as hard to spot as a clown in a prison cafeteria" and seemingly interested in Luke. So Song is surprised when Cook makes an odd request — can Song investigate whether Lim is having an affair with his father?
Luke knows that Song has been enamored with playing detective since discovering Philip Marlowe when she was 13. "I carried him like an idol," she confesses. "Marlowe, the honorable, lonely detective — he was my hero, and playing his part appealed to me."
As the book unfolds, we learn how Song fared on her first "unofficial" case, a family mystery involving her younger sister. But this new one is equally challenging, for the only evidence of infidelity is a $3,000 receipt from a Chanel store that Luke found in his father's wallet while helping himself to some spending money. His distress over the effects of a potential affair on his emotionally fragile mother plucks at Song's heartstrings, so she befriends the drunken Lim and drives her home while grilling her about the Chanel purse she just happens to be carrying.
In true Marlowe fashion, Song is rewarded for her nosiness by being knocked unconscious as she's leaving Lim's Hancock Park home. She comes to on a bus bench, cellphone missing but her purse otherwise intact. After she finally gets back to her car and drives to her Park La Brea apartment, she finds a body in the trunk. Compounding her woes, she discovers her apartment has been ransacked, presumably by the man with the high-pitched voice who calls soon afterward to make veiled threats against her family.
Throughout the novel, Song asserts that she's no Marlowe, but on some levels she sticks closely to the detective's playbook — smoking, drinking, refusing to be dissuaded by threats, avoiding the police and doggedly pursuing the truth even when those she cares about are put in jeopardy.
Nonetheless, she is a compelling and original protagonist worth excusing for her infatuation with the detective — as Cha should be forgiven for her first-timer's tendency to strain, occasionally, for the Chandleresque simile. These faults are overshadowed by the freshness of her voice and her astute use of the master's devices (most notably the disturbing photographs of women found in "The Big Sleep" and "The Little Sister") to reveal some of the deeper concerns of Korean American mothers and daughters that Chandler's limited perspective on minorities and women would never have allowed.
Even more compelling, Song learns the difference between fantasy and reality, between reading about Marlowe getting sapped and experiencing the swelling knot on her own head, between the excitement of a character with a gun and holding one herself for the first time.
"For all my fascination with the violence of noir," she says, "I had never fantasized its intrusion into my own life." One only hopes that Cha and her driven, neo-noir detective have more opportunities to explore those troubling intersections over many books to come.
Woods is a frequent contributor to The Times; she has written four mysteries in the Charlotte Justice series and has edited several anthologies.
---
Follow Her Home
A Novel
Steph Cha
Minotaur/St. Martin's: 278 pages; $24.99
---
---
Get the latest news, events and more from the Los Angeles Times Book Club, and help us get L.A. reading and talking.
You may occasionally receive promotional content from the Los Angeles Times.