Washington Post sale: What Jeff Bezos' book bonanza bought him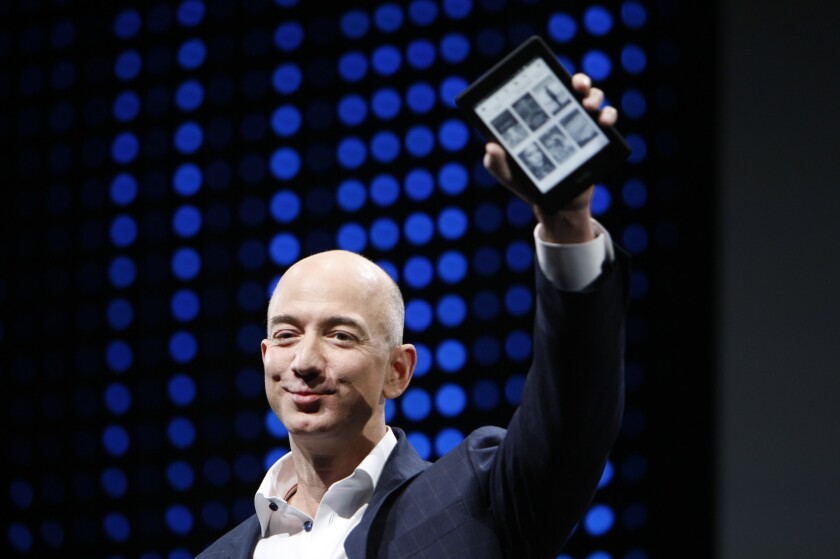 Jeff Bezos is about to enter the newspaper business, as the new owner of the Washington Post.
For about two decades now, the chief executive and founder of Amazon has loomed large over the book business, earning him the wrath of many a brick-and-mortar bookseller in the process. Amazon has branched out to sell just about anything that can be shipped in a package. Books helped make Bezos rich -- and then one day, they just became a stepping stone to bigger things.
He founded Amazon in Seattle in 1994, and in just five years the company had grown so big, so quickly (especially after going public in 1997), that Time magazine named him man of year. Amazon grew thanks to book lovers. They went to the site because, much like the rain forest it was named after, you could find seemingly all the wonders of the printed world there: from a No. 1 bestseller (at a cheaper price than in a bookstore) to the most obscure treatise (which your average bookstore couldn't make a profit selling).
In late 2001, after two years of plunging stock value for Amazon, Bezos predicted that online sales would one day account for 15% of all retail spending -- at the time, they accounted for 2%. They've kept on growing, though not yet as much as Bezos predicted -- they now account for 5.5% of retail spending.
In 2007, Amazon released its first e-reader, the Kindle. Two years later, Bezos declared that the 500-year "great run" of the printed book was over. Why? Well, books were just an inconvenience: "…you can't turn the page with one hand. The book is always flopping itself shut at the wrong moment. They're heavy. You can only take one or two of them with you at a time."
By 2010, Bezos was No. 43 on the Forbes list of billionaires, with a net worth of $12.3 billion. What does a man who's so rich and not yet 50 do with so much money? What goals does he set for himself? That same year, he delivered the commencement at his alma mater, Princeton. "Will inertia be your guide or will you follow your passions?" he asked grads. "Will you follow dogma or will you be original? Will you choose a life of ease or a life of service and adventure?"
Bezos told the grads to "build yourself a great story," and simultaneously used his wealth to attach his name to several different kinds of great stories.
In 2012, and his wife, MacKenzie, pledged $2.5 million in support of Referendum 74, a Washington state ballot measure that sought to affirm same-sex marriage with voters. The Washington measure was approved, one of several victories for the gay marriage movement that year.
Bezos is doing lots of other things with his money. He's funding the construction of a 10,000-year clock inside a West Texas mountain, and he's also gone into the depths of the ocean in search of souvenirs from the space program, helping to rescue one of the engines that helped propel the first men to the moon.
Now, Bezos has bought a media company that specializes in telling stories, spinning its narratives in words -- printed and digital. Owning a newspaper, he may soon discover, is a kind of adventure too.
Follow Hector Tobar on Twitter @tobarwriter
ALSO:
Jeff Bezos' hobby: Scavenging NASA debris from the ocean floor
Obama appareance at Amazon warehouse angers independent booksellers
Watch Daniel Radcliffe star as Allen Ginsberg in 'Kill Your Darlings' movie trailer
---
Get the latest news, events and more from the Los Angeles Times Book Club, and help us get L.A. reading and talking.
You may occasionally receive promotional content from the Los Angeles Times.