Festival of Books: Impossible memoirs — and how honest can you be?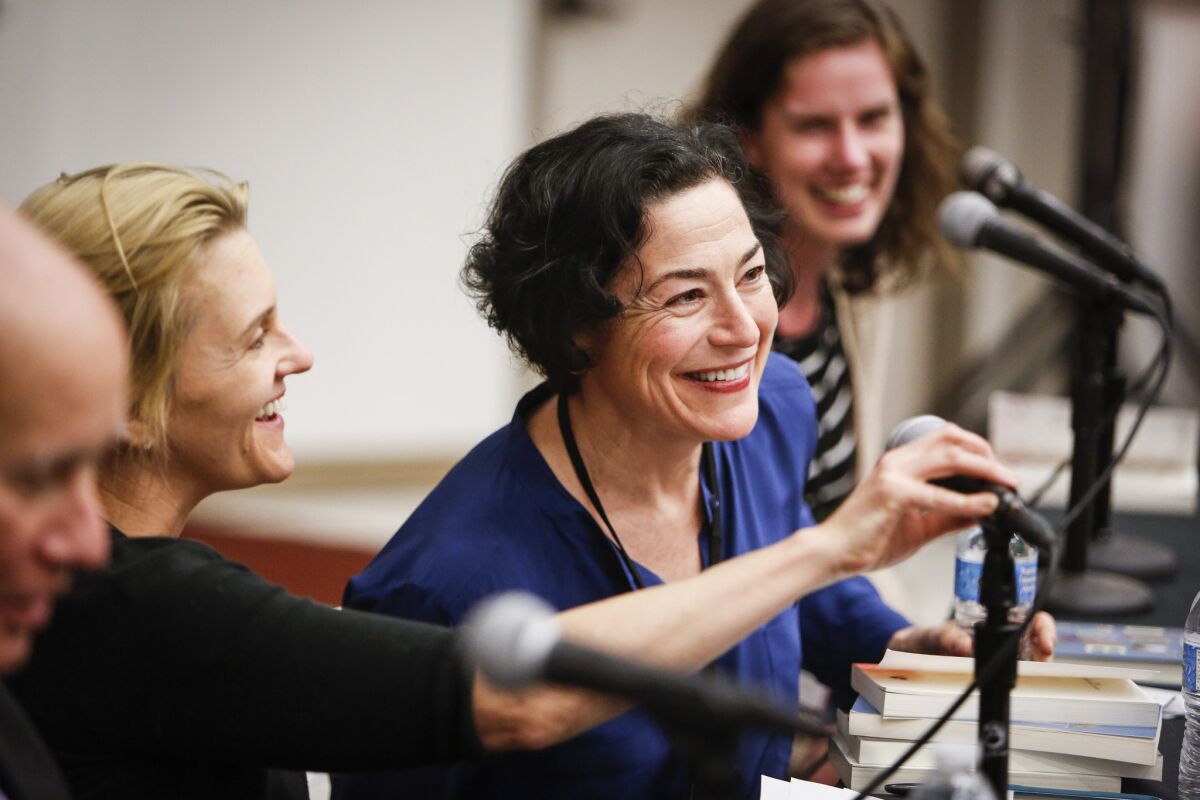 "Authors who write personal material tend to get a bad rap," moderator Meghan Daum said at the start of Saturday's panel "Nonfiction: The Art of the Personal Story" at the Los Angeles Times Festival of Books.
Personal writing is often seen, by literary and journalistic types alike, as embarrassing and narcissistic, less about craft than naked self-expression.
But the four highly accomplished writers assembled here — Pico Iyer, author of "The Man Within My Head," a book about his complex relationship with Graham Greene; Leo Braudy, USC professor and author of "Trying To Be Cool: Growing Up in the 1950s"; Dinah Lenney, author of "The Object Parade," an autobiography in inanimate objects; and Leslie Jamison, author of the highly praised new essay collection "The Empathy Exams" — were nothing if not devoted to craft, and they could hardly be called navel-gazers.
FULL COVERAGE: Festival of Books
Their books may be centered on themselves, but they engage a huge range of topics, from rock 'n' roll to chandeliers, Graham Greene to Morgellons disease.
Nor were they all memoirists, pure and simple.
Iyer and Jamison have published novels, Braudy and Iyer have written cultural history and all four have written criticism, which, as Iyer pointed out, can be a form of memoir.
"If somebody suddenly asks me, 'Who are you and what do you care about?' I'll clam up. But if somebody says, 'Write about Leonard Cohen or Terence Malick or U2,' I'll reveal things I wouldn't tell my closest friends," Iyer said.
INTERACTIVE GAME: How to be a writer
Jamison, too, recommended "gazing at an object outside of yourself" as a way of "bringing the self to bear." At one point she compared writing an essay to meeting up with an ex whom she couldn't talk to directly: "It was so much easier for us to wander through an art museum and started talking about what we were seeing, it permitted some kind of connection that went deeper."
Memoir is a famously subjective genre, and all the panelists agreed on the impossibility of remaining perfectly faithful to what really happened. "Memoir is always fiction," Iyer said, citing the difficulty of making his memories and impressions of his neighborhood in Cuba — "I felt I knew those five blocks in the way I know the lines on my hand" — to match up with reality.
Lenney agreed that "memory and imagination are kissing cousins," and Jamison compared nonfiction to an "asymptote": a line that never quite intersects with the curve of a given work.
For some writers, learning to be as loose with facts as the memoir sometimes demands involves shaking off old habits. Braudy's book on the 1950s began as a cultural history, but as he wrote he realized he wanted to use his own experiences, and to do that he had to free himself from a fear of inaccuracy: "If I'm writing a history book and I put the war of 1812 in 1813, I'm making a mistake," he said. "But [in memoir] I can put the movie theater on the other side of the street because it works better for the narrative."
The panel also touched on the ethics of nonfiction writing. How, Daum asked, do you manage the tricky business of writing about living people, especially those who are close to you? Do you ask for permission, or input?
Everyone endorsed showing a finished work to its subject before publication, but Lenney pointed out that doing so too early can interfere with the creative process, quoting a remark of Tobias Wolff's: "Memoir is not writing by committee." She also admitted she had avoided writing much about her husband and children "because I want them to continue to speak to me."
If one thing emerged from this fascinating conversation it was that nonfiction is a risky enterprise, in which the rules are never completely clear. Perhaps it's this uncertainty that attracts so many intelligent, adventurous minds, eager to push the limits of the form, even at the risk of pushing too far. As Braudy puts it in "Trying To Be Cool": "If memoirs aren't in some way embarrassing, what is the point.
ALSO:
Logistics for the Festival of Books
Full coverage of the Festival of Books
---
Get the latest news, events and more from the Los Angeles Times Book Club, and help us get L.A. reading and talking.
You may occasionally receive promotional content from the Los Angeles Times.