Review: 2018 Nissan Rogue: A smart SUV with entry-level MSRP
Nissan's 2018 Rogue is a sprightly, affordable SUV that has the option of the company's ProPilot Assist driving system.
It's the first Nissan vehicle to offer the program, which will also be available in the 2018 Leaf. That means it's one of the least expensive SUVs on the market with adaptive cruise control, steering assist, braking assist and warnings for lane straying, rear cross-traffic and pedestrian detection.
Too bad the package doesn't work better.
The Rogue is Nissan's best-selling vehicle in America. More than 300,000 have been sold this year, which the company says makes it the No. 2 non-truck vehicle in the country this year, behind Toyota's RAV4 but ahead of Honda's CR-V. Like Nissan's Juke, the Rogue is hough not as visible on the streets as the Honda CR-V or the Toyota RAVbeloved by its owners, who seem to be proud to drive something that's not made by either of the leading Japanese car companies.
The entry-level Rogue comes standard with a 2.5-liter 4-cylinder gasoline engine that makes 170 horsepower and 175 pound feet of torque. It's mated to available all-wheel drive and an Xtronic continuously variable transmission.
Also standard are traction control, automatic emergency braking, rear cross traffic warning, hill start assist, LED headlights, a Siri "Eyes Free" voice command system, four cup holders and four bottle holders.
It seats five and has 70 cubic feet of cargo capacity with the back seats folded down, and a maximum towing capacity of 1,000 pounds.
In other words, it's a capable mid-sized SUV, especially at the base price of $25,380. (The Rogue Sport, which omits many of those features, is even more of a bargain, starting at $22,380.)
The SL trim line I drove was a four-wheel-drive version. Powered by the same 2.5-liter gasoline engine, with the same torque and horsepower numbers, it felt like a friendly family mover with more than enough beans to manage the freeway and the steep hills in my neighborhood.
The all-wheel-drive system gave the Rogue a nimble, sure-footed feel, and may have limited some of the tippy, top-heavy sensation that SUVs often have.
The passenger space was roomy and comfortable, and on the SL model featured leather-clad seats that, up front, were heated. The rest of the interior felt a bit plastic, and made me wonder about its durability. But everything about the driver's cockpit was reassuringly close at hand and easy to operate.
Most important, though, the SL AWD trim line also came with Nissan's ProPilot. This was my first opportunity to test the system, and I was eager to hop on the highway and give it a go.
The system engages simply, with the push of two buttons on the steering column: Turn ProPilot on, find a speed you like, and press "Set."
ProPilot functions like a smart, adaptive cruise control. It will maintain freeway speed and keep a safe distance between other cars, as on most similar systems.
But it will also do most of the steering, asking only that the driver's hands be on the wheel at all times and nudge the steering periodically, when prompted, so the system knows the driver is alert.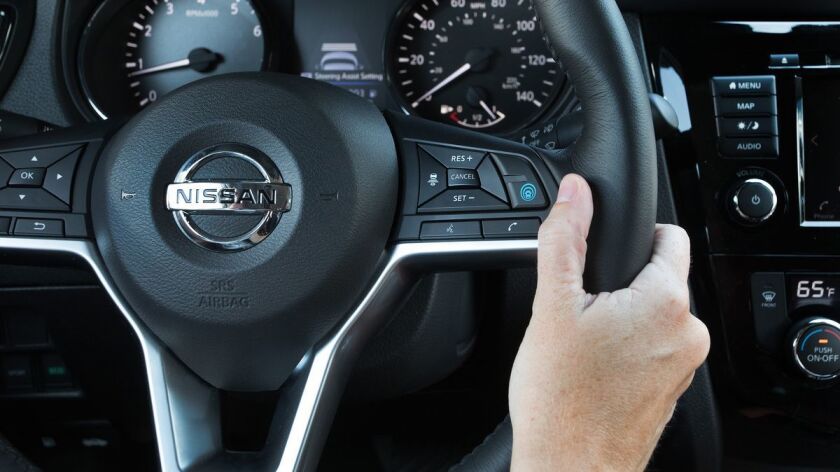 I found the ProPilot crude and unsubtle compared with similar systems such as Tesla's Autopilot, Cadillac's Super Cruise or Mercedes-Benz' Distronic Plus.
In traffic, the ProPilot caromed a bit between the lane markings, sliding to the left, correcting itself, sliding back to the right, and correcting itself again like a ball in the kiddie lane at the bowling alley.
It held its lane on curves, but only up to a point, after which the system would begin blinking a steering wheel icon and asking the driver to take over.
The Rogue felt quiet and competent around town and at freeway speeds. But the ProPilot system seemed, again, a little clunky. It recognized the traffic was slowing down long after I did, and then braked too sharply. Then it seemed not to notice the traffic was beginning to speed up again, and accelerated with a jerk.
Though it was more than adequate for emergency intervention, if I had dozed off or were simply zoning out, it didn't make for the kind of calm, disengaged commute that more expensive systems offer.
I also had difficulty getting my iPhone to get along with the Rogue's Apple CarPlay and on-board infotainment system, which returned to its home page and then required a complete reboot any time I responded to a text or a phone call.
It may be a case of getting what you pay for. The Rogue's ProPilot may not be as smooth and sophisticated as similar systems found in top-of-the-line vehicles from Tesla, Cadillac or Mercedes-Benz, but Nissan is offering its technology for tens of thousands of dollars less.
2018 Nissan Rogue SL AWD
Times' take: Affordable SUV with clunky assisted-driving features
Highs: Easy to drive, and easy on the pocketbook
Lows: ProPilot system lacks tech sophistication
Vehicle type: Four-door, five-passenger SUV
Base price: $33,370
Price as tested: $36,625
Powertrain: 2.5-liter four-cylinder gasoline engine
Transmission: CVT, with all-wheel drive
Horsepower: 170
Torque: 175 pound-feet
EPA fuel economy rating: 25 mpg city / 32 highway / 27 combined
Twitter: @misterfleming
---