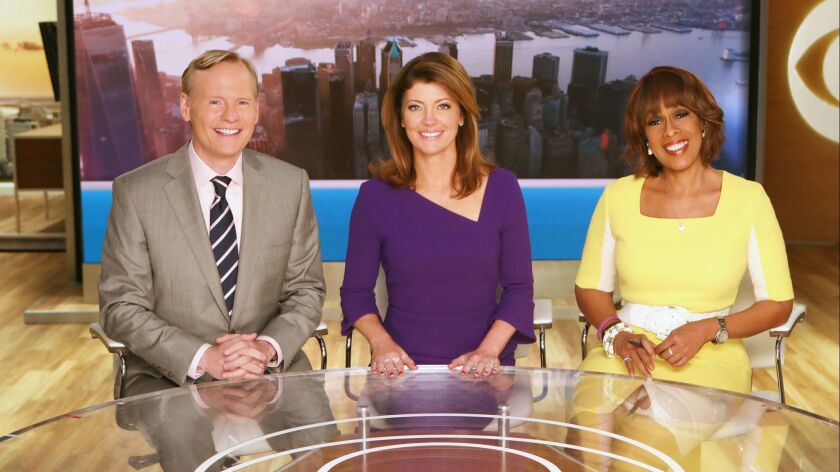 CBS News is making sweeping changes at the co-host table of its morning program.
The news division is expected to name Anthony Mason and Tony Dokoupil to join Gayle King as co-hosts of "CBS This Morning," which has struggled in the ratings over the last 18 months, according to people familiar with the plan who are not authorized to comment publicly.
CBS News representatives declined to comment on any possible anchor moves. The company is expected to make an announcement before its upfront sales presentation to advertisers scheduled for May 15.
Mason, 62, is a longtime CBS News veteran currently serving as co-host of the Saturday edition of "CBS This Morning." He is also a regular contributor to "CBS Sunday Morning."
Dokoupil, 38, is a CBS News correspondent whose star has been rising at the network. He is married to NBC News political correspondent Katy Tur.
Mason and Dokoupil will join King, 64, who is expected to soon finalize a new contract with CBS News. Her signing was a priority for Susan Zirinsky, who took over as president of the news division in March, replacing David Rhodes. King, whose current contract is up at the end of the year, had drawn interest from ABC News and CNN.
While "CBS This Morning" audience levels have waned since Charlie Rose was fired in November 2017 over sexual harassment allegations, King has emerged as the signature co-host on the program, thanks to high-profile, news-making interviews she conducted with embattled R&B star R. Kelly and Virginia Gov. Ralph Northam.
The changes would mean current co-hosts Norah O'Donnell and John Dickerson would exit the program and get new roles within CBS News.
O'Donnell is expected to become anchor of the "CBS Evening News." There has also been discussion of moving the broadcast to Washington, D.C., where O'Donnell has a home.
However, O'Donnell does not yet have a deal to take over the program, according to her personal representative. "She is under contract to 'CBS This Morning' until 2020," the representative said.
"CBS Evening News" anchor Jeff Glor has also not been informed of any change to his status, according to people familiar with the talks. Glor's broadcast has run behind ABC and NBC evening news in the ratings race since he took over in December 2017.
If O'Donnell takes the "CBS Evening News" job, she would be only the third solo female anchor of a broadcast network evening newscast, the others being ABC's Diane Sawyer and Katie Couric.
Couric was the anchor of "CBS Evening News" from 2006 to 2011. CBS News also had Connie Chung serve as a co-anchor with Dan Rather for two years in the mid-1990s.
Dickerson, the former moderator of "Face the Nation," is expected to join "60 Minutes" as a correspondent.
Mason was a leading candidate for "CBS This Morning" after Rose was fired. But Rhodes decided to go with Dickerson in the role.
---