Disney's profit disappoints as TV unit struggles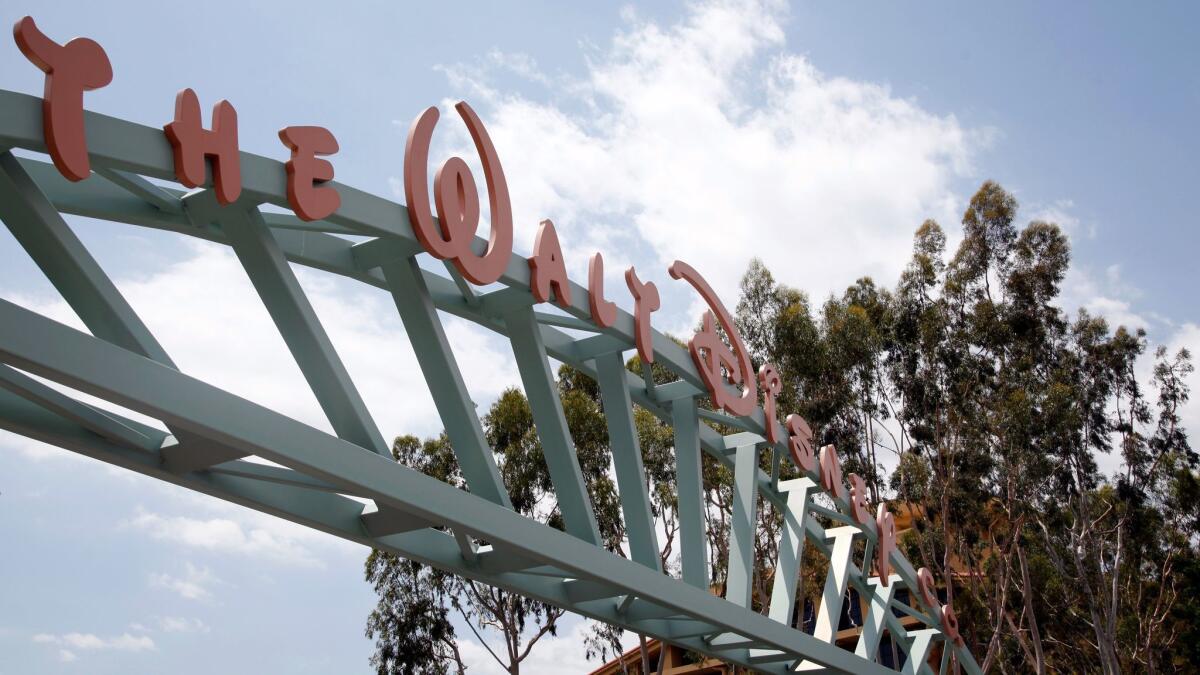 ESPN again weighed down the earnings of parent company Walt Disney Co. as the sports juggernaut continued to grapple with sweeping changes in the media business.
Overall, it was a weak fiscal fourth quarter for Burbank-based Disney, which reported net income of $1.75 billion, down 1% from a year earlier. Revenue declined 3% and the company failed to meet analysts' expectations.
The company's media networks unit — whose crown jewel is ESPN — had a tough quarter, reporting segment operating income of $1.48 billion, a drop of 12% from a year earlier. Its operating income declined on a year-over-year basis for the sixth quarter in a row.
Within the unit's cable networks group, which houses ESPN, segment operating income declined 1% to $1.24 billion. Disney attributed the drop, in part, to lower advertising revenue at ESPN and higher programming costs for the network, which pays a premium to carry National Football League and Major League Baseball games.
On the same day Disney announced results for the quarter that ended Sept. 30, The Times and other outlets reported that ESPN would lay off about 100 employees this year across the division, which has 8,000 employees worldwide, according to people familiar with the plans who were not authorized to comment publicly.
ESPN went through a staff reduction of about 100 people in April, including a number of on-air personalities.
A representative for the network would not comment on the planned cuts, which were first reported by SI.com and CNBC.
ESPN has long been the profit engine for Disney. But it has been squeezed by rising sports rights costs at a time when pay-TV revenue has been under threat partly from cord cutting. In 2010, ESPN was available in nearly 100 million homes in the U.S. Now, however, it is in about 87 million homes, according to Nielsen data.
ESPN could once rely on covering the costs of expensive rights fees for events such as "Monday Night Football" and NBA basketball by passing them on to pay-TV providers who push the costs along to their customers. But consumers have grown resistant to paying high pay-TV bills for content they do not watch, which has helped to spur the cord-cutting phenomenon.
The downward trend — and a string of controversies over ESPN personalities and programming — has put mounting pressure on John Skipper, who has served as president of ESPN since 2012.
Still, in a conference call with analysts, Disney Chief Executive Robert Iger expressed optimism for the sports network.
"We've never lost our bullishness about ESPN," Iger said. "The brand is strong. The quality of their programming is strong. There are always opportunities to improve.... But we like where ESPN is these days."
Partly in response to the changing media business, Disney recently outlined bold plans to launch two Netflix-like streaming services — one for sports and another for films and television shows. The stand-alone subscription offerings are meant to appeal to younger audiences who are turning away from traditional media. The sports service is scheduled to debut next year, while the one for films and TV shows is slated to come online in 2019.
On the conference call, Iger said the sports service would be called ESPN Plus. ESPN, based in Bristol, Conn., will hire employees as it continues to build up the digital platform, which is being developed by BamTech, a streaming technology firm that Disney acquired a majority stake in this year. Iger said that pricing for ESPN Plus would be detailed next year.
Besides the media networks unit — whose ABC-led broadcast division saw a 15% drop in operating income — there were other weak spots in Disney's earnings report.
Disney's film studio had a weak quarter, posting operating income of $218 million, off 43% from a year earlier. And its consumer products and interactive unit delivered operating income of $373 million, a decrease of 12%. The company's parks and resorts business was a bright spot: It saw operating income increase 7% to $746 million.
Analysts had predicted earnings per share of $1.12 on revenue of $13.23 billion in the fourth quarter, according to Thomson Reuters, but Disney delivered adjusted per-share earnings of $1.07 on revenue of $12.78 billion.
Also on Tuesday, the company reported full fiscal year results, which included net income of $8.98 billion, a 4% drop from a year earlier. Revenue for the year was $55.1 billion, down 1%.
As with most Disney earnings calls, Iger took the opportunity to break some news, announcing that the company has tapped filmmaker Rian Johnson, the director of the forthcoming "Star Wars: The Last Jedi," to develop a new "Star Wars" film trilogy.
But one topic in the news was not broached — Disney's interest in acquiring 21st Century Fox's movie and television production studios, as well as a handful of TV channels, including FX and National Geographic. Disney approached Fox about a potential deal, but talks have stalled, according to a person with knowledge of the matter.
When an analyst asked Iger to comment about recent news reports on the talks, a Disney executive said the company would not "take any questions on press speculation."
Shares of Disney rose 1.5% in regular trading to $102.68. In the after-hours session, the stock dipped before rising nearly 1%.
---
UPDATES:
4:50 p.m.: The article was updated with additional comments from Disney CEO Bob Iger.
This article was originally published at 1:45 p.m.
Inside the business of entertainment
The Wide Shot brings you news, analysis and insights on everything from streaming wars to production — and what it all means for the future.
You may occasionally receive promotional content from the Los Angeles Times.